Explorer Chapter And Group Updates
Chapters and Groups are created by Explorer RV Club members who want to get together more often than once a year at our a national rally. This is where you'll find news and updates from our Explorer Chapters and Groups across Canada.
ONTARIO
Happy Campers – June Campout 2020
CANCELLED until June 2021
Solo Plus
Submitted by Cherith & John Cook
We are a very new group, very loosely based in the Ottawa area. We are Solo Plus, because two RVs came with couples. Our first camp was at the Lions Club Campground in Merrickville, in late June. This is a small, but very well run campground, in the heart of the town, right beside one of the locks on the Rideau Canal system. In fact, the sites all back onto the channel leading to the lock, and we saw several pleasure craft on their way up/downstream. (There is a very comprehensive information board beside the Blockhouse, which shows the full system of Locks on the Rideau).
Sites are level and most have water and electricity, although there are a number of un-serviced sites available. There are washrooms and showers on site, but these were not open when we were there, due to the risks associated with the Coronavirus.
Our goal is just to have an informal group, not to organize activities during the day, but to get together around the campfire in the evening. We took our own chairs, spaced at least the 2 metres apart, which was not a problem with our small group. This was where we got to know one another, to share previous camping experiences and to offer some new places to try. Also, a good time to ask more experienced RV owners for tips and advice. Thank you, Wayne. Now I know where the GFI button is, and why my outlets wouldn't work!
We were within easy walking distance of a wide variety of shops and restaurants. There are a number of excellent restaurants in Merrickville and we look forward to being able to take full advantage of them again, once the COVID-19 pandemic has resolved. There is a well written pamphlet, describing a heritage walking tour that is available in several locations in the town. It was most interesting.
A walk through the ruins beside the swing bridge, was a glimpse into the local history, with information boards describing the various structures. Oh, and the road bridge over the river actually does swing around. Neat to see. Of course, the Blockhouse Museum is usually a must visit, though, sadly, not available to us on this occasion, being closed due to COVID restrictions. Next time.
As we are all conscious of the current health risks, there were no communal meals. We each prepared and ate our own meals, avoiding close contact.
One couple had towed a car, and went off antiquing one day and to visit old friends on the second day. The rest of us read, chatted and walked our dogs. hhhhhhhhhhhWe are hopeful that we shall be able to get together again in the near future. It is always better when "two or three are gathered", especially if you are a solo camper.
Everyone brought their own water and each unit was self sufficient. The newer RVs had solar panels and lithium ion batteries. They were able to operate fully, with few problems. One camper, with a 2017 Roadtrek, had difficulty getting her Volt Start to work. It was flashing and after further research she discovered that she needed to reset the Volt Start. There is a short downloadable manual online, from Roadtrek, which explains the process in more detail. So, she looks forward to being able to operate that option on her next dry camp.
We had two Class C's, which had on-board generators. The Minnie Winnie was able to run the A/C on the generator or by starting the truck motor. My RV is a 2009 View, and I am not technologically adept. I got the generator running* on propane, but the fridge would not run, nor would the microwave. Despite the best advice of more experienced dry campers, but limited by the need to keep our social distance, I confess I gave up and plugged in to my 30amp outlet. I do promise to read that manual.
* Warning. I have many squirrels on my property. I have only had this RV for two years and only stored it outdoors the first winter, with a brand new fitted cover. By camping season the squirrels had chewed a hole in the cover, destroyed all the under hood sound insulation and nested in the air intake housing. We thought all was clear, and it was stored in a heated facility last winter. I had not used the generator or propane, so in preparation for this last camping, I had someone check it out for me. Generator purred away and we were just congratulating ourselves, when he suddenly switched everything off. Right at the back, on top of the generator, was a mass of chewed insulation! I could have had a fire.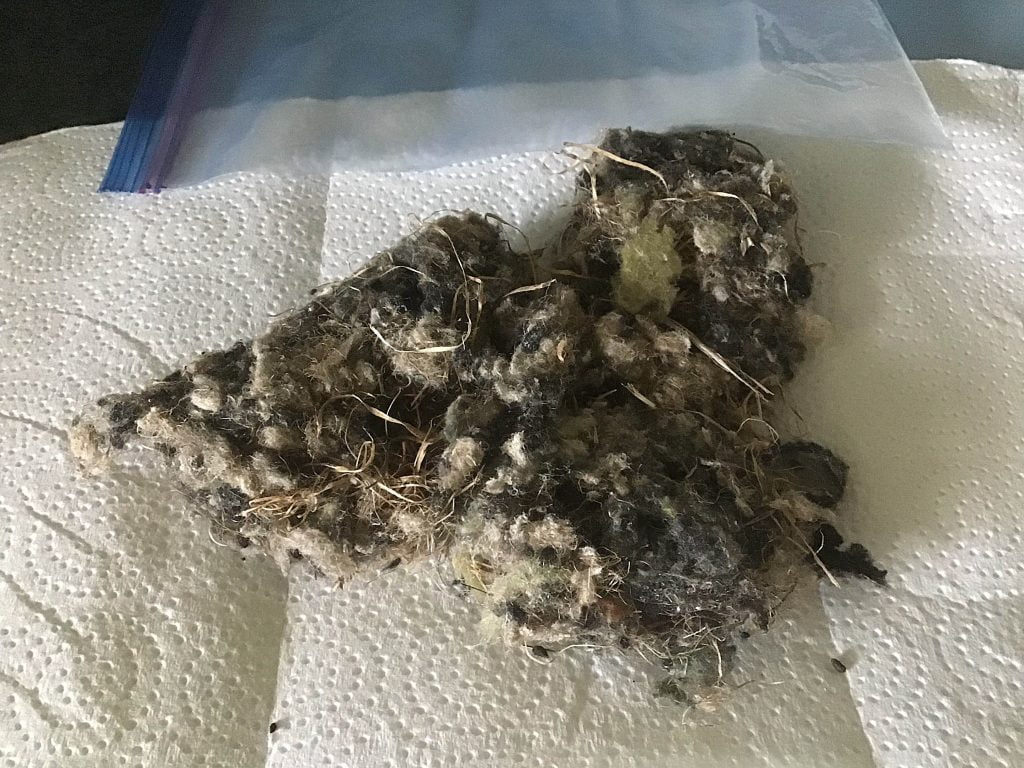 Worse yet, we found another, much larger nest behind the front "wall" on the over cab bed. We think we now have it all and are just hoping there are no other issues.
As I noted earlier, it is not our intention to organize events with this group. There are many other camping groups if that is what you prefer. So, people were free to do anything, or nothing. However, my neighbour has a large acreage which extends to a river at the back of the property. A few years ago she generously donated a large area in order to create a sustainable wetlands area. This was accomplished in collaboration with several environmental groups, including Ducks Unlimited. I had asked if I might take our group down to see what has been done. Better than that, she put out the large display boards which show aerial photos of the process as it developed and which explain the positioning of the ponds. So, we were able to walk down, or take a car, as there is a serviceable gravel track right down to the end. I think everyone appreciated being able to visit. Thank you, Sue. Other than that, one couple took their towed car and went out to see the rural sights. The rest of us read, chatted or slept, I think.
Our planned campfires did not happen, due to a local fire ban. Again, next time.
Bracebridge Campout:
There are a few spots left for the spring campout in Bracebridge. The dates are June 14–18, and you will be able to arrive on the Saturday this year. Location is again at the Bracebridge Fairgrounds, 331 Fraserburg Rd., J.D. Lang Activity Park. Registration is $25 per person and camping fee is $100 per unit to be collected on Monday morning. Site hydro is 15 amps, water via your own hose and dumping station is available. The theme this year is Hawaiian. An agenda will be sent out in May to those registered; there will be a waiting list in case of cancellations. For more information, contact Ken and Virginia Pray at kvpray6@gmail.com or phone (705) 765-6315.
Quinte Wagoners Chapter
All camping/events are CANCELLED until further notice

By Bill van der Valk
We are now approaching the end of our winter break for the 2020 Camping Season and looking forward to taking out our rigs for our first camp.  We do have to mention that some of our members are still using their campers but in a warmer location.  Thankfully there are always RV Shows to attend to perk up our camping needs.
We in Ontario have enjoyed a milder winter with snow and then warm spells where we can see green grass and smell spring in the air.
Our first camp for 2020 is being held at Smuggler's Cove RV Camp in Prince Edward County.  We have scheduled the camp for Tuesday-Wednesday-Thursday, May 12–14.
If you wish to attend this camp please contact them directly at smugglerscove.ca . When you book please tell the camp you're with the Quinte Wagoneers so they will place you with our group.
If you wish to join us for a camp or two, please contact me at billandgerryv@gmail.com.
Southwestern Ontario Chapter
Chesley CANCELLED
We have decided to cancel our get together at Warwick Conservation Area from June 23 to 26 due to concerns about COVID-19. 
By Martha Knight
Southwestern Ontario RV Explorers have a busy summer schedule lined up. We will be getting together once a month at various campgrounds to enjoy campfires, shared meals and many fun activities. We are starting May 19–22, at Cedar Rail Family campground in Chesley. We are celebrating our 15th anniversary as a chapter at this campout. For more information contact Martha Knight at mrthknght@gmail.com. On June 22–25, we will be camping at Warwick Conservation Area. The following month, July 14–18 we are at Greenacres Campground in Kincardine and then Dreamaker Family Campground, Southampton from August 11–14. Our last campout of the season will be at Bissel's Hideaway, Ridgetown, from September 14–18. It looks like another wonderful season. If you are interested in joining our group, please contact our President Michele Garraway at garrawayexplorer@bell.net.
Ottawa Group?
Looking to connect with other solo campers who might be interested in getting together for short camping trips in the Ottawa area and beyond.
We're two retired teachers, with a small motorhome, who like to camp, from May to October each year.
If you are interested in being part of an informal camping group, please contact us at pondend@hotmail.com or wejames94@gmail.com.
NEWFOUNDLAND AND LABRADOR
Newfoundland and Labrador Chapter
By George Joseph
There has been practically no activity in our chapter so far this year other than a few telephone conversations and email messages between members. Our May meeting did not materialize due to Covid-19 and of course we could not hold our usual Spring Rally in June.
Our reservations are still in place for September at the Harold W. Duffett RV Park in Eastport but, although the province has been doing very well as far as new Coronavirus cases are concerned, we have decided to hold off on going ahead with the rally for another couple of weeks in hopes that the current restrictions are relaxed a bit more.
Una and I spent the July 1st holiday at Shriners Park and it was quite enjoyable. It was a beautiful warm dunny day and a Canada Day parade around the park was organized. It ended at the recreation center where participants were served Canada Day birthday cake and pop or juice outdoors where seating had been set up and appropriate 'social distancing' was rigorously observed.
Hope you all have a great summer. Stay safe.
For information concerning our club and its activities please contact me, George Joseph, at gwandumj@gmail.com or (709) 256-3796.