Four couples sat in pairs around a campfire discussing their plan of action for the COVID-19 winter of 2020. We were at Rideau Acres Campground one evening in July. The chairs, placed in pairs around the campfire, each pair six feet from the next. Social distancing, business closures, small groups, travel restrictions, and masks in public buildings are part of the Canadian government's COVID-19 control restrictions, and it seems to be working. While in the United States and Mexico, they are still seeing a day over day increase. I set out the next day to gather the facts.
Winter Plans
These restrictions have been implemented to control the spread of the Coronavirus and keep us safe. To protect its citizens, as of March 13, 2020, the Government of Canada issued a level 3 travel advisory for the world (i.e., avoid all non-essential travel outside of Canada).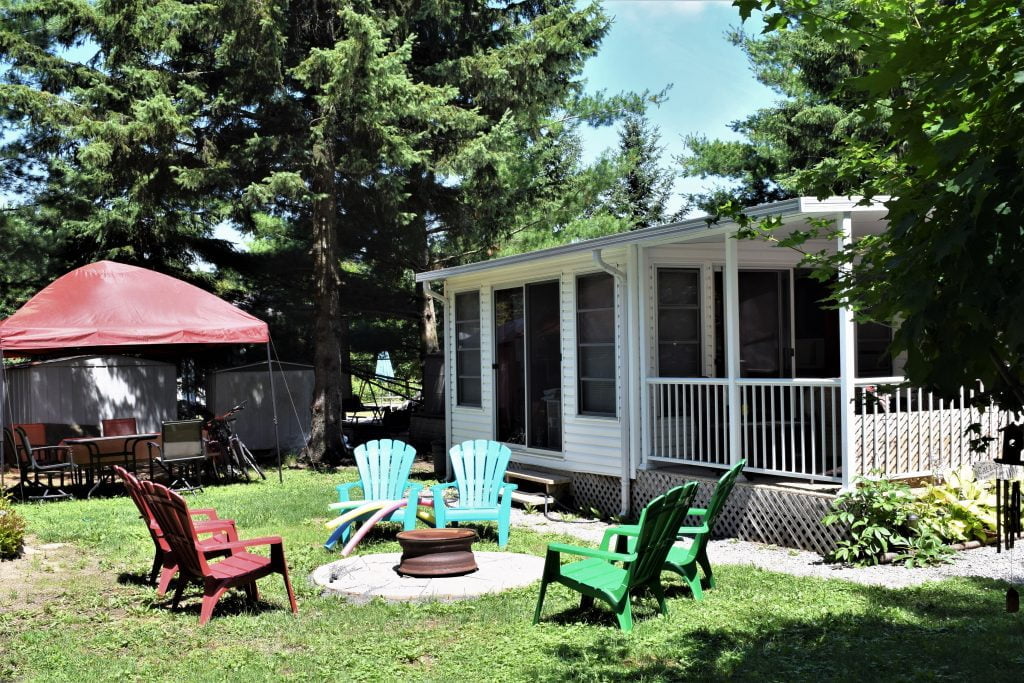 We arranged the chairs around the campfire so that each couple sat side-by-side, and were at least six feet from their neighbour. In July, we did not need the fire for heat, but the friendly glow the campfire and the smell of wood smoke is relaxing.
An agreement reached between Canada and the United States closed the border with our biggest trading partner for all non-essential travel. For Linda and I, we had planned to drive across Canada in September to visit our son and his family. In November, we wanted to drive down the west coast and winter in Arizona, with a six-week side trip into Mexico. Like many Canadian RVers, our plans for this winter are on hold. RVers cannot travel south at the moment, but do they really even want to?
We discussed many questions as we sat in our socially distanced group around the campfire.
Will RVers (Snowbirds) be able to obtain Out-of-Province Emergency Medical coverage for COVID-19?
Will the cross-border travel restrictions be lifted for this winter?
Would we, as individuals, risk travel into the United States or Mexico?
What were our plans for this winter (2020/2021)?
It had been a fun evening as we all told each other about our plans and the plans of people we knew. RVers are dynamic people, most had plans, and some had put their ideas into action. Action was required now, but as a group, we were unsure of the effect today's decisions will have on our lives next year.
Facts
Canadians are worried about opening our border with the United States. The number of new cases decreased each day in early July, but with the relaxing of restrictions, the numbers have started to climb. The story is different in the United States and further south into Mexico and Brazil. These countries have not stopped reporting day after day increases in the number of people infected. Canadians, in general, have accepted the practice of wearing masks in public and regular hand washing. Canada is moving slowly to allow its municipalities to open businesses. 
The Canada Border Services Agency
In mid-July they announced the land border between Canada and the United States would remain closed to non-essential foreign travel until the end of August and has since been extended throughout October at the time this was written.
Léger
Canadian-owned polling and market research firm. It concluded in an early July 2020 poll: 86 percent of Canadians want the border between Canada and the United States to remain closed in August.  Of the Americans polled, 64 percent want the boundary between the two countries open.
Nanos Research
Canadian public opinion and research company. On July 6, 2020, the Nanos Research reports that more than eight in ten Canadians say the Canada-U.S. border should remain closed to non-essential travellers for the foreseeable future.
Manulife Insurance
On July 10, 2020, Gillian Earle, Director, Global External Communications (Media Relations) Manulife Insurance, responded in writing to my question regarding Emergency Medical coverage for Canadians who get infected with Coronavirus. With the following statements:
As of March 13, 2020, the Government of Canada issued a level 3 Travel Advisory for the world (i.e., avoid all non-essential travel outside of Canada).   
When it comes to Manulife Individual Emergency Medical Insurance Coverage, Coverage is available only if the Government of Canada has not issued a Level 3 or higher Travel Advisory for your destination before the departure date. Medical expenses related to COVID-19, those costs would be covered under the terms and conditions of the individual travel insurance you purchased. 
At this time, Manulife's Individual Emergency Medical Coverage premiums have not changed, but they are reviewed regularly and are subject to change based on various considerations.
Guardsman Insurance Services, Inc.
(My Insurance Agent) On July 8, 2020, Tom Watson Sr.CD, President, responded in writing to my question regarding Emergency Medical coverage of a Canadian who gets infected with Coronavirus while out of Canada. With the following statement: "At present, no company is covering COVID-19 for travellers OUTSIDE of Canada." There is no indication of what cost increases are forthcoming right now. Travel word wide is almost at a standstill, so the insurance companies do not have any current actuarial numbers for claims to set rates. There has been no indication of any rate change yet.
SkyMed
The emergency evacuation service. As a company, they must comply with the Government rulings of social separation and quarantine requirements. If you get COVID-19, do not expect to be flown back to Canada.
Around the campfire, we as RVers discussed our plan of action for this COVID winter.
Rideau Acres Campfire
C. and M. (Weekender RVers). They have new jobs in Fredericton, New Brunswick, Canada. They believe that in Fredericton, they and their children will be safer. They have sold their home in Ontario and are driving to New Brunswick with their truck and trailer. Rideau Acres Campground was their last stop in Ontario.
M. and A. (Fulltime RVers). They have a trailer parked on a nine-month site in Ontario for use during the summer, and a winter trailer in Florida. They are still undecided about what they are going to do this winter.
P. and J. (Fulltime RVers). They have a seasonal site in the Hamilton area. P. and J. have also not yet decided. They may purchase a house in Quebec that could be used as a vacation cottage when the Coronavirus is over, or spend a few weeks in several different Airbnb's across Ontario.
Malcolm and Linda (Fulltime RVers). For the past several years, we have spent six or seven months of winter in Mexico and the United States together. Summers are spent in Ontario, where we have a seasonal nine-month site at Rideau Acres Campground. We found an Airbnb home to rent for four and a half months of winter in Prince Edward County, Ontario.
Friends not at the campfire
G. and L. (consider themselves Fulltime RVers). They usually fly out to the Caribbean for the winter. This year they have purchased a house in Ontario that requires work. They see this as a winter project that may last two years.
B. and J. (Fulltime RVers). Usually spend their winters touring the southern United States and summers in Ontario. They have now booked a campground near Victoria, British Columbia for the winter. They plan to drive across Canada in August and September. This option seems to be something that several people we know have selected.
J. and C. (Part-time RVers). Usually, they and their family take their trailer out most weekends, C. and the children stay in it as a summer holiday home for a couple of weeks. This year they had to buy a seasonal lot because at the beginning of summer, campgrounds were closed to transient campers.
D. and C. (Fulltime RVers). They have a nine-month seasonal site at Rideau Acres Campground, Ontario. They usually spend the winters in Florida or Arizona. This year they will probably move into a friend's basement apartment for January to March 2021.
Helpful Hints
RVers trying to decide how and where to spend this winter:
British Columbia, Vancouver Island, is reputed to be mild in winter, and campgrounds are open. Check first and book in advance. Check campgrounds across the country for closure dates.
Elliot Lake Housing, Ontario, does have furnished and unfurnished apartments to rent. (typical rent $800 to $1,500/Month)
Executive Rentals do exist around southern Ontario (typical rent $2400/Month)
Airbnb furnished homes, (typical winter rent $1,500 to $3,800/Month)
Kingston Area, unfurnished Apartments with a 12-month lease (typically $1,200 to $2,400/month
Summary
Around our campfire, we did not think Canada should risk potential infection by letting Americans have free-range travel in Canada. Our government should stand firm.
With a Government of Canada, level 3 Travel Advisory in effect covering travel to all countries of the world, there will be no COVID-19 out of Province medical coverage available.
In early July, two independent polls reached similar conclusions, 8 in 10 Canadians say the Canada-U.S. border should remain closed to non-essential travellers for the foreseeable future.
The collective opinion around the campfire was that they do not want to risk driving south this winter, even if the borders open. Most Canadian RVers are planning to stay in Canada during the COVID Winter of 2020.