Fifth wheel travel trailers make up the bulk of new RV sales in Canada today. This trend has been growing for a while now, and I see no reason for this market domination to slow in the future. But why have fifth wheels sold so well?
The success of the modern fifth wheel trailer has everything to do with the continuing evolution and popularity of the pickup truck. Here is a case of one industry – automotive – having a profound influence on another – RV builders. Just look at the stats on the Keystone Avalanche 320RS tested for this review: At 35'8" long, it features three slide-outs and has a dry weight of 11,571 lb. But this is hardly the biggest trailer in the Avalanche lineup; that distinction goes to the 396BH, which has four slide-outs, two full bathrooms and a loft. It's 41'6" long and has a dry weight of 13,940 lb. To haul weights and lengths like these, you need heavy-duty pickup trucks. This segment of the truck market now makes up over 20 percent of total pickup truck sales, and the Detroit builders will tell you that it's the increasing numbers of recreational haulers driving those sales.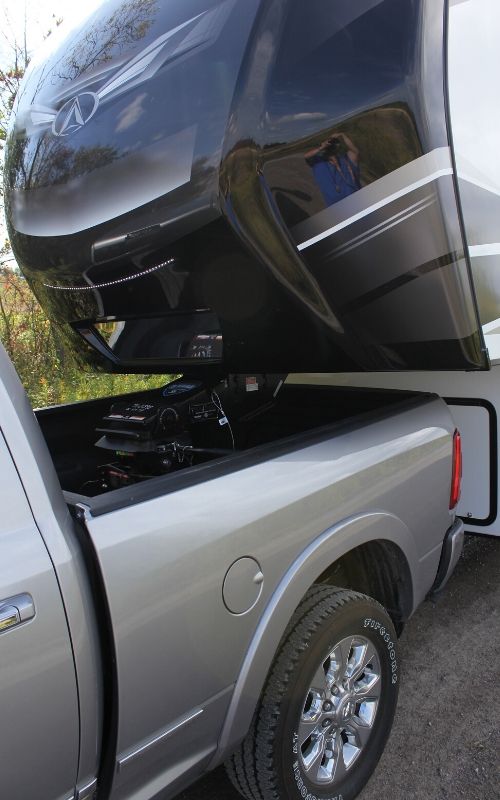 My tow vehicle for this test was the 2019 Ram 3500HD powered by the new 6.7L Cummins diesel engine (which now makes 1,000 lb.-ft. of torque); this truck will haul over 30,000 lb. The Ram also was equipped with a factory-installed fifth wheel hitch (which included a removable gooseneck hitch ball) and in-bed seven-pin electrical cord plug-in. While preparing the hookup, the screen in the center stack shows a clear image of the trailer; this is part of the seven-camera surround view system in the Ram. An in-bed camera view showed the hitch and pin lining up as I backed under the trailer. This system includes a camera that can be installed at the rear of your trailer, as well – now that cleans up a huge blind spot!
Once the trailer was on the hitch, I felt the rear air suspension compressor come on as it automatically raised the truck and trailer to a level attitude. These are just two of the integrated systems that now help the driver manage the load. In fact, with the Ram (and most new heavy-duty trucks), a network of driver-assist features makes handling large trailers like these much safer and less stressful than in the past.
Some of the other systems that are becoming indispensable when towing trailers this size are: adaptive cruise control; automatic emergency braking – which also extends to the trailer brakes; engine braking and selectable transmission gearing for holding the rig steady on long downgrades; and a tire pressure monitoring system that accommodates up to six truck tires and the tires on your trailer as well. Also, I should mention, these new HD trucks are quiet, comfortable, ride well and have beautifully appointed interiors that feature every possible modern electronic and infotainment system.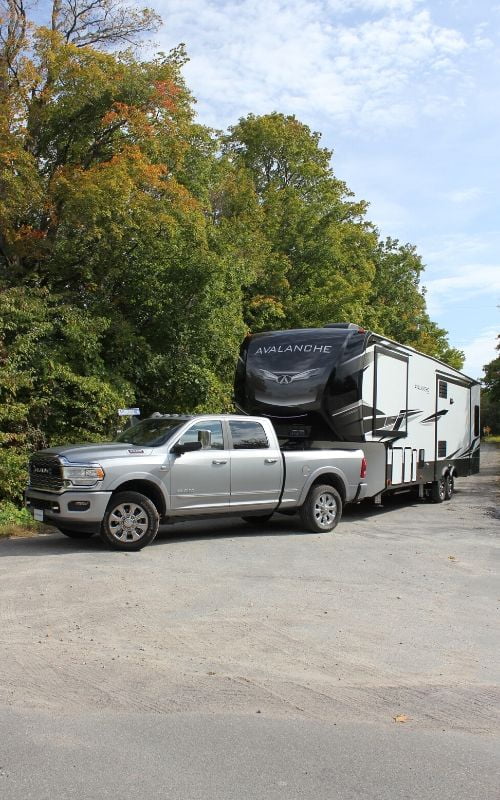 The net effect of all this technology and engineering is that you can tow the biggest trailer on the market comfortably, without anxiety. You'll feel that you are in complete control of the load, and that is the best feeling of all.
Keystone's Avalanche lineup is aimed at full-timers and large, active families. The trailers all offer substantial floor space and up-sized features like king-size beds. The main floor features a kitchen island that sits in the middle of action. Housing the twin sinks, it faces the free-standing dining table and the theatre seat next to it in a slide-out. The sinks both have covers, and when in place create a large food prep surface. A swivelling gooseneck faucet stays out of the way. From that theatre seat, two people can watch the 50-inch flat-screen TV (over the fireplace, which also has a heating function) directly across from you. This is a good sight line – no off-set, neck craning viewing needed here. But, the most comfortable viewing spot will be the full-length hide-a-bed sofa that takes up the entire rear wall of the trailer. (I confess, I like to lay on the couch while watching TV.)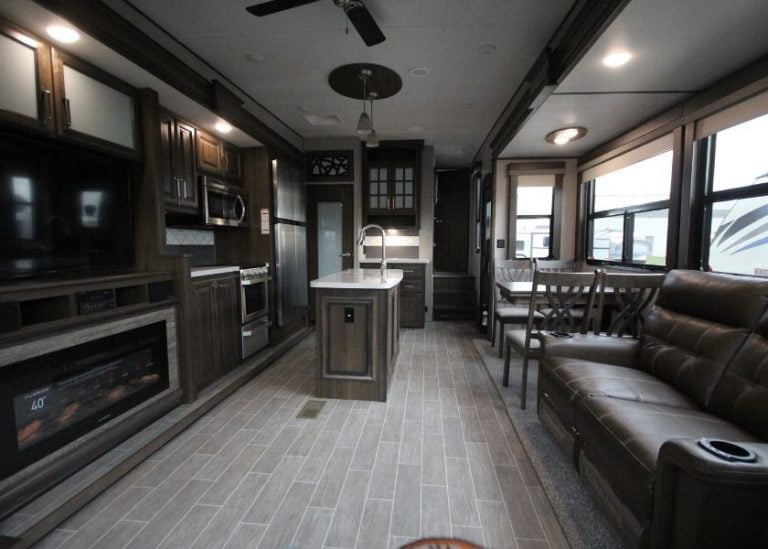 The rest of the kitchen appliances (including an optional 18-cu.ft. refrigerator) are directly behind the center island. A full oven and a built-in microwave above the stove flank another good-sized counter area. Kitchen cabinets are found above and below this kitchen layout. All this, the entertainment center (with its own cabinets), fireplace and the kitchen are housed in a second large slide-out; which, because it's opposite the dining table slide, makes for a very spacious main salon when open. On the dividing wall (next to the fridge) is a full-size, glass-door pantry and next to it is a counter top – which I'd think of as a desk space. Above and below it is more storage in the form of drawers and what's called a "curio cabinet." As this is not specifically part of the kitchen, it truly can be an office space – or catch-all. Frankly, every trailer needs a spot for extra stuff – well, this one has it.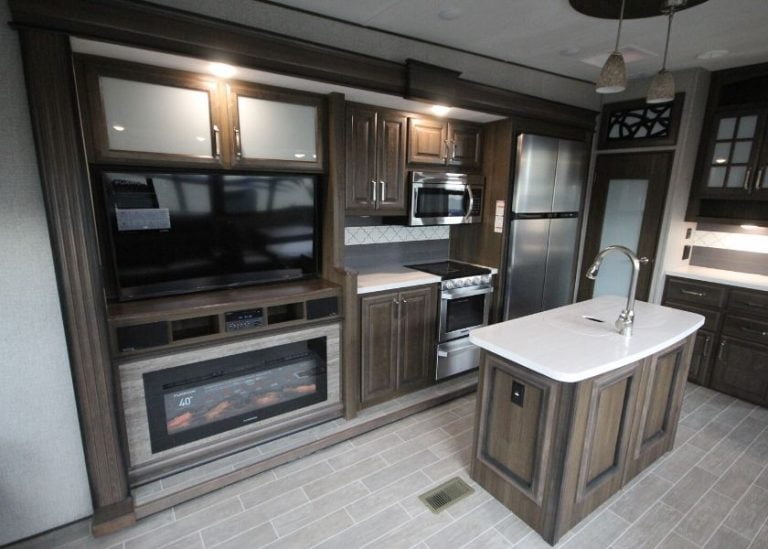 I should note here that when the slides are closed, you really don't have use of the amenities – this trailer design needs to opened for full use. When you do get to where you are going, the Avalanche uses a six-point hydraulic auto-levelling system to get you set up fast.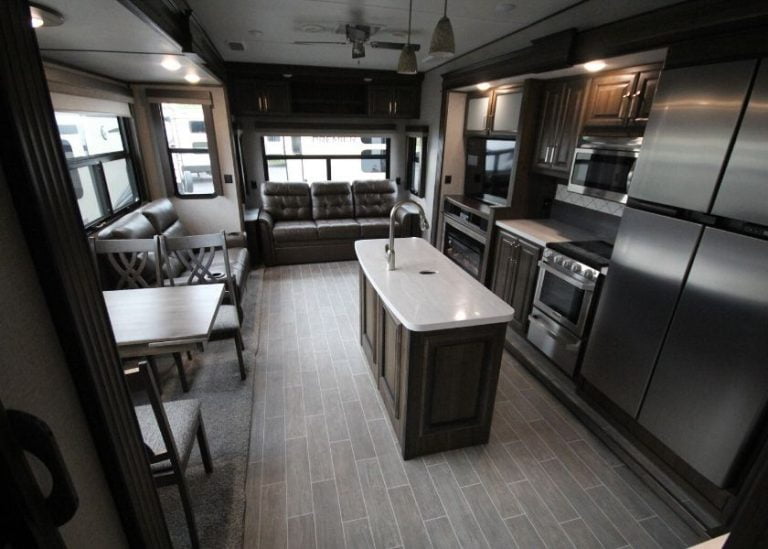 The Avalanche décor is nicely coordinated (colours, shapes and styles). But past this, Keystone has gone further by adding small touches that give the whole palette a more upscale feel. You'll note nice hardware, a ceiling fan, glass panelled cabinet doors, artsy wood inlays and some very nice light fixtures. This is also a very light, bright trailer. Windows are very large and take up as much of the wall space as I suppose the structural engineer would allow.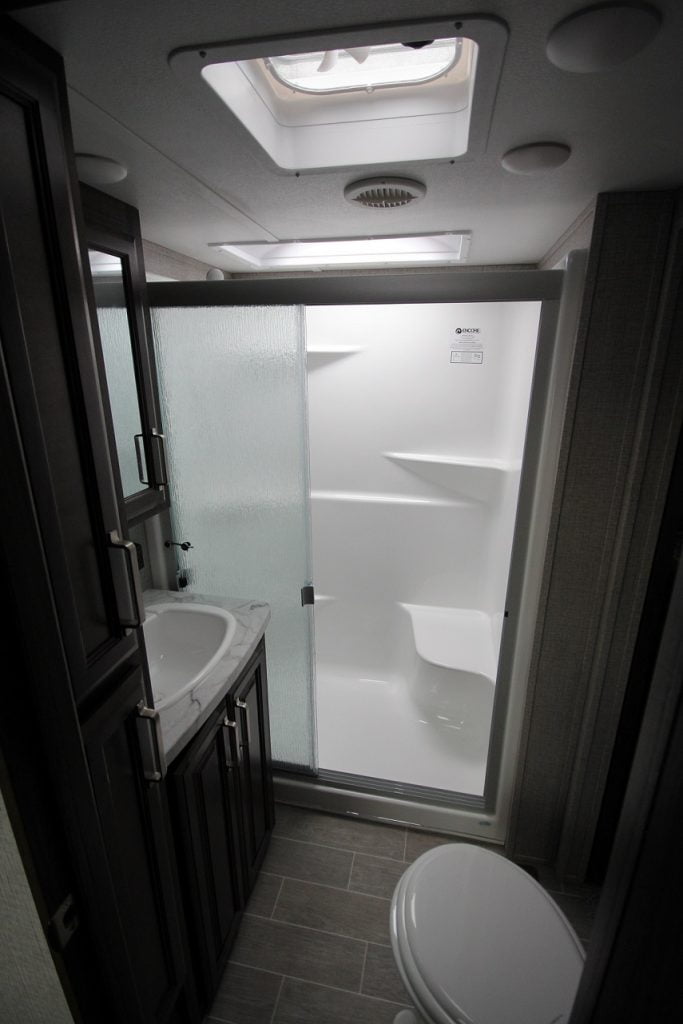 Stepping up towards the master bedroom, the full bath is on the left. It features an oversized shower with a surround that has integrated shelves and a seat, with a glass sliding door, skylight overhead and low step-in height. The sink is large and the mirrored medicine cabinet has plenty of shelves. The porcelain toilet is off-set in the corner between the main door and the secondary entry to the bedroom (these are both hard doors – the bedroom one is sliding). This position keeps it off the wall and allows plenty of space around it.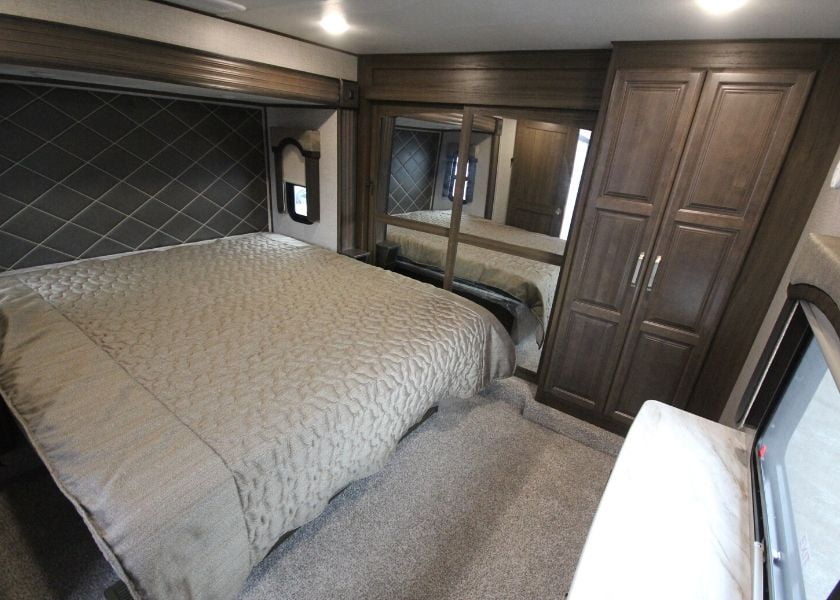 The large master bedroom features a third slide-out which moves the head of the bed out. This is a 70 x 80-inch king bed. This slide has cross-draft windows and a full-wall padded headboard. The room is carpeted and across from the bed is a chest TV with a hard counter top. In the nose of the trailer, you'll find a wall-to-wall wardrobe that features sliding, mirrored doors next to a floor-to-ceiling highboy; this space is also prepped to accept a stackable washer/dryer, if you prefer. The bed also lifts for bulk storage underneath. Speaking of storage, large outside doors give access to the ample basement storage (145 cu.ft.) from either side of the trailer as well as the front; it's also heated. If this is a full-timers trailer as I suggest, you need this much space.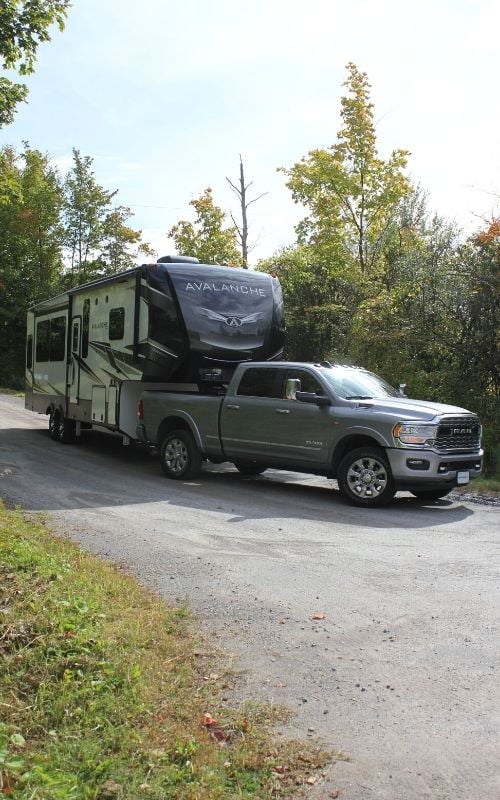 The Avalanche looks good – but how does it tow? With the Ram 3500 doing the pulling it was smooth, hardly noticeable at all. Of course, that was mostly because of the truck, but Keystone also points out that it has added substantially to the quality of the running gear. The trailer uses Road Armor suspension that equalizes axle load to dampen shock and vibration. Tires are G-rated and the axles are rated at 7,000 lb. each. It also had an upgraded pin box.
Some other things you don't see but are important to the overall construction and quality of the trailer are: unified wiring standard, Tru-Fit five-point slide construction, no-fail Tuf-Lok A/C duct joiners and insulation (roof: R28, floor: R37, walls: R10) and heated holding tanks that will let you camp in down to -4°F temperatures without fear of frozen water lines.
I had a nice day with the Avalanche – and being that I was doing the driving in late fall, I'll admit to having a strong urge to just keep heading south, and explain later.
2020 Keystone Avalanche 320RS specifications:
Length: 35'8"
Height: 13'2"
Width: 100"
Interior height: 8'4"
Dry weight: 11,571 lb.
Carrying capacity: 3,429 lb.
GVWR: 15,000 lb.
Fresh water: 66 gal.
Grey water: 83 gal.
Black water: 49 gal.
LPG: 60 gal.
Base price: $60,668
Base Camp Package: $7,500
Trail air pin box: $713
6-point hydraulic auto levelling: $3,525
G-Range tires: $893
18 cu.ft. four-door fridge: $3,000
Fireplace: $600
Dual A/C Package: $938
Freight: $1,100
MSRP (price as tested): $79,081
Test trailer supplied courtesy of Camping In Style, Brooklin, ON