The Canadian Recreational Vehicle Association recently sent out a report showing the first quarter import numbers for every class of RV (January 1, 2020 to March 31, 2020). As you'd expect they are down – about 30% from the same period in 2019. The main reason was cancelled orders by Canadian dealers who knew they'd be shuttered and who also couldn't predict what the longer-term effect of the COVID shut down would be.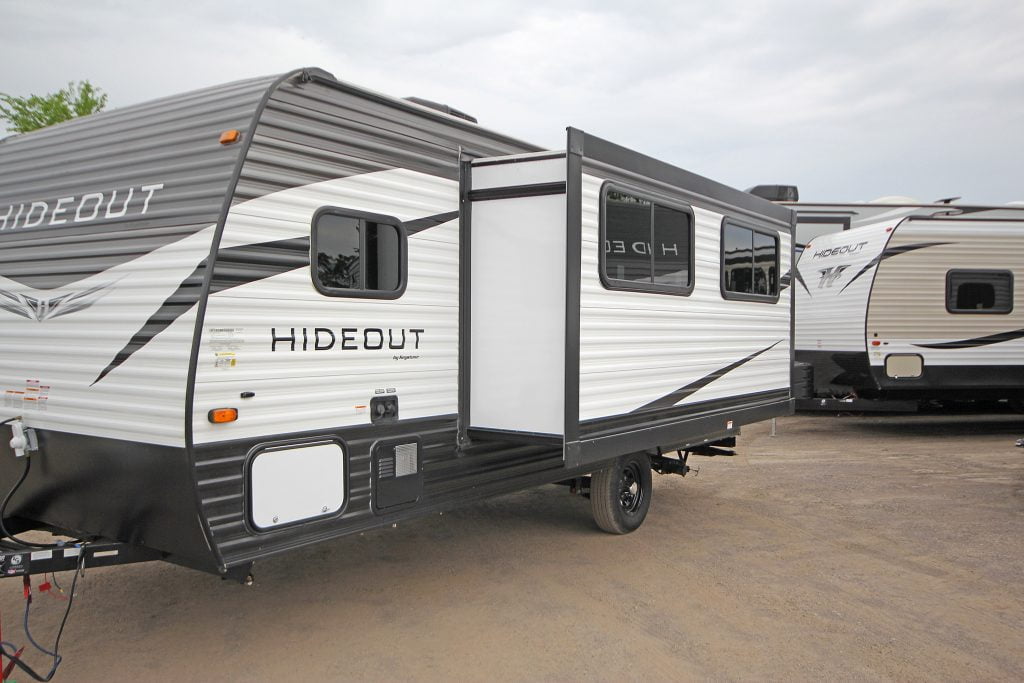 However, RV dealers reopened in late May (on a limited basis) and early reports suggest that the demand of new RVs is unexpectedly high. This may come as a surprise; but when you consider that RVing is currently one of the few ways a family can get out for a vacation while still maintaining a social distance from others – well, now it starts to make sense. I think we won't see a rebound in vacations involving air travel for quite some time so camping may just be the next best thing. Now that summer is here (and in Canada we know its short); for now, RVing is the answer to fun travel while isolating.
Soon after RV dealers re-opened, I went out to have a look at a very basic family-orientated trailer; exactly the kind of unit that even a new-to-RVing family could easily get into; experience and price-wise. The immediate bonus – get out and enjoy as much of this summer as they can.
The Hideout name from Keystone is attached to a wide range of trailers, including fifth wheels – what they have in common is that they are value-priced. The 186LHS has a new floorplan this year and it's the one I had a look at. Its most significant feature is a large single slide-out that houses both the dinette and the fold-out couch.
This Hideout measures just under 23-ft long and has a dry weight of 4,066 lb. (max 5,000 lb. loaded) and is said to sleep six. This length and weight make it easily half-ton towable as well as with many midsize trucks. Larger SUVs will also handle this unit.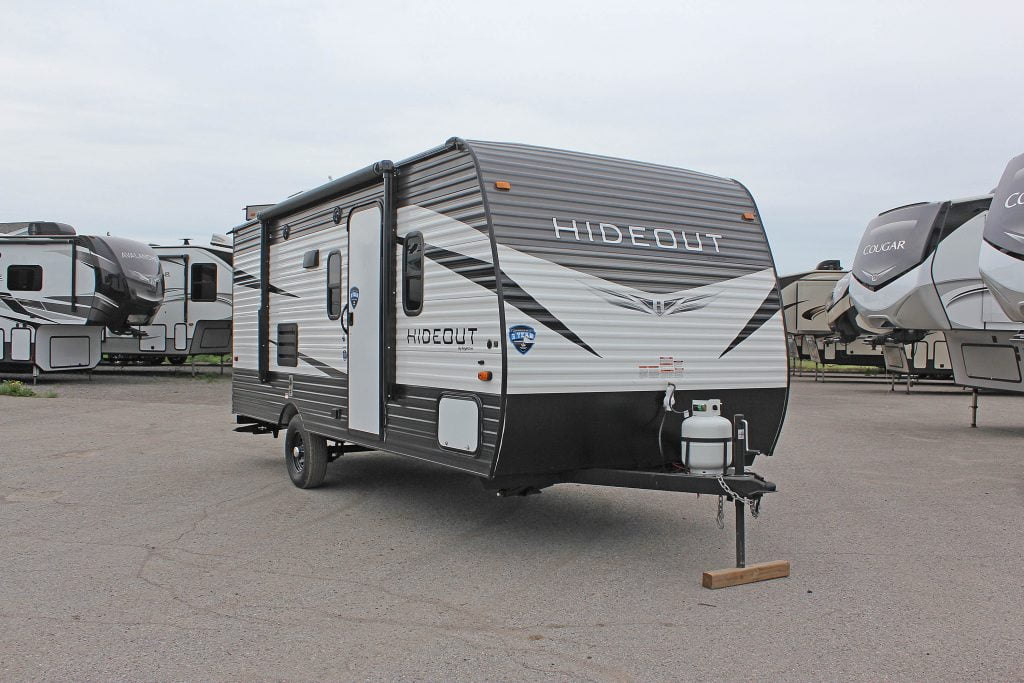 Walking around outside, I see a pass-through storage at the front of the trailer. The large awning is powered and covers a pair of outside speakers. There is also a 110V plug here – all items that lend themselves to a relaxing outside entertainment space. This single axle trailer rides on a Dexter E-Z Lube axle. It supports a full I-beam frame that is powder-coated for corrosion protection. There are crank-down scissor jacks at each corner. The windows are all automotive style radius-cut with tinted glass.  Also, on the front sidewall I noted the pre-wired solar panel plug-in. Setting up a solar panel when you are camping dry helps to trickle charge the house battery – giving you more time off-grid. But, looking at the numbers (in terms of a single 12V battery, just one 20 lb. propane bottle and only 27 gal. of fresh water) staying outside a campground without services is at most a two-day adventure. The unit has a 30 Amp plug-in and with kids wanting to watch TV and microwave popcorn you'll need to be plugged in.  This is not a wilderness back-country camper.
Opening the door, I saw a Lippert secure step. This type of rest-on-the-ground entry step is becoming more common; frankly it's so much better than the older hang in the air steps, and, with a whole family trooping in and out all day you'll appreciate the fact that the trailer doesn't "bounce" as people enter and exit.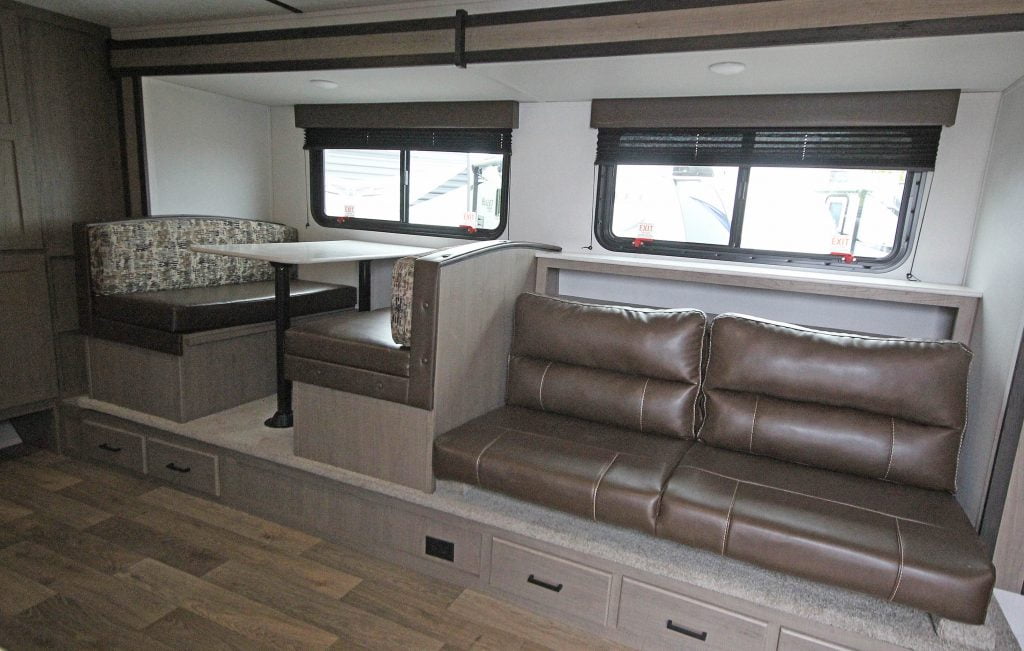 Inside, the floor plan makes use of that large slide-out by creating living space right in the hi-traffic center of the trailer. The six sleeping positions rely on the dinette being folded down and the lounger opening up. Neither of these is "large" so, having at least a couple of kids will give you those six sleeping spots. On the other hand, the front queen bed is ample – it even has access from the one side.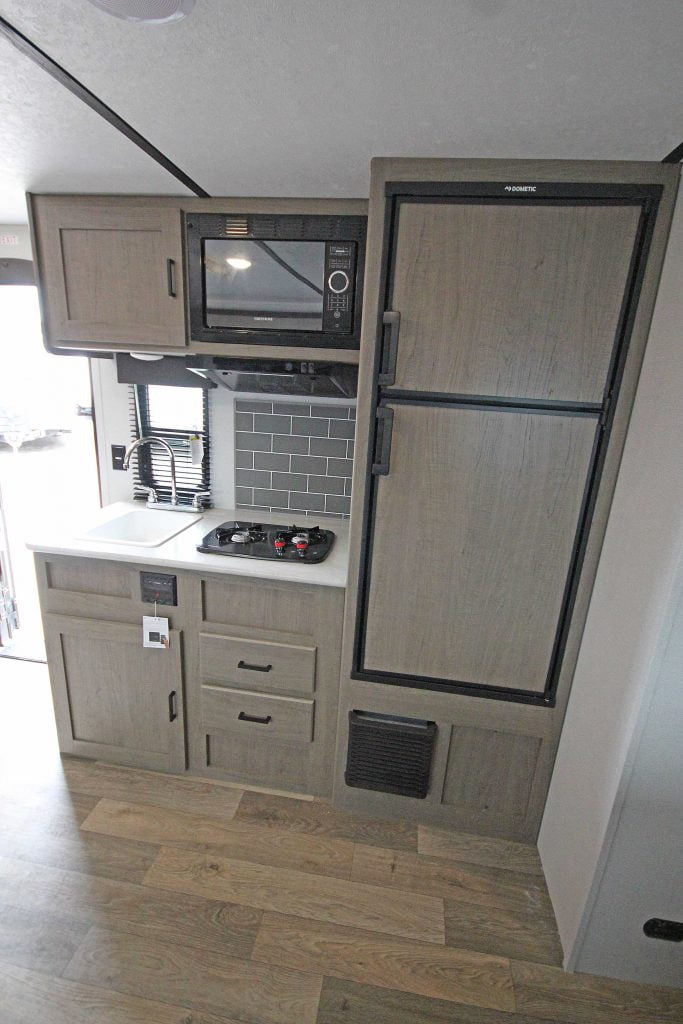 The kitchen in this unit has a couple of nice features, like the hi-rise faucet over the large single sink and a full-wall tiled backsplash behind the stove. I noted that the plumbing is the flexible Pex tubing type. As for cooking burners, you get two, and even with that, counter space is very limited. There is no oven, but a good-sized microwave is placed a head height above the powered vent hood. Next to this setup is a six-cubic foot refrigerator/freezer. Kitchen storage consists of a pair of drawers and an under sink cupboard. However, at the rear of the trailer is a wall of cupboards including what to me looks like a floor to ceiling pantry. Storage, particularly with a family, is important and the Hideout does use every available inch for some kind of storage, be it under the lounger or under the bed. The floor throughout is an easy-clean hard-wearing laminate. The only bit of carpet is on the raised slide-out.
The tinted windows I mentioned have pleated two-way shades inside. The first blocks some light – the second stage blacks the windows out altogether. For HVAC the trailer has both furnace and (optional) roof-mounted AC. Neither of these systems is ducted – but then the trailer is small enough that single outlets for heat or AC will work. The furnace puts out 20K BTU and the AC unit is rated at 13.5 BTU. The day I was shooting photos inside this trailer it was around 25C – after 10 minutes inside I made a note – "buy the AC". If you have both systems, you have a three-season trailer and for our climate that's not bad.
For entertainment the Hideout comes with a Bluetooth compatible stereo that also handles DVD/CD and MP3s – it has built-in ceiling speakers and of course you can direct the music outside. My test unit did not have a TV installed, but there is a wall-mounted wired spot at the foot of the queen bed that also has a good line of sight from the lounger.  Still, the TV is optional – or buy your own aftermarket.
The bathroom in this unit is relatively spacious – with a decent sized shower, but without a skylight. If your looking, check for headroom, but for kids (or the dog), there will be enough space for a parent to hose them down. The sink has a small counter, but no medicine cabinet. Instead there are several large shelves below the counter – with the plumbing showing. Keystone assumes you won't care – I didn't. The toilet has ample space around it and the roof vent is powered.
Circling back to my original thoughts, if I were stuck in an apartment with my younger kids, I would see this trailer as not only covering my immediate holiday needs but also saving my sanity.
This Hideout provides all that's needed to get out there as safely as possible.
Specifications – Keystone Hideout 186LHS
Dry Weight:        4,066 lb.
GVWR:              5,000 lb.
Length:              22' 10"
Height:               10' 4"
Fresh water:      27 gal
Black water:       30 gal
Grey water:        30 gal
LPG                   20 -lb.
$21,995 CND  –  price as tested – quote provided by Camping-in-Style, Brooklyn, ON.