The Ford F-150 Lightning, all-electric pickup truck, has begun shipping to customers. This electric truck is no longer some future concept; prophesied by industry experts who crow about the coming of an all-electric automotive industry. No, this truck is real, and you'll soon see them on our Canadian roads.
I recently travelled to Texas to drive this truck and experience this first wave of electric trucks now that the other truck manufacturers have announced they're following suit. It's true, the future is electric, and the trucks are coming – like it or not!
The Difference
The F-150 Lightning is a whole new frame of architecture clad in the same skin that you're used to, which is smart on Ford's part. Once inside, everything is familiar. It looks and feels like any F-150 from the past twenty years. It's only when you start driving that you notice the difference:
1. There's no engine noise.
2. The incredible acceleration.
This Lightning will do 0-100km/h in 4 seconds – that's sports car territory. If power was ever your concern in an electric truck, it shouldn't be anymore. Neither should its ability to work.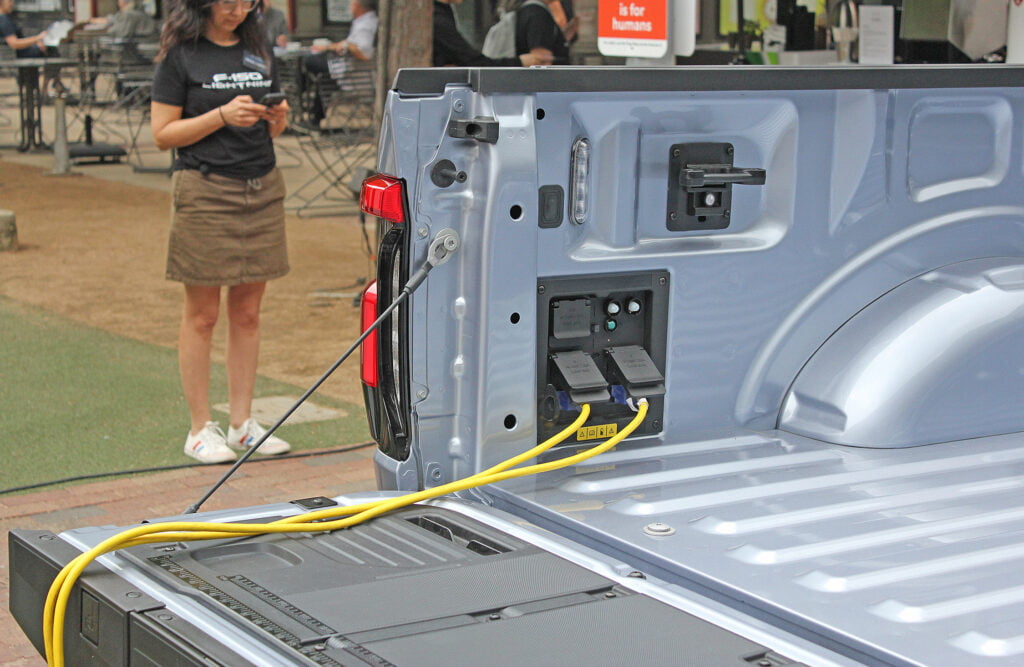 Like any F-150 it has good payload (max 2,235 lb.) and the fact that you can plug an entire workshop's worth of power tools into it at the job site makes it even more attractive for the workman.
On the road, it feels heavy and planted (it weighs over 6,000 lb.). The reason for that feeling is because the heaviest components (the motors and battery) are very low in the frame and perfectly centred, making the weight distribution exactly 50/50 front to rear. Gasoline and diesel trucks on the other hand have always had a heavy front end and a light, twitchy back end. That's no longer the case. Going around corners, this truck feels like a slot-car. The centre of gravity is so low it just sticks to the pavement; certainly, a positive mark in its favour. As for that empty space under the hood where the gas engine used to live? It's now called a Frunk and it's lockable, has power outlets and is large enough to carry two golf bags.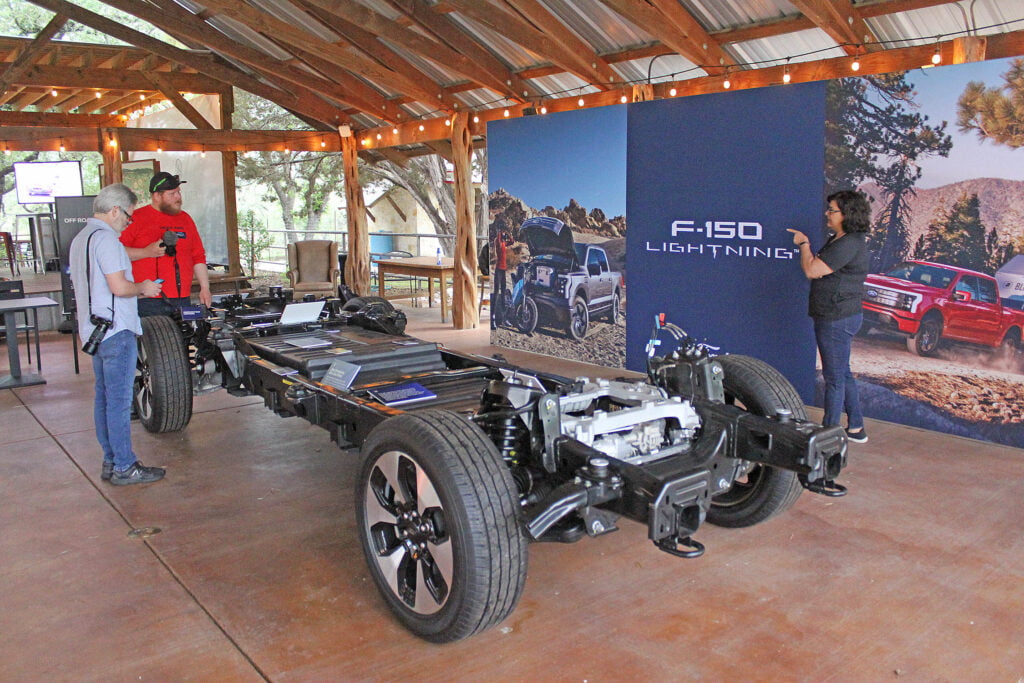 The drivetrain on the F-150 Lightning consists of two eMotors. They are mounted front and rear, transversely, driving the wheels directly and giving it an all-wheel drive. The standard range battery is rated at 452hp (or 337 kW) and 775 lb. ft. of torque (1050 kW). If you opt for the Extended-Range battery, those numbers increase to 580hp (433kW) and the same torque. In practical terms, this is the fastest F-series ever. That torque is instantly available, unlike a gas motor that must increase its rpms before the full torque curve comes on and is connected directly to the drive wheels.
What About Towing?
On top of all of that, it can also tow. With the top towing package, it is rated at 10,000 lb. During the first drive, I had a chance to tow a trailer with 9,500 lb. of wine barrels on it. Frankly, it was a good towing experience. As most who tow know – long, low and heavy make the best tow vehicle. But the downside? Much like a turbo gas engine, where the fuel consumption almost doubles as you load it down, the F-150 Lightning range almost drops by half. Again, we have to learn to plan differently if we want to run or tow with an electric vehicle.
So, how far will an electric F-150 take you? Ford has released the final EPA-estimated range figures for all F-150 Lightning pickup models. These estimations include a 32 km increase for F-150 Lightning XLT and Lariat trims with the extended range battery for a total EPA estimated range of 515 km. Fleet customers have the option to purchase the extended-range battery on the Lightning Pro. The base Lightning model, however, is rated at 370 km on a full charge. Speaking of charge, this is the issue that causes the most concern for those interested in any electric vehicle. Figuring out how long it takes to charge requires a new area of knowledge.
Chargers: The Basics
There are three levels of chargers – One, Two and Three. Three is the fastest. The top charger offers 150kW DCFC (direct current fast charge) and will take a depleted battery from 15% to 80% in 44 minutes. This is the type of charger you'd want to find while on the road – waiting to charge.
A level Two charger (depending on amps available – these are not all currently the same) would charge from 15% to 100% in 10 to 13 hours. This is the type of charger (220V) you might install in your home.
A level One is a simple 110V plugin with your yellow extension cord – it might take up to two days to charge. So, these are the new bits of automotive technology that we now have to get used to and be as familiar with as you are with regular, premium and super gas.
The Good News…
Electric motor technology is simple compared to a traditional ICE engine. It has few moving parts and a much longer lifespan. Also, with no radiator, transmission, fluids, oil changes or filters, maintenance costs are a fraction of what they are for those older gas-powered trucks. As for the battery, yes it has a lifespan, but what that will be on average is yet to be seen. However, Ford is covering it for eight years to start.
How Much Does It Cost?
Lastly, but importantly, the cost of electricity. I wish this was as easy to calculate as litres per hundred kms. However, keeping it simple, at $2.00 a litre of gas, (at a consumption of 15L/100km) the cost to travel 100km will cost you $30.00. That same 100km will cost you around $3.00 in electricity. Did that get your attention?
The F-150 Lighting comes in only one configuration. The Crew Cab is a four-door with a 5'5" bed. It is offered in four trim packages and with a standard or an optional extended range battery.
In Canada the Base Lightning model comes as an XLT trim and costs $68,000. The entry level "PRO", which costs $58,000, is only available to Fleet customers. The Lariat package costs $80,000 and tops out with the Platinum package at $110,000. These trucks are available now – but, the wait times to get one may be up to a year.