The 2024 Ford F-150 debuted at the Detroit International Auto Show in September. We saw a re-fresh on stage (as the last generational update was made in 2021) that offered some thoughtful fine-tuning on an already good truck.
Talking to the engineers during the presentation of the '24, it was apparent that they had fixed some deficiencies and tried to beat their competitors on other features.
Here is a short list of what's new.
On the powertrain front. The long-serving naturally aspirated V6 has dropped from all models. That puts the 2.7L EcoBoost into that slot. This engine will increase hp torque on this base offering and price.
A Class IV trailer hitch is now standard equipment on every truck.
Ford also puts an extended range 136L fuel tank (36 gal) into every truck.
Ford executives spent considerable time telling us that they have been listening to customers complain about the complexity of the online ordering process. In response, they have revamped the online ordering site, and it's said to be 90% better.
I have not used it, but I'm guessing that many options have been deleted and others tied together into easier-to-understand trim packages.
Also, under the heading of simplification, – the Limited trim package has been deleted. Instead, Platinum has added a new Plus package. It was always confusing which was top – Limited or Platinum – so now it's obvious – and the Plus package keeps the number of trim packages the same. For 2024, Platinum Plus includes an exclusive Smoked Truffle Interior Theme with Bronzed Copper accents.
Pro Access Tailgate is a mid-gate swing door that Ford is pushing as a solution to bed access when you have a trailer hooked up and can't drop a normal tailgate. It's interesting; however, it's mostly a response to Ram's split tailgate and GM's multi-flex tailgate. Well, Ford has one, too, now.
In addition to the new 2.7L EcoBoost standard engine, just note that F-150 can be ordered with 3.5L EcoBoost, 3.5L PowerBoost, 3.5LHigh Output (F-150® Raptor®), 5.0L V8 and the 5.2L supercharged V8 (F-150® Raptor R®)
Towing and payload numbers have also changed. The new F-150 has a tow rating of 13,500 pounds (Max) and a payload of 2,445 lb (Max)
Also highlighted at the show was that the Pro Power Onboard version of the F-150 continues to offer an available 7.2kW on 3.5L PowerBoost-equipped trucks, and right now, 10 per cent of all F-150 trucks sold are hybrids. Ford says it plans to double the mix of hybrid trucks manufactured for 2024 to give even more customers access to this advanced technology.
Another update is in the digital realm. Ford's SYNC 4 with a 12-inch LCD capacitive touchscreen is now standard across the lineup and complements a standard 12-inch cluster screen behind the steering wheel in delivering information to the driver.
Also, on the digital front, Ford wants to help owners prevent truck theft. The 2024 F-150 will be the first Ford vehicle available in North America with Ford Stolen Vehicle Services. This connected service can help locate a Ford owner's stolen vehicle if a customer activates it. Once located, local authorities can help find and recover the vehicle. With the help of the call centre, the owner will be updated along the way.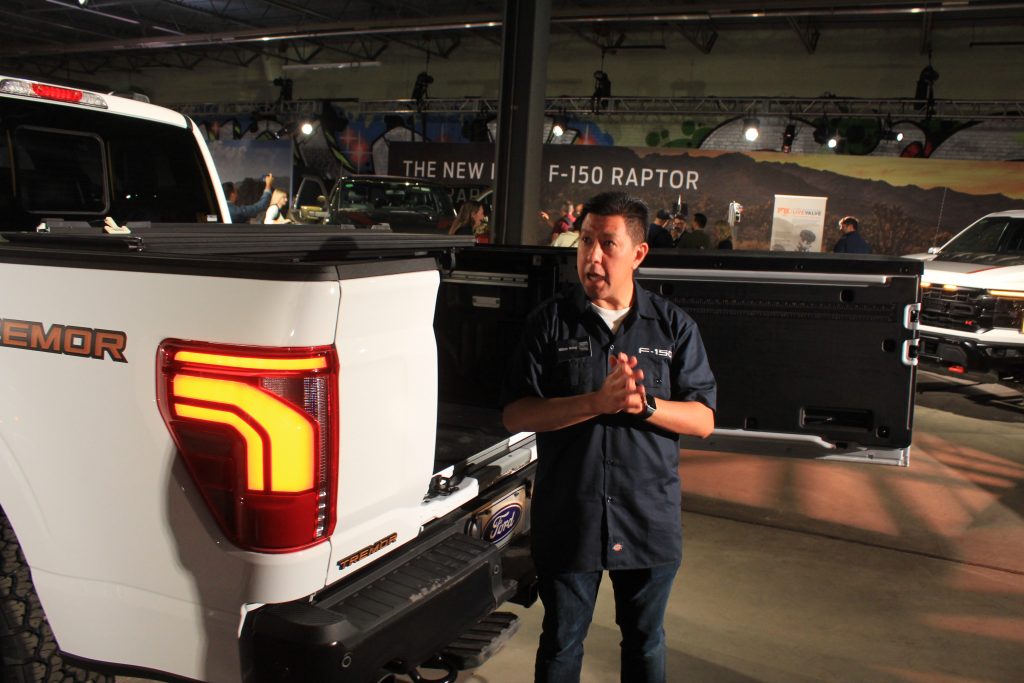 The F-150 with Pro Access Tailgate is a swinging door with built-in stops to hold it in place. It ensures that more items in the bed are within arm's reach, compared to a conventional tailgate in the 'down' position. Because the Ford tailgate step can't be offered with this new tailgate, an available rear bumper step, with added width and depth, comes with the Pro Access Tailgate. Of course, you can still get a standard tailgate.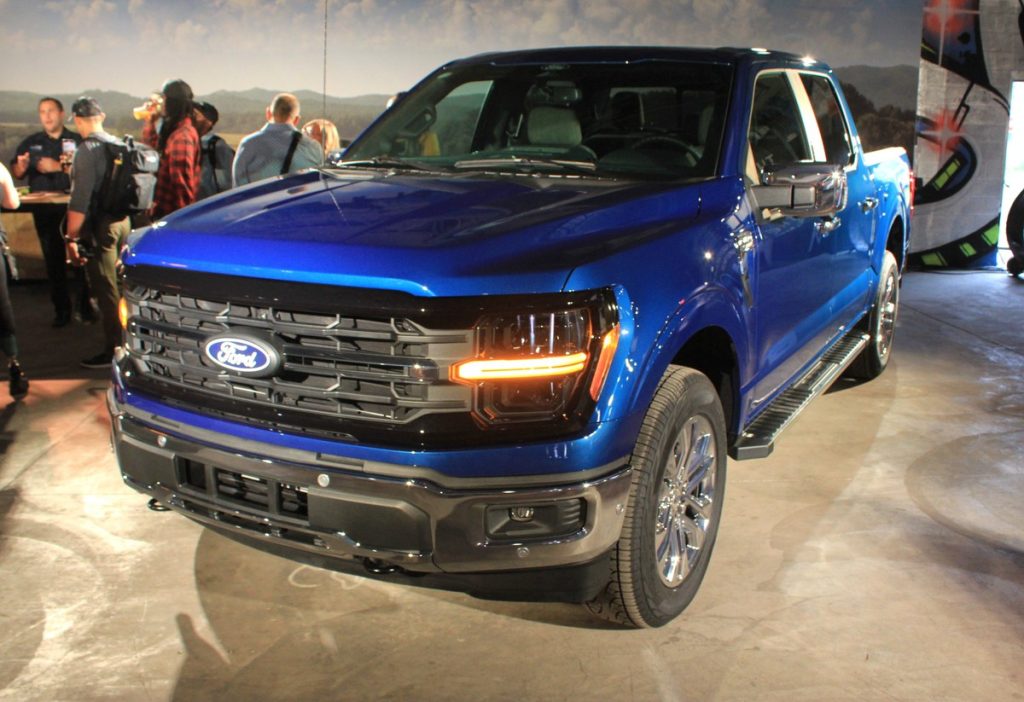 There are some fascia changes as well on this truck. The classic grille for the F-150 has also been redesigned to create what's being called the coast-to-coast grille. It boasts new materials and colours.
As for changes in trim packages, the entry-level STX gets the new coast-to-coast grille, which is said to blend more aggressive styling with classic Ford design language.
Also, the upscale King Ranch interior includes updates such as a bi-metallic colour scheme on the interior and exterior, now with Sinister Bronze paired with chrome.
Popular freestanding options like moonroof, Max Recline Seats, axle upgrades, and tow mirrors can still be ordered outside the package offering.
Of note is that the absolute base price for a new 2024 F-150, regular cab XL (4×2), is now $49,655 in Canada. This is the new bottom price – while the top price is around $110,000. (Not including Raptor, which is even more.)
Trucks are available to order online now.