J
ust in time for the spring camping season, KZ has introduced a new trailer that
RV Pro
(a trade publication) is calling one of the "Best New Models" for 2021. Now, what follows is a vertical review – as I have not actually tested one. I am, though, looking forward to doing that later in the year when one comes available.
Having read through all the press releases, I can see that the key element of the Escape is a 60-by-66-inch hatch that opens the rear wall of the trailer. The advantage is obvious. All manner of gear and bikes are easy to load/unload with almost a full wall of access. No more struggling with bicycles through the man door – this innovation turns these smaller travel trailers into cargo haulers. In fact, this new design feature straddles the line between a real toy-hauler and a conventional trailer. The Hatch is being offered in three lengths to start, and they are aimed at the lightweight end of the market – which is also where many first-time buyers look.
As most RVers have seen, the first year of COVID restrictions and lockdowns have boosted the sale of RVs to new records as a whole new group of buyers who want to get out of the city are snapping them up. With that thought in mind, I think KZ is being smart at aiming the Hatch at that group. They are doing that by offering it as a 14-foot, 17-foot or 20-foot model for starters. These under-20-foot, 3,000-pound trailers are easily loaded, allowing campers to carry everything from coolers and lawn chairs to bicycles and kayaks. With these weights, these trailers will also be towed by a very wide variety of vehicles – particularly attractive to current owners of mid-size SUV/crossovers.
The other effect of this new camper surge is the competition for campground spaces. Federal and provincial parks have just reported that booking reservations at this time of year (February) are double what they were last year. That just verifies the demand. It also puts another optional feature on the Hatch into another light as well.
An optional Off-Grid/Off-Road package turns these units into great boondocking travel trailers. Whether you want this because your hobbies/pursuits regularly take you off the beaten path – or because you can't find a serviced campsite – this package will extend your stay comfortably. The package includes a 100W roof-mounted solar panel, 1,000W inverter with dedicated 110V outlets, solar controller, portable Bluetooth audio player and flashlight, tongue-mounted bike rack, griddle, solar on the side (for additional solar power), aluminum wheels with mud tires, extra ground clearance, electronically-controlled heated holding tanks and double entry steps. That heated tank feature is key – it extends your camping season (or lets you start early).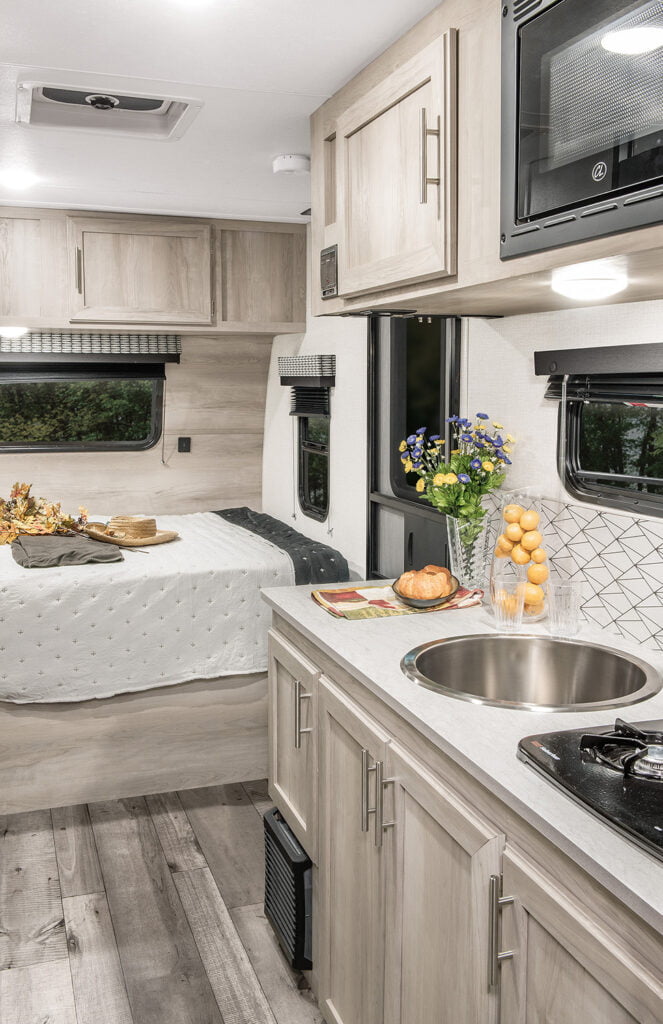 The layout of this trailer puts the bathroom in the center with the refrigerator beside it and the rest of the galley across the aisle. A front queen bed sits in the nose, while at the rear (where the hatch is located), twin dinette tables are easily removed to provide the floor space needed for in-transit cargo and toys. When not hauling stuff, this rear dining position can convert to overnight accommodation – effectively giving you sleeping space for four.
An available rear screen also gives you the option of leaving that rear hatch open when the weather is fine.
Other standard features on the Hatch include an aerodynamic front profile with a front windshield, Alum-a-Tough seamless roof, power awning with porch light, two-burner cooktop, microwave, an 8 cu.-ft., 12V refrigerator, and a 20K BTU furnace.
This simple, yet very effective design idea will be attractive to many experienced as well as first-time RVers. The season will be here soon – if you are in the market, check out the Hatch.
Specifications for the KZ Hatch E17
UVW                                                    3,235 lb
Dry Hitch Weight                                  520 lb
CCC (Cargo Carrying Capacity)          765 lb
GVWR                                                 4,000 lb
Interior Height                                     78″
Exterior Height (without A/C)              112″
Exterior Width                                     90″
Exterior Length                                   22′
Refrigerator (Cubic Feet)                    8
Water Heater Cap. (Gal. LP w/DSI)    6
Fresh Water                                        20 gal
Waste Water                                       30 gal
Grey Water Cap                                  30 gal
LP Gas                                                20 lb
Furnace                                              20K BTUs
Tire Size                                             15″
Awning                                                14′
Pricing for these units has not been released as of this writing. Check with your dealer (assuming they carry KZ product). I expect these units will be popular this summer.
Photos courtesy of KZ