The Class B motorhome, or Camper Van, is rather unique among recreational vehicles. That fact was impressed on me over 20 years ago when I took my then 10-year old son, Stephen, along with me on a Class B test. I was making notes inside and Stephen was wandering through the van when he stated "Dad, this is a go-somewhere RV – not a stay-somewhere RV – right?" I remember looking at him thinking, "out of the mouths of babes". Yes, Stephen, you were right then and you are still right today – even though you are 30 and we now do video reviews of RVs. (Be sure to click on the link to see the review of the Thor Sequence Stephen shot).
So, right off the hop, Camper Vans are not for everyone. They don't lend themselves to families, and they are not for long-stay camping. What they are good for is road-tripping and (as has been the theme this summer in the time of COVID) they keep you separate and safe.
So, let's look at the chassis that supports it all. The Ram ProMaster is a commercial van that has been on the market for several years now. It's unique being a front-wheel drive unit and as such, offers the lowest floor height among the commercial builders. With its low floor and hi-roof, it offers a large, solid envelope for companies like Thor to build in – not cut up and re-build. Without the driveshaft running to the rear, holding tanks, electrical components, and LP systems can be better secured under the van. That also makes for more inside storage.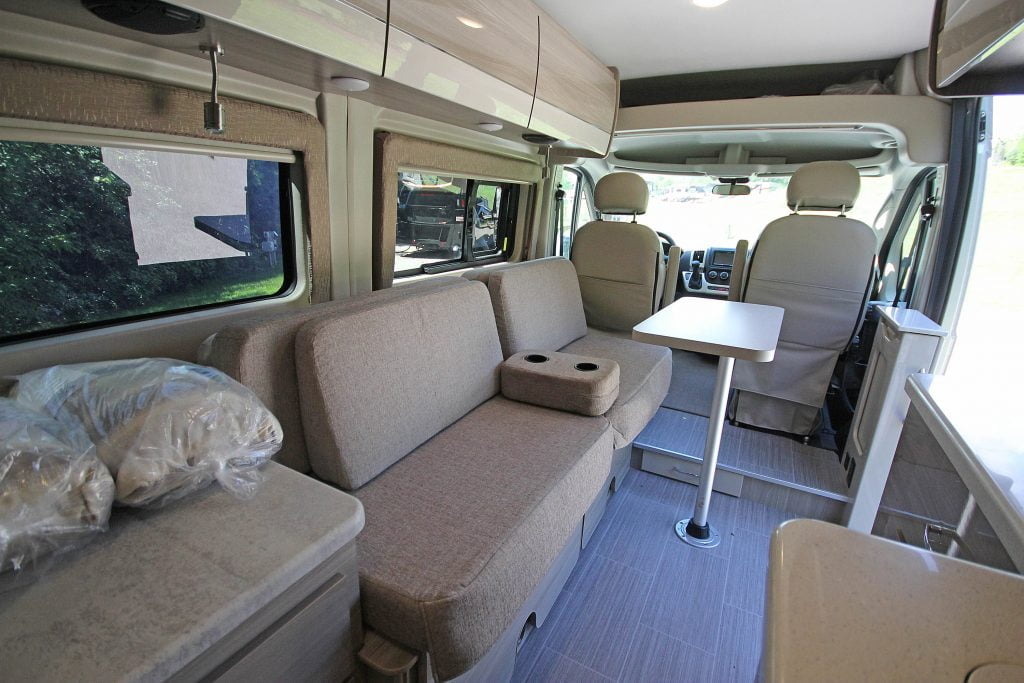 This one-ton (3500 XT window van) chassis is ample support for the weight of the up-build. It drives confidently with a minimum of lean and even has a sharp 36-foot turning diameter. The powertrain is the long serving 3.6L V6 engine that makes 280 hp and 260 lb-ft of torque working with a six-speed automatic transmission. The driving position is elevated, surrounded by glass, a sharply dropping nose and excellent mirrors with clear sight lines down the flat sides of the unit.  In other words, it's easy to drive and offers a relaxing travel environment.
Remembering that the ProMaster is a commercial van, you'll see the cockpit is designed for lots of easy in and out as well as storage spaces that contractors would appreciate. The one upgrade that I want to mention is the premium 7-inch Pioneer touchscreen dash radio with SiriusXM and navigation – a great feature for explorers. Also, with Apple CarPlay and Android Auto you can stay connected to all your favorite apps, music and podcasts. Plus, voice commands for hands-free calls and texts. All you have to do is connect via USB or Bluetooth.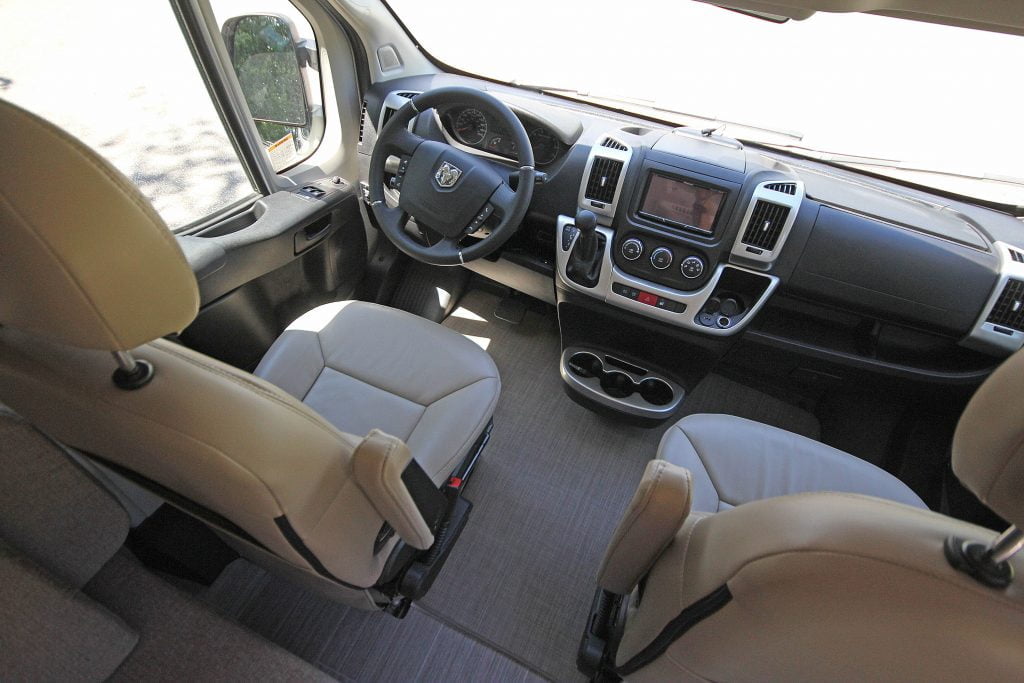 Driving the ProMaster you'll be looking at what's on the horizon, not breaking a sweat as you white-knuckle the van down the road. This is why Camper Vans can be so nice to travel in, you have everything you need without the driving anxiety that larger, more cumbersome motorhomes can produce.  Remember this too when you look at the prices particularly between B's and C's – they can be very close in cost, but they don't drive the same.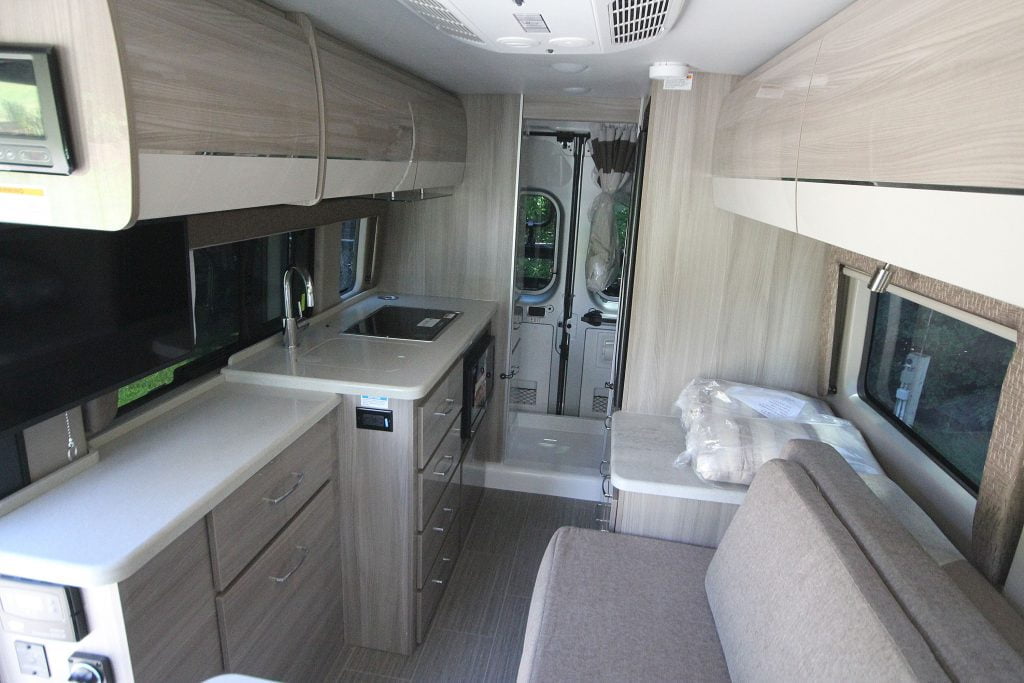 The interior of any Class B is an exercise in space management. Everything has a secure place and all space is used, often in very clever ways. In the case of the Sequence 20K, Thor has put an emphasis on the full rear bath, as well as giving the fold-out bed a second purpose as a comfortable salon couch. By moving the bed/couch forward it also takes advantage of the large sliding door on the unit, which when open, makes your campsite part of your living space. If you set up the single-leg table, you are facing out toward this open door during every meal. Even with the door closed you have large windows down each side of the van making it light and engaged with its surroundings. In the galley, the sink, counter, stove-top and microwave are ship-shape and well positioned for easy cooking with the ample sized refrigerator right behind you. To keep your camper clean you'll find residential vinyl flooring throughout.   As a further ascetic there is a soft-touch vinyl ceiling. Cabinets and drawers are placed in every available space in the Sequence. These are called TecnoForm Euro-style cabinets. They look great and they are back-lit by LED lights. No need to run the harsh overheads all the time.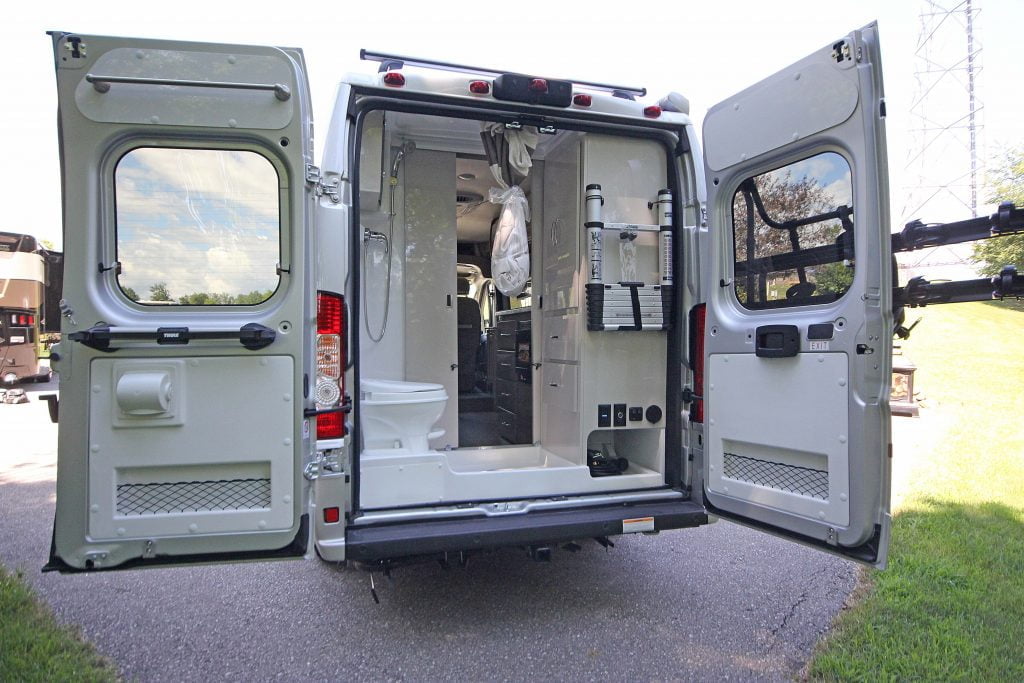 Working our way back to the bathroom you'll see a true study in space management. This is a "wet" bath – known as such because when you shower you are standing right in front of the toilet which is getting wet. However, just above the toilet you have the sink that like magic, folds into the wall when not in use. There is also a full mirrored medicine cabinet, a surround shower curtain minimizes splash while the sliding hard doors make for a private space. You'll also see a bank of drawers in here. Just another example of good storage options. No wasted space. Now, if you are off-grid, in a totally uninhabited camping area, you could just prop the back doors wide open for an open-air bathing experience.
The RV industry has responded to the rise of smart phones and the need to stay connected by incorporating the Wi-Fi and Bluetooth services that we now expect. In Thor's case they have added Wingard® ConnecT™ 2.0 to the Sequence. This is a 4G hotspot, Wi-Fi and TV antenna. It will appeal to those that work from the road, sports enthusiasts, or for rainy day entertainment.
There is also a system onboard called the Rapid Camp+® Multiplex Wiring Control System. This is an all-in-one control center, which allows owners to set up camp from either inside their motorhome on a touch-screen panel or from their mobile device with an app. You can control water, AC, lighting, tank heaters, vents, generator control with your touch screen/phone.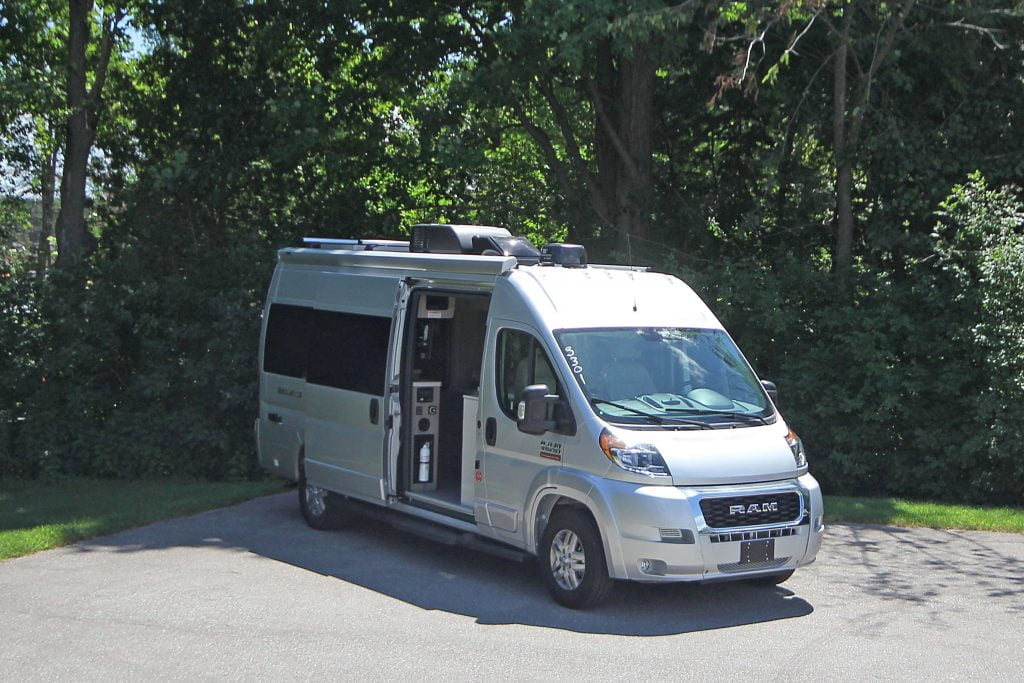 To accommodate an active RV lifestyle, Thor has enlisted Thule to outfit this Camper Van with a patio awning, roof rack, bike rack, and roof ladder. These are nicely incorporated into the Sequence.
To run all the electronics and HVAC systems on the Sequence, it firstly has a 30-AMP shore power plug-in. But, if you're boondocking you can run everything with the onboard Onan RV QG 2800 Gas Generator. Sequence also uses the Go Power! 190-watt solar charging system. The sizable solar system includes a 30-amp charger with lithium charging capabilities, which complements the Re (Li)able™ Battery System.
Here is a bullet list of the key add-ons and systems found on the Thor Sequence.
Onan® RV QG 2800 Gas Generator
30-amp Shoreline Power Cord
Automatic Shoreline-to-Generator Transfer Switch
Battery Disconnect Switch
Two (2) Group 31 AGM House Batteries
Rapid Camp+® Multiplex Wiring Control System
190-watt Solar Charging with Solar Controller
1,000-watt Inverter
11,000 BTU Low-Profile Air Conditioner
Truma® Combi Eco Hydronic Furnace & Water Heating System
Holding Tanks with Heat Pads
360° Siphon® RV Holding Tank Vent Cap
Black Tank Flush System
1" Fresh Water Tank Drain
Outside Shower
Exterior LP Connection
Pop-up Outlet in Living Room
USB Charger in Bedside Storage
There is a lot of living packed into the Thor Sequence, of that you can be assured. So, if the two of you have to itch to see what's over the horizon, have a look at this self-contained Camper Van.
2021 Thor Sequence 20K Specifications 
Chassis:                               RAM ProMaster
GVWR:                                 9,350 lb
GCWR:                                 11,500 lb
Wheelbase:                         159"
Length:                                20'-11"
Height (W/AC)                  9'-5"
Width (w/o mirrors)         80.3"
Interior Height:                  75"
Awning:                              12'
LPG:                                       20 lb
Fresh/Black/Gray water 26 / 13.5 / 13.3  gal
Furnace:                             14,300 BTU
Hitch Weight Rating        3,500 lb
This unit was supplied for testing by The Hitch House in Shanty Bay, ON.  The US MSRP for this unit is $94,000. Call dealer for Canadian pricing.