Question:

In what year did these events happen in Canada?
The Great Ice Storm in Eastern Canada and the Saint Patrick's Day blizzard in Calgary
Celine Dion's My Heart Will Go On topped the charts for six consecutive weeks
RV Explorer Club's first national rally (in Calgary)
Test
Answer: In 1998!
And here we are, a quarter of a century later, still going strong. This year's National Explorer RV Club Rally was held September 14-17 at the Saugeen Springs RV Park in Hanover, Ontario.
Accounting for inflation, the price at the pumps in 1998 may have been half what it is today. Still, that unique mix of camaraderie, sharing of experiences, and learning new skills is why members travel to the national rallies year after year.
As we saw again at this year's silver anniversary rally, it doesn't matter if you own a tent trailer, a luxury Class A or something in between. New members Eric and Joanne travelled 1700 kilometres from Dieppe in New Brunswick, while Bryan and Sharon travelled less than 15 minutes from their home in Durham, Ontario. Wayne and Elaine from Caesarea, Ontario, attended the first rally in Calgary and were back again for the twenty-fifth.
So many stories were shared around the campfire: Meeting their life partner at a Comicon convention; RV adventures travelling the width and breadth of Canada, USA, and Mexico (as well as New Zealand and Europe); and even helping deliver a baby in the ladies' washroom at a provincial park.
People with such a wide variety of careers, including dairy farmers, teachers, nurses, dog trainers, payroll specialists, disability case workers, owners of a mobile food truck and a vehicle repair shop, IT project manager, member of the team developing an all-electric van, and a retired firefighter and a retired naval armaments demolitions and explosives expert.
Talents were generously shared: Lawrence on the accordion and Martin on the banjo at the campfire.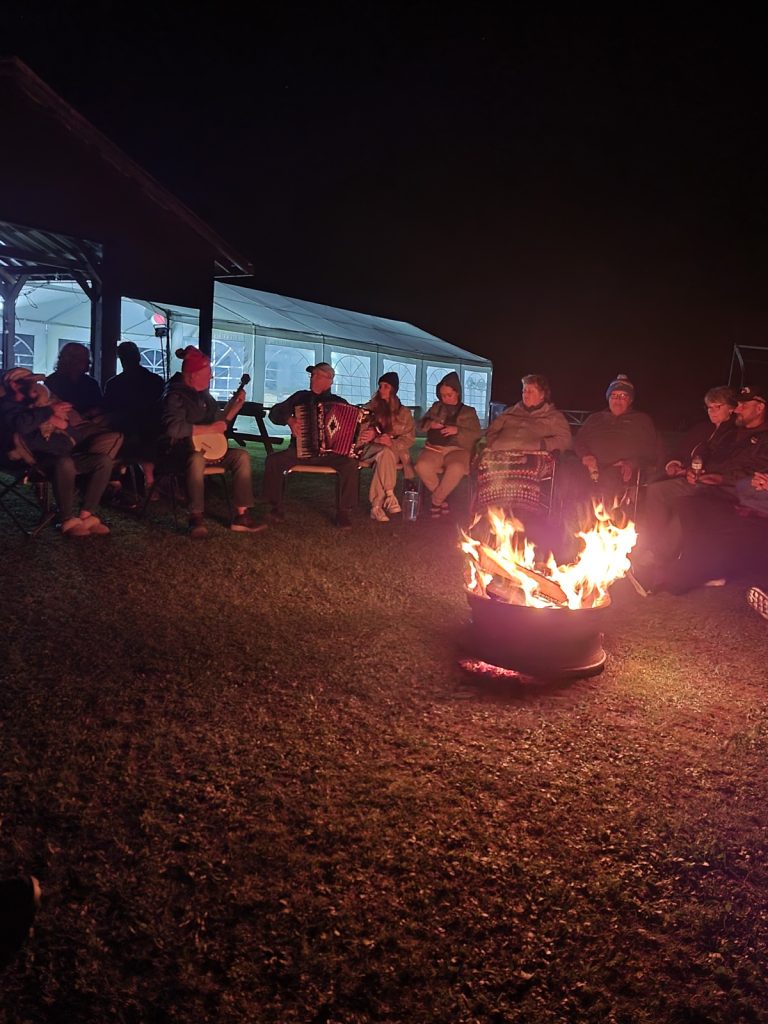 Anthony and Patricia from Kleen Tank shared their expertise on septic tanks. Howard and Tracie from Truck King Media Group saved us the shame of the "I'm sorry about what I said when backing up the trailer" T-shirt by teaching us to back up correctly.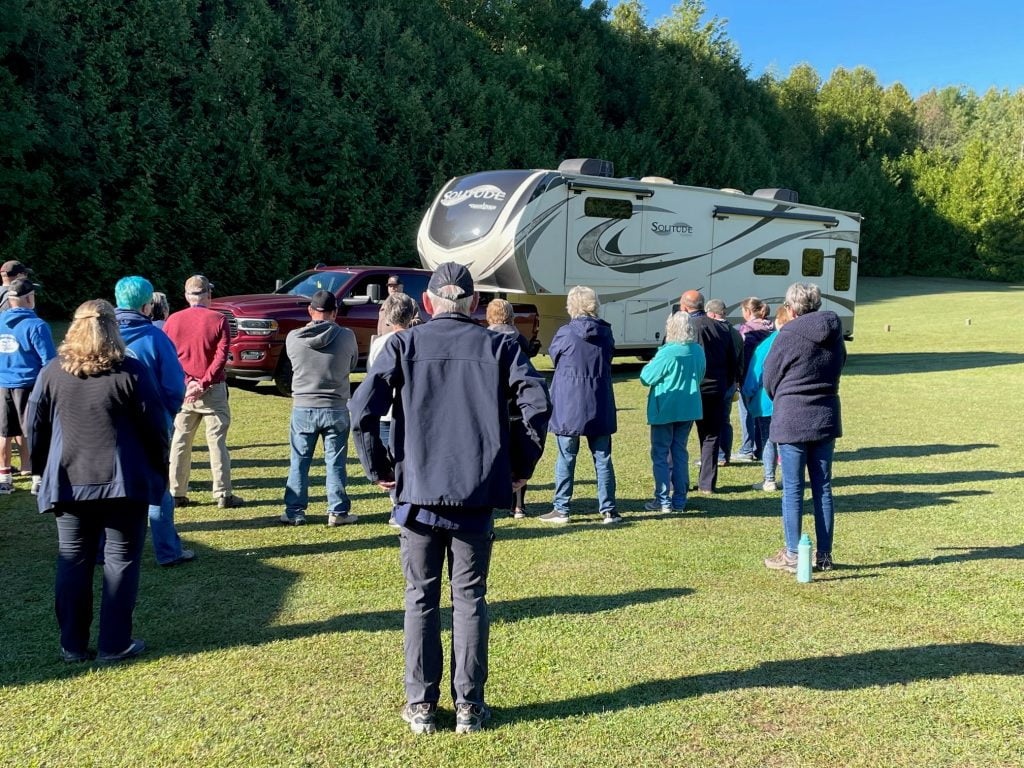 Dwayne from Bluewater Fire Safety gave us the hands-on opportunity to put out a fire by properly using a fire extinguisher.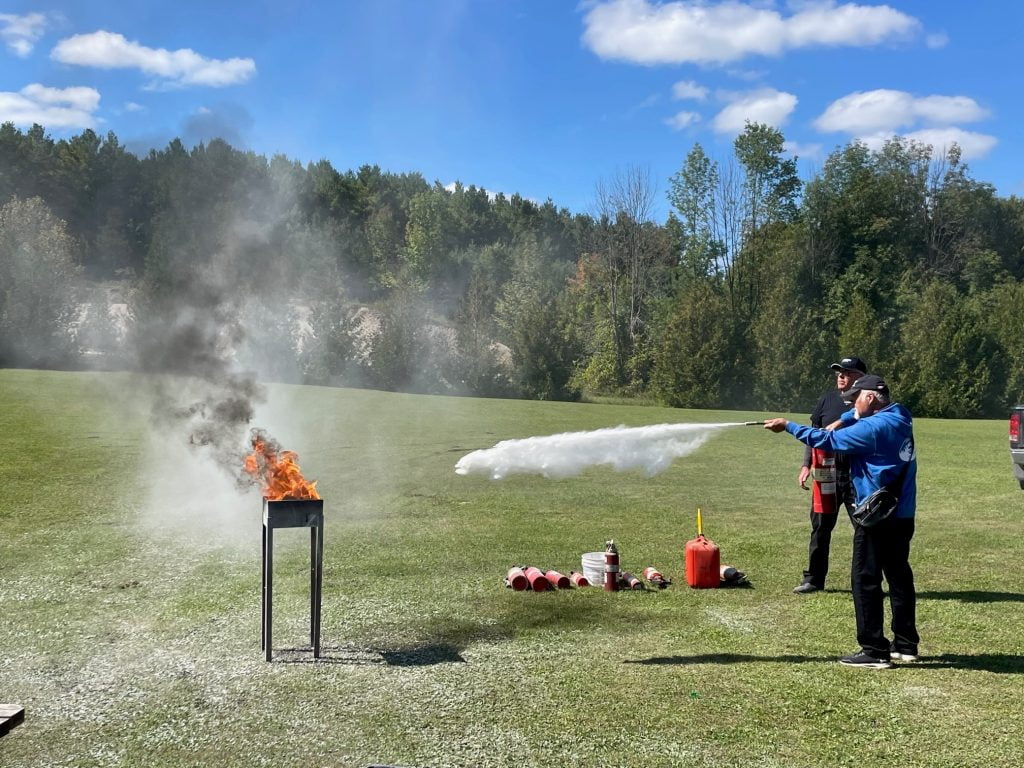 Jerry answered a wide range of maintenance and repair questions from Hardcore Camper. Martin and Gail actively engaged us in discussions about RV cooking and preparing a tasty treat of zucchini sliders.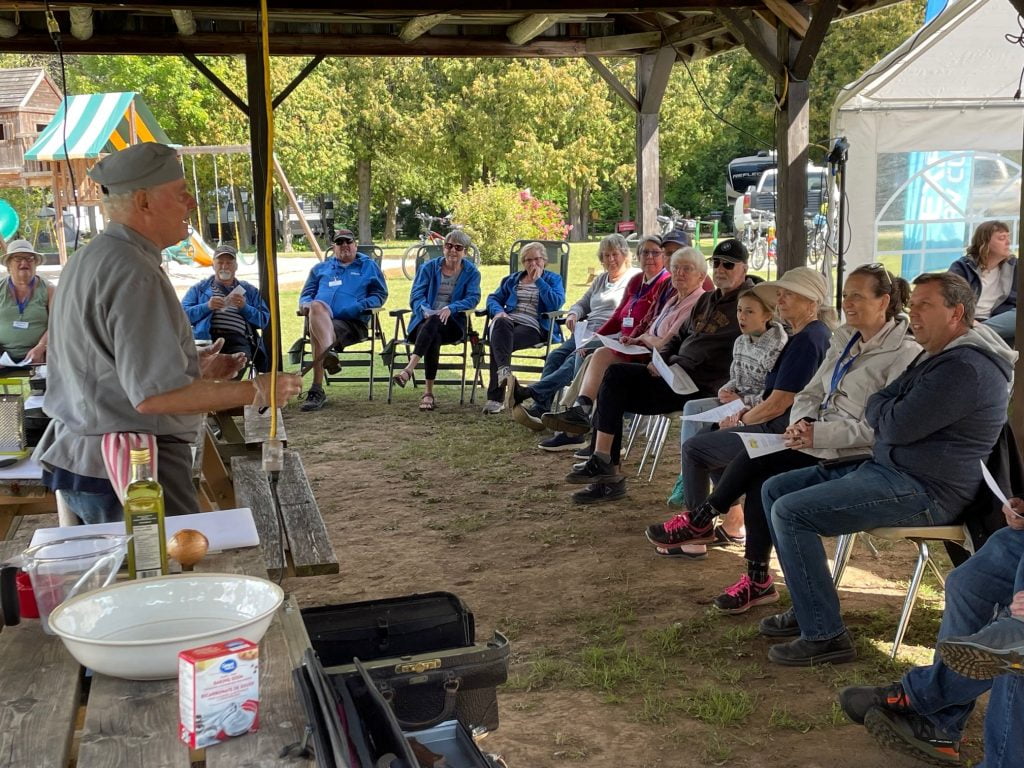 Lastly, thank you to our fantastic caterer, Farmhouse Cakes & Catering, for serving our delicious dinners.
Feedback from this year's rally attendees was positive—special thanks to Gabrielle and Caroline from OTIP and to Paul for your assistance over the weekend. We couldn't have done it without you!
Here's to another 25 years of Explorer RV Club rallies and see you in Gaspe or Cape Breton next year!