The Bronco is back!  Ford has re-introduced a storied name plate from its past and fixed it to an off-road inclined SUV that seeks to blend the modern with a romanticized past. Have a look at the silhouettes of the three models and you'd have to say they may just have done exactly that.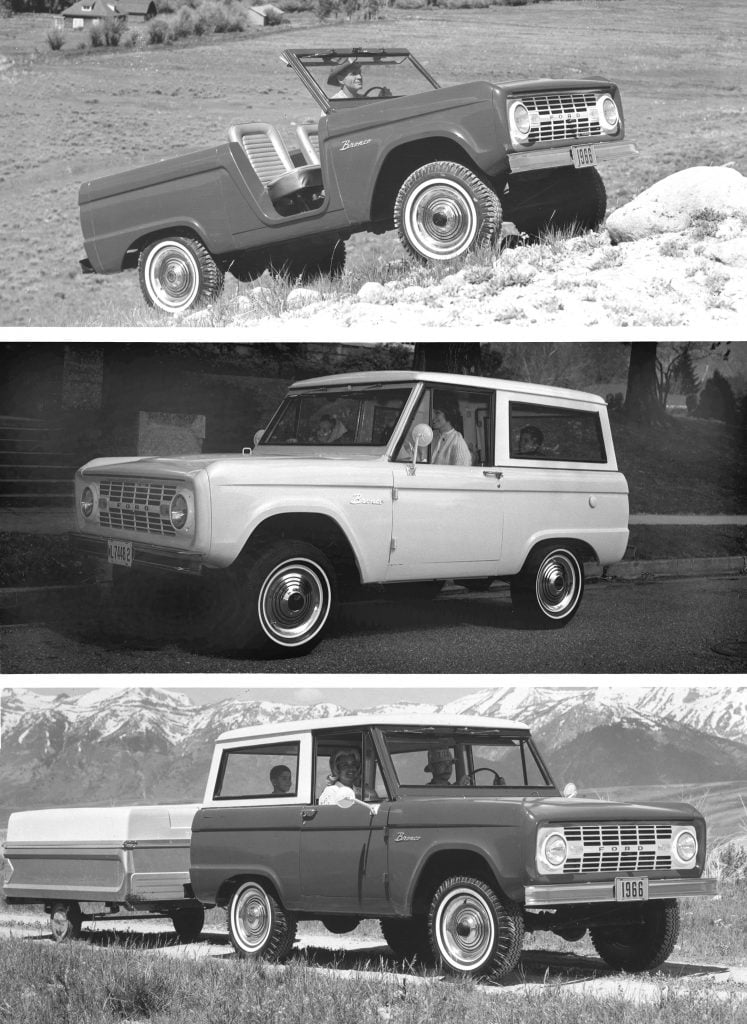 The original Bronco debuted in 1966 as a small utility off-roader that was billed (for the first time ever) as a "sport utility vehicle". This was in print, so they can rightly claim the first use of the term "SUV". Past this, they had a limited market in the era of station wagons. However, growing up in the 70's, I remember that just about every gas station had a Bronco for plowing snow. The reason was obvious – 4WD and a small footprint with a tight turning radius. That's why as we moved through the 70's, 80's and even the 90's (long after Bronco was discontinued), this small Bronco started gathering a following among the off-road crowd who'd source these old Bronco's and modify them. This is probably what led to the 80's re-birth of the much larger Bronco; which while successful as a model, never attained the iconic status of the original versions.
This fact is what Ford used as its base inspiration for the newest Broncos. They obviously decided to go right back to the source. The proof of that, before you look into the details, is the fact that they are building a two-door, short, sport model. The other aspect to this release is the unspoken (but broadly hinted at) intent to challenge Jeep for off-road supremacy. Jeep of course has been wildly popular in the past decade and with the introduction of the Gladiator – the pickup version of the Wrangler – sales have never been higher. Ford wants a piece of that business and the newest Bronco is the SUV that just might do it.
A four-door version of the Bronco will also be available, again taking a page from the Jeep book that proved that a four-door SUV will sell just as well, if not better than a hard-core two-door.
A smart move on Ford's part is the variety of options, upgrades and powertrain/traction items they give you to choose from. With new model introductions we are used to many manufacturers dribbling out these updates over time to keep interest high – not so with Bronco. In fact, Ford says, new Bronco owners can choose from a lineup of more than 200 factory-backed accessories for maximum personalization, enabling dealers to provide outfitting-on-demand for each owner's individual adventure needs.
For instance: both Bronco two-and four-door models will provide an open-air experience. Two-door models come with a standard three-section roof system – left and right front sections and a rear section. However, an available premium painted modular top with four sections that adds a removable panel over the rear seats and cargo area is also available. The four-door models have four removable roof sections. These roof panels (on all models) can be removed by one person. First-row panels stow away on-board on two-door models.  Or, you can go with a cloth soft top, standard on most four-door models. For customers who don't want to choose between a soft or hardtop, the four-door model can be optioned with both. And, that's just for the roof.
For the off-roading crowd Bronco will offer seven driver-selectable modes: Normal, Eco, Sport, Slippery, Sand, Baja, Mud/Ruts and RockCrawl.
Two 4WD systems will be offered on all Bronco models, a base setup and advanced 4×4. The base system has a two-speed electronic shift-on-the-fly (ESOF) transfer case, while the optional advanced system features a two-speed electromechanical transfer case that adds an auto mode for on-demand engagement to select between 2H and 4H. Power is distributed to a Dana 44 solid rear axle and DanaAdvanTEK independent front differential unit – both with available Spicer Performa-TraK electronic locking differentials for rough terrain.
Bronco, by the off-road numbers, will have (best-in-class) 11.6-inch ground clearance, a 29-degree break over angle and 37.2-degree departure angle. It also claims best-in-class water fording capability of up to 33.5 inches.  Exposed tow hooks, and available heavy-duty modular steel bumpers have an integrated Ford designed winch-mount.  This truck will run on 35-inch off-road tires, available on every trim level of two-and four-door Bronco.
In a move to appeal to the widest group of off-roaders Ford will offer a 7-speed manual transmission in addition to the 10-speed automatic transmission. As an upgrade to the base 2.3 L EcoBoost engine Ford also offers the 2.7 L EcoBoost V6 engine, which is projected to produce 310 hp and 400 lb.-ft. of torque.
The off-road intent of the Bronco does not mean it's shy on hi-tech infotainment or safety features. Inside, the instrument panel is inspired by the first-generation model, with gauges and controls clearly visible and intuitive. Colours and materials are inspired by nature and outdoor gear.  Materials are tough and rugged. A multifunction colour LCD instrument panel is front and centre. The shifter/selector and G.O.A.T.- modes controller is in the centre console. Attachment points are built into the instrument panel so you can "bring your own device". 12V power is available for cameras, navigation units, phones or other devices. Ford has also added its 12-inch SYNC®4 system with over-the-air updates and with off-road navigation –a Bronco class-exclusive feature that allows owners to plan, navigate and share their off-road adventure. The SYNC system also displays the available 360-degree camera system with class-exclusive off-road spotter views.
For quick and easy cleanup some Bronco models come with washable rubberized floors with integrated drains and marine-grade vinyl seating surfaces that resist mildew. Instrument panel surfaces are wipeable with seamless silicone rubber on the dash-mounted hero switches, while rubber touchpoints protect against dirt and water. Six available upfitter switches mounted overhead are silicone-sealed too.
This is just the first segment of my Bronco review; as we move past the current pandemic restrictions, I'm looking forward to actually driving this newest member of Ford's pony family and diving deeper into what (on paper) appears to be a serious off-roader.
So, while there are no on-the-lot units to look at right now, Ford has announced that the base price for a two-door Bronco will start at $40,499, here in Canada. Let's see what the fall brings.
Photos courtesy of Ford