Today we're going to take an in-depth look at something special — Airstream's 2021 Flying Cloud 30FB.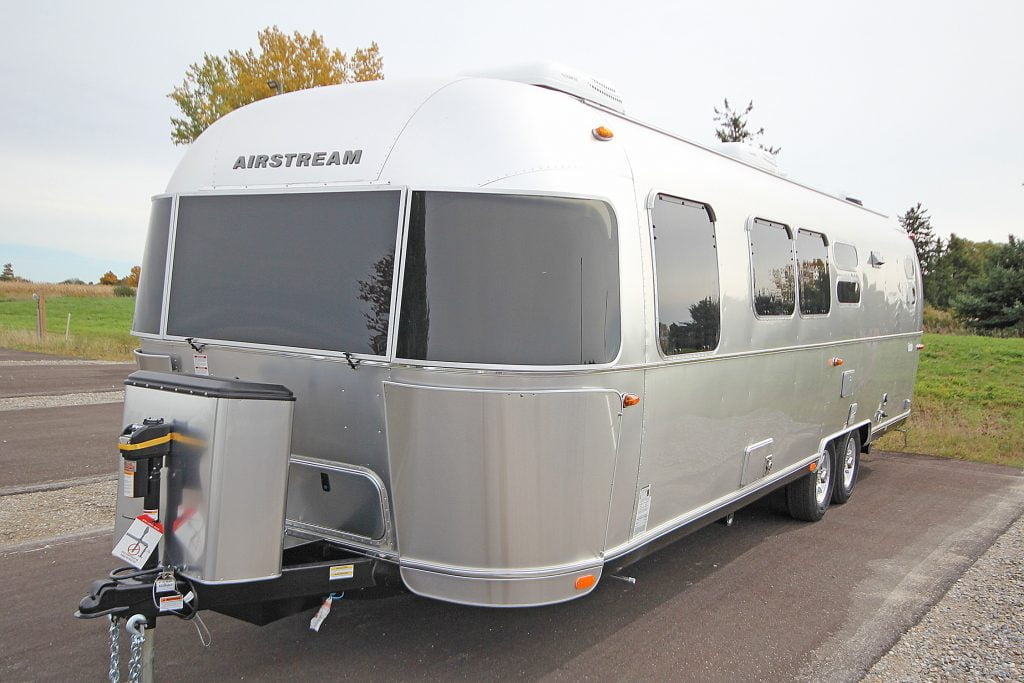 Now the thing with Airstream is that even people who know nothing about RVs know what an Airstream is — that's the power of an icon. But to really understand how Airstream became iconic, you need to know some of its history.
It all started with Wally Byam, creator of Airstream, a self-made man who enjoyed the freedom of camping and the open road – just not the sleeping on the ground part.
His first trailer was a home-built tent contraption on a Ford Model T chassis. He soon replaced that leaky tent with a teardrop shaped hard shell – then added a stove and an ice chest. Wally's trailer soon gained admirers, and this attention convinced him that this was a promising business.
That was in 1929 and Wally started building trailers in his backyard; however, it would take another 10 years before the mass-produced aluminum-bodied trailers we know as Airstreams came into being.
The shift in thinking came after Byam had finished a stint working for Curtiss-Wright, an aircraft manufacturer during WW II. The use of aluminum and sleek aerodynamic aircraft design rubbed off on Wally – and as the war ended, the suddenly idle manufacturing plants created an opportunity. Plus, aluminum was cheap and plentiful. Byam built a sleek, riveted aluminum lightweight body and outfitted it with all the conveniences that he could stuff into that shell. This trailer caught on right away and Airstreams have been built much the same way ever since.
But, today an Airstream is much more than just the shape and the riveted aluminum body. Over time, it has gone from an ultra-modern design to what today we would call a "Cult Classic". In fact, modern Airstreams are in a class by themselves as they have come to represent RVing as a lifestyle and the freedom that is associated with it. This is pretty heavy stuff for any brand, and for Airstream, I can see that this legacy is both an advantage and a burden.
If you compare an Airstream trailer to other current RV offerings, you'll be struck at how expensive they are. But when you dig into that price difference, you'll find three key reasons for it. First, the build quality of an Airstream is second to none. Two, the resale value is the highest in the segment. Third, people will pay for what they want — and for many, the Airstream is the only trailer that will scratch that itch.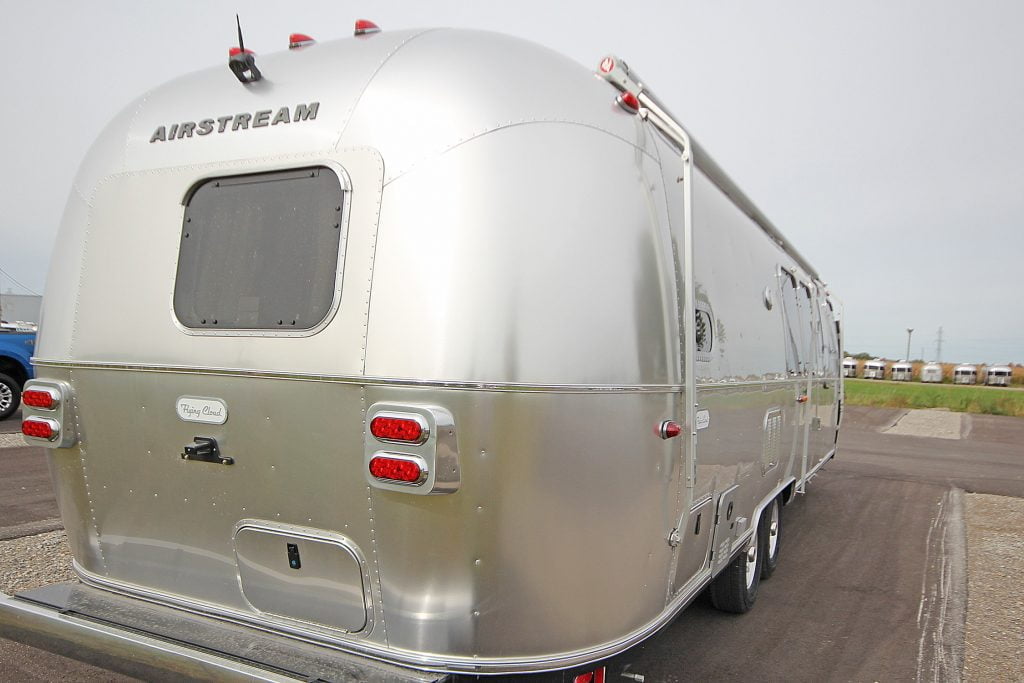 What else can you say about an Airstream? Well, an Airstream never looks dated. Its timeless design guarantees that the trailer you own is as new as any that roll off the line regardless of the year of manufacture. Not to mention this shape and look is what initially attracts most buyers. It's a unique, artsy look that says, "Hey, I'm different."
Of course, from a marketing point of view, this is what every builder is going for. But with Airstream what sells those lookers, I think, is their interiors. This is where Airstream designers have license to be creative – as long as their vision fits inside that iconic aluminum shell.
Speaking of interiors, let's get back to the topic at hand – the versatile, family favorite 2021 Flying Cloud travel trailer.
Looking at the bunk model of the Flying Cloud, it will sleep six easily. This is unusual as most Airstreams lean toward couples. However, here we have a great bunk area in the rear with a double below and a single bed above – the area has lots of light and beautiful finishes. Right next to this space is the large bathroom with a generous counter and cabinets. The shower has a retractable curtain.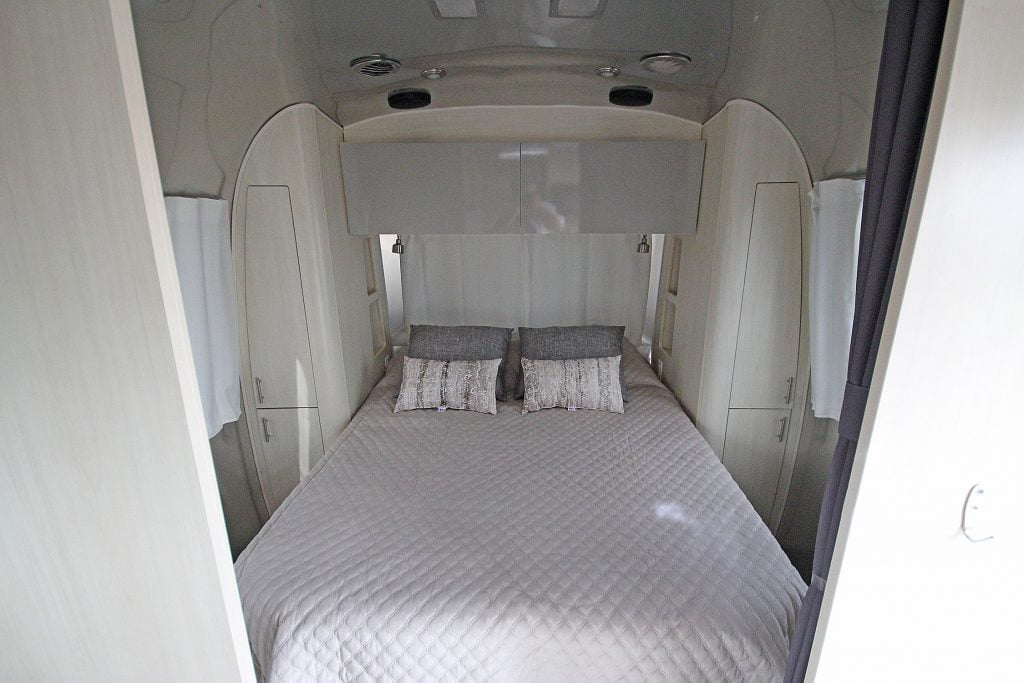 In this trailer, the front bedroom offers a walk-around bed, with nightstands and hanging closets. Above the bed, finished cabinets are hung and lit to create a focal point in the room. It's this attention to detail and décor that makes Airstream unique. For that matter, each model of Airstream is offered in multiple floorplans which gives customers a chance to find the exact interior that speaks to them.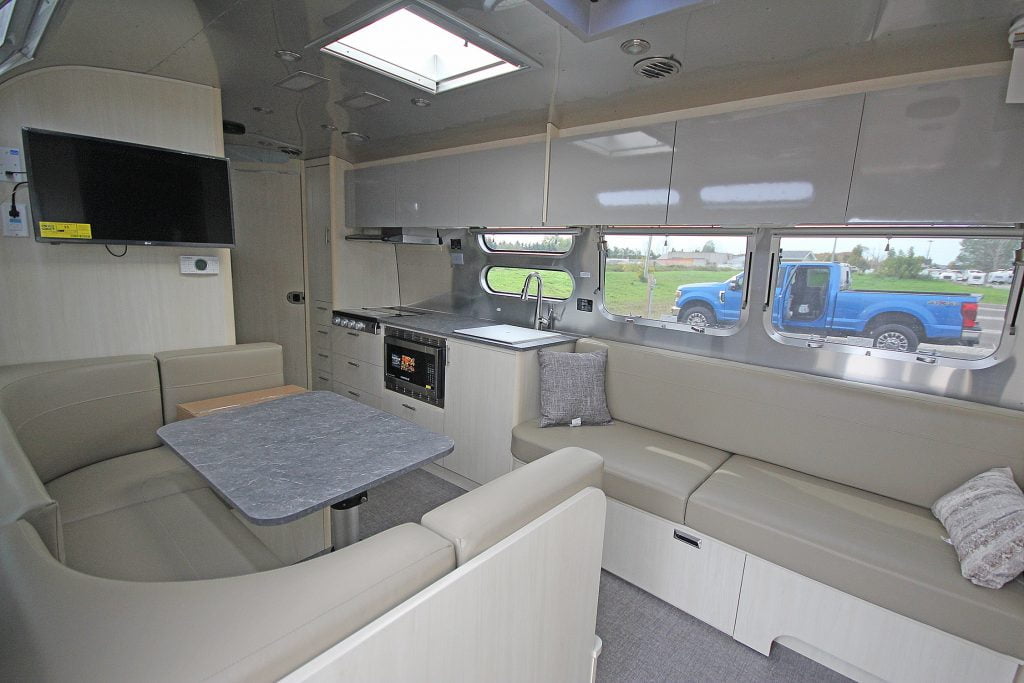 The kitchen in this trailer is right-sized with decent counter space. The microwave is under the counter right beside the stove (no oven) that has a full fold-up cover. Above it all is a range hood with exhaust vent.
The refrigerator/freezer is found across the aisle and requires a few steps to access. The dinette in this unit is over-large to accommodate family and friends. This is also where the flat-screen TV is found, giving the most direct viewing option to those on one side of the dinette and on the couch opposite. As for storage, it's worth noting that there is a significant number of closets, cupboards, drawers and under-seat storage in the trailer. The reason you'll want to notice this is because there is almost no basement storage in an Airstream. This is a result of its low-profile design. Considering that with a roof-mounted A/C unit, its max height is only 9-feet, 9-inches.
While Airstream could add height, they don't, it would mess with it's iconic look and when all is said and done it is the "look" of an Airstream that is so very, very important to its owners.
Flying Cloud 30FB Bunk Specifications:
Shipping Weight: 6,557 lbs
GVWR: 8,800 lbs
Hitch Weight: 903 lbs
Cargo Capacity: 2,243 lbs
Exterior Length: 30 ft. 10 in.
Exterior Width: 8 ft. 5.5 in.
Exterior Height: 9 ft. 9 in.
Fresh Water Tank: 52 gal
Gray Water Tank: 41 gal
Black Water Tank: 35 gal
LPG: 2 x 30 lbs