Since 1948, the F-series pickup truck has been a constant in the Ford lineup; and what started as a post-war, work-only vehicle has over the last 70 years morphed into a do-everything-for-everybody phenomena – a vehicle that is now so important to Ford's bottom line that they wouldn't delay the new release – despite the pandemic restrictions. The virtual on-line release (hosted by actor Dennis Leary) was heavy on nostalgia, history and the iconic loyalty of F-150 buyers, but there was real meat in the marketing sandwich too. Have a look.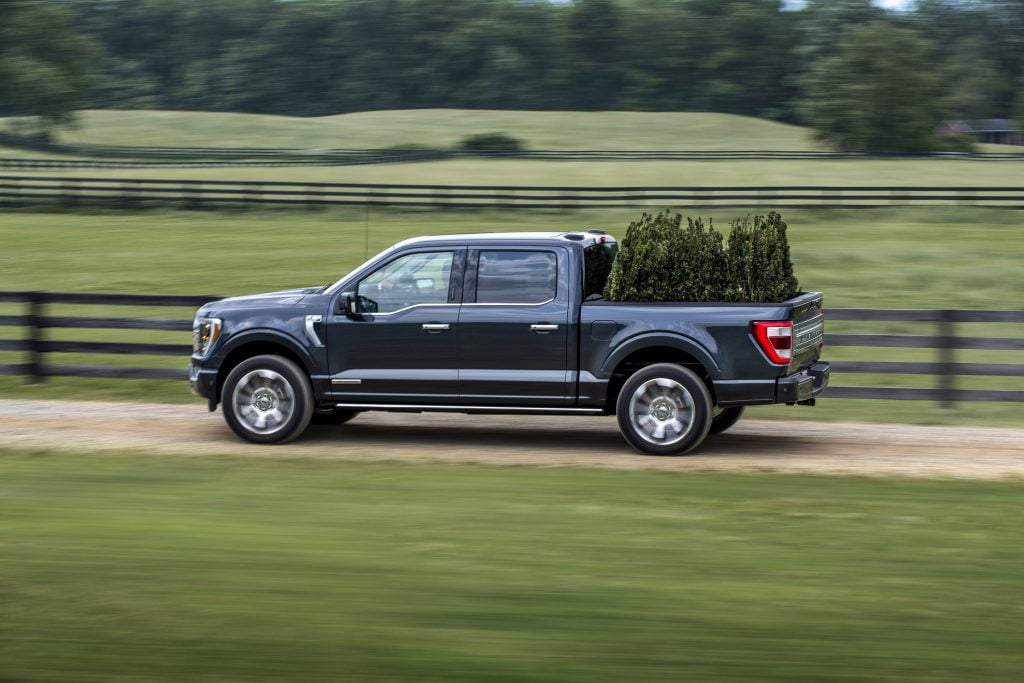 For 2021, the F-series is generationally updated, the first major update since the all-aluminum body intro in 2015. Here are the highlights on the new truck:
A fully hybrid engine based on the 3.5L EcoBoost – now called the PowerBoost. Numbers have not been released but Ford is already claiming that they will have the most torque and horsepower of any half-ton along with at least 12,000 lb of towing capacity. Further they claim this engine will have a range of approximately 1100 km on a single tank of gas.
The look of the truck will still be instantly recognizable, but it has been massaged, particularly around the nose with new grille designs and a next-level look to the C-clamp headlights. The interior also benefits from new materials, colour choices and more storage.
Tech upgrades include a new generation of SYNC (4) that expands the technology offered – including over-the-air updates.
The tailgate has been the focus of "work-related" updates, basically creating a usable work surface. This is something most of us have used tailgates for… well, forever.
Ford says Pro Power Onboard is a generator that will push out enough power to run 28 average refrigerators. A by-product of the new hybrid engine setup, this really is a leap forward in available jobsite (or recreational) electrical power.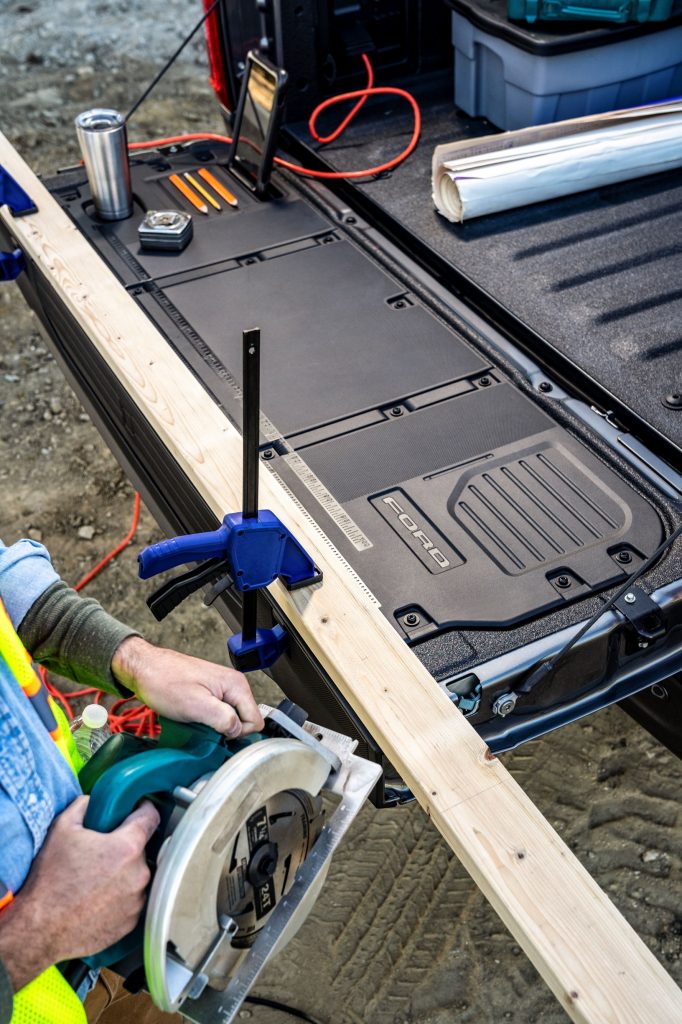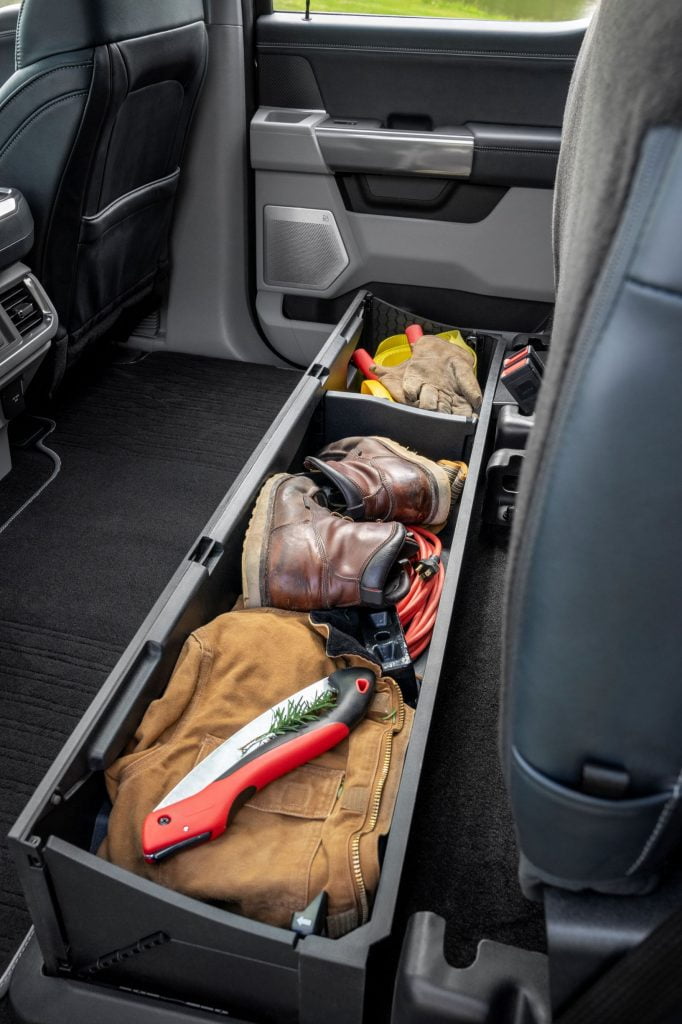 So, for 2021 the F-series adds these innovations to the existing F-150 structure; including the fully boxed high-strength steel frame and the all-aluminum alloy body. With this new PowerBoost engine Ford is now offering six different powertrains in the F-series dressed up in nine trim levels. Ford continues to offer the greatest combination of power and trim packages in the pickup market.
There has been (and continues to be) let's of talk about electric pickup trucks. These are definitely coming. But, in the meantime this new PowerBoost hybrid engine can be seen as a logical stepping stone towards that all-electric future. PowerBoost actually has more to do with the 10-speed SelectShift automatic transmission. It's 47-hp electric motor is integrated into the transmission where it adds torque (as needed) and determined by the software that will also take towing into account. The power is stored in a 1.5-KW lithium-ion battery that is charged by the electric motor which captures energy while the truck is braking. The battery is packaged underneath the truck and does not intrude on normal interior spaces.  This system does not take an outside charge – in fact its function is to capture energy (while braking) that is normally wasted with a traditional gas powertrain. The gas end of this power combination is the 3.5L EcoBoost that has been in service now since 2011. It already offers fuel economy with high horsepower, so this addition of electric boost should go a long way to fulfilling Ford's claim of 1000-plus kilometres of travel on a tank of gas. Of course, be aware, these claims are for an empty truck, putting a load on it is another story.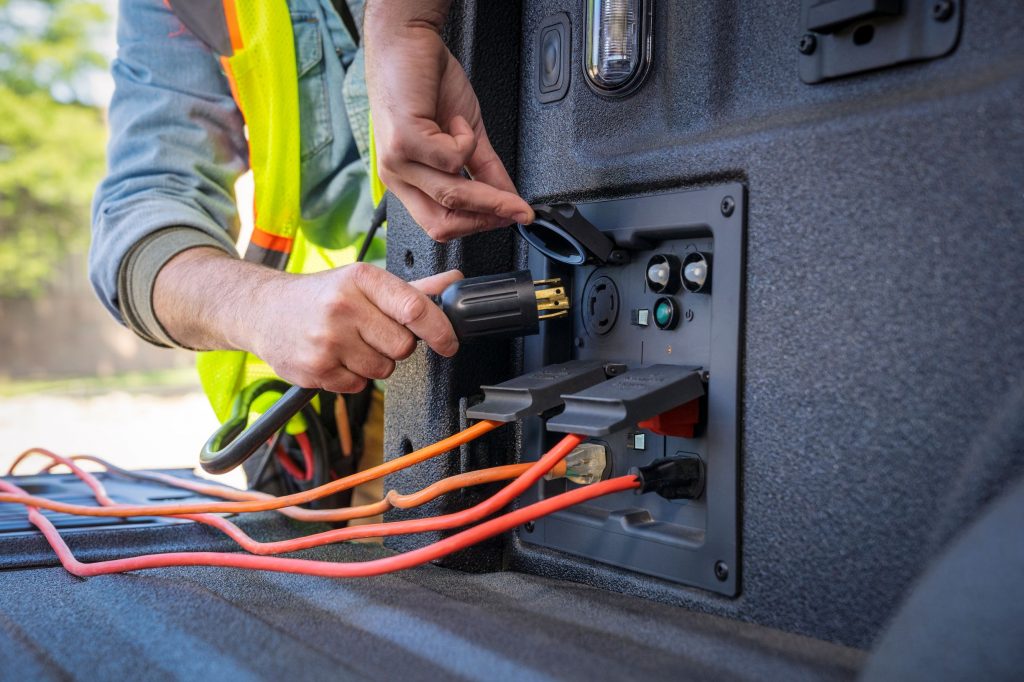 The Pro Power Onboard system though is one of those innovations that we all knew was possible but no one was doing it. Granted a few 400-watt outlets have been available in various truck beds for a while – but that's not much juice.  With a possible three versions, Pro Power will push out as much as 7.2-KW of power in 120 and 240V (or 20 and 30-AMPS respectively). These numbers are comparable to portable generators. This is significant; apart from working off the back of the truck, you could power your cabin with it.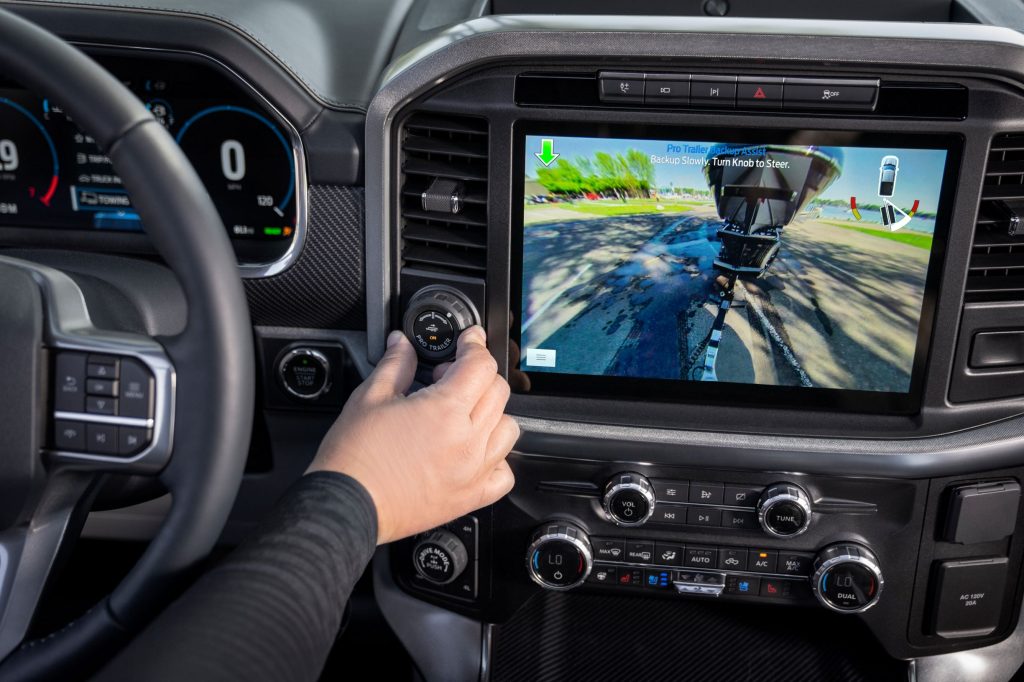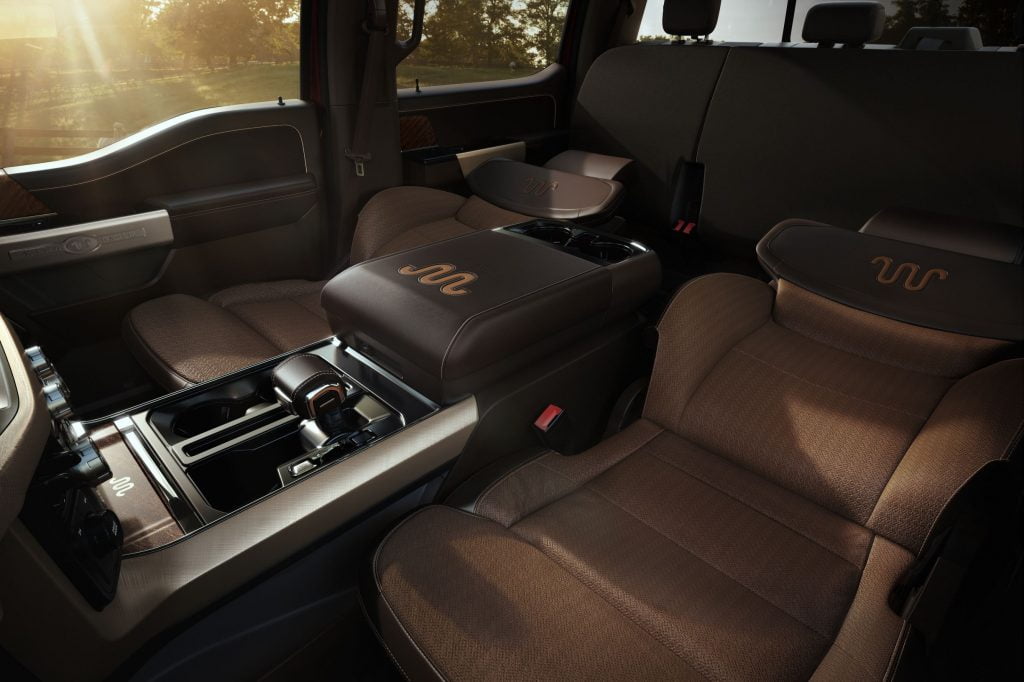 The new look of the interior makes the F-series, once again, competitive with any of its competitors. As for electronics the center piece is a new 12-inch screen that is now the heart of all the infotainment systems. Ford also likes to add some trick items to each update. This time around we have fold-flat front seats. This is more than just a full recline. The seat folds back and the bottom lifts up to form a flat bed.  Go ahead, tell your wife you no longer need a hotel room, you'll just sleep in the truck.  The other innovation is a bit more practical and one of my favourite features. The shifter folds flat and the center armrest flips forward to form a large, hard-surface work station.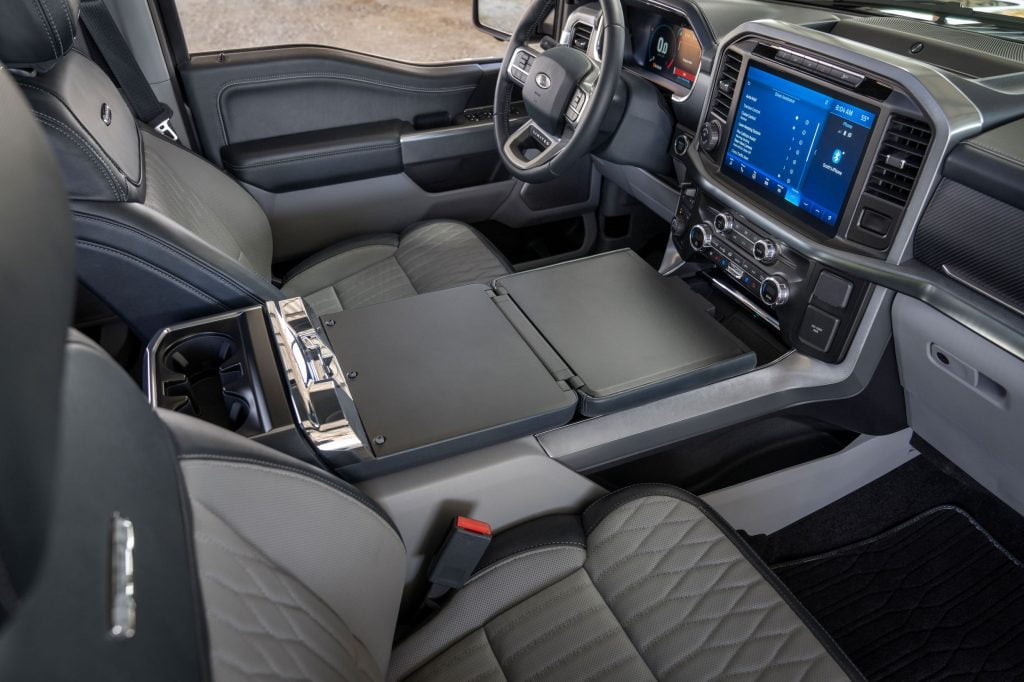 So, these are the highlights of the new F-150 packaged together as the first salvo in Ford's marketing campaign. You can count on more hype and info as we move through the summer prior to the truck's arrival in fall. More stats, numbers and pricing will be released as we move forward.
All photos courtesy of Ford