Recently, Ontario's Ministry of Transportation introduced restricted towing zones on sections of its provincial highways. The goal of this pilot program is to clear busy highways of vehicles in need of immediate assistance more efficiently and safely and prevent tow truck companies from charging unreasonably high towing and storage fees.
This is great news for drivers, as many of us have fallen victim to pressure from towing companies in an already stressful situation, that isn't safe and often financially exorbitant.
To Better Protect the Public
The government has the firm intention to clear the highways quickly and safely — as well as protect motorists by allowing only authorized providers to service vehicles in restricted towing zones.
Allowing only approved towing companies to service certain highway zones, prevents other towing companies from "swooping" in on motorists in need. The new program ensures reasonable and regulated tow rates, as the selected towing companies must provide a fee schedule, an itemized invoice showing all costs and be willing to accept debit and credit cards.
Restricted Towing Zones
Authorized towing companies are under contract for each restricted zone. The restricted towing zones include: sections of Highways 401, 427, 409, 400, and the Queen Elizabeth Way (QEW).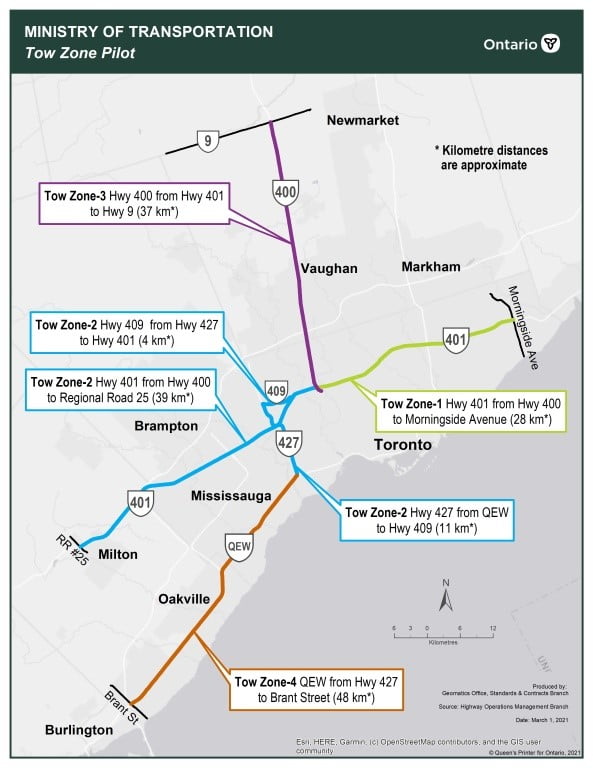 If you need assistance in one of these restricted towing zones call:
911 if it is an emergency or if you feel unsafe.
511 if you are in a safe location and you need roadside assistance in the restricted zones.
Authorized towing companies' obligations:
Provide prompt, safe, courteous, and high-quality service.
Show their identification to customers upon request.
Obtain permission to tow the vehicle to the customer's destination of choice once the vehicle is outside the Tow Zone Pilot area (unless otherwise directed by the police).
Provide customers with an itemized invoice listing the services provided, the cost of each service and the total cost before asking for payment.
Allow customers access to their vehicle between 8:00 a.m. and 5:00 p.m. on all business days and 9:00 a.m. to 12:00 p.m. on Saturday and Sunday, excluding statutory holidays at no charge so they can get any personal items (unless otherwise directed by the police).
Not solicit or recommend any services related to vehicle sales, repair shops, body shops, garages or legal/medical services.
Stay Safe
Please remember to remain safe when stranded on the highway. Here are a few tips on what to do if your vehicle breaks down in a restricted zone. Some of these also apply when you're stranded on any highway.
Stay calm and take note of your vehicle's location.
Call 911 if it is an emergency or if you feel unsafe.
Call 511 if you are in a safe location and you need roadside assistance in the restricted zones.
Stay inside your vehicle and wait for responders to arrive.
If you must get out of your vehicle, beware of oncoming traffic and never stand behind or directly in front of your vehicle, avoiding the risk of being struck by oncoming vehicles.
If your vehicle is not operational:
Turn on your hazard lights (four-way flashers).
If safe, use safety cones, warning triangles or flares to warn oncoming traffic.
If your vehicle is operational and it's safe:
Take the next exit or move your vehicle to a shoulder location.
Coverage with Emergency Roadside Service
As an Explorer RV Club member with emergency roadside service, if you are stranded on the side of the road in one of the provinces restricted towing zones, keep the receipts to be reimbursed according to the terms of your contract.