For many Canadian RVers, the dark and cold of winter feels especially long this year. There is uncertainty around the impact of the coronavirus on travel plans and the border sits closed (an especially brutal circumstance for snowbirds who are used to getting away from the chill and into the sunshine).In our household, we find it helps to indulge in a little RV daydreaming by pulling out maps and travel guides, perusing magazines and websites, looking at photos from trips past and making a list of places we'd like to go once things stabilize and health risks are normalized, reduced and safe.
Near the top of that list is Vermont, a state that has managed its pandemic rates well as compared to the rest of the U.S. Add in its scenic driving routes, its four-season appeal, and its largely rural setting, and Vermont seems to be one of the best bets for when the weather warms and we do cross the border.
A wonderful system of Vermont Byways — secondary routes that touch the best of history, scenery and culture — are the roads to follow. The Green Mountain State is known for its cheese factories, charming small villages, covered bridges, the spring maple syrup ritual and is the home of Ben & Jerry's Ice Cream. Each time we go, we like to dig a little deeper in search of the lesser-known treasures, and the state is filled with great finds. Here are just a few of our favourites.
Dog Mountain – St. Johnsbury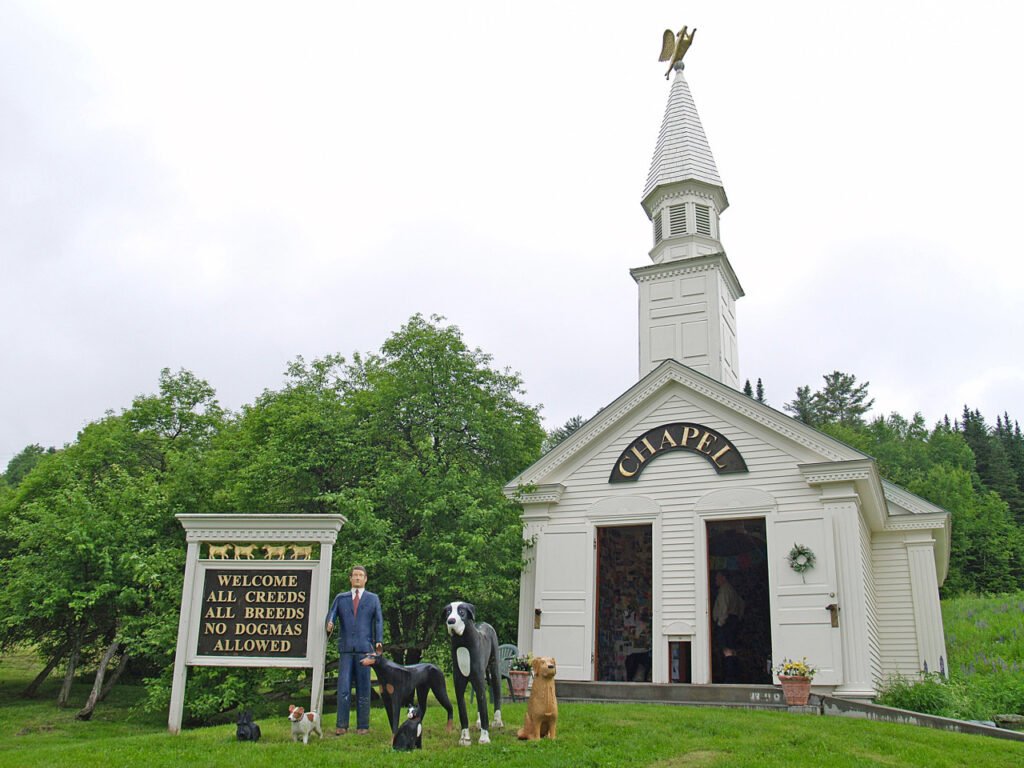 "Most people come for the Dog Chapel," explained the young woman manning the shop at Dog Mountain, the most popular tourist attraction in the northeast part of Vermont.
Dog Mountain sits on a green hillside at the end of a dead-end road — a 150-acre property of hills, fields, an agility course, dog ponds and walking trails that was once the studio setting of the late Stephen Huneck, an artist, author and woodcarver known for his series of colourful books featuring Sally, his beloved Labrador retriever.
After a near-death experience, Huneck awoke from a two-month coma with the vision of building the Dog Chapel. He described it as "a place where people can go and celebrate the spiritual bond they have with their dogs. Dogs are welcome and there is always a good supply of treats on hand, a small gesture to thank dogs for all they give us."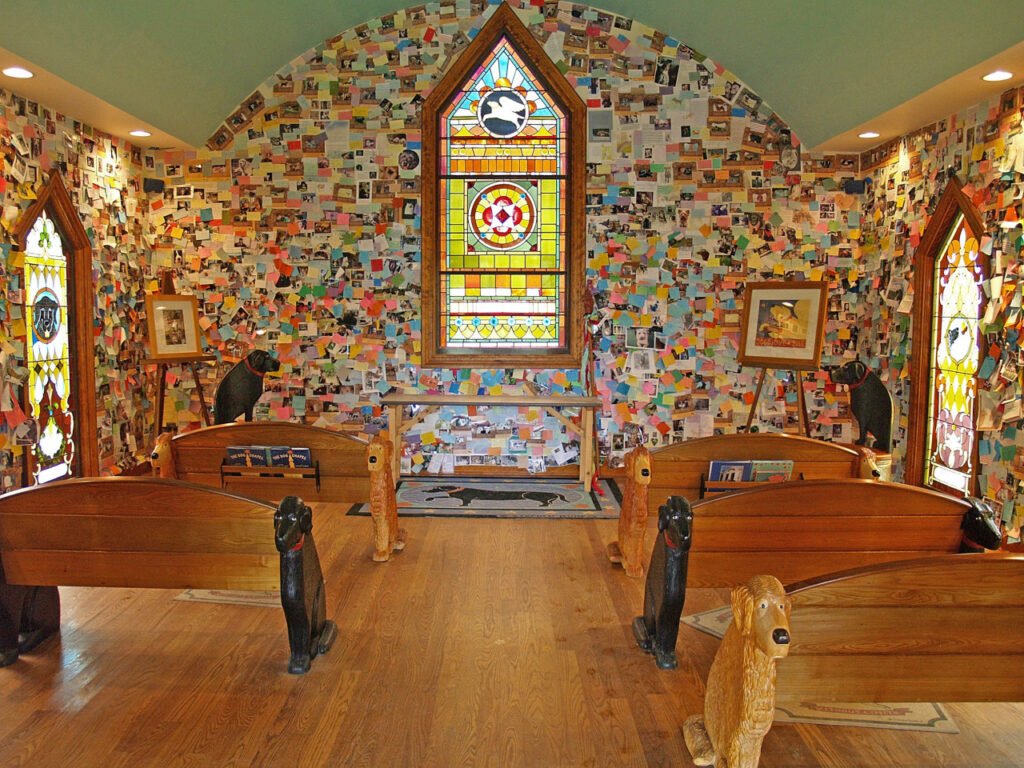 The Dog Chapel resembles the quintessential, white clapboard Vermont village church, circa 1820. Covering every square inch of the chapel walls are thousands and thousands of hand-written notes and photographs — scraps of memories and emotions written from visitors to their beloved canine companions. They are called the Remembrances of Dogs Loved and Lost.
Daylight streams in through stained-glass windows; the hand-built wooden pews are bookended by life-size, wooden carvings of dogs, sitting at the ready. There is no leash law on Dog Mountain and no charge to visit. Dog Mountain depends entirely on donations and gift store purchases to keep it free and open to dog lovers and their companions.
President Calvin Coolidge Historic Site – Plymouth Notch
Cheese meets history at the President Calvin Coolidge Historic Site, home to a historic cheese factory and an expansive collection of heritage buildings that preserve the birthplace and childhood home of Calvin Coolidge, the 30th President of the United States. The farmhouse, cheese factory, community church, general store and barns are snapshots in time, spread out over a rolling, green hillside.
The onsite cheese factory is the second oldest cheese factory in the country, started by Calvin Coolidge's father in 1890. He was a dairy farmer in Plymouth Notch at a time when the four farms in the valley were making more milk than they could use, so they decided to add a cheese-making operation.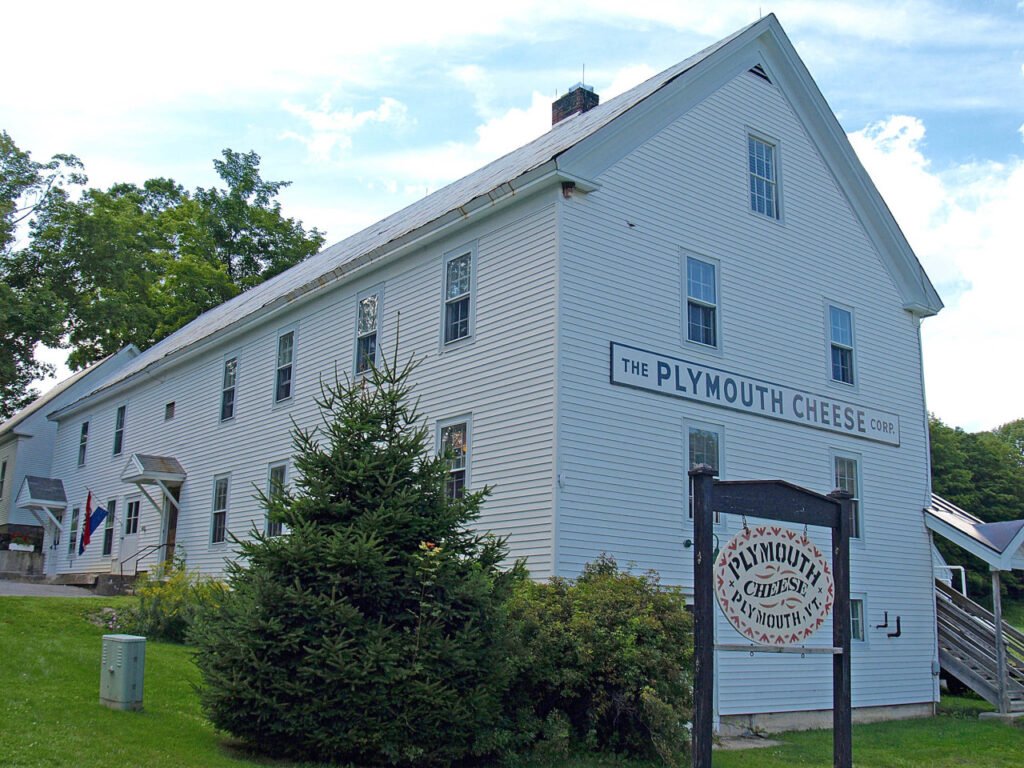 The Plymouth Artisan Cheese factory (once a favourite of Julia Child) makes award-winning, artisanal cow's milk cheeses using milk from a single local herd and with the same recipe from 1890, based on British cheesemaking traditions and techniques that date back to the 1600s: small batches and handmade.
The entire complex is just down the road from Coolidge State Park. The park has 62 rustic (no hook-ups, as with all Vermont State Parks), hillside sites. There are hot showers available as well as a sanitary dumpsite. Larger RVs may find navigating the narrow, winding camp loops a bit of a challenge, but for those looking for old-style, woodsy camping, this is your spot!
Billings Farm & Museum – Woodstock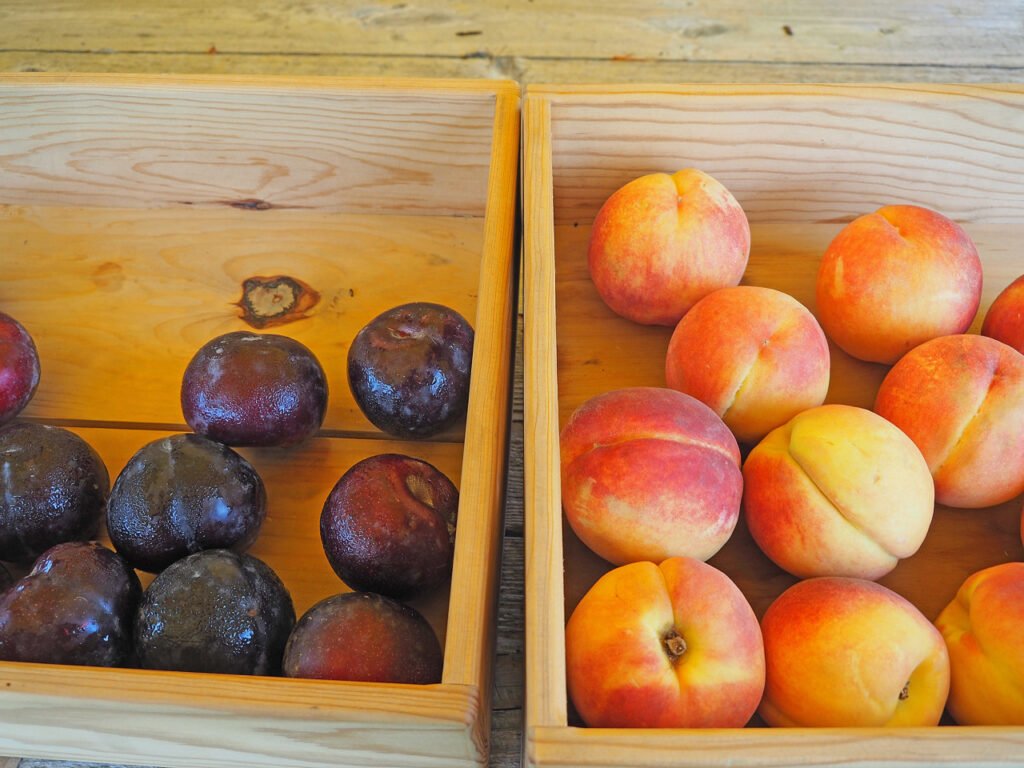 The Woodstock area has lots to recommend, but at the top of our list is the Billings Farm & Museum. The topnotch dairy farm dates back to 1871 and is a living museum showcasing Vermont's rural heritage.
The farmstead is a perfect stop for families — with Jersey cows, sheep, horses, goats, pigs and a flock of chickens. There are also farm life exhibits on maple-sugaring, butter-making, milking, a calf nursery and an apple orchard. A short trail winds through the farm fields. And, to top off a visit, the Dairy Bar serves up amazing, Vermont-made ice cream and slabs of Billings Farm cheddar cheese.
Favourite Hikes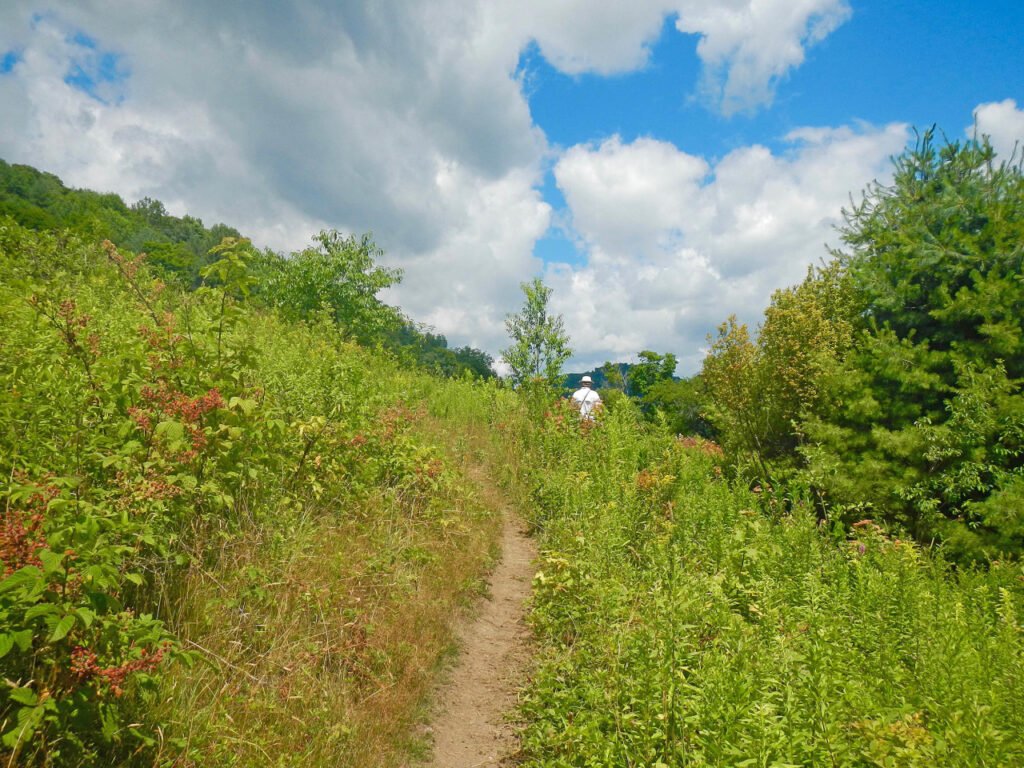 Vermont offers a multitude of ways to access dozens of trailheads through the Green Mountain National Forest — aptly nicknamed the "granite backbone of the state." Stretching north-south, the enormous swath of protected wilderness includes hiking corridors of the national Appalachian Trail, Vermont's own Long Trail and the Robert Frost Interpretive Trail, a pathway designed to commemorate Frost's writings with poems mounted trailside.
Longer trail hikes can be picked up along the Appalachian Trail (one of our favourite trailheads is on the west side of State Route 12 just south of the village of Barnard). Barnard is also the location of Silver Lake State Park, a true Vermont camping gem. The 46-site park has a great swimming beach and is walking distance to the iconic general store in Barnard. There are no hook-ups, but there are hot showers and a dump station. Many of the sites are easy for RVs to access.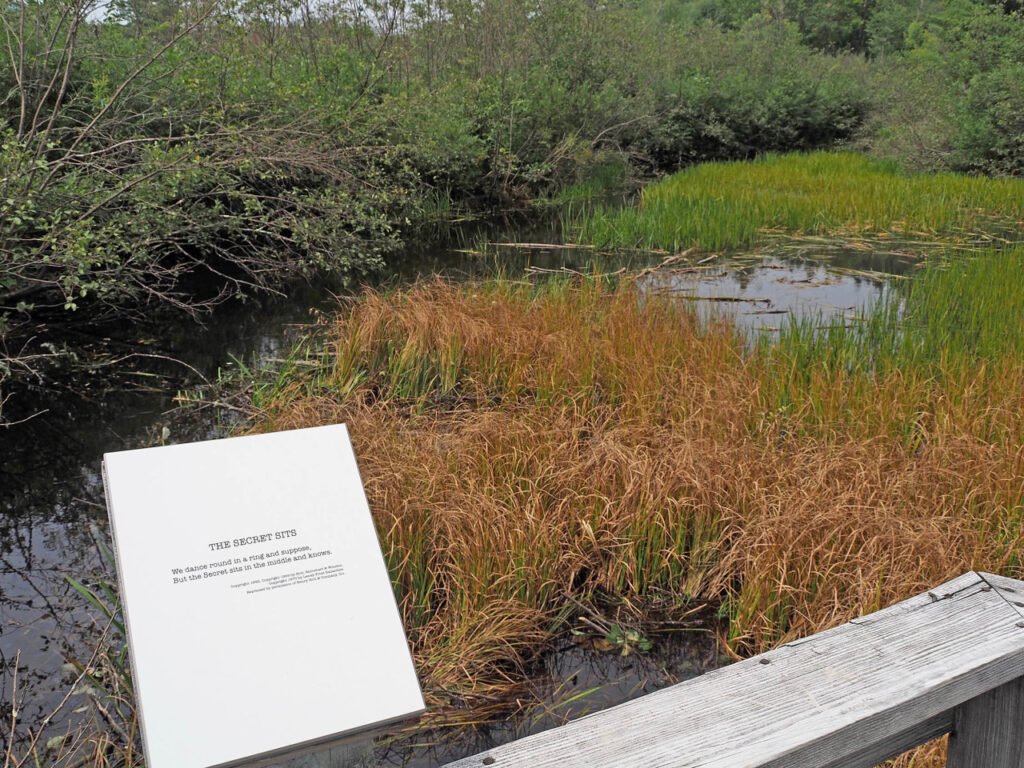 The Robert Frost Interpretive Trail sits alongside State Route 125 east of Middlebury. It's an easy walk through woods and meadow, with plaques of seven poems by New England's best-known poet marking the way. In the height of summer, the blueberry bushes are heavy with fruit and popular with berry pickers.
Swimming Spots
There are many swimming, boating and tubing spots on Vermont's lakes and rivers. But one of our favourites is a local spot not well known by visitors.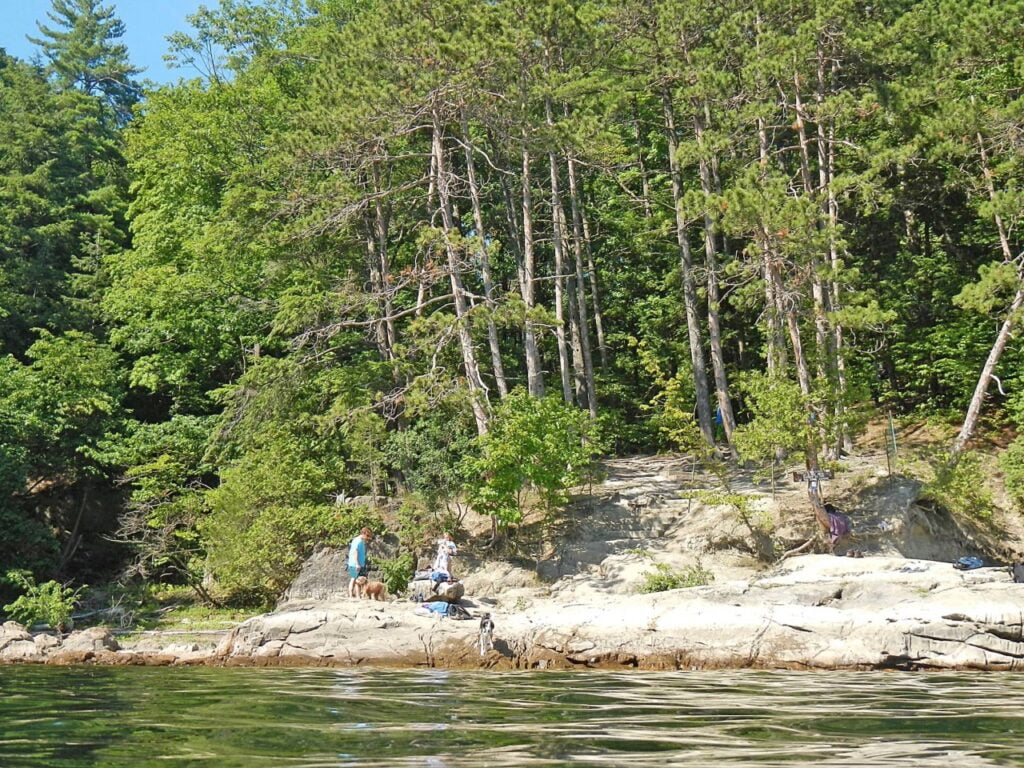 Just north of Burlington, along the Highway 2 crossing over to Grand Isle, is Niquette Bay State Park. The park is a day-use facility with a longish trail leading to wonderful swimming off the rocky shoreline at Calm Bay. Dogs are permitted to swim at this location in the park. On a hot summer's day, there is no better way to cool off.
Finding Campsites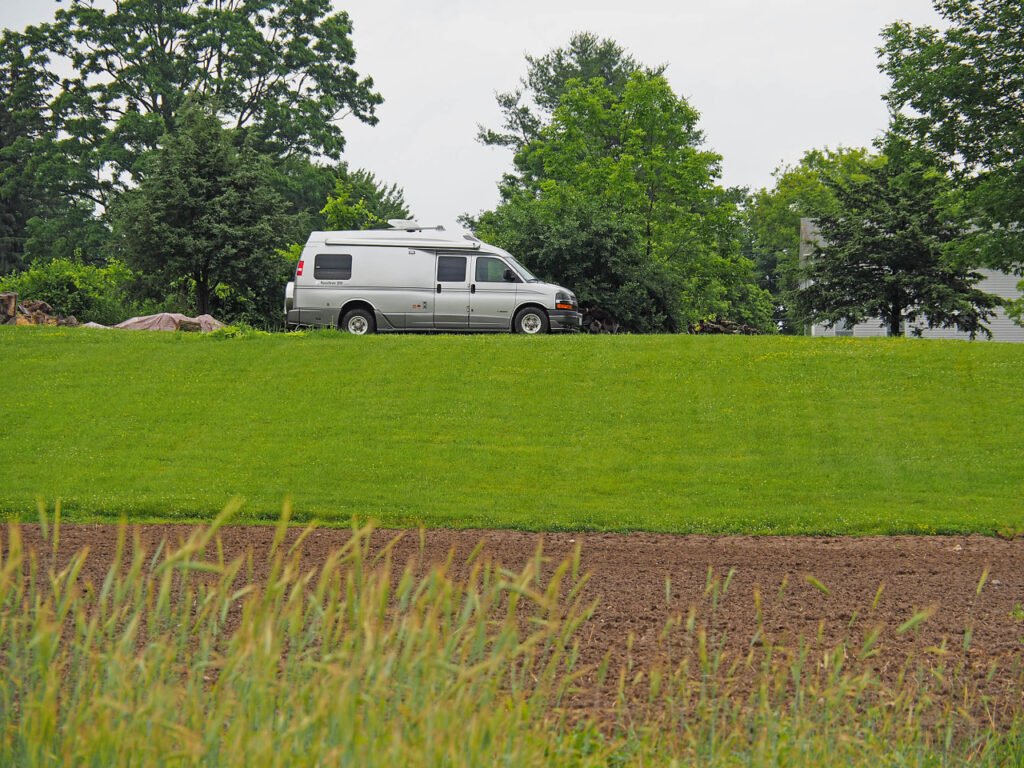 Vermont State Parks are among our favourites, but without hook-ups, may not be suitable for some larger RVs. We've also had wonderful stops at some of the state's 21 Harvest Hosts members, including a family farm and a maple sugarworks farm. Finally, the Green Mountain National Forest allows dispersed camping at many spots, as well as two RV-friendly campgrounds with modest nightly fees. In the southern part of the state there is camping (showers and dump station, some sites with electricity) at Winhall Brook Park, a Corps of Engineers site that is part of Ball Mountain Lake.