The Attack Came with No Warning…
You are standing with a small group of campers, at the Hartt Island RV Resort, waiting, staring into the distance on the edge of the clifftop, 20 metres above New Brunwick's Saint John River, on a warm, clear evening in July.
"There," a neighbour whispers, pointing with her arm towards what looks like dots in the sky, over the far bank. But these dots emerging from the dark evening sky to the east are actually a pair of adult bald eagles drifting slowly upriver, into the setting sun, hunting for salmon.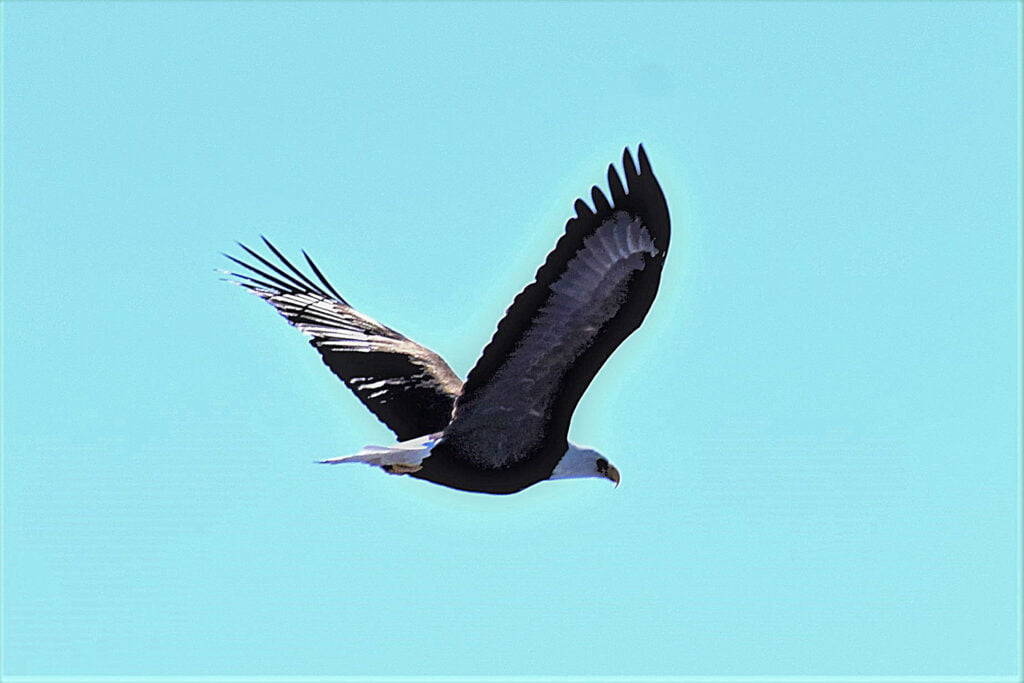 The attack on the salmon came with no warning. Once the eagles had located the salmon, the lead bird converted its graceful glide into a deadly attack with one fluid motion and one last powerful beat of the wings. To gain the required speed for a lethal attack, the eagle folds its wings back to its body, his white head stretching forward and distinctive yellow legs held back against its tail.
The body of the eagle is transformed from a bird of grace and beauty into a deadly missile, one that is quickly locking onto its target.
Hartt Island RV Resort
We had come to the Hartt Island RV Resort near Fredericton, New Brunswick, Canada, to attend our son's wedding as Melisa, his bride to be, is from Fredericton.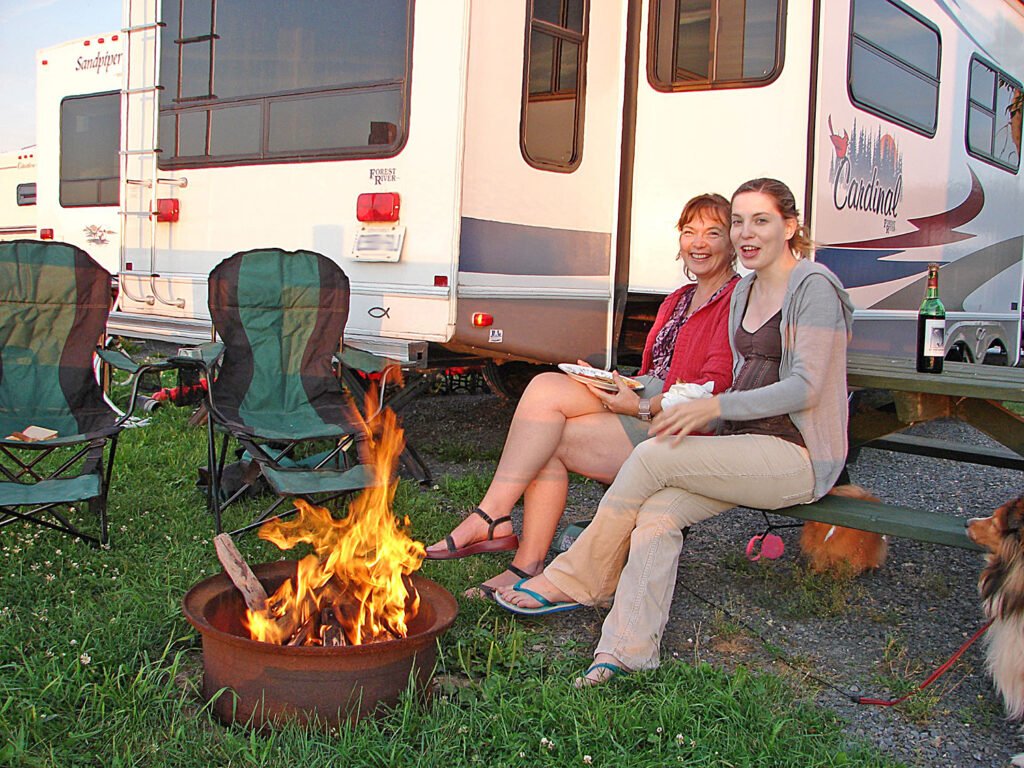 We planned to spend three weeks visiting with our new in-laws and family, getting to know Mel, our soon to be daughter-in-law, and spending time with our other adult children and grandchildren.
This translated into three weeks, to spend days sightseeing and evenings socializing with family and friends before the wedding.
The Eagle Lady
It was the first morning at Hartt Island RV Resort, as we were getting ready to meet Mel's parents for the first time that Margret, a gentle, active looking lady of retirement age came over to visit from the Sandpiper fifth wheel parked next to us.
"My name is Margret," She introduced herself as she came around the front of our fifth wheel. "Do you know about the bald eagle watching?"
"No," I replied, looking confused, I'm sure.
She explained further, "A small group of us have been gathering on the clifftop each evening behind your campsite and mine to look for the bald eagles known to be in this area, I hope you don't mind. Would you and your wife care to join us? We meet between 6:45 p.m. and 7:30 p.m."
Margret, I learned, had retired from New Brunswick, Natural Resources and Energy Development department four years earlier. She had helped with the ongoing study of bald eagles and was still dedicated to the subject. Margret later informed me, the first evening we joined her group that the eagles of the upper Saint John River system are classified as a regionally endangered sub-species.
Hartt Island RV Resort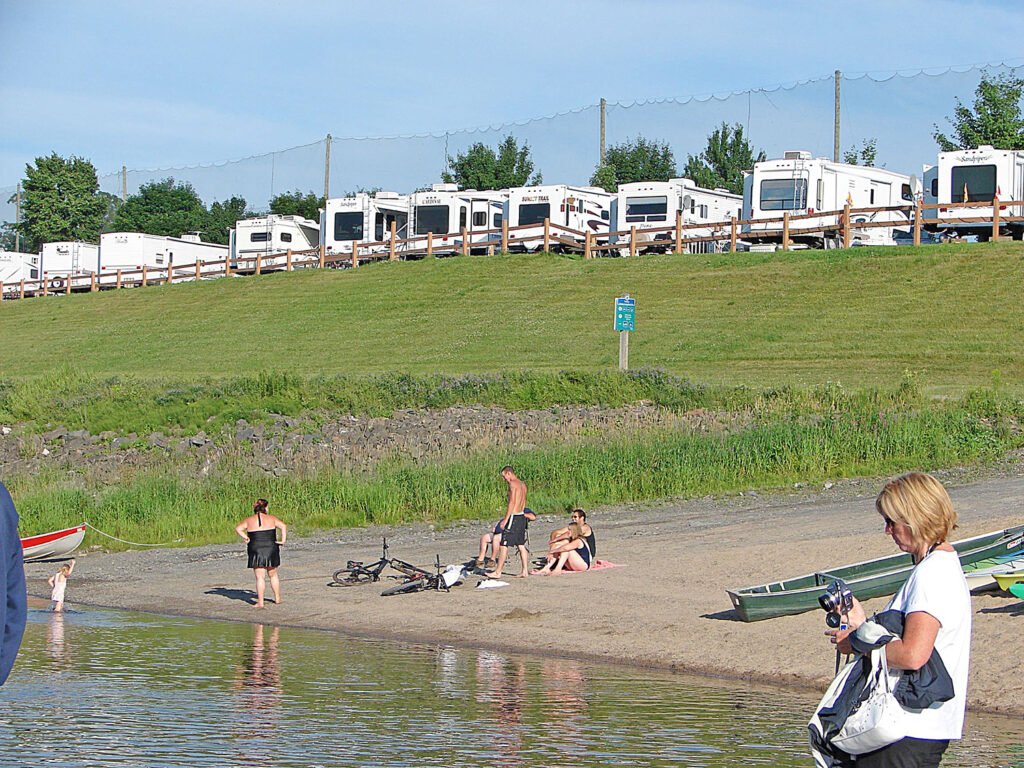 Our campsite at Hartt Island RV Resort, backed up to a safety fence at the clifftop, some 20 metres above the Saint John River.
The view from our rear window was unobstructed for miles and overlooked a bounty of sights – the river, New Brunswick's forests, Hartt Island, and the setting sun off to the left. At the end of a short gravel road below us is the campground dock, beach, and river swimming area— we soon found this makes for a long walk uphill after an hour swimming with grandkids!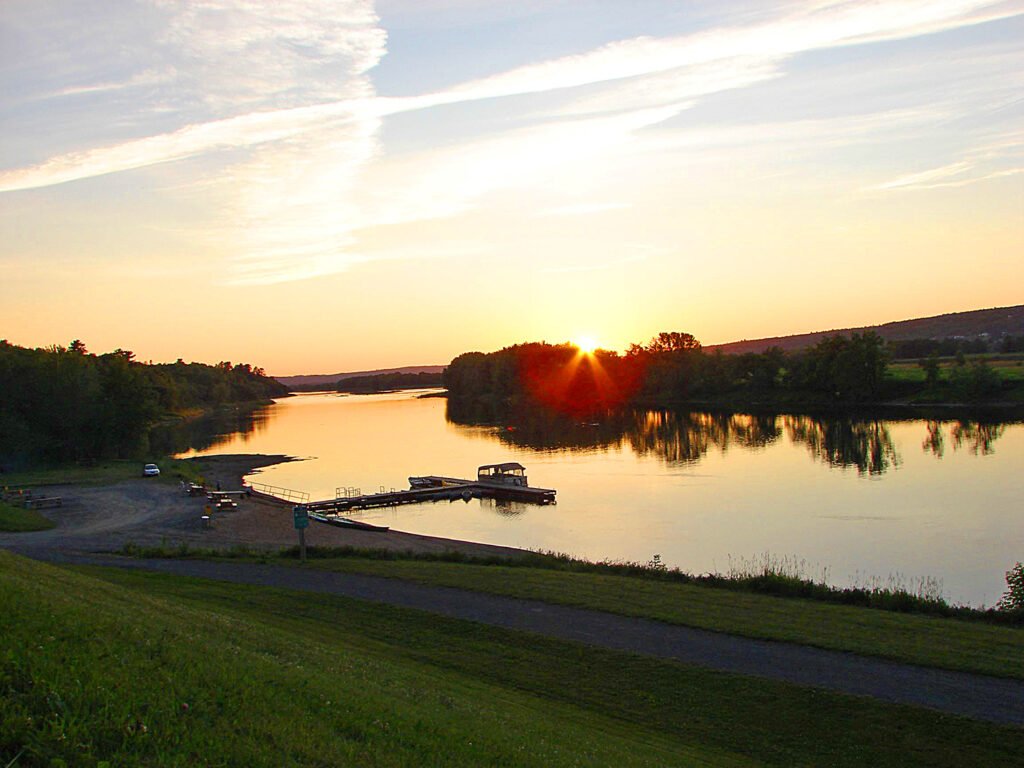 The Hartt Island RV Resort is popular with RVers of all ages. There are clean well-maintained washrooms, showers, and laundry facility. The other facilities include a waterpark, mini-golf, canoe rentals, and river swimming, and additionally, each campsite has a picnic table and fire pit.
The campground also operates one and two hour river tours on their pontoon boat.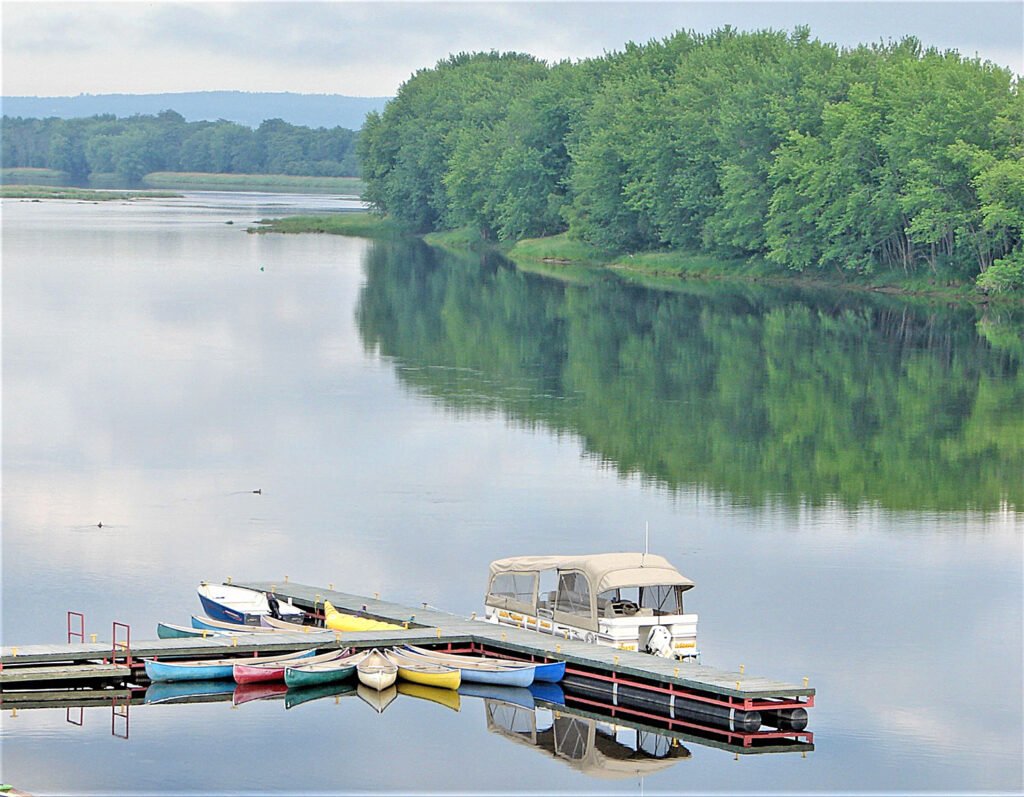 The river tour guide provides entertaining information on the nearby fish hatcheries, eagle, and osprey populations. As the small vessel cruises between the islands and sandbars with densely wooded banks on either side, your tour guide will also share a bit of history regarding the early and pre-European settlements in the area.
What are some things to do on and around Hartt Island RV Resort?
Visit the City of Fredericton
The provincial Capital City of New Brunswick sits on the south side of Saint John River, just a 10-minute drive from Hartt Island RV Resort and is a city of clean air, historical heritage, and rich culture.
Named in April 1783 after Frederick, second son of King George III, the history of a village at this location populated by the Mi'kmaq and Maliseet people goes back in time long before Europeans' arrival.
It is a 'University city' that appeals to all age groups. Many summer carnivals and outdoor events take place during July and August, so I highly suggest the Fredericton tourism office should be contacted when planning your visit.
Another plus to being a city of cultural diversity, Fredericton has a plentiful supply of restaurants with both indoor and patio seating providing food for all tastes.
Kings Landing
Kings Landing is a re-enactment village, only a 20-minute drive upriver from Hartt Island RV Resort. Original homes and buildings were combined at this location to resemble a village and village life as it was in the early 18th century when British loyalists (Empire Loyalists) came north to live in New Brunswick from the newly formed United States of America. Kings Landing hosts many special events over the year, and it is worth checking what is planned as you plan your own visit.
Mactaquac Dam and Mactaquac Provincial Park
By means of damming the mighty Saint John River, Mactaquac Dam provides about 20% of New Brunswick's electricity needs from its water-driven turbines.
You'll cross the dam when you drive to the Mactaquac Provincial Park, where a walk on the Provincial Park's trails and boardwalks are a chance to get close to nature in the wild. Beaver, porcupine, deer, and moose can sometimes be seen from these trails that take you through the forest and past lakes and wetlands.
Fishing and Hunting
"Out of Province" Fishing and Hunting is allowed, and Out of Province Licenses can be obtained on-line, which is recommended doing prior to your trip.
Bald Eagles
Bald Eagles range across Canada and as such, are not considered to be an officially endangered species. However, the New Brunswick birds have been determined as 'regionally endangered', meaning that their numbers are so low that extinction is possible within the province.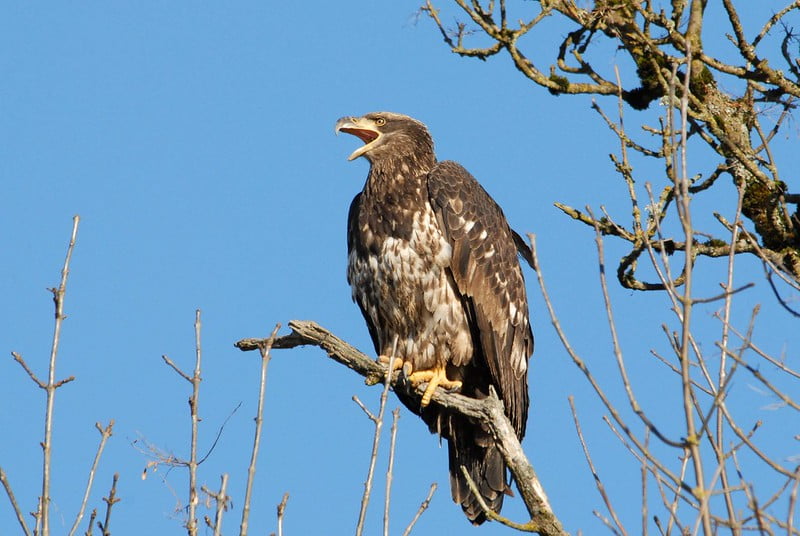 Bald Eagles under five years of age are considered non-breeding juveniles, although juveniles reach an almost adult size by the time they are one-year-old. Over the first two years of their lives, they are entirely brown – slowly changing colour to a brown-white mottled plumage by four years of age, and into the distinctive black and white of the mature adult by five years of age. Watching juveniles learn to fish is entertaining as they miss often.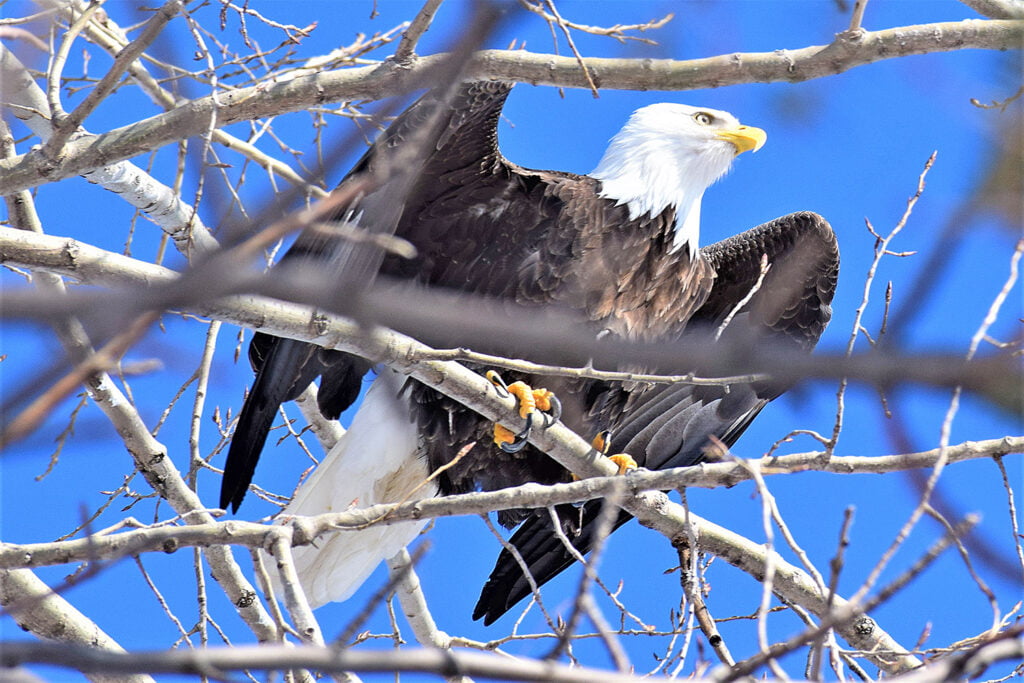 Eagles mate for life and will build a nest two metres in diameter. This nest is one that they will return to year after year. Tall white pine trees close to open water would seem to be the preferred nesting sites of these birds.
New Brunswick eagles start nesting in February, with the juveniles leaving the nest by August.
These eagles are well-designed hunting machines. Their vicious 6-cm talons are used to cut into and hold their captured prey. The fatal blow, however, is carried out with their hooked beak.
New Brunswick has two different population groups of bald eagles.
The year-round resident population.
Groups that breed and nest in New Brunswick but spend their winters in the south-eastern US (much like us Snowbirds).
The evenings that we spent watching and learning about bald eagles were fascinating, and it felt like a privilege the evening the birds followed salmon close to our viewing position on the south shore. Privileged is an apt word because the eagle's sharp eyes would have been aware of our existence, watching them hunt. But it seems they accepted us as not being a threat to them, and they continued to hunt despite our presence and proximity.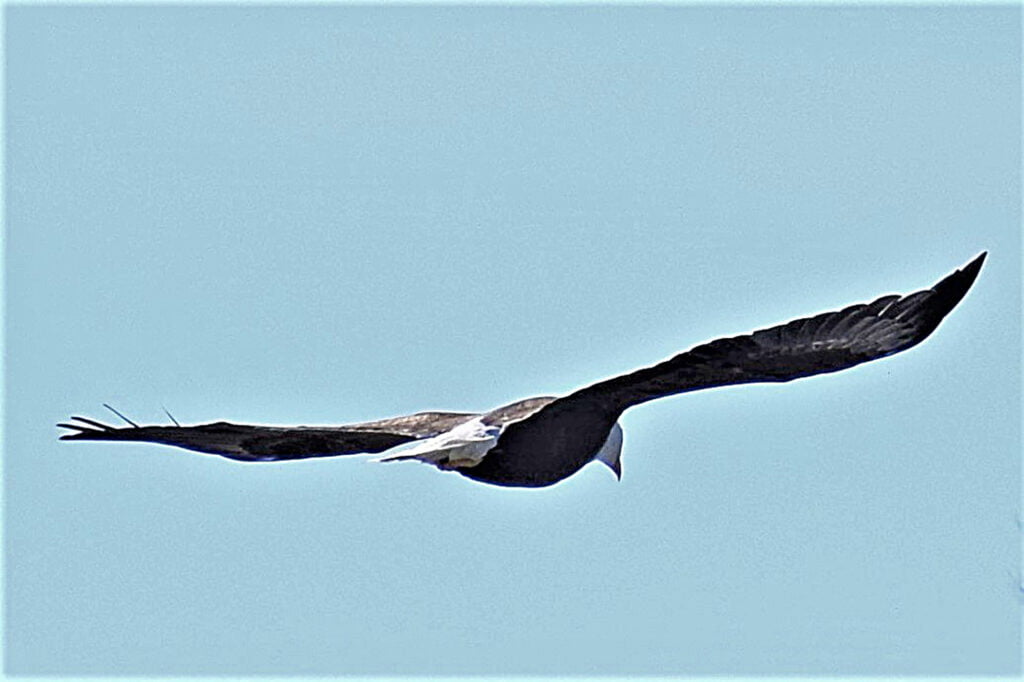 We watched a pair of these professional hunters, drifting through the evening skies, upriver into the setting sun, their wings motionless on the thermals. The sun was already low in the sky, casting the shadows of these two birds well downriver, away from the unsuspecting salmon.
With one last beat of its powerful wings, we looked on in awe as the lead bird suddenly powered itself into a dive from well over a height of 60 metres out over the river.
With one fluid motion, the lead eagle dove, its wings folded back, its head stretched-out with the sharp meat hook of a beak ready for the kill, the yellow legs and deadly talons held back against its tail for speed.
It is in this moment of attack, the graceful body of this beautiful bird is transformed into a deadly missile. Minor corrections are made on instinct, its eyes and brain locked onto a target – now the kill is almost inevitable,
Just before hitting the water, the eagle brings its legs forward, talons spread. The water appeared to boil as the eagle takes the fight below the surface and the water froths around it.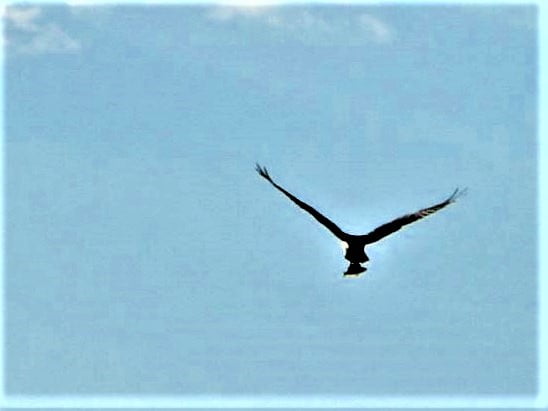 Moments later, with the rapid beat of its mighty wings, the triumphant bird surfaces and the eagle rises slowly into the air – 14 kg salmon trying to escape but held securely by the sharp talons.
The second eagle of the original hunting pair waits in the sky. On rare occasions, the injured salmon escapes from its exhausted hunter and falls back to the water.
However, the salmon had been hunted by a pair of eagles, meaning that the second eagle is ready to dive the moment the salmon gets free. The speed of the dive will often catch the fish before it hits the water.
Escape of the salmon is not an option. The eagle will follow the injured salmon below the surface and the time spent hunting is not wasted, and a family meal has been provided for one more day.
What Role Can We Play in Conservation?
The good news is that New Brunswick's bald eagle population over the past twenty years is slowly increasing.
While the Eagles will defend their nest against all predators. Man, as so often is the case, appears to be the exception. However, measures have been taken to counteract the human influence and the sport of hunting bald eagles with guns has been outlawed for over seventy years, and stealing eggs of fledglings is illegal.
Today, the conservation and protection of nest sites are mandated by law, thus limiting forestry and water changes around a nest site.
Sadly, once intimidated by man, these birds will abandon the nest and any fledglings. Hiking, snowmobiling, skiing, hunting, and even photography near a bald eagle nest may be sufficient to cause the adult birds to leave.
Our trip spent 'Camping with Bald Eagles' was an educational experience. We must act responsibly when near the nests. We must do our part and spread awareness.
Most eagle nests are documented. Contact the New Brunswick Department of Natural Resources for information about nesting sites and locations to be avoided before you set off to have fun.