Airstream builds a variety of RVs. The most iconic, of course, is the shiny, rounded travel trailer. This is something they have been doing since 1931. A little less known fact is that they also build motorized units. While this is a smaller portion of their business, they attend to the design and construction of motorhomes with the same quality control they use with their trailers. Still, the build numbers are low, so they can be considered a boutique brand as they don't build for the masses. Quality and unique design are what they are known for. This way of building also equals a premium-priced product. But for many, the value is apparent as they are coming up to 100 years in business. They must be doing something right.
New for 2024, Airstream is adding to its Class B offerings with a new model – the Rangeline. Built on the Ram ProMaster 3500 chassis, this European-inspired Class B was designed with comfort and ease of use. The coach offers dynamic living spaces, flexible storage, and high-performance onboard systems.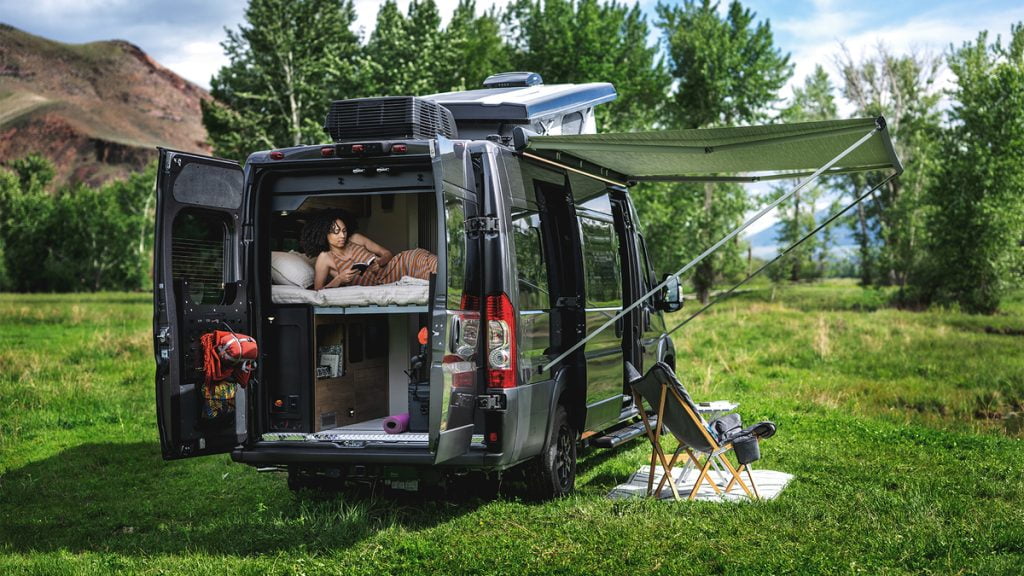 I've reviewed Class B's that use the Ram ProMaster as a base chassis. It's popular with several manufacturers because, as a front-wheel drive configuration, it has a low step-in height, no driveshaft to contend with, and a reputation for reliability at a decent price. It features the 3.6L Pentastar V6 engine that makes 276 hp. It's mated to a TorqueFlite nine-speed automatic transmission. This V6 is quite fuel-efficient considering its job—a nice feature in a Class B – which tends to travel more than most motorhomes. The estimated fuel economy is 12L/100 km.
With a length of just 21 feet, Rangeline has enough space to bring along the comforts of home but is small enough to easily manoeuvre through parking lots, down backroads, and into driveways.
The main slinging entry door is the hub for your campsite and serves as the pathway for moving in and out. A patio light illuminates this area under the roof-mounted awning that provides shade and protection from light rains. You can set the awning to your preferred length, regardless of whether the sliding door is open. It includes spring-loaded tension arms, ensuring a stable and wind-resistant attachment to either the ground or the side of the touring coach. Here, you'll also see a grab handle for mobility, which doubles as a towel rack. Cubbies offer accessible storage for items such as boots and camp gear. The slip-resistant running board reduces the step height, while the sliding screen door lets a breeze flow through without the bugs.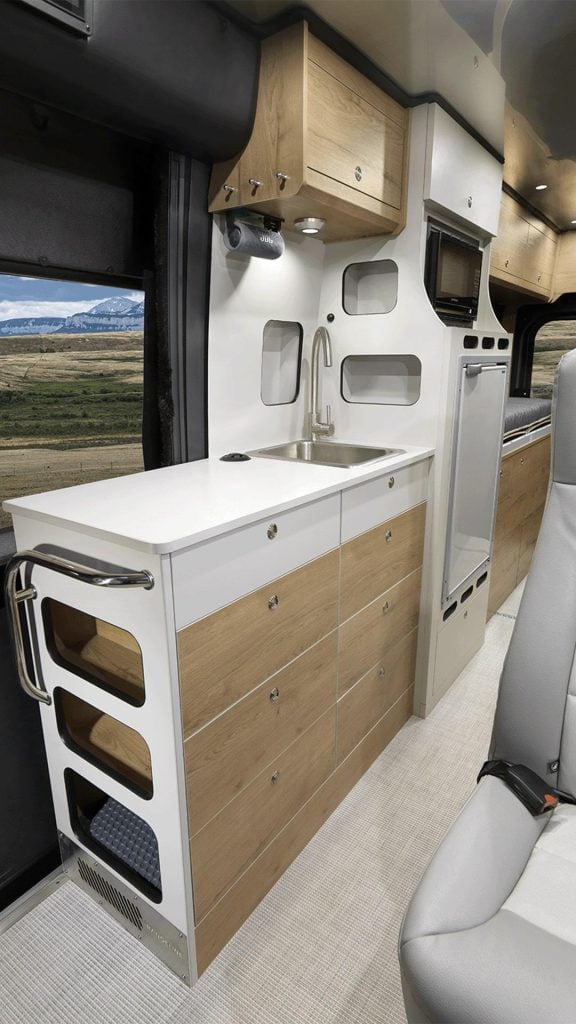 When you step through Rangeline's sliding door, you'll find an expansive interior with soft wood tones and elegant lines inspired by European RV design. Flexible storage and multi-use functionality are key in this design. Rangeline is designed for a couple; however, an optional pop-top expands the sleeping space as desired.
The galley, bathroom (wet bath), dinette and seating are all designed to offer the most flexibility while taking up the least space. To that end, Rangeline is designed with simplified power and comfort systems. Regarding comfort, there is a reference to "always having a bathroom at hand" in their literature. As I get older, that statement resonates with me.
There is no propane -board; everything from the water heater to the generator runs off gasoline. Any trip prep is now as easy as filling up the gas tank. An intuitive multiplex system makes monitoring and managing resources easier than ever.
A few other highlights of the Rangeline:
270Ah lithium battery and 2,000-watt inverter come standard
Generator is standard. Gas-Fueled 2.8 kW Ultra-Quiet w/ Remote Start
Solar Power: Single 200-Watt Panel
Touch Screen/Touch Pad Electronic Controls with Energy Management System
Converter/Inverter: 100 AMP Charger, 2,000-Watt True Sine Inverter
Batteries (Coach) 270 Ah Deep Cycle Lithium Gamechanger Battle Born Battery (LiFePO4)
Shore Power 30 AMP/110 V Service
Specifications for the 2024 Airstream Rangeline.
Chassis: RAM ProMaster 3500
Engine: 3.6L Pentastar V6 24V VVT Engine
Horsepower: 276 HP @ 6400 RPM / 250 ft/lbs @ 4400 RPM
Transmission: 9 Speed Automatic
GVWR/GCWR: 9,350 lbs / 12,000 lbs
UBW: 7,661 lbs. (7,994 lbs. with Pop-Top)
OCCC: 1,689 lbs. (1,356 lbs. with Pop-Top)
Tow Package: Class IV Hitch with 7-Pin Plug
Tow Capacity** Up To 3,500 lb
Overall Length: 20′ 11
Overall Height: 9′ 5″ (Including A/C)
Overall Width: 8′ 2.25
Interior Height/Width: 6′ 2.25
Tank Capacities: 28 gals (Fresh), 19 gals (Gray), 12 gals (Waste)
Air Conditioner: 13,500 BTU w/ Soft Start
Furnace: Gasoline Fired Hydronic Furnace and Hot Water System
Heated Tanks: Waste and Grey (12 volt)