RVers love the water. Whether it's the ocean, lakes or rivers — wherever RVs congregate, water is never far away.  And while it's pleasant to just sit and watch an off-shore sunset, it's more fun to get out on the water.
Of course, travelling with any kind of watercraft presents challenges, so I've cruised the internet looking for those vessels that suit RV travel.  Here is a quick roundup of water toys for 2021.
As for what I was looking for?  Space efficiency is the first thing.  In the back of my mind, with everything RV-related, I'm always thinking about:
How much space does an item take up?
How do I store it easily and securely?
What does it weigh, and how easy is it to handle?
These criteria eliminate many interesting products from the running – yet, I did find some very clever ones that fit the RVing bill.  These products are all found on the internet; that's where I found them.  By no means are they the only ones – these are just a taste.  I pass them along because I liked them – however, I am not recommending any product shown here. Have a look for yourself and have fun.

Kayak
So, you can wet your line from shore or off the dock; but what if you really want to get out there?  Of course, it's by boat.  Now, even a small rigid-hulled boat is no easy thing to transport – yet there are solutions.  First off – inflatables.  There is a wide variety of companies offering these, like Intex that carries a wide variety of inflatables.
Super-Tough laminate material with polyester core for high impact and abrasion resistance
High pressure inflation provides extra rigidity and stability
Specially designed removable skegs for optimal maneuverability
Mounted footrests
Two recessed fishing rod holders
Removable and adjustable mounting bracket for additional accessories, such as GPS systems, fish finders, swivel fishing rod holders, etc.
Grab handles on both ends
Two adjustable bucket seats
Storage space in bow and stern
Weight capacity: 400 lbs
2 Person capacity

Paddle Board
Also called a "SUP" – (stand up paddleboard) – these are very popular today.  However, most paddleboards are at least 10 feet in length which makes them tough to store and carry in an RV.  So, an inflatable SUP is a great option.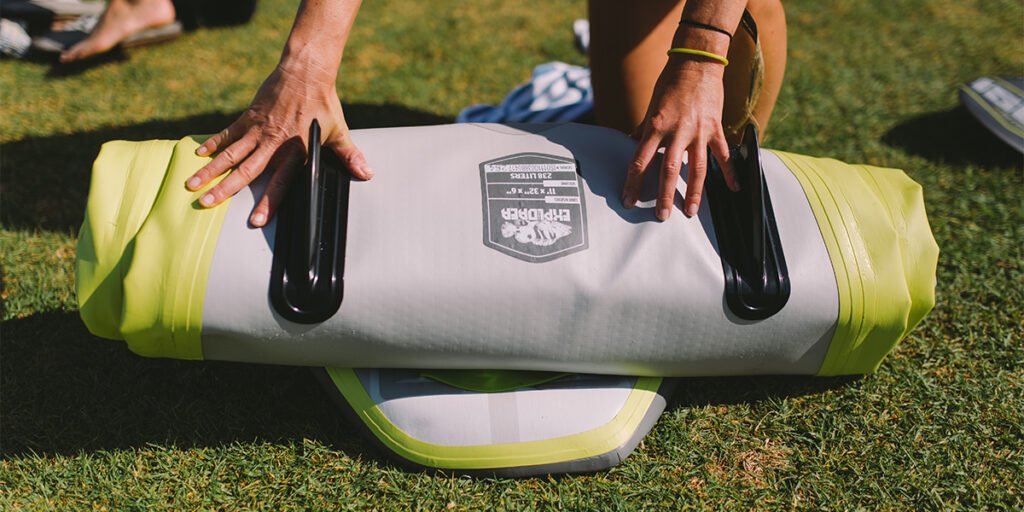 Standing on something you blow up seems strange – but apparently, these can be very ridged – in part because they are constructed of multilayered cloth, drop-stitched and use an outer shell of military-grade PVC. This makes them rugged yet lighter than hard boards.
I found a company called Isle that produces a wide variety of SUPs – rigid and inflatables. The smallest one – at 10'6" will carry up to 285 lb, but it weighs just 24 lb when deflated and rolled. That sounds RV-friendly.
The board is six inches thick and 34 inches wide
The six-point bungee system on the nose and four-point system on the tail also offers you an inflatable stand up paddle board with lots of storage space for longer rides.
This inflatable board is wide enough to lend you extra balance. It can also support a ride-along dog, child or an additional rider.

Folding Boat
If you'd prefer a hardsided boat – well, that looks like a boat – there is an option for that too.
Porta-Bote has been around for a while, and they now make a variety of folding boats.  The one I looked at was the smallest unit.
The 8'6" boat has a folded width of 24", while the thickness when closed is 3 inches in front and 7 inches at the stern.
The hull weighs 68lbs and has a capacity of 445 lb and seating for two persons.
The company says – Porta-Bote will get up on a plane using just a 2.5 HP outboard with one person aboard.
Porta-Bote has a shallow draft of just 4 inches – letting it operate just about anywhere.
Of course, an electric outboard motor will work on it just as well – or you could paddle.
There are also boats in the 10-, 12- and 14-foot range.

Catamaran
From a company called Sea Eagle, this Catamaran is also inflatable.  It's just one of many RV-friendly products they carry.
What caught my attention is the FastCat12.  Utilizing a rigid, high-pressure, all-drop stitch construction, this two-person, inflatable catamaran boat provides "The Smoothest Ride on The Water!" says Sea Eagle.  It's said to be easy to set up, and the catamaran hull design lifts the boat up and puts it on top of the water.
Hull weight – 112 lb with transom
Length – 12.8 feet
Beam – 4.6 feet
Capacity – 2 persons or 1200 lb
Seams – Quadruple overlapped superior glued seams
Material – Double layer 1000 Denier reinforced
Engine – up to six hp.

Transport Solution If You Already Own a Kayak or Canoe 
So, you already own a ridged kayak or canoe and you don't want to replace it. Well, there is a transport solution that will work for trailers and motorhomes alike.
The company I looked at builds from Yakups. A brand of patented racks that the company says will be able to carry your kayaks, paddle boards, surfboards and bikes with your RV, truck camper, vans, fifth-wheel trailer, or motorhome.  They will even build custom racks – if the need arises.