Many RVers opt to take their bikes on the road with them, a task which usually involves bike carriers fixed to the rear of the trailer. Sure, that works – but there is another way that saves space and is far more convenient. I'm talking about bikes specifically built for travel in RVs. Now most RVers are familiar with the small wheel, step-thru folding bikes that have been around for decades. Today, however, the market has expanded to include a variety of themed folding bikes for both on-road and off-road use; many of which are full-sized. Even more choices exist if you include electric assist e-bikes for RVers, making the playing field even larger.
I've chosen five various bikes to highlight the variety of bikes available to RVers today. I found these products by browsing the internet, but by no means are they the only ones, and local bike shops or RV centres may have even more options to consider as well as expert advice to offer. These options are just a taste and each of the company websites listed will have many models on offer for your consideration. I pass these five along because I liked the particular features I found in them, however, I am not strictly recommending any product shown here – have a look for yourself and have fun figuring out which is right for you.

Montague
Montague folding bikes offer a variety of high-performance bikes that fold up quickly to create a small stowable package – perfect for storing in an RV. Folding involves just two quick release levers, so no tools are required. Note that even though it folds, it still features full-sized wheels with wide tires that are suited to any terrain, a feature also seen in its folding mountain bike. Pictured here is Montague's Paratrooper bike.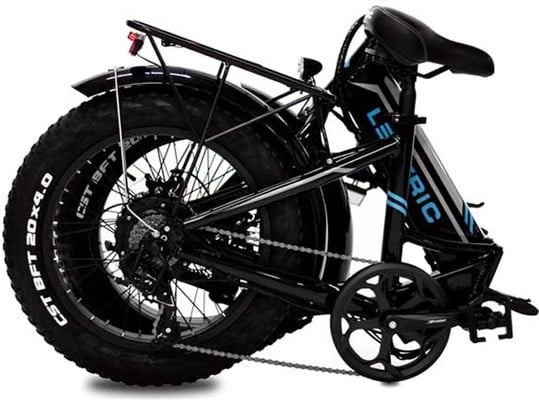 Lectric Bikes
Electric bikes are quickly becoming popular. Why wouldn't you want a little help peddling? Plus, they still fold – just like this Lectric XP Step-Thru for instance. The 500W motor allows you to reach speeds up to 60 km-h and it features a high-performance LG battery that can give you up to 70 kilometres of range. It comes standard with a rack and fenders, in addition to front and rear lights which also come integrated into the bike's control system. An LCD computer display shows battery level, current speed, pedal assist level, and trip distance.

Rad Power Bikes
Rad Power Bikes are said to be perfect for the RV lifestyle because they have large tires for use on any terrain. The bike features a pedal assist that adds some power to your peddling while the throttle will get you going quickly from a standing start. The on-board battery will last between 30 and 55 kilometres depending on how much you peddle – so it's all on you. It has a display on the control panel so you can gauge how much juice you have left. That being said, it will easily cruise along at 30 kilometres an hour.

Maya Cycle
A single wheel bike trailer caught my eye as I was surfing along looking at RV-friendly bikes. It stuck out because I can remember being on bike outings and stopping at a store or road side market only to end up struggling with my purchases all the way back to the RV park. So, if you have bikes or are thinking about buying in the future, consider adding one of these handy little bike trailers to your wish list.
The Maya Cycle weighs just under 13 lbs and is built with tubular steel that flexes to absorb shocks. It's single 16-inch wheel follows directly behind your bike tire and when it comes to your cargo, it's rated to carry up to 66 lbs.

Miami Citizen Bike
What's charming about the Miami Citizen Bike is that it takes an old concept (small wheeled, lightweight, folding RV bike) and adds a list of personalized items that you get to choose and customize when you order. You start with a choice of five colours, and from there you add a stylish comfort saddle and a folding cargo basket. Next you can choose to add a front and rear LED light kit as well as a rear wheel rack. You can also add a smartphone holder and a water bottle cage. Not least, you can finally opt for airless Muffin tires. There's even a rear stand that allows you to use your bike indoors as a trainer!
I hope this short guide to some of the items currently available on the market let you cruise through the search for the best bike for you and your RV. So use these suggestions to search smart and don't forget to enjoy the ride!