For 2020, Ram is offering its new third-generation EcoDiesel in every version of the 1500-series truck it sells. This availability also includes every trim level including the base Tradesman; which is a great price-point advantage when all you want is the diesel and not the bling. This offering now also extends to the off-road capable Rebel, and that's the truck I recently tested. So, after a year's absence from the market (as a result of having to re-certify its engine with the EPA who flagged certain emissions violations on the earlier generation of diesel) the EcoDiesel is back and its completely redesigned. This newest EcoDiesel is now producing the highest half-ton diesel torque on the market – hitting 480 lb-ft. In part this also results in the highest available diesel half-ton tow rating of 12,560 lb. This new 3.0L V6 EcoDiesel is also expected to lead the segment in fuel economy. These significant updates put the Ram back into direct competition with Ford and GM; however as for the longest history in small diesel – Ram has them beat. Back in the late fall of 2013, the pickup world was rocked with the introduction of a light-duty diesel engine in the Ram 1500 pickup. At the time I wrote, "For Ram this marketing move beats its competitors to the punch; so, to speak (despite there being some small diesels in small trucks back in the 80's we'd rather forget about). Rest assured the other Detroit builders will follow suit." And, of course, they have. Mainly because of the early sales results that Ram recorded. At the time Ram said it expected the 3.0L to be around 5% of its total sales for the 2014 model year. However, by the end of 2014 orders were closer to 20% of the total. That demonstration of small diesel market acceptance truly paved the road for the diesel choices we have today.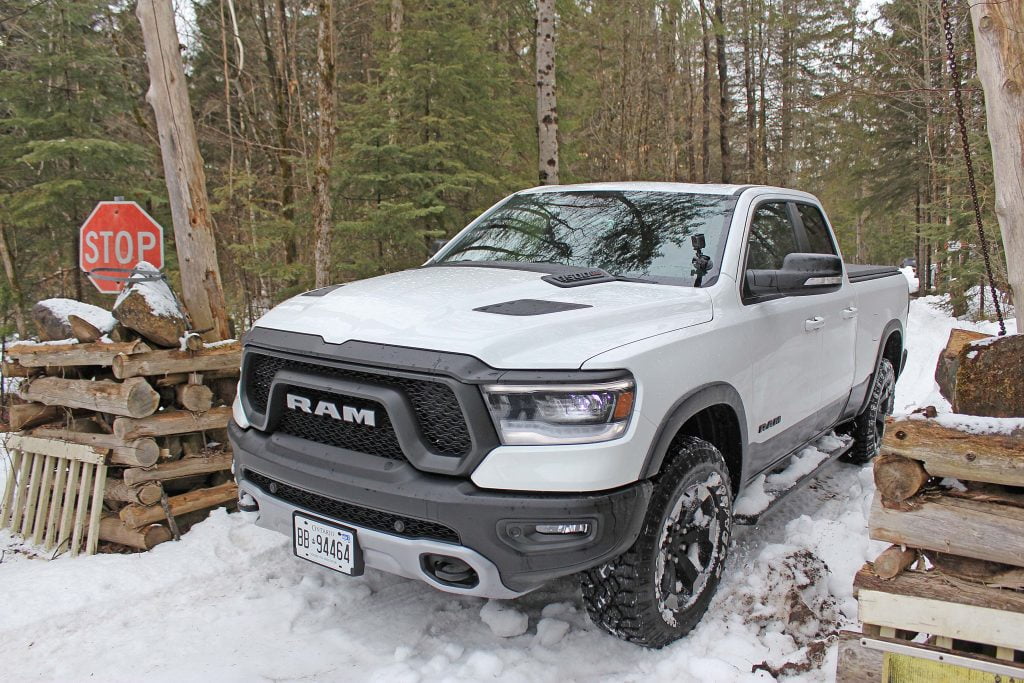 In fact, we were so impressed with that original diesel offering (by "we" I mean the Canadian Truck King Challenge judges) it was crowned the winner of the 2014 Canadian Truck King Challenge. That truck was the 2014 Ram 1500 powered by the original 3.0L EcoDiesel with the then new 8-speed transmission.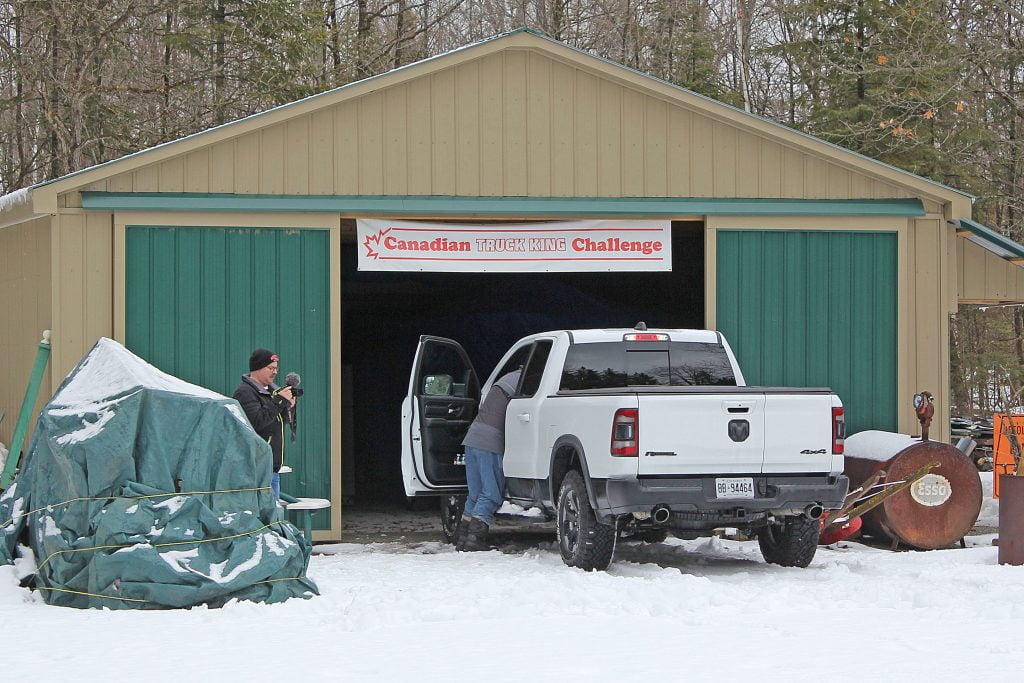 Still, as many buyers know that original EcoDiesel, manufactured by VM Motori of Italy, did develop issues which then led to the troubles with the EPA and the suspension of sales for a year. For these reasons it's important to know that the new engine is very different from that original offering. First, it was designed by FCA engineers in Auburn Hills, MI. Assembly is done by the FCA Cento facility in Ferrara, Italy – but based on this American design; it's a process that did much more than just tweak the original. Below are listed the significant design changes to the new EcoDiesel. These account for its improved dynamic and fuel economy performance according to FCA.
A new-generation water-cooled turbocharger with variable geometry turbine (VGT) increases efficiency and responsiveness during transient conditions.
Redesigned cylinder head intake ports improve swirl and flow, increasing performance and fuel economy.
The exhaust gas recirculation (EGR) system has been updated to a dual loop (low and high pressure) system. The added low-pressure circulation draws gases after the diesel particulate filter, thus minimizing turbocharger energy losses, which increases fuel economy.
The compression ratio has been optimized to 16.0:1 from 16.5:1.
High-pressure (29,000 psi/2,000 bar) direct-injection fuel injector nozzles were redesigned to match the newly designed and optimized combustion chamber.
Lightweight aluminum alloy pistons were completely redesigned to include thinner rings and low-friction coating on the pin and side skirts to reduce losses.
NVH has been reduced by off-setting piston pin by 0.3 mm from the centerline; thus, minimizing mechanical noises.
The lower portion of the two-piece oil sump uses a lightweight sandwiched polymer/metal material that further reduces NVH.
The dual vacuum pump system uses electric and a new mechanical low-friction pump with new blades that improve overall system efficiency.
So, while the new EcoDiesel is very much in the spotlight, note that the Rebel itself is now a significantly different truck from the Rebel that launched in 2015. That truck was more or less a trim/styling package, but each year the sales success of the Rebel was rewarded by a growing list of real off-road features being added. Today, a Ram Rebel features aggressive 32-inch all-terrain tires, a one-inch factory lift, Bilstein shocks, a locking rear differential (standard), multi-link rear coil spring suspension, full skid plate protection and integrated tow hooks. The two-speed 4WD transfer case features shift-on-the-fly controls and also works with a new Hill Descent Control system. So, while the standard powertrain on the Rebel is the 5.7L V8 Hemi engine (395 hp and 410 lb-ft of torque) my truck had the optional 3L EcoDiesel (now making 260 hp and 480 lb-ft of torque). In the case of the Rebel though it's not just about the available diesel, it's about those updated mechanicals nicely set off its style with new colour schemes and design cues that set it apart – just look at the interior theme for example, where aggressive tire tread patterns criss-cross the seats. I noted while driving that the comfort and quiet of the truck are only outdone by the quiet of this new diesel – however when wound up that added torque is very evident during acceleration, coming on also from start-off with almost no turbo lag.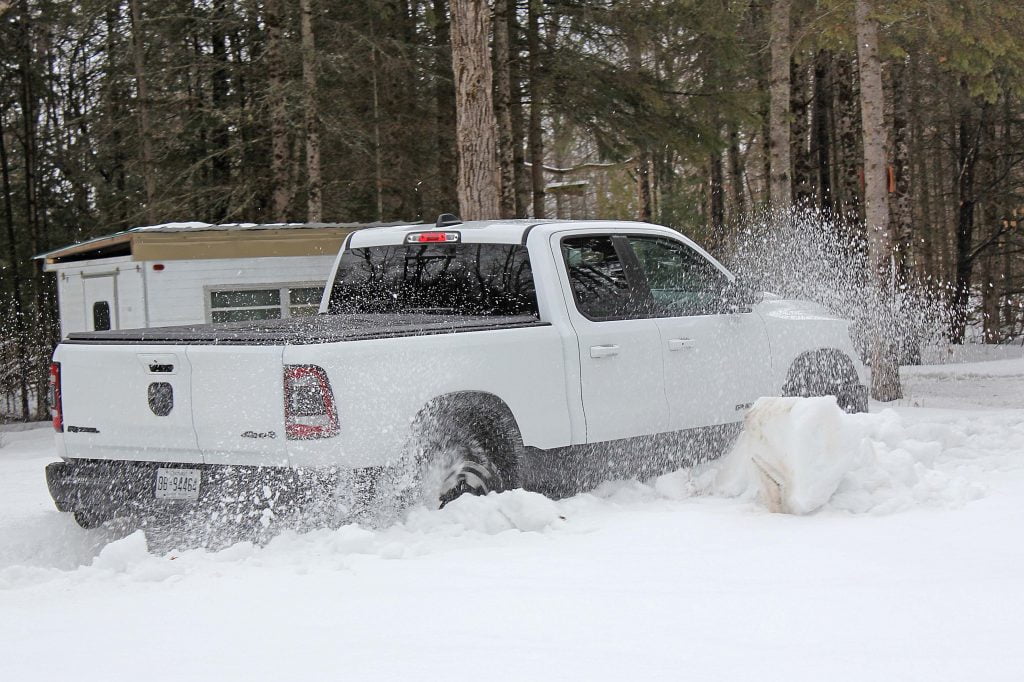 With late March snow still covering my Iron Wood test site north of the city, I also had an unexpected chance to exercise that increased torque (and the rear electronic locker) just getting to my barn to unload some pipes. Despite an underlying layer of ice, the power, those tires and the body lift pushed through snow drifts that to a lesser truck might have ended in a "stuck" situation. Whether you order the gas or diesel engine in your new Ram, you are also getting a host of features in these 2020 trucks. Some new, some updated, but all adding to the Ram experience. For instance, this year, the Ram 1500 features up to 12,750 lb of towing capability (5.7L Hemi V8) and 2,300 lb of payload. Ram's eTorque mild hybrid system also adds improved fuel efficiency to both the V6 and V8 gas engines. Uconnect 4C can be ordered with a 12-inch touchscreen that features split-screen capability, 360-degree camera views and content from SiriusXM with 360L. Active safety and security systems include adaptive cruise control, Forward Collision Warning, Blind-spot Monitoring and Ready Alert Braking. Ride and handling use a class-exclusive link-coil rear suspension system or the optional Active-level four-corner air suspension. The price model for trucks equipped with the third-gen EcoDiesel starts as a $5,800 option added to the base price of Tradesman and Big Horn that offer the V6 as the base engine. For normally equipped 5.7L Hemi V8 trucks you'd add $3,900 for the diesel upgrade. This applies to Sport, Rebel, Laramie, Longhorn and Limited trims. Trucks are available at dealers across Canada now.