It's always exciting when a new pickup truck is revealed – and I do mean new; not a new trim package or some paint and plastic add-ons. Case in point the Ram 1500 TRX. This is an all-new pickup truck.
The 2021 Ram 1500 TRX is a very special pickup. It's a desert racer, and its prime focus is to topple the Ford Raptor from its current position as the apex predator of trucks. This obvious competition makes this reveal even more exciting. Let's look at what TRX is bringing to this fight.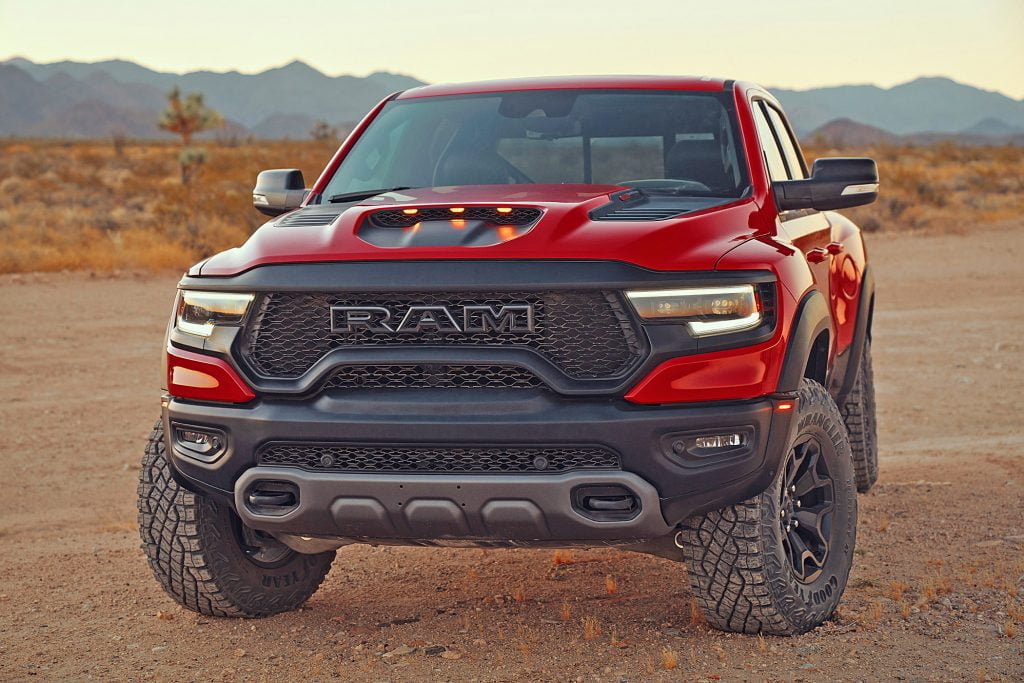 Even though TRX is instantly recognizable as a Ram, you'll just as quickly, realize you are dealing with a mutant version of a Ram. To start, the body is simply bigger and bulked up. Also, like the 1500 Rebel, the grill has the larger RAM lettering. It's interesting to note that these letters are hollow; they are part of the intake air system as is the functional hood scoop. Peeking out from there are three distinct yellow clearance lights. The fenders are flared to accommodate the wider track, and the exhaust pipes feature massive 5-inch tips.
Its powered by an over-the-top 702 hp supercharged 6.2L Hemi V8 engine that will deliver a top speed of 190 km/h. Currently Ford's Raptor uses the Ford 3.5L EcoBoost engine putting out 450 hp.
This 702 hp V8 Hemi also makes TRX the fastest and most powerful mass-produced half-ton pickup truck in the world. As for off the line numbers, Ram claims the 2021 TRX will do: 0-100 km/h in 4.5 seconds, 0-160 km/h in 10.5, and a standing quarter-mile in 12.9 seconds at 173 km/h.
TRX uses the ZF-developed 8HP95 eight-speed automatic transmission to push the power to the four-wheel-drive system with strengthened axles. The final drive ratio is 3.55:1; the transfer case has a 2.64:1 ratio in Low range.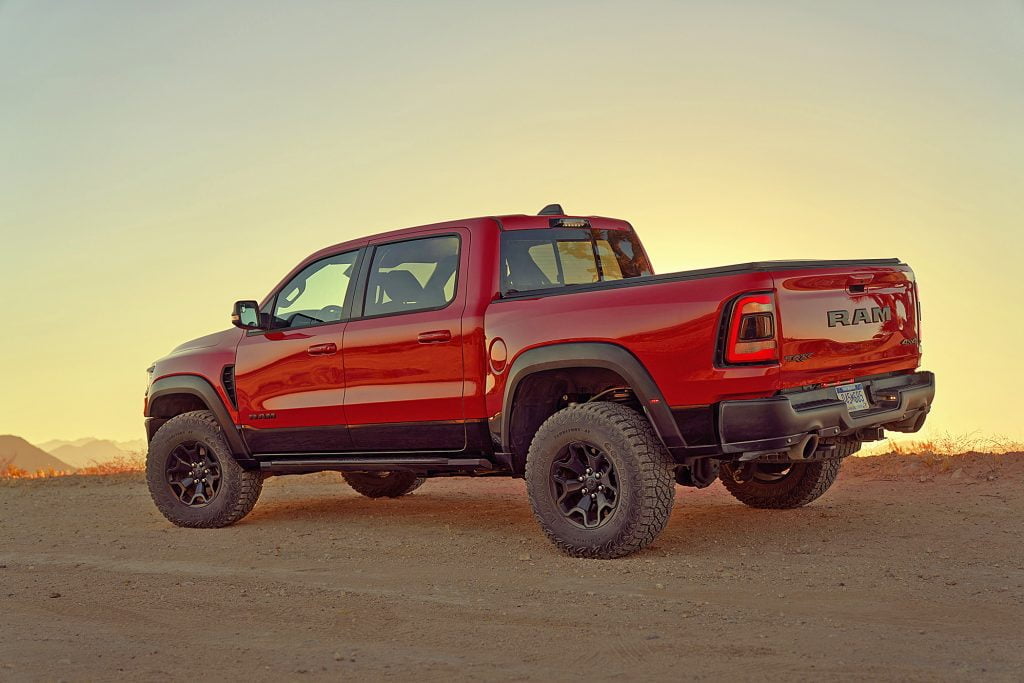 To be able to run at a steady 160 km/h through the desert Ram engineers had to redesign almost all the underpinnings of this Ram. Even though the TRX is designated as a 1500-series truck, it has more in common (frame-wise) with the 2500 model. Ram engineers had to redesign the truck, bolt by bolt, to significantly outperform every other truck on the market. For instance, the control arms and suspension links are wider and stronger and the steering has been strengthened. The rear spring is huge at 23.6-inchs-high. For shocks, Ram uses Bilstein E2 remote-reservoir active dampers. Ram also employs its Active Terrain Dynamics control software with three accelerometers and four wheel-position sensors to know exactly where the shocks are, and three-stage jounce bumpers to ensure the suspension reacts as it must according to terrain.
Changes to the suspension, as mentioned, added a 6-inch stretch to the track width and a 0.8-inch increase in wheelbase, as well as adding 2-inchs to ride-height. That gives the TRX 11.8-inches of ground clearance and the ability to drive through water up to 32 inches deep. New integrated fender flares add eight-inches to the body width, making room for new 18-inch wheels that are wrapped in a specially designed 35-inch Wrangler Territory All-Terrain tire from Goodyear. Development included thousands of km running off-road in Arizona, just to make sure it wouldn't come apart.
It's worth noting that the TRX is still a work-a-day truck. It has a payload capacity of 1,310 lb and a towing capacity of 8,100 lb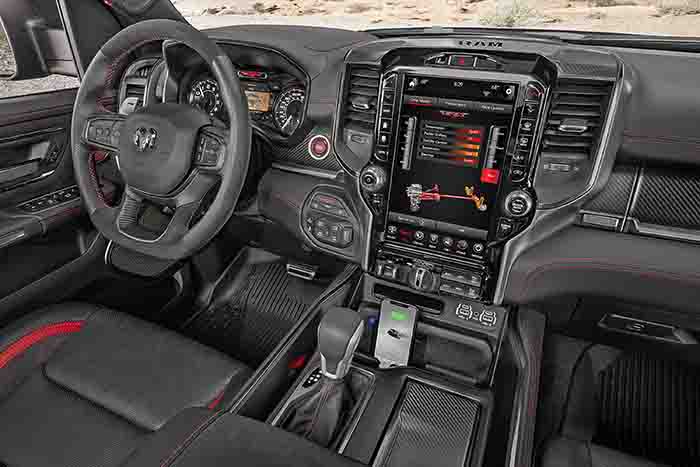 Ram interiors are already the best among the Big Three – so it follows that TRX would get some special treatment inside.  The seats are deeply bolstered in either black or gray with red trim. These are available as either cloth-and-vinyl or leather. The big 12-inch touchscreen comes standard. The shifter is a traditional console lever, and the flat-bottom steering wheel gets aluminum shift paddles. As you'd expect, the TRX gets unique graphics for the gauges screen, as well as a full array of custom performance and off-road pages found in the main display. Colour choices are red, white, blue, silver and black.
I'm looking forward to driving the TRX in late October. The truck should arrive at dealers by November.
Photos courtesy of Dodge