British Columbia based Northern Lite has been building truck campers for over 30 years. Certainly, it's what the brand is best known for; but this year they are ramping up production on a new travel trailer called the Boreal 23FB, and while I'll get into the specifics of this new offering shortly, I want to highlight one design feature that has descended from Northern Lite's long experience with truck campers.
One of the unique build traits of a Northern Lite truck camper is a two-piece fibreglass construction which eliminates unnecessary seams. Over the years this method has proven to withstand the most extreme weather conditions. Obviously, this is for the benefit of the occupants but aside from that, it is the best possible way to avoid internal water damage resulting from leaks.
Experienced RVers know (and new RVers should be very aware of) that water is the number one enemy of your trailer. Where does water enter an RV?  Exterior seams, joints, around windows, vents and through roof sections. Sure, from the factory these are all sealed and caulked; but an RV moves, bends and flexes. It's subject to heat, cold, humidity, wet weather and UV rays. The stress of road travel and the environment will wear out that caulking and open those seams; count on it. Even when these joint failures are too small to see, water will find a way – it always does. We are not talking about a "flood" situation; it's the small amounts of moisture that leach into the trailer walls, roof and floor that start the rot that you'll only find after it's well advanced. I'm harping on this because right now, in spring, it's the time to make a close inspection of all your trailer seams. You have time – do it now while we can't camp. Remember, if you're in doubt as to whether your seams need attention this season, caulking is cheap compared to opening the roof or walls to make repairs. This line of thinking can (and should) also be applied to new RV purchases – call it a rule of thumb – less seams, less trouble in the future.
This two-piece fibreglass construction technique is the first thing Northern Lite applied to its new travel trailer. Northern Lite is calling the Boreal 23FB a four-season trailer, one that's built for adventure, they say.  It starts with this innovative one-piece, seamless, body. Well, actually two pieces, but when its fused along the belt line of the trailer you can consider it one-piece and that has obvious advantages. The first is the leak-proof nature of this build; but I also suspect that this cocoon of fibreglass will also lend structural integrity to the trailer and give it a weight reduction (there is no wood in these walls).
Northern Lite claims that there are no other true four-season travel trailers on the market with this level of leak proof hull construction. To keep it comfortable it offers heated enclosed tanks; R5 insulation and a 30,000 BTU furnace.
The Boreal is 23 feet long and has a good interior height of 6'8". It's also a bit wider than most at 8'4".  Inside this envelope you'll find a large convertible U-shaped dinette, a kitchen with good counter space and 8-cu.ft. refrigerator.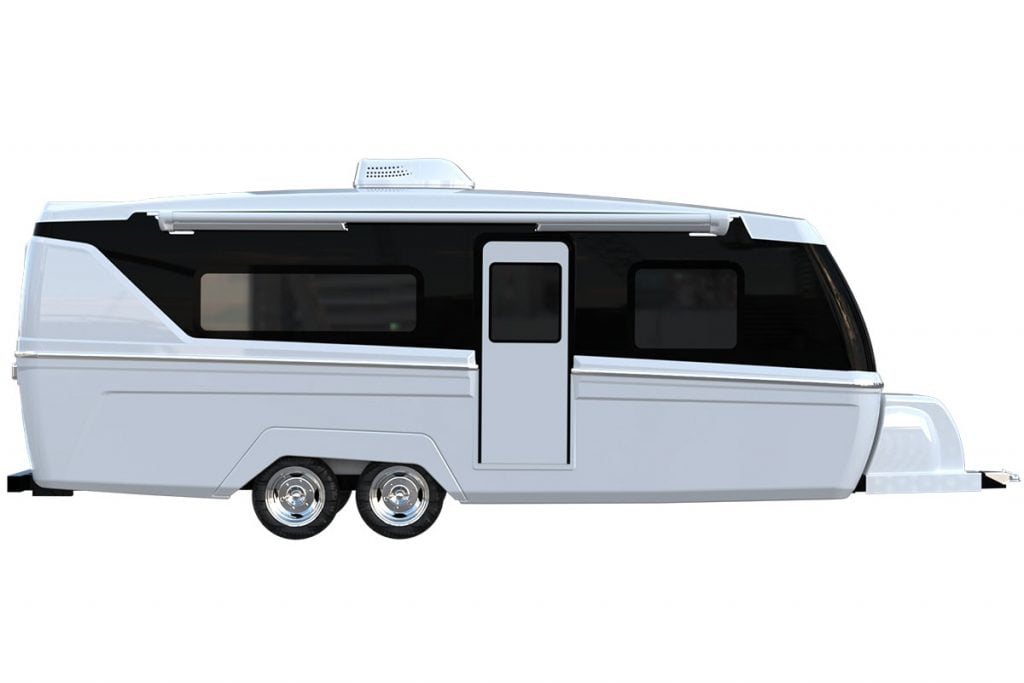 The trailer offers 30 amps of shore power as well as the standard 12V house batteries – which are augmented with two roof mounted 100-Watt solar panels that constantly trickle-charge those batteries.
In the bright bedroom (with sliding door) you will find a full-sized queen bed, with room to walk around and ample closet and storage space for clothes and other items. The trailer is set up to sleep four, using the bedroom and the fold-down dinette.
In keeping with today's trends, the bathroom is spacious for a trailer this size. It's layout takes up the full-width of the trailer, at the rear. It features a full-sized shower, high-end cabinetry and a comfortably situated toilet.
With a max GVWR of 7,000 lb (4,600 to 5,000 lb wet weight) the Boreal is half-ton towable by all the brands.
Outside features include: Stabilizer jacks, BBQ gas hook-up, exterior shower with hot and cold water, LED patio awning light, patio awning, powered hitch jack with light, full-size spare tire, LED storage compartment light, HDTV Antenna and hook-ups for cable and satellite. While the current renderings don't show cargo doors, there will be some basement storage and the needed hatches will be on the production models.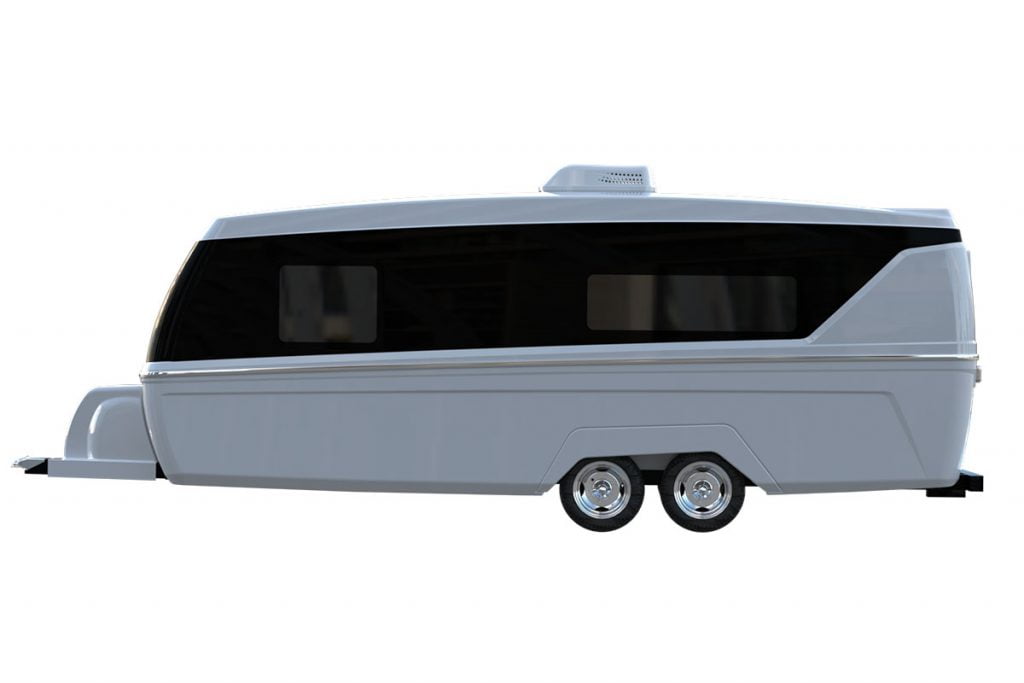 The roll-out of Boreal has been interrupted by the current COVID-19 shut-downs. But Northern Lite marketing manager, Brad Trites, says that they are working and expect to have models moving out to Canadian dealers by August.
So, while pricing is not yet set, Trites says that the Boreal 23FB will probably cost in the $60,000 range. Trites also said that as interest in this initial offering has been strong Northern Lite is already working on expanding the model lineup.  Stay tuned.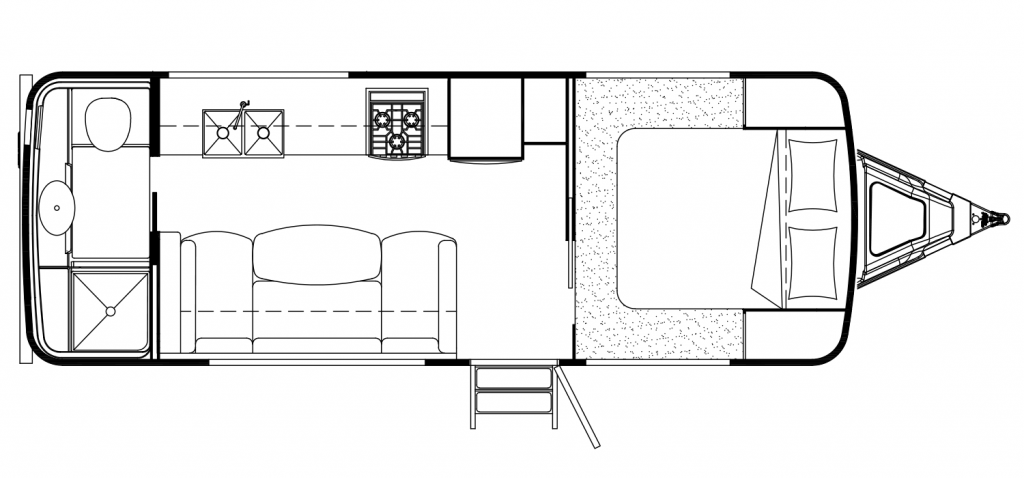 Specifications: Northern Lite Boreal 23FB
Exterior Length: (Body) 23′
Exterior Length: (Overall) 27′ 6"
Exterior Width: 8′ 4″
Interior Height: with A/C 80″
Hitch Weight with LP and Batteries: 600 lb
Unit Base Weight with LP and Batteries: 4,600-5,000 lb
Maximum Trailer Capacity (GVWR): 7,000 lb
Fresh Water Tank: (gal.) 55
Grey Water Tank: (gal.) 40
Black Water Tank: (gal.) 30
Refrigerator: 8 cu. Ft.
Sleeping Capacity: Master Bed Queen
Convertible Dinette: Lounge and Bed
Master Mattress Size 60″x 80″
A/C: (BTU) 13,500
Ducted Furnace: (BTU) 30,000
Solar Power: 200W