Chevrolet has just revealed the fifth generation of the Tahoe. This full-size SUV (that shares much with the larger Suburban) has been in this market since 1995; and it continues to own it. In fact, in Canada as much as 40% of the full-size market is served by the range of full-size GM SUVS.
For 2021 the Tahoe becomes larger, more capable and also more connected. The key change to the Tahoe's architecture that let's GM claim all of the above is a new independent rear suspension. By dumping the solid rear axle, they have achieved a fully flat floor in the rear. Along with a stretched body, these two changes net an increase of 10-inches of additional third-row legroom as well as 66% more cargo space behind that third-row seat. To be a bit more blunt, this newest Tahoe actually has a useable third-row seat with a decent amount of cargo space still available behind it, which is a big deal.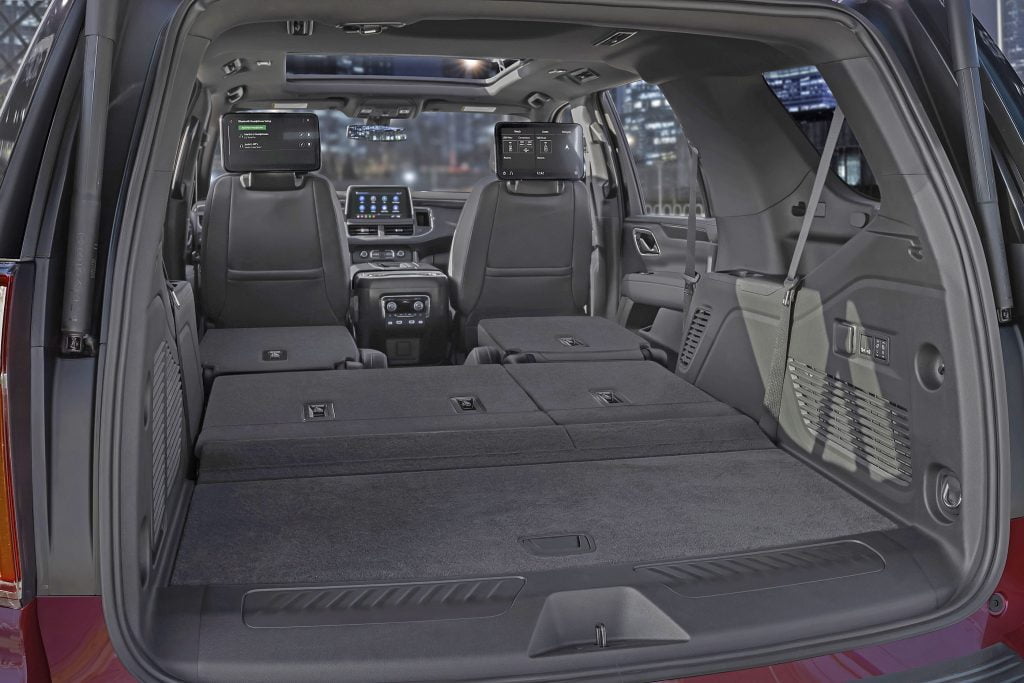 As part of that new rear independent suspension, GM adds Magnetic Ride Control – this system "reads" the road and changes the damping of the shocks as needed in milli-seconds. Also new is Air Ride Adaptive Suspension. With air suspension you get the benefits of an off-road lift (2-inches) at the touch of a button, and because it constantly seeks to maintain an even level, when you hook up a trailer it will automatically auto-level the tongue weight.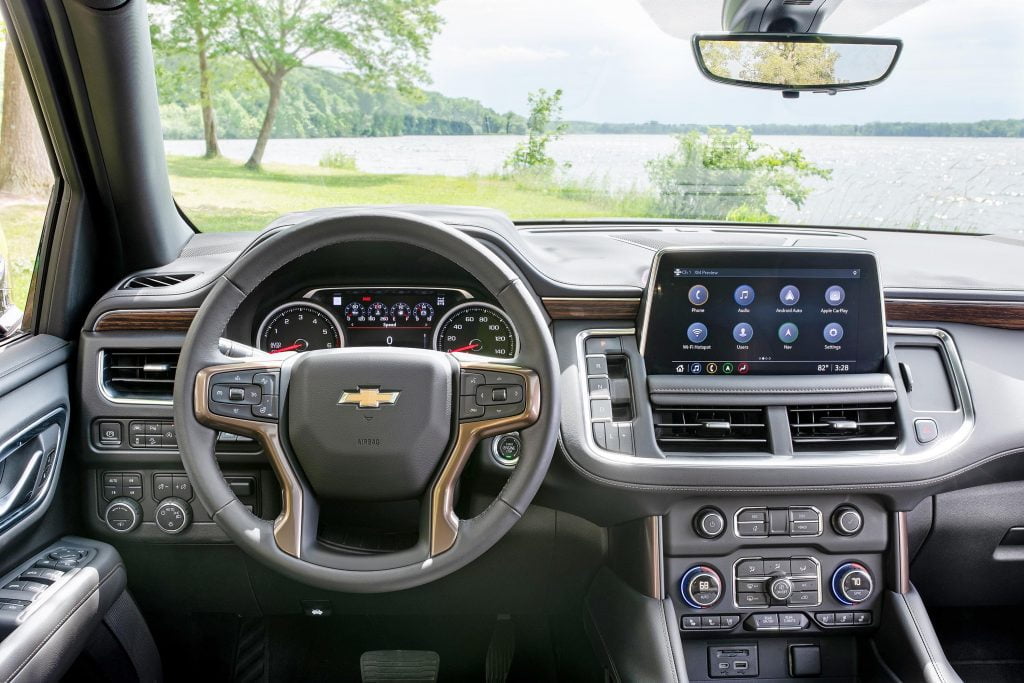 Tahoe also adds more connected features like a standard 10-inch centre mounted touchscreen and an 8-inch diagonal instrument cluster display. The Head-Up display is larger, covering 15-inches on the projected windshield image. In addition, dual 12.6-inch screens are available for the second-row passengers, fixed to the rear of the first-row headrests. Throughout the truck outlets (12V, 110V, USB) are smartly placed to give access to powered devices in all three rows. Of course, the Tahoe features 4G WiFi.
Now, each of those rear screens offers independent connections, so passengers can watch different content on each side. Additionally, they can share content from one screen to the other, mirror content from an Android phone to a screen and "send" navigation points of interest, like restaurant suggestions or pit stop locations, to the central infotainment screen up front.  That last innovation caught me short.  "So, the kids in the back can be sending me directions to Chuck-E-Cheese whenever they feel like it?"  I asked the GM rep, and his answer was yes. However, he quickly added that the driver has an "ignore" button – Thank goodness for that.
The standard powertrain for the new Tahoe is the long serving 5.3L V8 that makes 355hp. However, the 6.2L V8, rated at 420hp, comes standard on High Country and is optional on other trims. Both these engines feature GM's Dynamic Fuel Management technology that can switch through 12 different modes of cylinder deactivation for the best fuel efficiency under any condition, including when towing a trailer. Both engines also feature automatic stop/start function and they are both paired with GM's 10-speed automatic transmission. The third powertrain to join this stable is Duramax's new 3L inline-6 diesel engine. This small diesel is rated at 277hp and offers 460 lb-ft of torque; most of which is available at very low rpms. This diesel is a late availability, most likely coming in December of this year.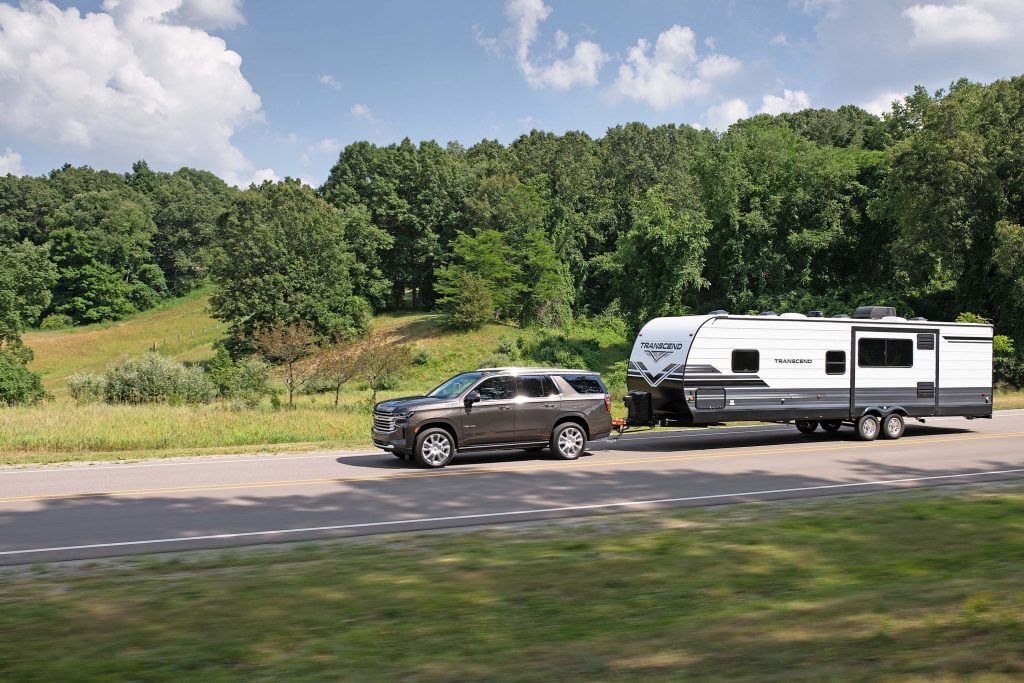 Since Tahoe is a capable tow vehicle with a tow rating comparable to many pickup trucks, GM has built a trailer package that will handle these larger loads. The Max Trailering Package includes a high-capacity radiator and cooling fan, an integrated trailer brake controller, a Hitch Guidance with Hitch View feature (supplied by camera's offering up to nine separate views) as well as a Chevrolet trailering app that stores trailer profiles and monitories tire pressure and temperature. Tahoe will also have Chevrolet's industry-first trailering label (which GM has been putting on their trucks for the past two years) on the driver's side door jamb. This label provides the customer with the information necessary to calculate their vehicle's exact load capacities.
GM has been getting increasing flack for the quality of their truck interiors, particularly when the 1500-series truck was updated in 2019.  Most people (including me) didn't feel they had put enough creative energy into that latest design.  Although with the 2021 Tahoe, they are showing that they paid attention to their customers –this Tahoe interior is much better, dare I say, very nice. While not confirmed, I do expect that it will migrate into the pickups next year. Expanding on this update, Chevy has also added trim packages to a total of six now for Tahoe. The LS starts the price walk at $56,498. MSRP. Then there is LT, RST, Z71, Premier and finally the High Country that starts at $80,898. Of these the most interesting is the Z71. Most people know that the Z71 designation is an off-road package that Chevy has been adding to its trucks and SUVs for many years, but now, for the first time, Z71 is a stand-alone trim package. It creates an off-road version of Tahoe and is instantly identifiable by the visible skid plate, red tow hooks and pulled back bumper corners that create the necessary approach angles needed in rough country. Z71 Tahoe starts at $68,698.
All of these trucks are available at dealers, across the country, now.
Photos courtesy of Chevrolet