I've been reviewing RV's for 25 years so you'd think that I could confidently claim to have "seen it all" by now. Well, turns out, I can't.
By contrast, early on in my career, I remember thinking how little trailers changed from year to year – but, again, that can't be said anymore. The RV industry today pivots much quicker than it used to. Designers and engineers seem to be plugged into current events, pop culture and social trends which they then translate into new relevant designs and concepts at a much faster clip than at any time in the past.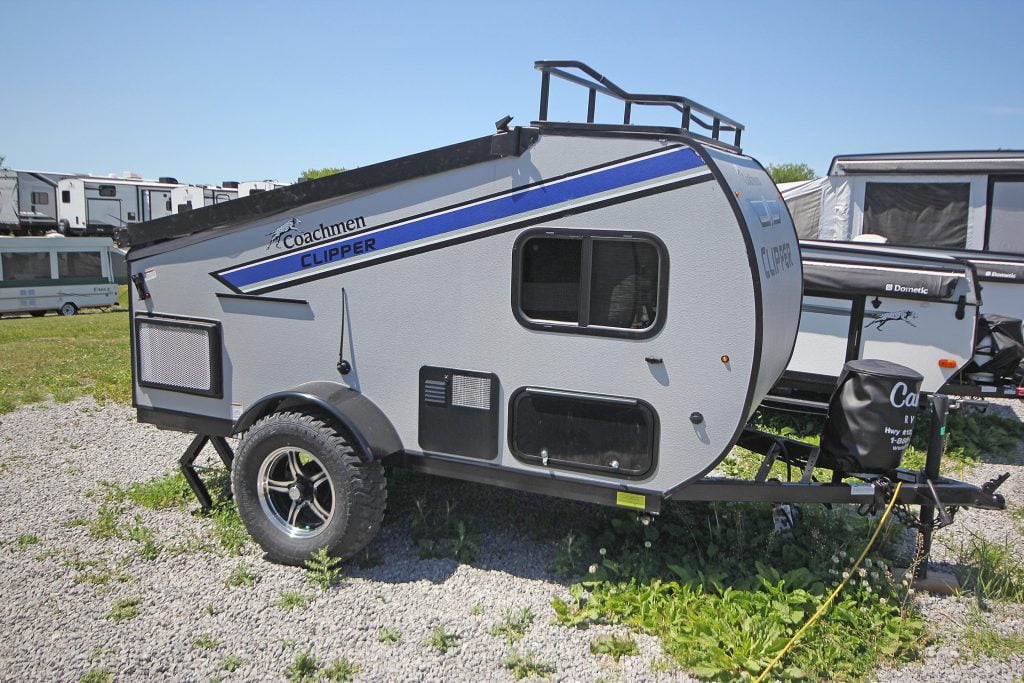 Looking at the Coachmen Clipper Express, these were my thoughts. This simple, yet unique trailer is what I'd call a mashup design; somewhere between a pop-up tent trailer and a teardrop tow-behind (with a little utility trailer thrown in). Add in the current COVID-19 restrictions and this little unit seems like it was designed more by futurists than engineers. It just seems right for the times.
The Express weighs in at just over 2,000 lb (loaded) and is 13-feet long. These stats mean it can be towed by a very wide selection of vehicles; you certainly don't need a truck to haul the Express. This unit is basically a box with a bed and a pop-up roof. The price reflects this simple description as the Express comes in three models from base to a better equipped off-road package. Options can be added when you order.
The test unit I looked through at Campkin's RV Centre was the loaded off-road version of the Express.  On the outside this means adding HD tires, fenders, roof rack and outside grille. It carries propane and a house battery – which between them will run the 1.7 cu. ft. refrigerator, 20,000 BTU furnace, lights and the optional 5-gallon hot water heater (connected to an outside shower). Only the optional 5,000BTU AC unit needs shore power, or plug-in to a portable generator. Other options include a screened add-a-room that attaches at the rear of the Express, and a cassette porta potty that slides into a space under the bed. There is a modest amount of storage space along with a countertop sink – which works when tapped into city water.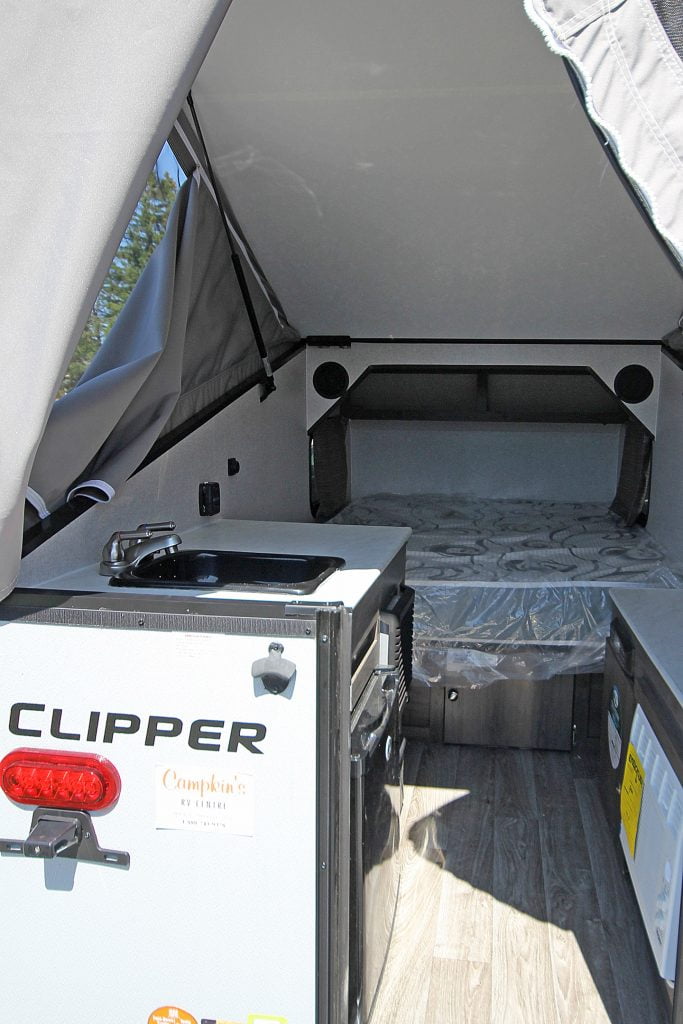 For entertainment there is a Bluetooth stereo and USB charging ports. The unit also is pre-wired to accept a solar panel. An indoor/outdoor table can be set up where needed, rain or shine.
As I was walking around the Express, I envisioned a unit that will satisfy the need to get out there for a single or couple. While many would set up at a campsite for days, which would be fine, I also saw a unit that really lends itself to road trips. Travel by day and spend the night in your personal motel room that you brought with you as you travel the country.  In today's world this makes sense, not to mention the air of fun and adventure a trip like this can offer folks who have been cooped up for too long.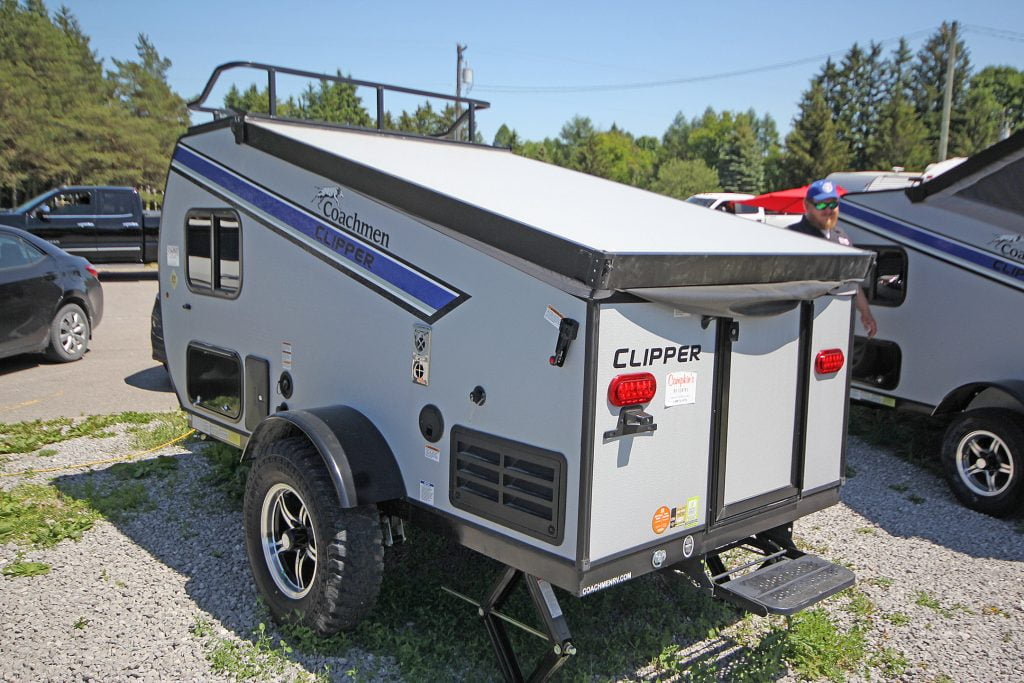 Thanks to Campkin's RV Center in Brooklin, ON for the chance to review the Express.
The unit I reviewed is currently on sale at Campkin's RV for $8,995. – plus, the cost of any options you may order.
The test unit was equipped with the following options: heating, air conditioning, AM/FM CD, battery tray, fully furnished, stabilizer jacks, LPG detector, screened room, smoke detector, toilet facilities, Bluetooth and LED lights
SPECIFICATIONS for the Coachmen Clipper 9.0TD Express
Hitch Weight:  122 lb.
GVWR: 2122 lb.
UVW: 1080 lb.
CCC: 1042 lb.
Box Size: 9.00′
Exterior Open Length: 13′ 0″
Exterior Closed Height: 5′ 9″
Exterior Closed Length: 13′ 0″
Exterior Width: 79″