The Flagstaff brand has been around since the '70s. Ownership has changed, but its place in the market really hasn't — it's a premium brand, and with that distinction comes a premium price.  On a recent cold April day, I reviewed one of Flagstaff's trailers, the Micro Lite 21 FBRS, a couple's trailer. Young couple, old couple — it matters not. This well-appointed, well laid-out, unit is made for two. But before we do a walk-through, I want to expand on the concept of "premium."  We all know that two like-sized trailers can have very different prices, and when both (on the dealer's lot) appear bright, shiny and new, how do you spot where the extra money went?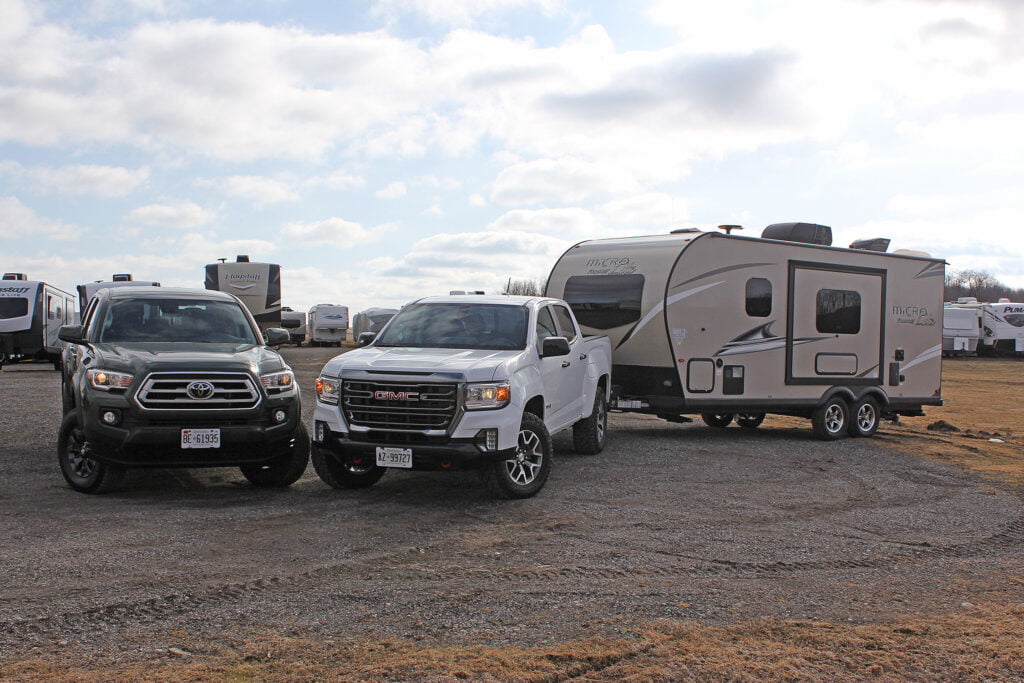 Some upgrades are obvious, such as the quality of fixtures and appliances. Others are more invisible — such as build quality. For instance, the Micro Lite uses a six-sided aluminum framework (side walls, end wall, front, floor and roof). Under the flooring is 5.8" tongue and groove subfloor (no particleboard). There is also non-slip internal insulation in the trailer – R-7 in the side wall, R-12 in the floor and R-14 in the ceiling.
This is all good, but they also insulate the underbelly and slide-out floors with radiant foil for further protection. The underbelly of the trailer is totally enclosed for insulation as well as protection for the electronically controlled heated holding tanks. These are just some of the individual items that go into the trailer build. If you weren't told they were included, you wouldn't know because you can't see them. These add value and they cost – but for liveability and longevity, it's money well spent.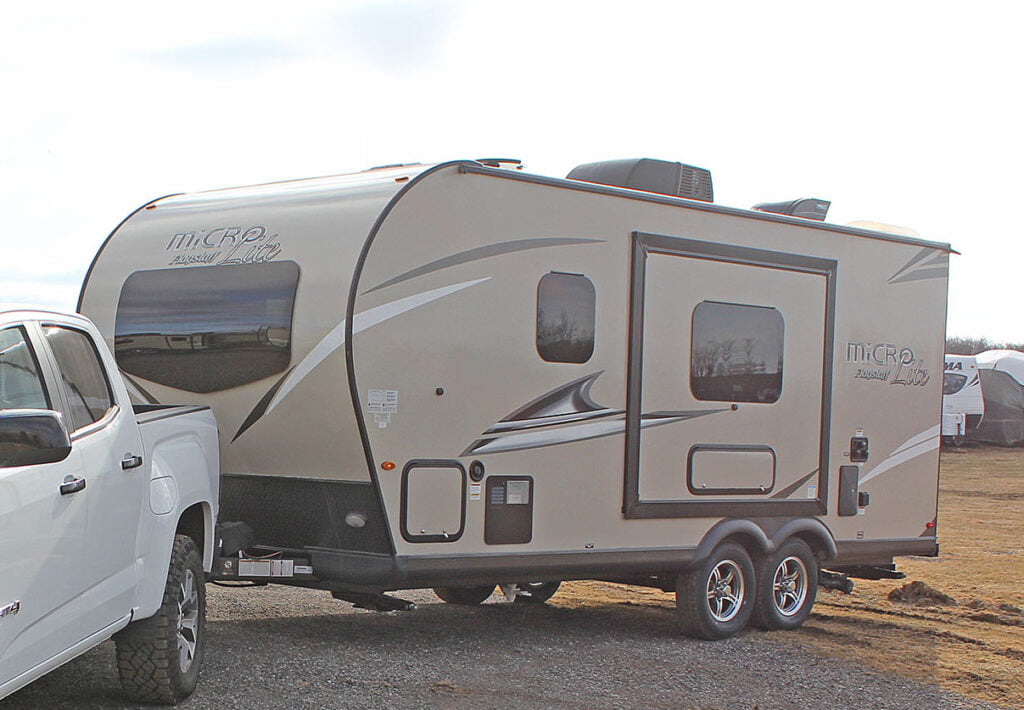 ​
Another item to consider is the outer envelope of the trailer. Micro Lite has an aluminum-supported radius roof. This creates an interior vaulted ceiling and also sheds water better. On that roof, they use a vinyl/rubber composite roofing membrane. A word to the wise here – the quality of the trailer roof should be your number one concern as water entry will kill a trailer in short order. A good roof is the first defence. Good roof material (and regular maintenance and caulking) is a good investment.  
The second weather-related concern is the walls. The least number of seams is what you want. Again, Micro Lite accomplishes this with vacuum laminated fibreglass walls called Azdel. Azdel is sealed tight and will not rot.
Now, these items are not unique to Flagstaff or Micro Lite. For this review, it's an example – but one that you can use as a yardstick when searching for a new trailer. The key thing to remember is that if you think the price is high, ask the dealer to explain where the money is. Most likely, it's in the build quality, which, as I said, is often invisible.
As a couple's trailer, this 22-footer is towable by a wide variety of vehicles. On the day of the test, we actually towed it with two different mid-size trucks: the 2021 Toyota Tacoma and the 2021 GMC Canyon. These are both V6 powered and have tow limits in the 6,000 lb. range.  They both handled the trailer nicely on the highway and byway. But, with a gross weight of around 5,500 lb., the Micro Lite can also be towed by many mid-size and up SUVs — vehicles you may already own.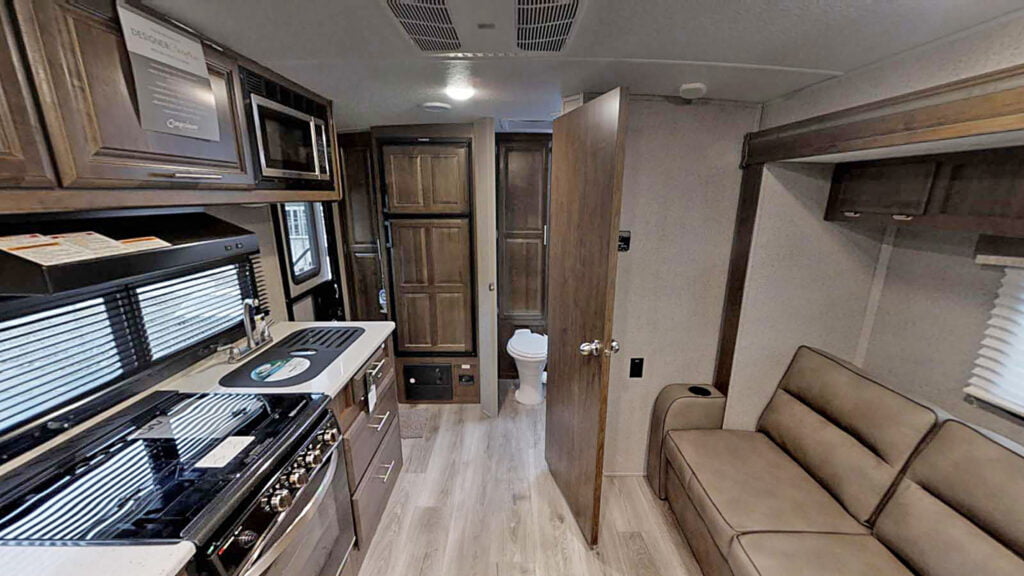 This single slide unit puts the bathroom in the rear corner and the refrigerator beside it, which opens up the space for a large shower with a skylight in the corner. The fridge placement allows for considerable counter space in the kitchen. A nice feature I noted right off is the three-burner HO gas range with a flush mount glass cover. Below it is a 21-inch gas oven. However, there is also a built-in microwave above the range hood. It's nice to have both – hope you like to cook.
The sink has hard covers – one of which is slotted for cutting and washing right on the cover's surface. There is even a small flip-up counter extender. Lots of emphasis on this kitchen – not to mention the ample cupboard and drawer space.  
The other unique feature that jumps out on entry is the lack of a dinette — no booth and nothing free-standing. Instead, the space in the slide often used for a dinette is instead taken up with a full-sized convertible couch. A portable table (with folding legs) is provided instead. It can be set up in front of the couch for meals and then stored away, opening up this center space. In fact, the table is so light and easy to move that I'm sure many owners will take it outside to set up under the awning.
Being connected is no longer a novelty in trailers – it's a must. Flagstaff provides cable and satellite hookups as well All-In-One Wi-Fi booster and LTE prep with Antenna. The trailer also comes pre-wired for a rear observation camera and has been prepared for roof and side solar panels.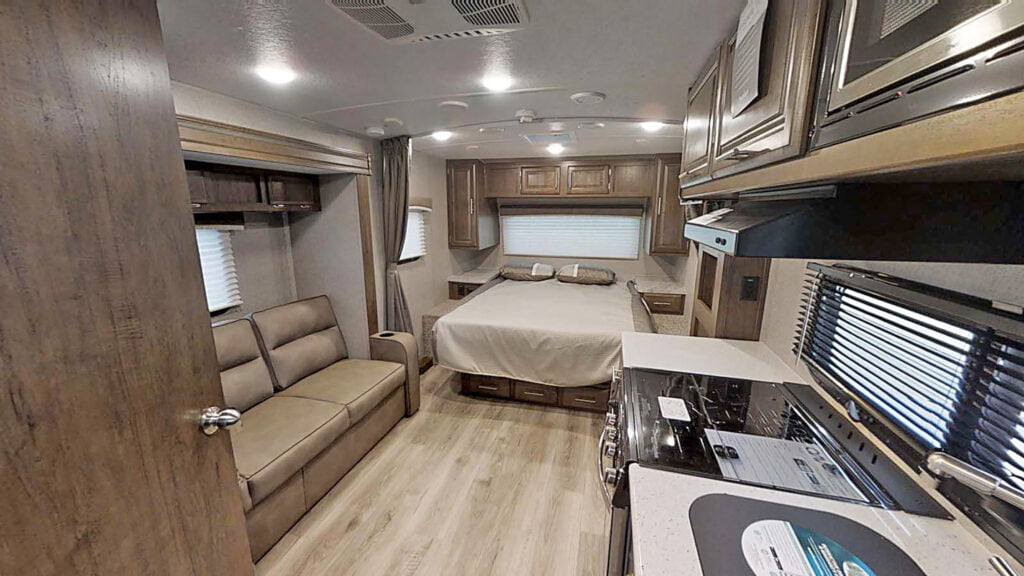 The queen bed in the trailer is surrounded by windows and cabinets. It's nice to see that there is access from both sides – and the foot of the bed lifts to reveal a large comforter storage chest.
I also realized as I went through the trailer that almost everything I was looking at was part of a package that was standard on this model. Here is a short list of the highlights: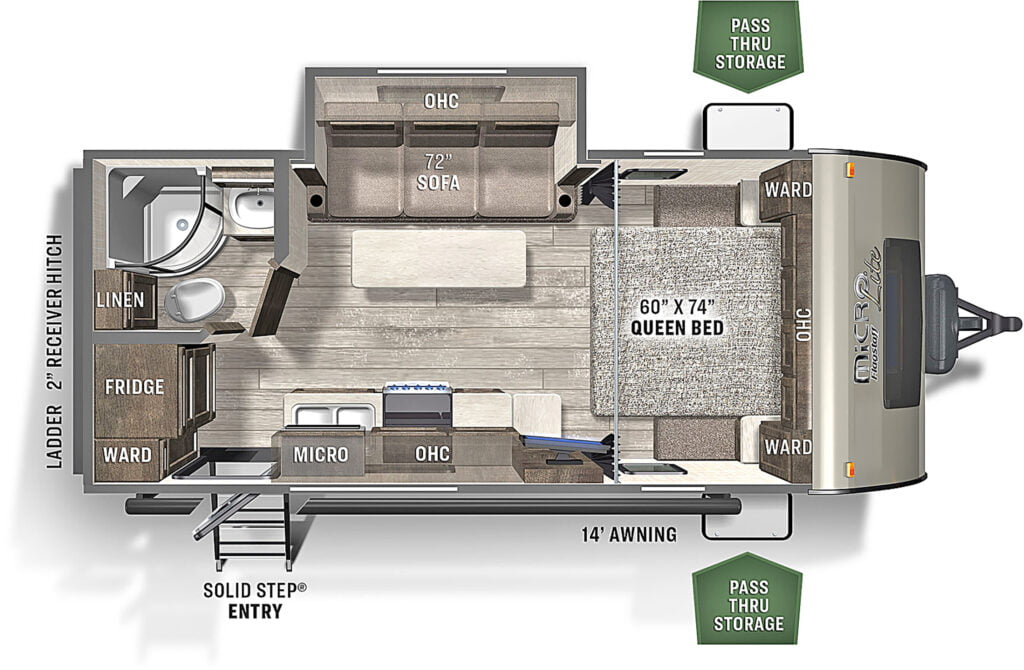 Laminated Champagne Fiberglass Sidewalls
35K BTU on Trailers over 21′
Azdel Composite Panels
Pleated Night Shades
Murphy Bed w/ Under Sofa Storage System w/ Outside Access
Sink Covers
Rear Ladder
Two 30lb Gas Bottles w/ Molded Bottle Cover
Molded Fiberglass Front Cap w/ Automotive Windshield
4 Frame Mounted Manual Stabilizer Jacks
Solid Surface Kitchen Countertops
13.5K BTU Ducted Air Conditioner
This is a nicely appointed unit – inside and out. It's well laid out, has a feeling of quality and it tows well. If you are in the market, have a look.
Specifications for the Flagstaff Micro Lite 21 FBRS
Hitch Weight:               412 lb.
UVW:                               4171 lb.
CCC:                                 1521 lb.
Exterior Length:            22′ 4″
Exterior Height:            10′ 3″
Exterior Width:             96″
Fresh Water:                  52.gal.
Grey Water:                   30 gal.
Black Water:                  30 gal.
Awning Size:                  14′
This unit, priced at $30,700 Canadian, was supplied for testing by Gimme Shelter RV in Mono, Ontario.