​The first time I saw an inTech trailer I was struck by the forward tilt look of the unit. It looked retro and modern at the same time – and that's not an easy thing to design. The next striking feature on this trailer is the huge, curved, front tinted window – but more about that when we get inside. There are three inTech Sol trailer models – the Dawn, Eclipse, and Horizon. They are 16, 17, and 19-feet in length and the Gross Vehicle Weight Ratio (GVWR) weights top out at just 4,000 lb. That last number is particularly attractive today as so many new people are buying RVs for the first time. The Horizon, with its max weight of just 4K offers most new buyers the ability to tow with whatever they already own – be it SUV, pickup, or crossover. This low weight trait on these trailers is not an indication of a flimsy build though – quite the opposite is true.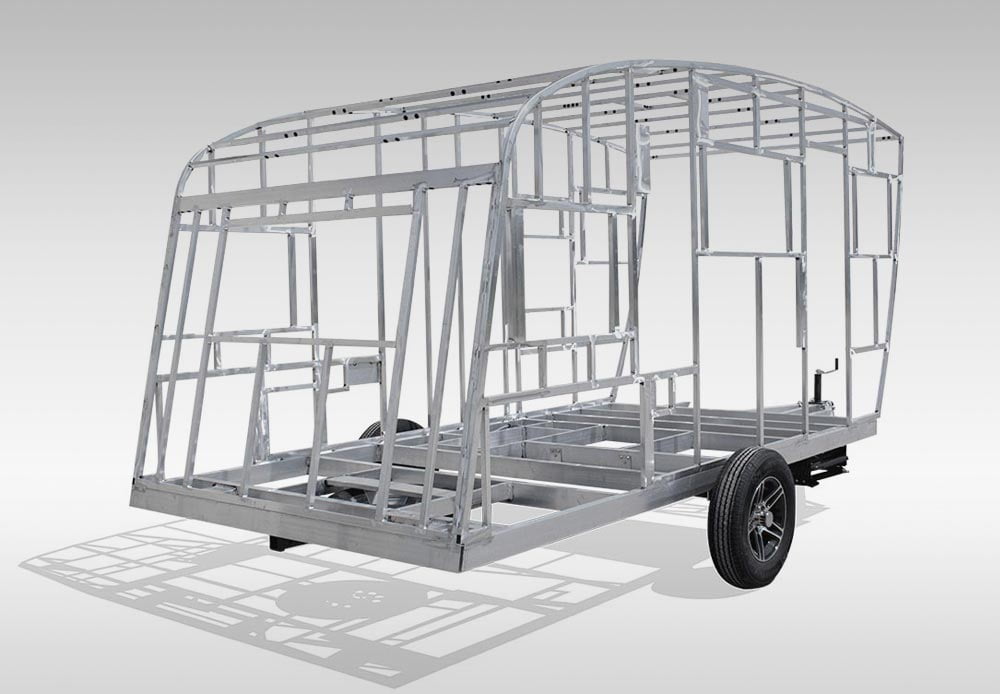 inTech, as a company, started out building car haulers. Its method of construction to this day is all-aluminum and they brought this feature to the travel trailer they decided to build. The Sol features a fully welded aluminum cage. There is no wood in this frame. That means that these frames are rust-free and rot-free. It also means that the tube frame construction delivers excellent structural integrity at an overall low weight. They also build all these chassis in-house, so quality control is their top priority.
When you look at a Sol it's important to remember what I've just described. Aluminum is not cheap – but you can't build a better frame without it. This cost is reflected in the price, but where this will pay dividends is years down the road as the trailer is still looking like new. Also, the roof is a one-piece fiberglass sheet and the sidewalls as well are fully made of fiberglass, which again is a superior build.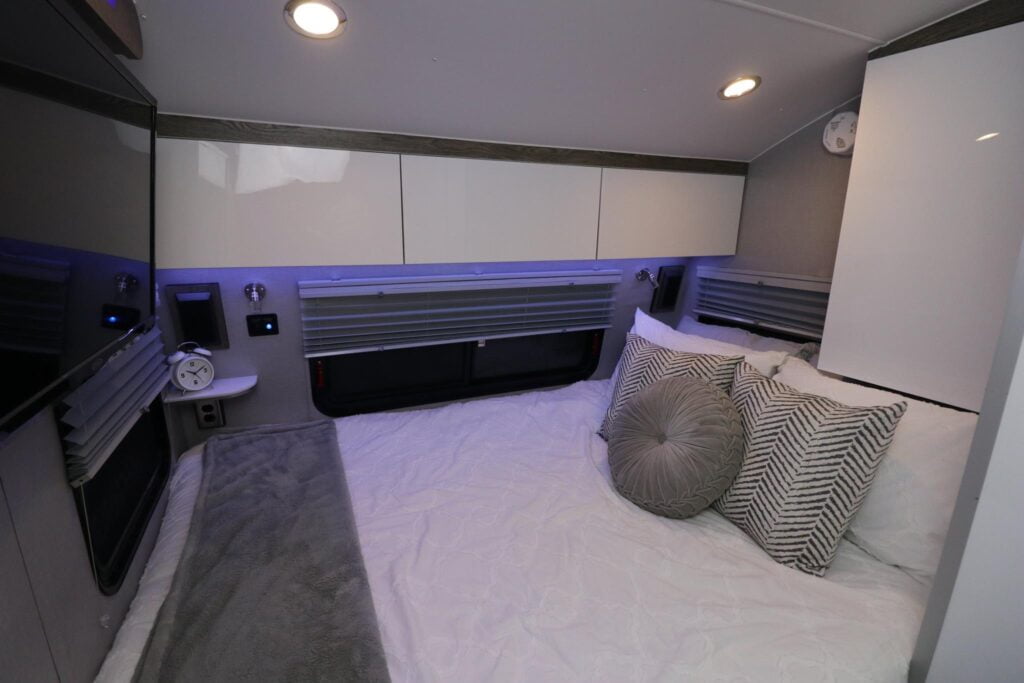 The inside the Sol Horizon (the other, smaller trailers are very much made for two) will host a family of four. Still, as a couple's trailer I think it hits the sweet spot as it is big enough to offer all the amenities you expect and small enough to easily tow and park. The traditional floorplan showcases a large bed in the rear, kitchen, a wet bath midships, and the front dinette that seats six will convert to an oversize bed.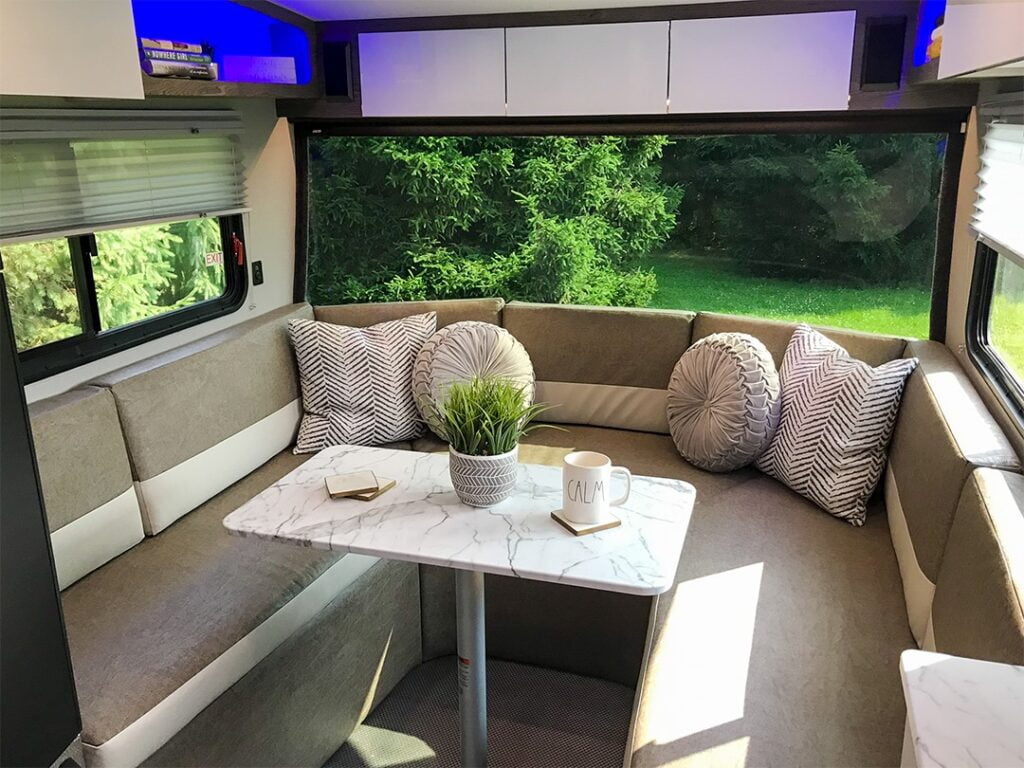 Now, that front window I mentioned offers a fantastic panoramic view from this location. The wide window also lights up the trailer and makes the interior simply feel larger than it really is.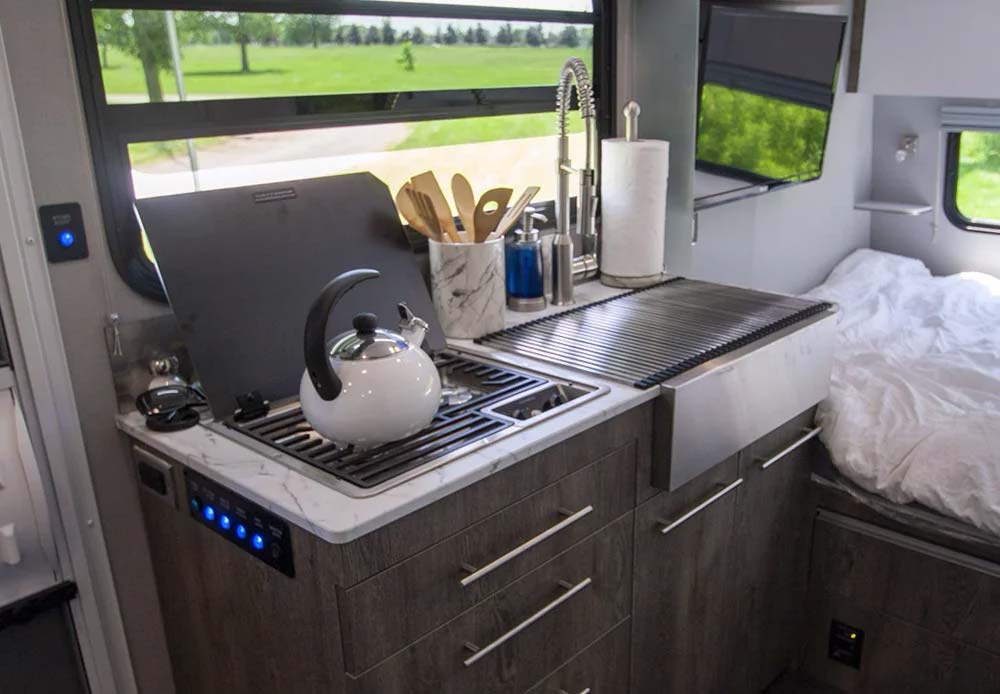 The interior décor is nicely colour-matched. You'll also notice the upscale choice of materials, fixtures, and wood. This is reflected in the price as well, but you are getting what you pay for inside the Sol.
Standard features of the Sol are a 16K BTU furnace along with 13.5 K BTU of air conditioning. The six-gallon water heater will run on electric or propane – as will the 3.7 Cu. Ft. 3-way refrigerator. A 32-inch flat screen TV is standard as is the Bluetooth Stereo with four speakers. All Sols have two powered vent fans. In the kitchen you have a two-burner cook-top and a microwave. Speaking of kitchens, despite its size, the Horizon has an outdoor kitchen setup on a solid slide-out tray.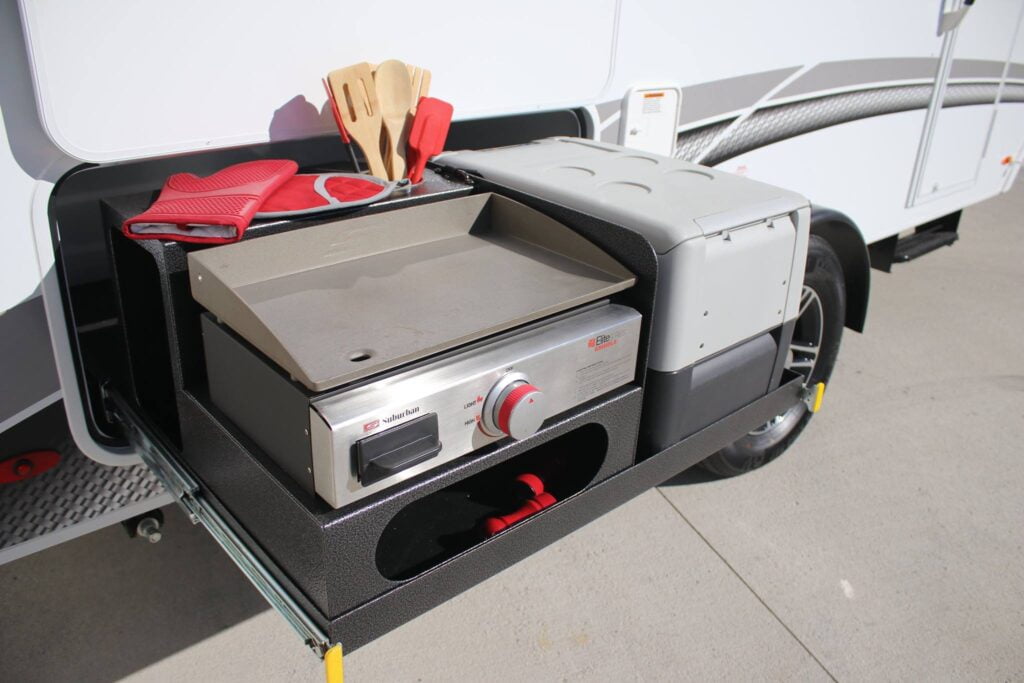 Standard to the Sol is a black tank heat pad – giving you peace of mind as you extend your camping season into the lower fall and spring temperatures.
An interesting option offered by inTech is the Rover Package. Meant to get you that much further off the beaten path, the Rover adds off-road tires with a 3-inch lift to overall height. There is also a tie-down rack added to the tongue space behind the hitch as well as an aluminum tube rear bumper. Each of these features adds gear capability for those who want real off-road adventures.
inTech Sol Horizons Specifications:
Height (interior) 6'6"
Width (interior) 6'8"
Height (Ext.) 9'6"
Length 19'
Black/Gray water 32 gal.
Fresh water 28 gal.
Dry weight 3,230 lb.
Tongue weight 465 lb.
GVWR 4,000 lb.
LP gas 20 lb.
Thanks to Camping in Style (in Brooklyn, ON) for letting us test the Sol and for letting us film a video walk-through. You can find the walk-through on the Truck King YouTube channel shortly.