After reading the 'Nowhere to Park in Ontario Parks' series published through Explorer RV Club, the following account details John Kim's personal experiences with the Ontario Parks reservation system. It is a reflection on the research and views of Dr. Paul Eagles as published in the Parks series and reflects his personal experiences, opinions and beliefs.
Explorer RV Club is a safe space for sharing stories, and a neutral platform which hopes to bring all our readers' voices to those who are in positions of influence in order to give them information so that they can enact positive changes in the Ontario Parks reservation system and booking policies, which we hope will benefit all users of Ontario Parks in the future, and keep it a place for all to enjoy the wilderness and natural beauty of Canada and the province of Ontario.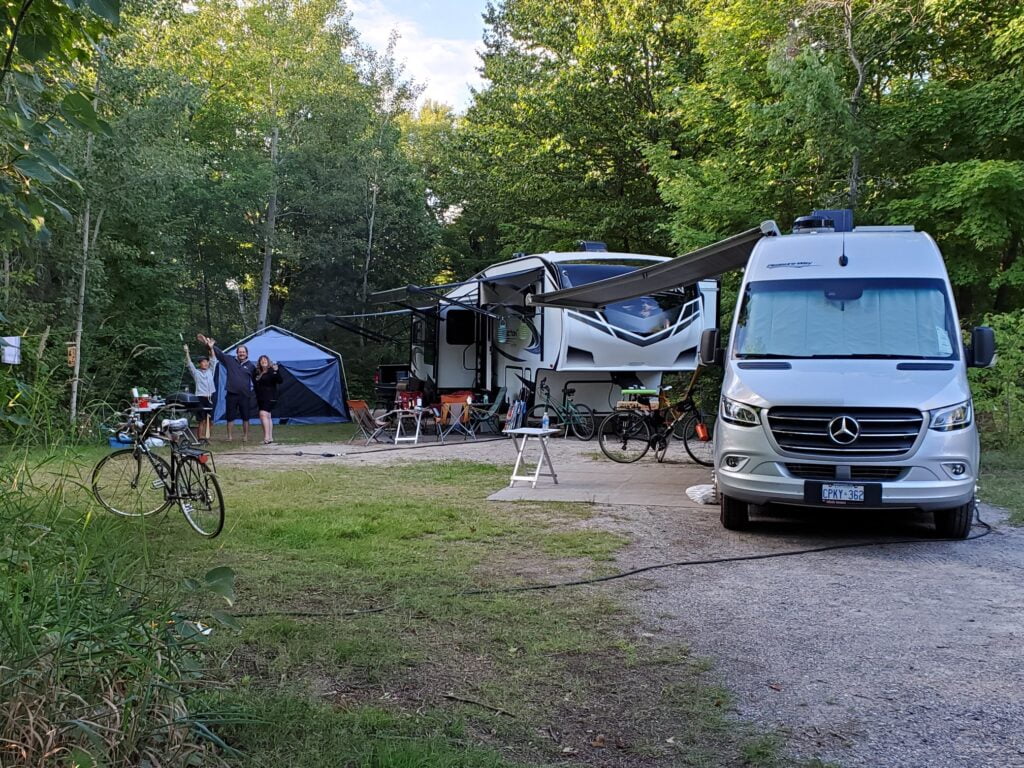 My lifetime of camping experiences in Canada began when I was seven and has spanned the past 51 years. I have camped in tents, progressed to a pop-up, graduated to a travel trailer, and now am comfortably settled into a Class B motorhome. Camping has always been, and still is, a very large part of my life. My wife and I have camped in British Columbia, Quebec, Prince Edward Island, New Brunswick, Nova Scotia and of course, Ontario. We have shopped around for lifestyle insurance but always stayed with Orbit Insurance Group. This decision requires another story altogether but needs mentioning as it led me to reading the Explorer RV Club July Newsletter piece entitled 'No Place to Park in ON Parks Series: Pt. II' by Dr. Paul Eagles, the reason I'm here writing to you today.
Although I agree with many of the points made in this series about the need for further consideration of campers' needs, I also believe in the benefits of having more access to pre-existing information that would make the camping experience better for both traditional tent campers and RVers. After reading the Ontario Parks series this summer, I wanted to add some of my own recommendations and share my perspective on the Ontario Parks reservation system as my friends, and my family and I have experienced it.
'Ontario, Keep it Beautiful' is what Ontario license plates use to say. Today it reads, 'Yours to Discover'. It's a nice sentiment, and a true one, I suppose, but you'll need some good luck if you want to discover beautiful Ontario by means of reserving a campsite through the Ontario Parks reservation system.
To be fair, I shouldn't be so cynical about the reservation system. In fact, like Dr. Eagles stated, it is a pretty good reservation system for the most part. It allows you to plan, provides access to every camping facility in Ontario, and the site plans do give basic information about the site. Sometimes, you may even get pictures – albeit not great ones – or at least ones that are a great representation of the entire site.
You know what I mean about those pictures. You choose a site based on the given site description and pictures, only to arrive and find it's not what you expected at all. Everything that matters to an RVer – from the slope of the pad, to the distance to the electrical outlet, can be misleading. It appears many of us have been in that situation. As for the reservation system however, it does have the basic functions included to do the job like sourcing a site and making camping reservations. My issues have more to do with customer and user experience, and the rules and or limitations of the system, which with some minor changes, could greatly improve experiences for everyone using Ontario Parks.
My first issue is the system time. This is the website clock we all patiently watch, straining our eyes in anticipation to hit reserve. All the while, trying to figure out in your head, the exact moment you should pull the trigger. I don't understand the mechanics, but the system time differs from one device to another. You can see this if you have both a computer and a mobile device logged in, and you raise your mobile device up to your computer screen so that you are looking at the system clock on both devices at the same time. I have witnessed a difference of up to 1.5 seconds, and I am not alone in noticing this. With fierce competition to find a site, most are using multiple devices in an attempt to succeed at getting a reservation.
As a matter of fact, some are utilizing a team approach by getting a number of friends to help the cause. After all, ten fingers are quicker than one. Assuming you are pressing the reserve button at exactly 7 A.M. based on the system time on the device you are using, one device will reach 7 A.M. slightly earlier than another, giving the device with the earlier time the booking advantage. This is obviously a technical issue, not a design one, but should still be resolved as soon as possible.
The second problem I've experienced in booking reservations is the start time rule of opening the system to reservations at 7 A.M. I wish they would change this to midnight when the day's clock actually starts. I hear this all the time from fellow campers, as most people are commuting to work at 7 A.M. I would rather go to bed a little later on reservation days rather than be late for work in the morning. This too is a minor adjustment that will not only make the system fairer but would also reduce stress for its users.
The third and most concerning issue for me is the five month and 23-day rule (meaning five months in advance, with a maximum of 23 days booking) and the subsequent cancellation policy that does not allow you to cancel any portion of your 23 days until 30 days after reserving. With camping availability so limited, many will opt to reserve an entire 23-day block and pay the cancellation fee to secure their dates. I admit to being one of them. I have no issue paying the cancellation fee, because the knowledge of having my camping plans set for planning purposes outweighs the cost. The problem is that many people book five months and 23 days in advance, knowing they are only going to camp the last however many days. They then must wait the required 30 days after booking to cancel the earlier dates they don't need.
For example: If I want to camp for seven nights arriving June 17 and departing June 24, I will count backwards 23 days and five months from the last night I want to camp, which lands on January 1. I will now try to book on January 1 for arrival on June 1 for 23 nights. This guarantees my desired seven nights only June 17 to June 23 stay. However, for 30 days after I book these dates, including the ones I do not need from June 1 to June 16, no one can book this site. In the interim, it sits unavailable.
Perhaps a possible solution would be to allow users to book any portion of the 23 days available from month five, and not just consecutive nights from the first day of month five. Meaning that on day one of month five, the Parks' system would allow booking of any dates between day one and day 23. Better yet, would be to allow users to book any dates for the period of five months and 23 days.
In this example, on January 1, allow me to book my June 17 to 23 dates, resulting in June 1 to 16 being available now for others to take advantage of.
Under the current rule, June 1 to 16 wouldn't be available until February 1, assuming I cancel on day 30, which is the first day available to cancel.
In speaking to friends who share many of the same concerns and frustrations, I have some additional ideas and suggestions for improvement for the users of Ontario Parks that would benefit both sides:
Bring back non-reservable sites, as there is a need for walk-in availability.
Potable water should be available at all parks and should be a priority.
Get rid of outhouses where possible.
Better policing of handicap sites. In my opinion, I've seen too many are abusing this privilege i.e. users who do not have a disability are booking but no qualified people are actually on the site camping.
Make a distinction between disability vs handicapped. There are less regulations on acquiring a Disability Permit for parking purposes, and these should not be allowed for designated handicapped sites.
Introduce tier pricing, not just for premium and electrical, but also for the size of the site. A large pull through site, which are sometimes three to four times the size of some tent-only sites, are the same price as any other electrical site. Also, since they are so much larger, allow more structures and campers on larger sites if the same density per square footage rule is observed.
The quality of a site (water access or view etc.) should also have a greater tier level of pricing. Don't just lump all into one category of Premium.
Bring back Park hosts during peak season. Park hosts most definitely enhance the camping experience. They are a wealth of information and serve to keep order in the park.
Create a website that provides live, up to the minute site availability. Going to Ontario Parks and filling in your filters and searching is time consuming. I recently saw a Facebook post advising its followers of parks which had weekday sites available, which was great to see.
Improve dumping and filling station design so that you can access water without having to wait for dumpers. Also, ensure you can fill on both sides as not everyone has the water filler on the same side. At the very least ensure the hose can reach both sides.
Beach maintenance – too many beaches are overrun with grass, garbage, and debris for example.
More garbage bins throughout the park.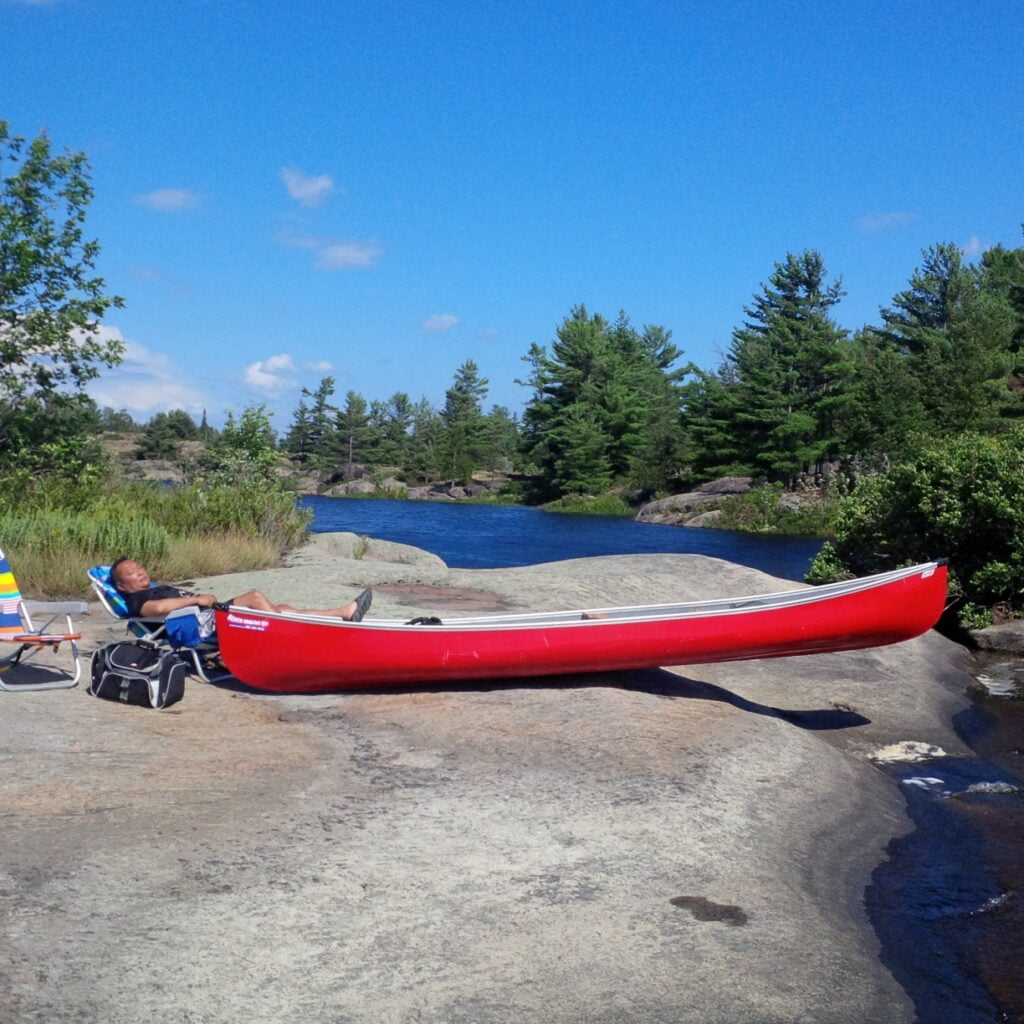 The thing is, I still remember my very first camping experience as being magical. As a city kid, the great outdoors was completely foreign to me. Until that first camping trip, the great outdoors was limited to street hockey until the streetlights came on. To this day, I cannot get enough hiking, canoeing and enjoying a fire. I love sleeping outdoors, even if the outdoors is now no longer a tent, but rather a comfy bed inside a Class B motorhome. Yes, it is glamping as many say, but to me, it's still being outdoors and experiencing the wonders of nature. Let's do what we can to improve the camping experience for everyone!
Hope to see you all at the Parks!