Who buys truck campers? I know truck campers are popular out West, primarily because they appeal to horse owners who already have trucks and tow horse trailers behind them. I also know that fisherman, hunters, ATVers, etc. – all of whom often need to tow trailers, like them as an option as well. And because they are mounted on 4WD trucks, they can tackle the rough roads of the backcountry, which gives further reasons as to why they are popular out West. But what about the rest of the country?
The unit being virtually tested today is built by a Canadian company, Northern Lite, of Kelowna, BC. This company has fed this Western appetite for 30-odd years and continues to grow, extending its reach eastward.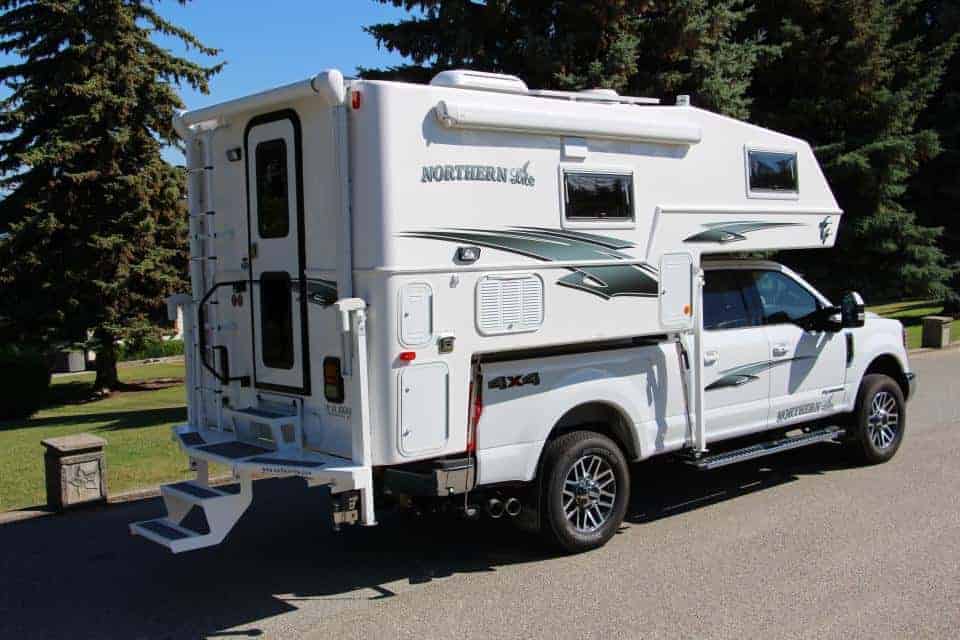 The Sportsman Plus 8-11 shown here, has new features for the 2021 model year like Dual 185-Watt Solar Panels; a 9-inch Wider Dinette, Wireless Backup Camera; Removable 3rd Step; Exterior 110V Plug and Premium Leatherette U-Shaped Seating. These items are part of the continued improvement of a long standing product line. In fact, I did a review of this model in 2010 and it continues to be popular eleven years later.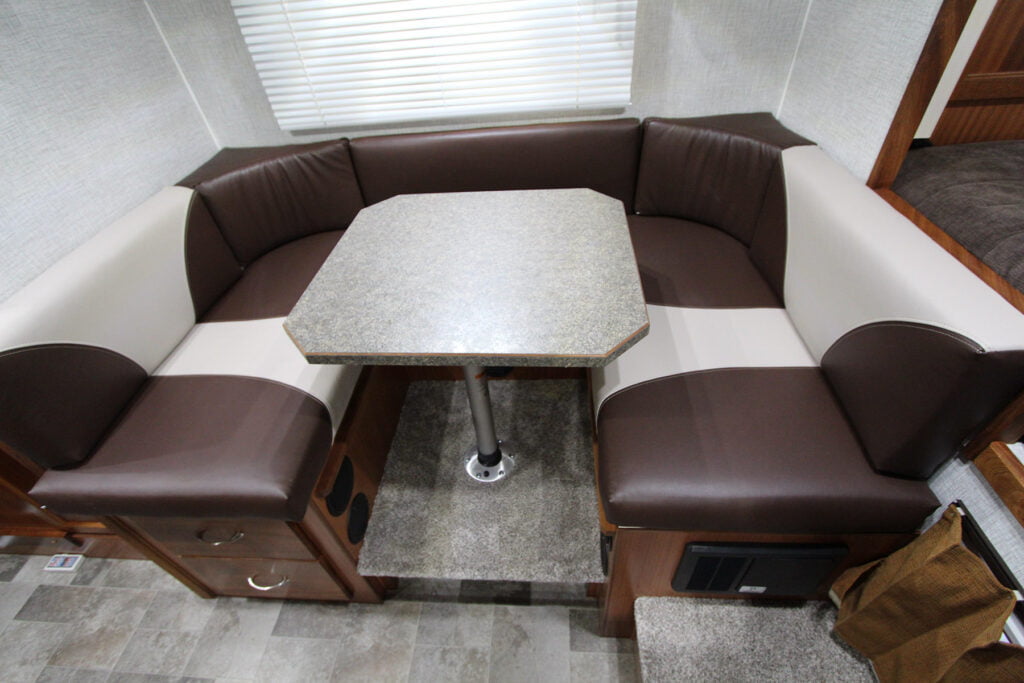 With a dry weight of around 2,400 lbs this unit requires a 2500 series and higher truck to carry it. However, it will fit a 6.5-foot bed – which for crew cabs is the most common size.
Northern Lite builds its truck campers in much the same way boat hulls are manufactured. Using fibreglass moulds, they lay up a mixture of chopped fibreglass strands and plastic resin to form a top and bottom shell. Finished with a covering of Gelcoat the two sections are then screwed together – then the window and vent opening are cut out and the interior fixtures added. This makes the unit impervious to water from both above and below.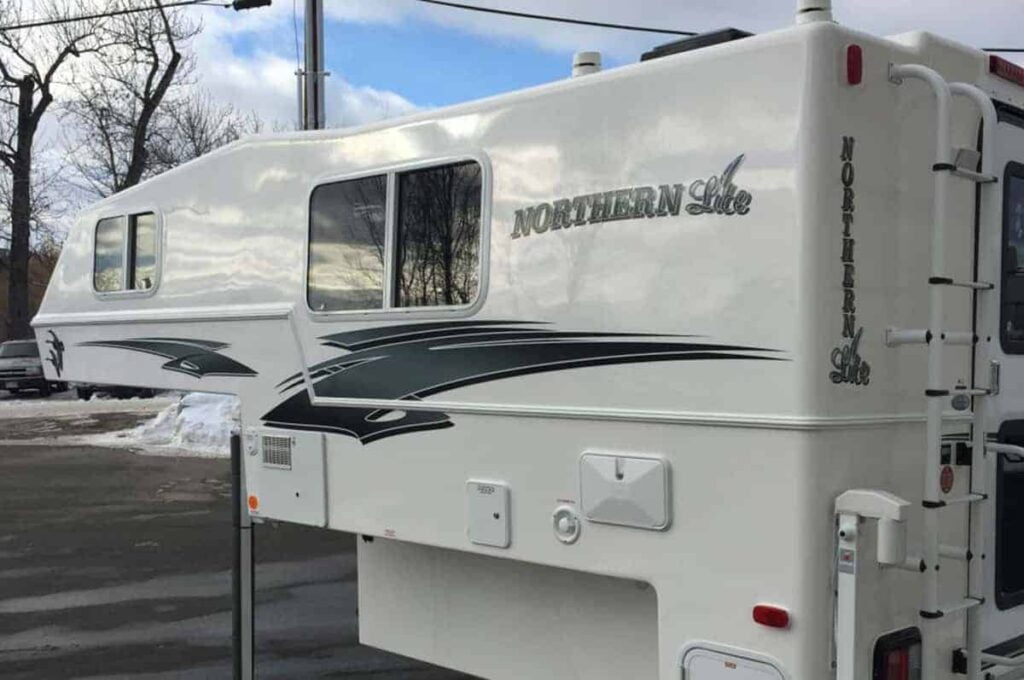 As with all smaller units, the description "boat-like design" is fitting because inside it's all about efficient use of space. All truck campers use the same basic design; a centre aisle leads to the main bed that is housed in the overhanging portion of the RV. This aisle also separates the dining area from the galley and the washroom from the storage.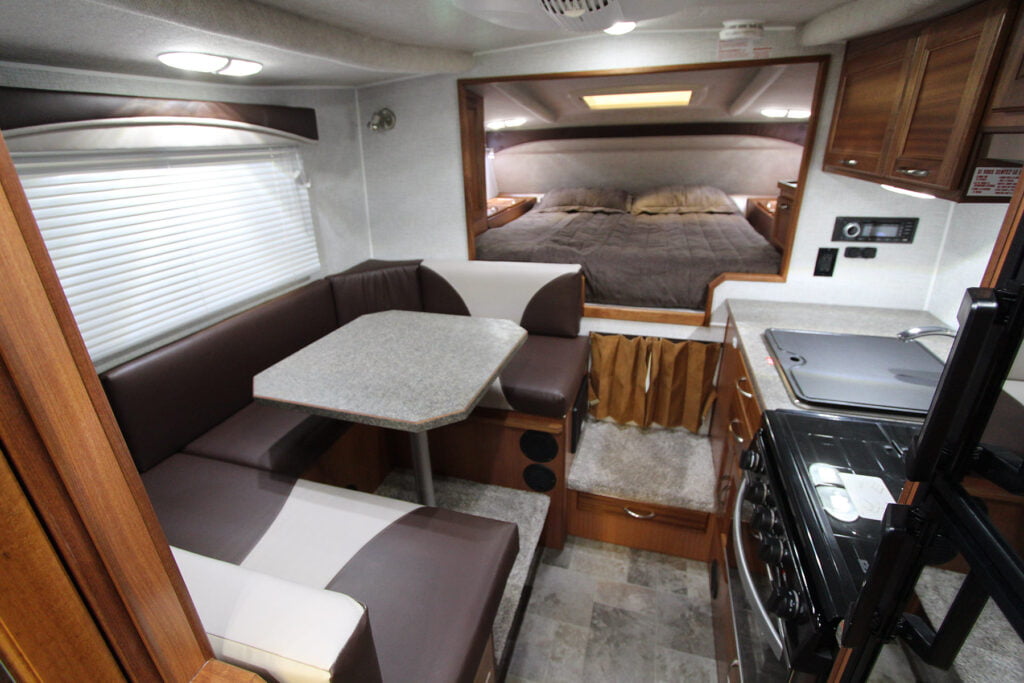 In the Sportsman Plus, the bath is on the left at the rear of the unit and it includes a toilet, sink, exhaust vent and a sliding door – all built into a fully "wet" designed shower (a dry bath is also available). Across the aisle, mirrored doors front a large hanging clothes closet located next to the full-size refrigerator/freezer.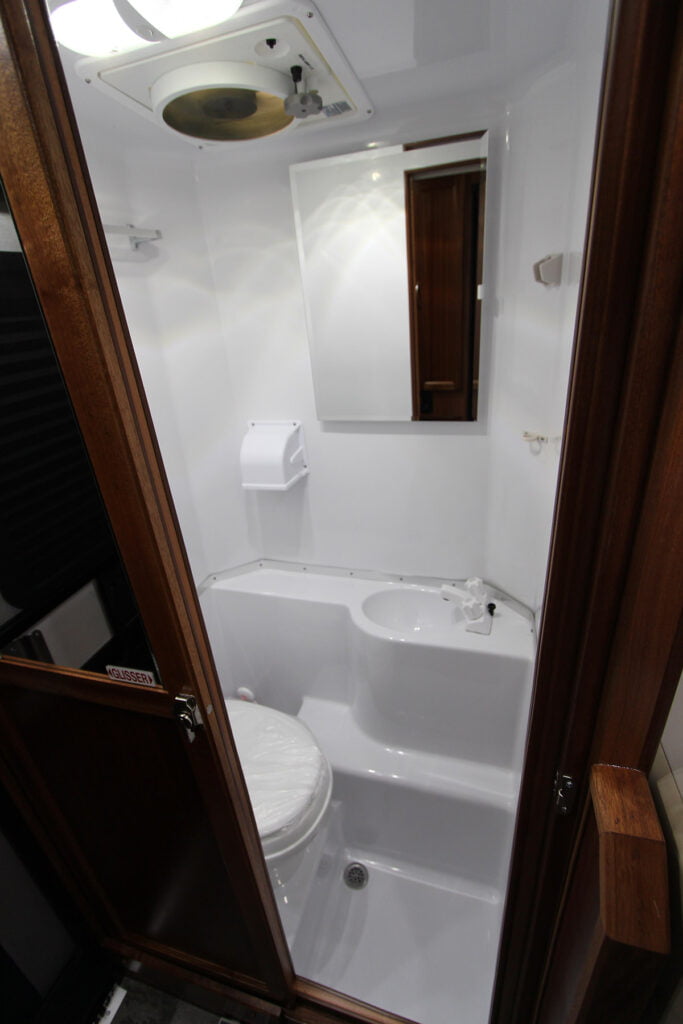 Just before these are the counter/sink/stove built-ins on the right and the four-place raised dinette on the left. Cupboards, drawers and other closet doors are all made from solid hardwood and nicely finished with a countertop that looks reasonably ample in size. Above, the standard microwave is hidden in the cupboard rather than taking up valuable counter space.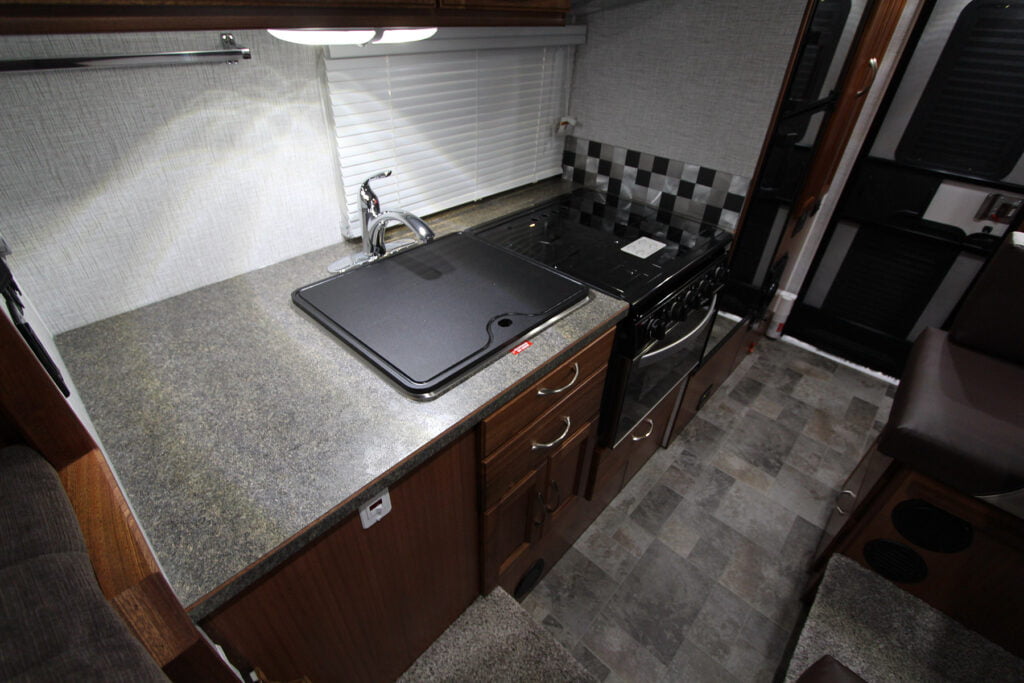 These units are typically built for two people; however, the dinette does drop down for the occasional overnight guest – who you better know well considering the considerably close quarters! But for the main occupants, the bed in the overhang is huge, nicely lit and well-ventilated with windows on either side. Also over the bed is a large skylight that doubles as an emergency exit. The mattress area is 80 by 60-inches and there is a whole further foot of space on either side that houses twin doors that open to more storage with a closet on the left and the right. Also on the right, there is also a set-up for a flat screen TV. Headroom in this space is listed at a decent 30 inches.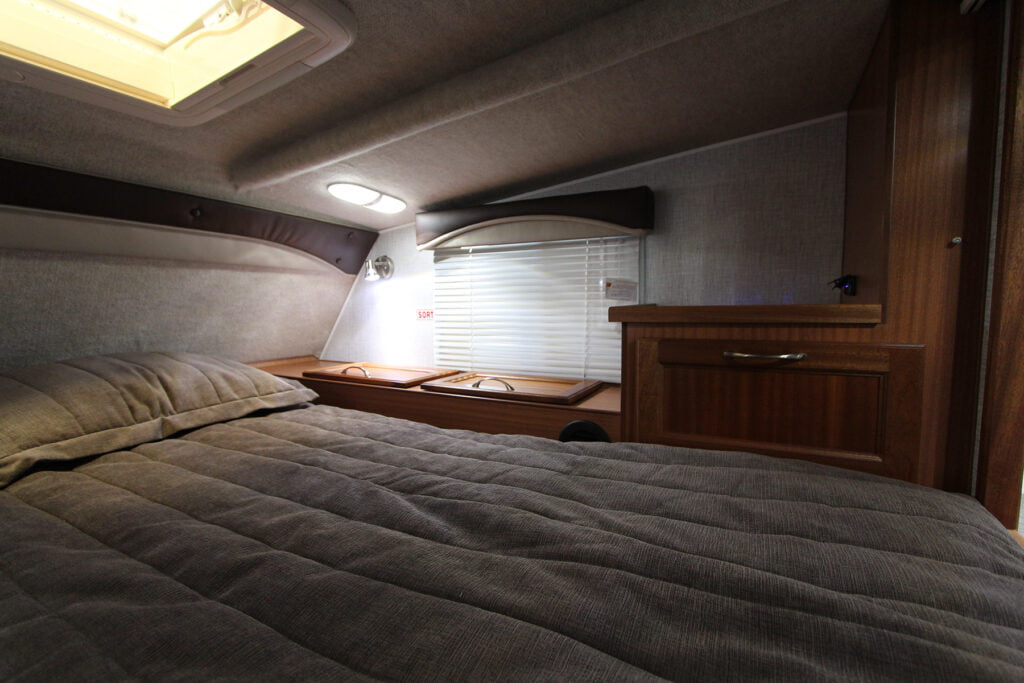 Windows in the unit are of the acrylic thermal pane type. They have a pull-up screen and a pull-down shade, both of which are spring-loaded. Powered vents in the bath and in the main hallway will move large quantities of air.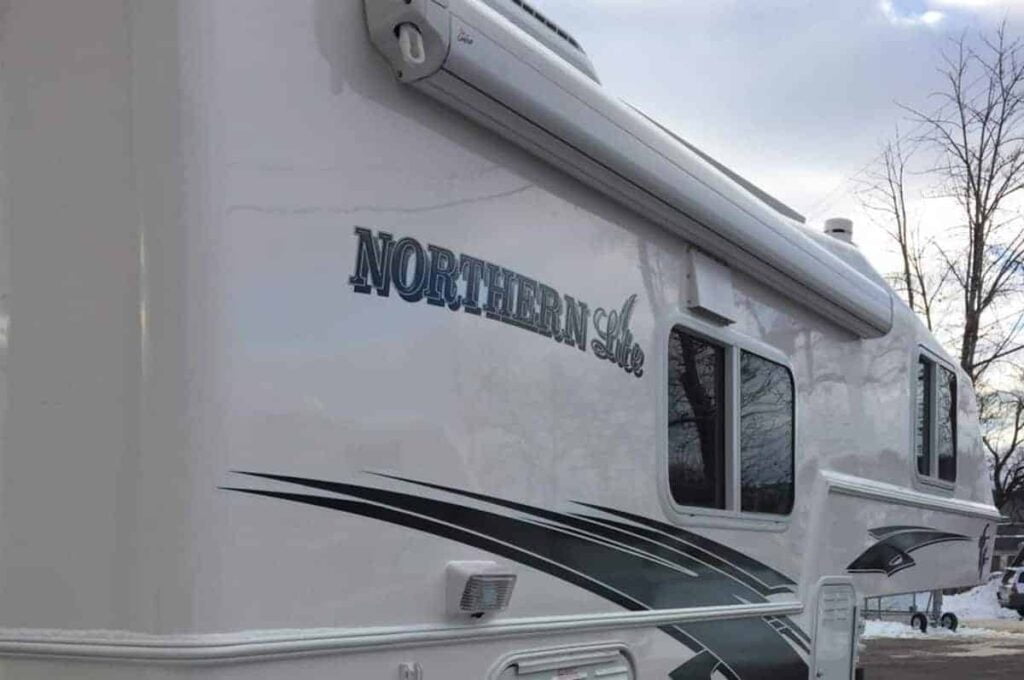 If you are wondering about the more mechanical factors of this model – getting the camper on and off the truck is as simple as using a TV remote. In fact, with the standard wireless electric jacks, the remote allows the user to position each leg individually or lift/lower all the legs at once. Personally, I've done it in the past and found I could lift, back under and drop the unit onto my truck in under five minutes.
A few years ago, I was doing another truck camper test at an RV dealer and fell into conversation with a couple who were looking at the model in question. Curious, I asked them why they were interested in that unit, and their answers surprised me. I will repeat the details of that conversation here because I still feel they laid out the best real-world case for buying a truck camper that I've yet to hear.
In a nutshell, they told me they had a 30-something foot 5th wheel which they found to be almost an inconvenience on some road trips they took. Examples being on trips like Labrador and Newfoundland. Why? Two reasons – precious few areas exist to pull a rig of that size off the road for a quick stop or short overnight – and second – the roads were lousy. Still, I said to them, how often do you go somewhere like that? To this the answer was even more revealing.
With just the two of them travelling now, they had first considered downsizing to a Class B – but then they realized – a Class B is always a Class B. But with the truck camper (at a third of the price of a Class B) they could use it when needed and then unload it at home. The pickup was now once more just transportation. And, they already owned the truck. As for the 5th wheel – they'd keep it for longer trips with longer stays. Suddenly the penny dropped, with three clear reasons as to their preference: Ease of access; price-point; and a vehicle that is utility-minded in construction and layout. All things that appeal to me as well. Pays to talk to strangers I say.
If these reasons also strike a chord with you and your travelling style – go have a look at the newest features on the latest model of the Northern Lite Sportsman 8-11.
The Top 4 Arguments for Truck Campers like the Northern Lite Sportsman Plus
1. Rough country access. Your truck has 4WD and rugged tires; it also has good ground clearance and a suspension that is built for off-road travel. If your truck can get in there – then so can your truck camper.
2. The right truck camper does not impede your ability to tow a trailer. This is one of the reasons that these campers are popular with the horsey crowd – as they tow their animals to places and events where having accommodation on site is a definite benefit.
3. With the right lift kit, the truck camper takes just a few minutes more to fully unload than the time required to uncouple a trailer.
4. Like a trailer or fifth-wheel, when you trade in your truck you don't have to change up your camper – it continues to serve regardless of what new pickup you buy.
Northern Lite Sportsman 8-11 (wet bath) Specifications: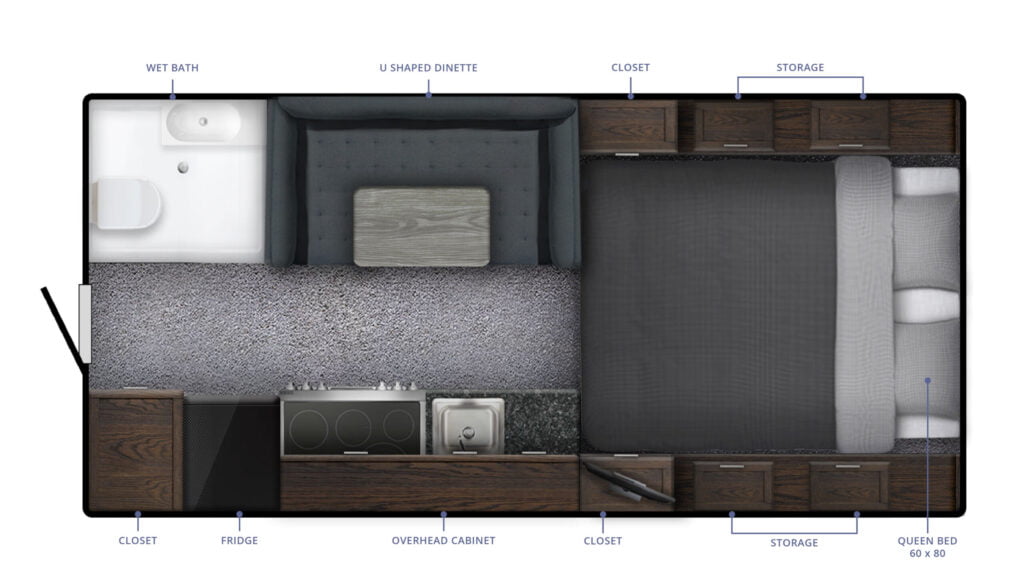 Width: 98-inches
Length: 195-inches
Inside floor length: 108-inches
Dinette Bed: 46×67-inches
Main Bed: 60×80-inches
Fresh Water: 33 gal
Gray Water: 24 gal
Black Water: 12 gal
Hot Water: 6 gal
Dry Weight: 2,400 lb
MSRP – starts at* $57,900. Approx.