Have you noticed all the buzz about mushrooms lately, too? From Star Trek: Discovery's spore drive to learning that oyster mushrooms can eat plastic, we understand why some might refer to 2022 as the year of the mushroom.
As avid RVers, we love foraging and cooking with mushrooms while on the road. If you're new to RVing and foraging for wild food, start by looking for mushrooms like lion's mane, chicken of the woods, hedgehog, giant puffballs, and hen of the woods. Many resources are, but I recommend investing in a field guide. Forage ethically and know what you're picking, as mushrooms can be toxic. When in doubt, throw it out.
Benefits of Mushrooms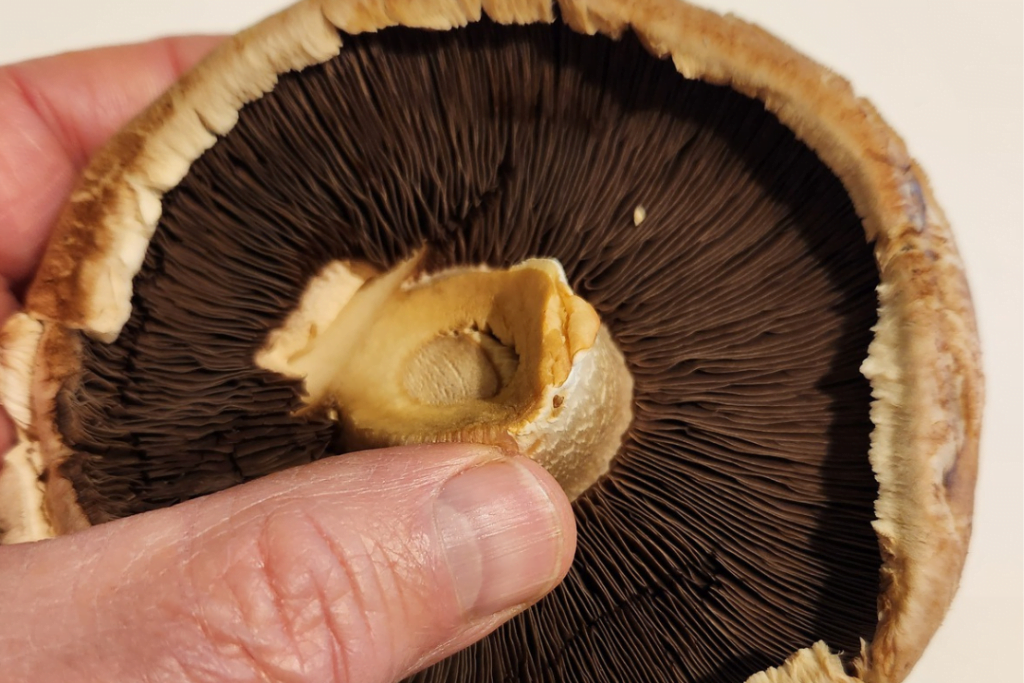 Did you know mushrooms are low in calories and sodium and have no cholesterol? One cup of raw mushrooms contains 16 calories and one to two grams of protein. They're also a good source of selenium, potassium, riboflavin, and niacin. These are just some of the reasons we love cooking with mushrooms!
Cooking with Mushrooms
Once you forage, it's time to cook your mushrooms! Here's a roasted portobello mushroom cap recipe you can make wherever you happen to be – on the road or at home. The mushrooms can be served on their own, topped with grated cheese, or in a hamburger bun with all the fixings.
Tip: We like to keep the discarded stems to use in a soup or stir fry another day!
Roasted Portobello Mushroom Cap
Serves 4
Adapted from NYT Cooking
Ingredients & Equipment
four large portobello mushrooms
75 ml dark soy sauce (preferably low sodium)
40 ml balsamic vinegar
40 ml extra-virgin olive oil (EVO)
one large clove of garlic
5ml fresh grated ginger
Flat baking sheet
Parchment paper
Method
1. Pre-heat oven to 400F
2. Peel garlic, remove anima and mince3. Combine minced garlic and grated ginger in a medium-sized bowl
4. Add soy sauce, balsamic vinegar, and EVO and combine thoroughly
5. Remove mushroom stems (save them for future use)
6. Clean mushroom caps with a dry wipe
7. Line the baking sheet with parchment paper, taking care to have a slight risen edge all around
8. Soak mushrooms in the sauce mixture, taking care to turn them over and wet them completely
9. Place mushrooms on a baking sheet, separated
10. Allow mushrooms to marinate for at least 15 minutes on the baking sheet
11. Bake for 15 minutes
12. Remove from oven and turn each cap over
13. Bake for 15 minutes more
14. Rest for 5 minutes; slice or garnish for service
15. Enjoy!