One of the gems in Southwestern Ontario is St. Jacob's Farmer's Market. Located an hour's drive from Toronto and about 15 minutes from Kitchener-Waterloo, St. Jacob's Farmer's Market is the largest in Canada, attracting a million visitors a year. Situated on the site of a former stockyard, it offers fresh local food and hundreds of vendors offering arts, crafts, antiques, and gift items.
There is plenty of parking adjacent to the market and RV-friendly parking across Weber Street North at Market Road Antiques. The Explorer RV Club lists 22 RV parks near St. Jacob's if you want a weekend adventure in your RV.
The variety of fresh food offerings is astounding. During a visit just before Thanksgiving, we overloaded our bundle buggy with three kinds of squashes, apples, leeks, beets, Brussels sprouts still on their stalk, green beans, and celeriac.
As of the time of writing this article, St. Jacob's Market is open on Thursdays and Saturdays from 7:00 AM to 3:30 PM. To accommodate COVID-19 safety, customers are directed through controlled access points, and staff use an app to monitor total customer amounts. Masks are mandatory when entering the buildings and are strongly encouraged to be worn in outdoor areas. We encourage you to check their website before planning your visit.
We served the spaghetti squash we bought at St. Jacob's Market for Thanksgiving dinner and planned to cook something similar for Christmas.
What are Squashes?
Native to the Americas, squashes are believed to have been domesticated as early as 7000 to 5000 BC in the Tehuacán Valley of Mexico. There is also evidence that the Huron cultivated them in present-day Ontario in the 1400s. Squash proliferates, producing abundant foliage, male and female bee-attracting yellow flowers, and a well-developed but rather superficial root system. Favour
Squashes are classified as either summer squash or winter squash, depending on when they are harvested. The main difference between the two is that summer squashes have soft skins, and tender, edible seeds and are picked and eaten while still immature and before the seeds and rind have hardened. Examples of summer squashes are zucchini (courgette), cocozelle, yellow crookneck, yellow straight neck, and pattypan (also known as cymling or scallop squash).
Winter squashes are hard-shelled with fully formed seeds and harvested at full maturity three to four months after planting. Examples of winter squashes are Hubbard, banana, butternut, acorn, and spaghetti. Grown in Quebec and Ontario, the two main squash-growing provinces in Canada, winter squashes can be stored in a cool (10°C), dry, well-ventilated space for at least three months.
When shopping for winter squash, look for one that feels heavy for its size and has hard, deep-coloured skin free from blemishes. Avoid any with sunken or mouldy spots – or cuts and punctures in the rind.
Every part of the squash plant can be eaten, including the flesh, skin, leaves, flowers, and seeds.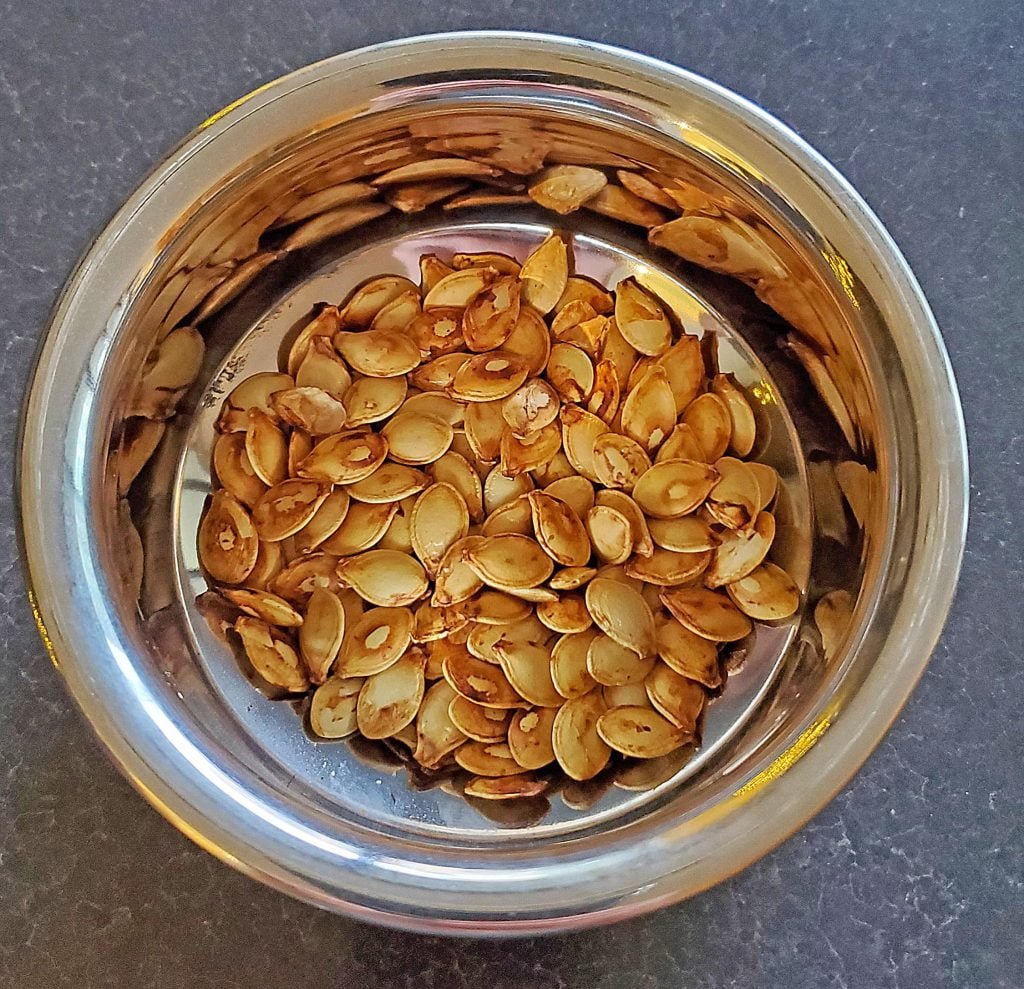 Spaghetti Squash
Also known as vegetable spaghetti, vegetable marrow, or noodle squash, spaghetti squash is small and watermelon-shaped, ranging in size from 900 g to 2 kilograms. It has a golden-yellow, oval-shaped rind and mild flavour. The more giant and more yellow the spaghetti squash, the riper and more flavourful it is. Packed with antioxidants and vitamins, it contains less than one-fifth of the calories of an equivalent-sized serving of spaghetti. The rind is very hard, and even though most recipes tell you to cut it into wedges before cooking, we caution you to be careful. As one cook has commented, insisting that we missed the squash before cooking, it is expected that we all own hacksaws and have the strength of an Olympian discus thrower!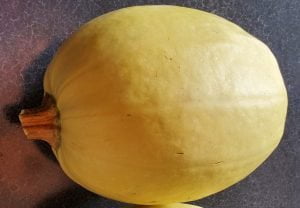 We've found the best way to cook a spaghetti squash is to prick it in several places with the tip of a small sharp knife to allow air to escape during the cooking. You can bake it in a 375°F oven for about an hour or, if you are cooking in your RV, in a microwave oven at medium-high in five-minute increments. If microwaving, rotate the spaghetti squash every five minutes until soft. You will need to do this 2 to 3 times (for a total cooking time of 10-15 minutes), depending on the size of the spaghetti squash.
Once cooked, remove the squash from the oven or microwave and rest for 5-10 minutes until cool enough to handle. Cut in half lengthwise, scoop out the seeds and membranes, and then separate the spaghetti-like strands.
Here's the recipe we used for Thanksgiving this year, adapted from Martha Stewart and What's Cooking America. We added steamed green beans – and encourage you to experiment with adding additional items and toppings! Serves 4.
Cooked Spaghetti Squash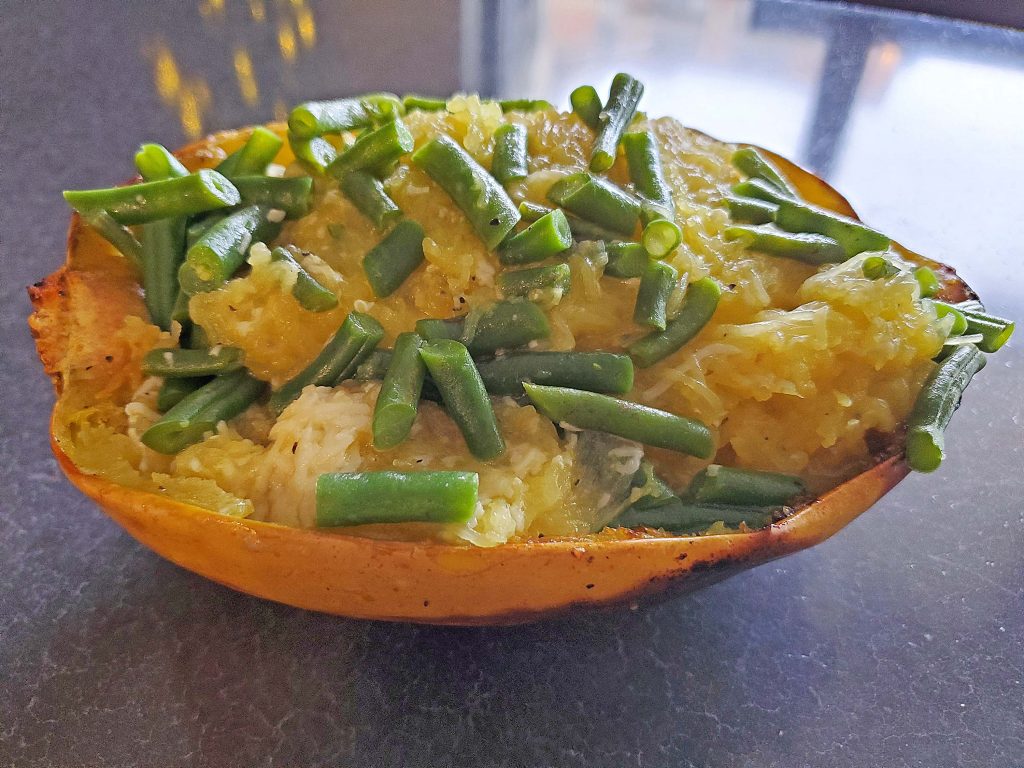 Cooked Spaghetti Squash: Ingredients
Spaghetti squash, ripe – 1 whole
Olive oil – 15 ml
Grated Parmigiana cheese – 150 ml (divided)
Salt and pepper – to taste
Beans, green, fresh – 200 ml after trimming and cutting
Cooked Spaghetti Squash: Method
1
Pre-heat oven to 375°F
2
Prick the squash with a small sharp knife in several areas of the squash
3
Place squash on a baking sheet and bake for 1 hour, turning halfway through to ensure even baking
4
At the 30-minute point, clean and cut the green beans to desired dimensions (usually about 2 cm long)
5
Steam the green beans with the lid on to lightly cook, but not to the squishy point. Set aside in the steamer with the lid off.
6
At the 45-minute point, finely grate the parmigiana cheese. Set aside.
7
Remove the spaghetti squash from the oven and place it on a cooling rack for 10-15 minutes
8
When cool enough to handle, cut the squash in half, lengthwise
9
Scoop out the seeds and attached membrane and place them in a bowl. Set aside to clean and roast later.
10
Use a fork to strip out the flesh of the squash (it will come out in long thin strands, resembling spaghetti), and place in a warmed mixing bowl
11
Save the empty squash rind shells
12
Add the olive oil, 2/3 of the parmigiana cheese, and the steamed green beans in the mixing bowl.  Season with salt and pepper, and then lightly remix.
13
Place the mixture in the empty squash rind shell and top with the remaining 1/3 of the parmigiana cheese. Enjoy!
To clean and roast the seeds from the spaghetti squash:
Separate the squash seeds from the stringy membrane of a freshly cut squash. Rinse the seeds (and any remaining fibres) in a colander. Spread them on a clean kitchen towel or layer of paper towelling and dry thoroughly. Heat the oven to 375°F, and spread the seeds and fibres evenly on baking sheet for about 15 minutes until the fibres dry out and fall away from the seeds.
Coat 125 ml of these cleaned seeds with 5 ml olive oil and 3 ml of seasoning of choice (Cajun, chilli, or curry powder, for example). Line a baking sheet with parchment paper or aluminum foil and spread the prepared seeds in an even layer. Place in 250°F oven for about an hour, stirring every 15 minutes until they are light brown. Remove and let cool before serving. The seeds can be eaten whole or cracked to remove the inside contents. Store the toasted seeds in an airtight container and substitute them for your usual nut or seed topping. (With credit to What's Cooking America)