Our family has been gathering for a reunion in Algonquin Provincial Park for the last 15+ years until 2020. The infamous introduction of COVID-19 caused our plans to change to camping in a field. Every year my 3 sisters, their kids, my mom and dad, would travel to Algonquin Provincial Park for our week-long Graham family reunion.
To our disappointment, like so many others campers, we were sad to find out that the group camping sites would not be open this year. Mom called the park the Friday before we were to leave just to verify it for sure, but it was unfortunately a no-go. All kids big and small were going to miss jumping off the big rock, bike riding to the blueberry patch and waterfalls, playing volleyball, kayaking, fishing, and so much more.
Quickly we all started to think outside of the box. We were all bound and determined that we would not let COVID-19 stand in our way. Our first thought was to stay at our farm where there is plenty of room to camp, but with only a small pool that comes to your knees, and when you have 23 people, that leaves little to no room to splash around and play. We love each other but that is a little close for social distancing. One thing that everyone looked forward to when we camped on the group site at Whitefish Group Campground, was swimming, kayaking, or canoeing out to a large rock on the lake that we could jump off. Instead, we decided to stay at one of my sisters homes. She has a few acres, a bigger pool and a volleyball net. Things were starting to come together.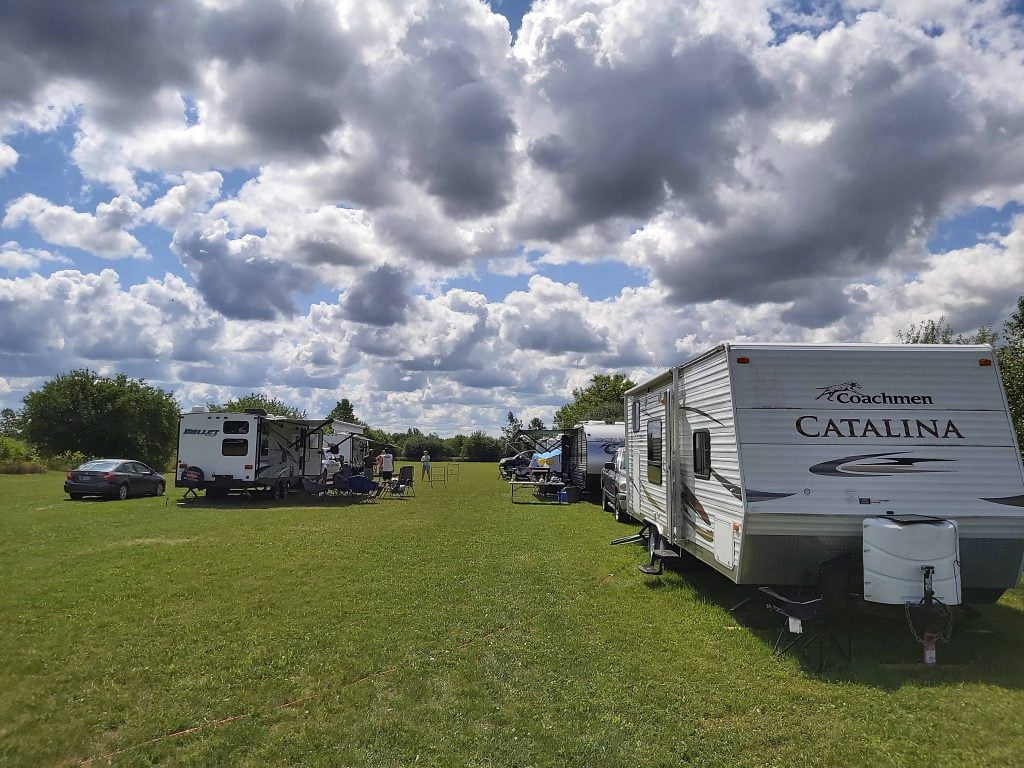 Our annual 3-hour drive just turned into 15 minutes, that was a wonderful thing. Believe it or not, there was no fighting in the truck with my 3 children. I must say for me this was a fantastic benefit. 15 minutes and we were at the campsite.
The first ones to arrive were my parents on the Wednesday afternoon, then my family shortly after, my other sister and her family were next, and last but not least, my oldest sister arrived.  The set up was so easy, drive in the field and park it. There was no back up go forward, back up go forward oh, back up just a pinch and go forward. All campers know the stressful feeling of backing into a campsite. Plus, no fighting from a husband or wife to set up the trailer. The kids set up their tents and as usual, instantly started running and playing just like they would have if we were in Algonquin.
We were still able to play all the activities that we would have if we were in Algonquin. We played the competitive ladder game, which my dad defeated all competitors.  Next was Frisbee, daytime bocce ball and now we have included the glow in the dark version as well and actually held a glow in the dark theme night.  I would highly recommend this as it was so much fun. We found glow in the dark glasses to match the bocce ball set. We matched up the glowing cups to the ball colours so you could always see your partner. Plus, an added bonus was we didn't lose the little white ball.
Instead of bike riding to the volleyball courts, which was half the fun because all the kids would take the bike trail together through the woods, we all just went for a short walk down the field. We were only missing a few activities. We would have been jumping off the rock, which we substituted by doing a swirl around the pool to make a current then just floated around. Kayaking/canoeing to the rock and fishing from the kayaks were also greatly missed.
We are one of the fortunate ones to have had a secondary place to camp. In times like these we all just have to think outside the box. Yes, we can camp from our homes, just pretend you are at a campground.  Whether you camp in the backyard or drive to a campground, take the time to make the most of it. We all just have to remember you can make memories anywhere. The most important part in camping in my eyes is being with family and enjoying the time spent together.