There is no parenting book called "What to do with your kids during a pandemic". When COVID-19 took away the everyday life that we always knew, and had everyone staying home, my husband and I found ourselves both working from home with three kids and a wild Jack Russell terrier. Our oldest, Cameron, is 17 and has found himself doing virtual learning from his bedroom. He has also kept busy with face-timing friends and social distance hang-outs in his school parking lot. We also have two young daughters, Lennon who is 3 and Caelan who is 1.
Working full-time at home with children and a full house is probably the most difficult thing I've ever done, and it put our family under a major strain. Our children were bored and we were overwhelmed trying to keep them busy and happy while keeping up with Zoom meetings and trying to meet deadlines.
After spending a fortune ordering toys and games online to keep them busy for the first couple of months, we realized that all their needs were not being met. They needed quality time with us as a family to take care of their mental health and emotional needs. We were not working from home anymore. We found ourselves living at work. Creating a balance took lots of time and patience. Our kids all of a sudden had lost their friends, activities, child care provider, and play groups. In simple terms, all of their normalcy was taken away overnight. We had to do something to give them some of that normalcy back.
Luckily for us, my husband and I both work in essential services (which we are very grateful for) and we were not out of work like many others were. So, we did what every mentally drained parent would do, and decided to buy a trailer to take the kids camping in.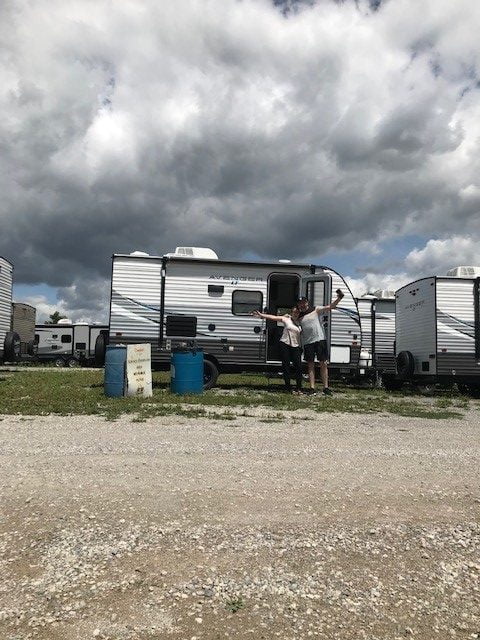 We only have a Dodge Caravan, so finding a trailer that is light enough to be pulled by a van as well as sleep 5 was no easy task. We learned quickly that options were limited and stock was low. It seems that every other family with a minivan had the same idea we did. We went to our local RV dealer, Campkin's RV Centre, in Whitby, Ontario, and they helped us find a small RV that fit all our needs. The problem was that they weren't sure if they would be getting any in before the end of the season. So we didn't hold our breath. To our surprise, they called us a couple weeks later saying they were getting a 16BH Avenger LT on the lot and it was ours if we wanted it. We made the purchase and I immediately had buyer's remorse. I've never camped. What do I know about trailer maintenance? How do we hook this thing up? My husband and I worked together quickly to figure out what we needed to know before towing it and we felt confident enough to try to find somewhere to camp.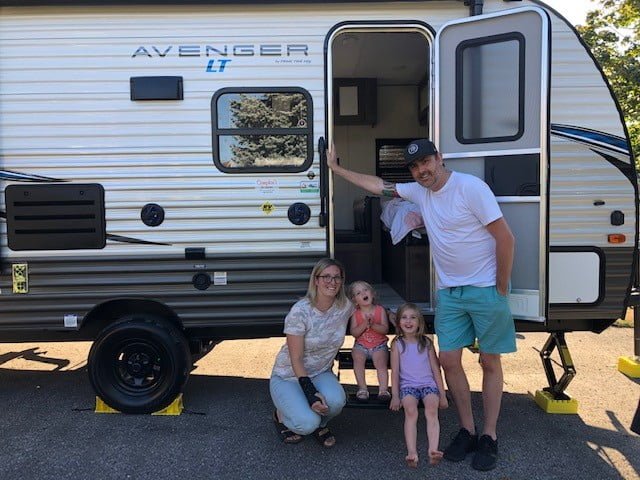 Many places were booked up since it was a shortened camping season with the campground closures due to Coronavirus, but luckily, we were able to find a couple places with availability. We immediately booked our first camping trip to Cardinal KOA in Cardinal, Ontario, which is just outside of Ottawa. We spent 4 nights there with our family as well as my sister's family, who we had created our bubble with a few weeks earlier. It was the first time in months any of us felt safe, relaxed and happy. Our children got to ride bikes, go for walks, had a change of scenery, swim, play at the splash pad and star gaze around the fire while roasting marshmallows and hot dogs. My nephews and niece even taught my daughters how to make spider dogs, which they were very excited about.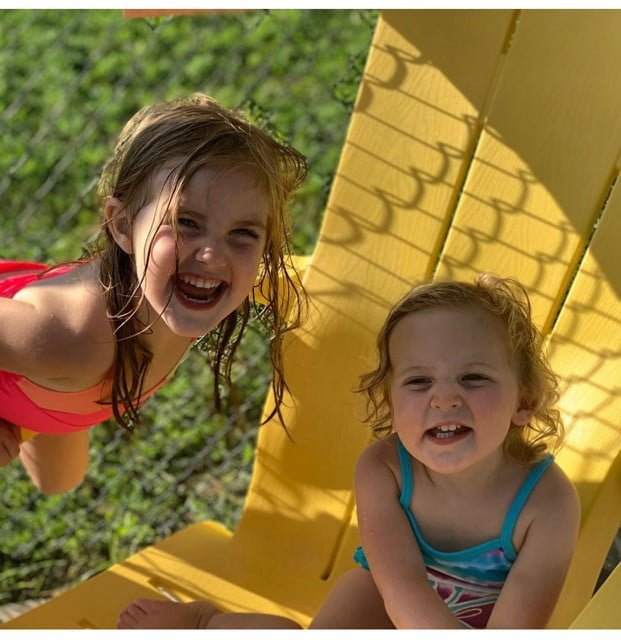 With COVID-19 comes all sorts of worries about camping at a KOA. My family had never been to one and we were first time campers. We didn't know what to expect in terms of safety measures around the park. I have Rheumatoid Arthritis which is an autoimmune disease, we are sole caregivers to my elderly mother-in-law, and my children are still small, so health and safety were our number one priorities. We were pleased to find that Cardinal KOA had taken every precaution to keep guests safe and happy. Masks were worn in all common areas such as the washrooms, the jumping pillow and the store. A limited number of children were allowed in the playground and on the jumping pillow at a time, and we saw the play structures being cleaned and sanitized multiple times a day.
Unfortunately, they had to cancel many of their normal activities, but the children at the park kept busy booking their swim and splash pad times, riding bikes around the park and playing bingo that was announced via our trailer radios. 50/50 tickets were sold at the park as well and our family won the big prize!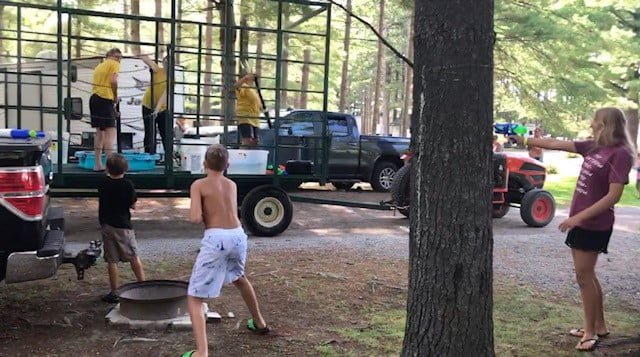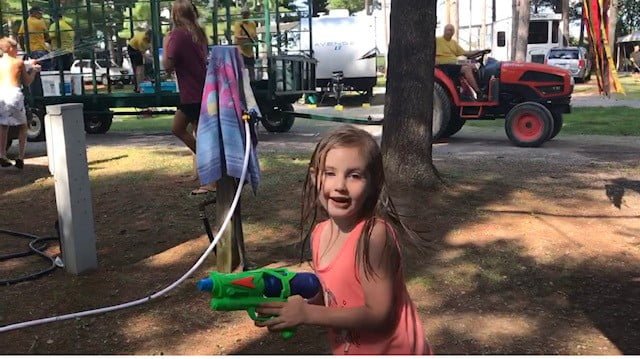 Since we have never been to a KOA prior to this visit, we didn't know what to expect or what types of events they have hosted in the past. We were told that the children usually would get to ride on the wagon and go around the park participating in a big water gun fight. To adhere to physical distancing measures, the staff at the park rode on the wagon while the kids stayed on their own sites and shot their water guns at the staff on the wagon. From where I was standing it seemed that the Dad's at the park had just as much (if not more) fun than the kids during the water gun fight.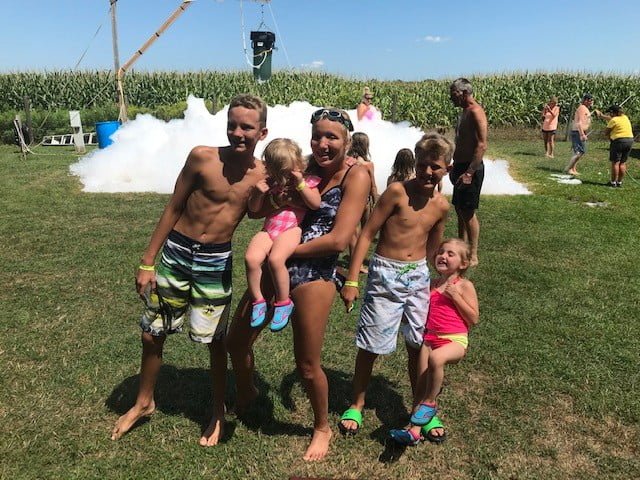 Another activity that was not cancelled was the foam party. They have a machine that produces soapy foam bubbles and the kids were allowed to run around in a sea of foam. We were told in past years, it would be a huge free-for-all and everyone could just hop in the foam and run around. This year they had families go in one at a time for a couple of minutes to run around and enjoy the foam. Some people said they actually enjoyed it more doing it this way. Less chaos and more room to have fun as a family. 
KOA Holiday campgrounds also offer bike rentals. My daughters are too young to ride the bikes alone, but with the help of their big cousins they were able to enjoy a ride around the park on a bike that seats two, and you can ride the bike for only $10 for an entire hour. This was a welcome hour of peace and quiet for the four grown-ups to play cards, nap, take a quiet walk alone, or read a book. The kids all loved riding the bikes and it became a daily activity for them. We were also happy to see how well the staff cleaned the bikes with disinfectant after each ride.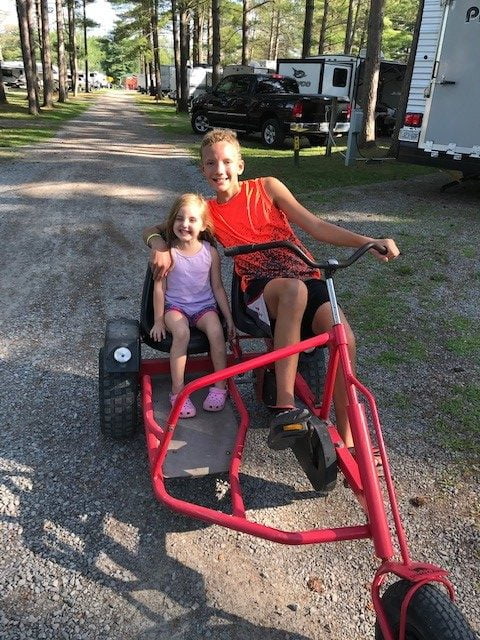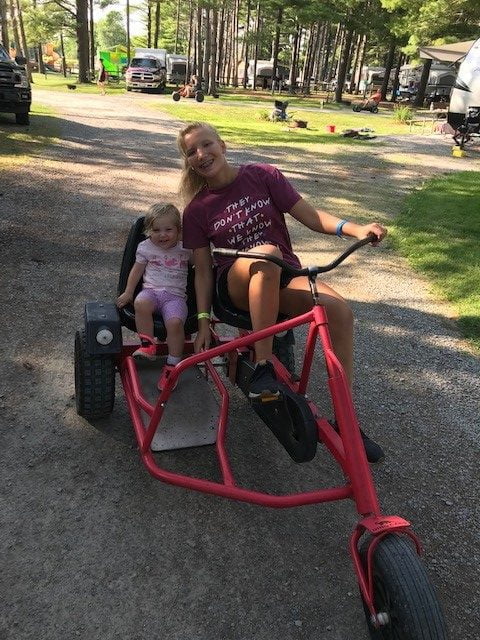 Before we knew it, it was time to pack up and head home from our very first camping trip in our new trailer. Being a family of five who are new to camping, I have to admit that I was pleasantly surprised by the fun we had while camping at a KOA. When we first purchased our trailer, many of our experienced camping friends recommended we go to National Parks and avoid the KOA campgrounds because they didn't consider it "real camping". The time we spent with our family, the fun we had, the memories we made and the excitement on our children's faces from getting to experience new things, was all the "real camping" we needed. KOA campgrounds are the perfect place to camp for young families where memories will be made to last a lifetime.