Ford is bringing an all-new truck to market later this year – and it's a compact with a big impact. Resurrecting a model name from the 70s – the new Maverick compact pickup is partly based on the current Ford Escape. So while it's small, it's also all truck. With this mini market intro, Ford is staking out a new segment in the truck market, one that they inadvertently helped create. How so?
It's no secret that traditional half-ton pickups (like the F-150) have grown to oversized proportions in the past two decades. In fact, when the mid-size Ford Ranger returned to the portfolio just a few years ago, it was the size of a pre-millennium half-ton – no small truck help there.
Of course, the rest of the industry has been moving virtually in lock-step with Ford, as no one wanted to be caught 'short' as it seemed that the market just couldn't get enough of big trucks. Now, we have a surplus of over-large half-tons from all the manufacturers.
But in just the past few years there has been the beginnings of push-back. A vocal group has started saying 'enough! We want a smaller truck'. Ford is answering in a big way with the smaller Maverick – a true compact.
They aren't the only manufacturer who is listening. In fact, new player on the scene Hyundai has also chosen this year to bring an SUV based compact truck to market – the Santa Cruz (one that they showed years ago in Detroit – then sat on). It also looks promising as a compact and has gotten considerable positive buzz. However, Ford's entry, the Maverick, is going to be the real catalyst in this compact category, one that I expect the other truck builders will quickly follow. Just watch Ram – that's my prediction.

The all-new 2022 Ford Maverick is the truck for 'people who never knew they wanted a truck', says Ford. I'm not sure I agree with that statement, but I understand why they expect to draw in new customers to the truck market. I think the bulk of sales, however, will be to current truck owners who will consider the new Maverick the right-size for their needs. So while size is one thing, Maverick is also aiming at the winning trifecta of low price and decent fuel consumption, which will also make it the entry-level truck of choice.
Maverick will be powerful hybrid that promises good fuel economy and will be priced to start at $25,900 in Canada. The fact that Ford released the price at the same time as the truck news dropped shows how serious they are about cornering this market. Right size, cheap on fuel, low entry price – this could be a winner.
Maverick has the Ford pickup truck "look" including the drop-down side windows and a front end that stretches edge to edge, making its looks squat and planted. Despite its size, Maverick's upright and squared off shape is great for space efficiency, inside and out. Maverick is offered in three trim levels – XL, XLT and Lariat. An FX4 package will also be available with the AWD XLT and Lariat trucks. This package will offer more off-road capability; all-terrain tires; suspension tuning and additional underbody protection. There is also an electronic AWD drive mode dial with modes like Mud/Rut and Sand, as well as Hill Descent Control.
Maverick will come as a five-passenger, four-door pickup only. That full-hybrid powertrain has a projected fuel number of 5.9 L /100 km/City – or about 800 kms on a single tank of gas.
Maverick's base engine is a 2.5L Atkinson-cycle four-cylinder hybrid powertrain. It makes 191 hp (this number includes the electric motor) and 155 lb.-ft. of torque pushed through a continuously variable transmission (CVT) driving the front wheels. This base package offers 1,500 lb of payload and max tow of 2,000 lb. However, a second optional powertrain pushes that tow number to 4000 lb. That setup features a 2.0L EcoBoost gas engine making 250 hp and 277 lb.-ft. of torque. The transmission is an 8-speed automatic and comes standard with all-wheel drive.
Out back, Maverick offers what's being called a FLEXBED system. The bed is 4.5 feet long, however the tailgate can add to that length (for a total of 6-feet). It also has a multi-position tailgate that can act as a support for long items like plywood. The bed also has slots to use lumber for subdividing the bed, 10 anchor points, two 12V-20Amp outlets in the bed (prewired for owners' DIY uses) plus two fixed 110V outlets. The bed floor and sides are also conveniently low, so almost any adult can reach over and grab items off the floor.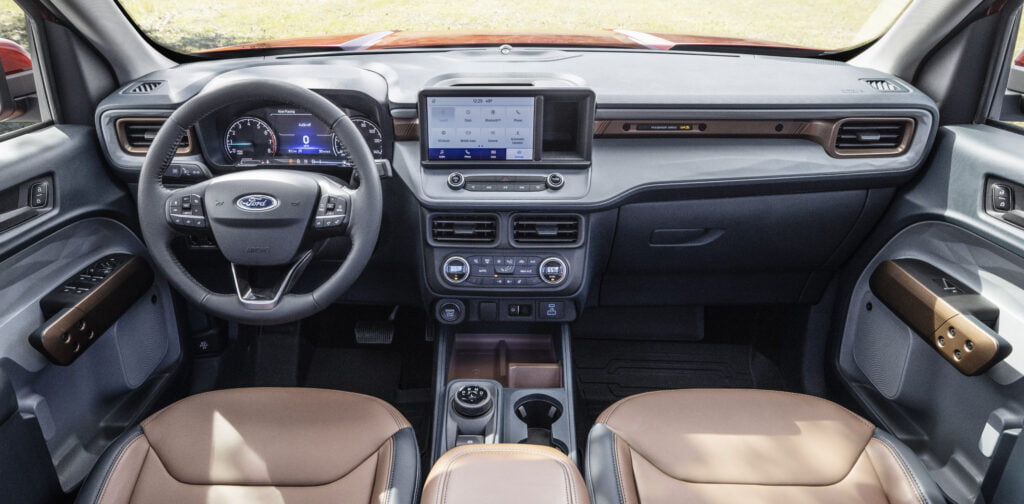 Maverick will offer lots of technology features, including an 8-inch touch screen with Apple CarPlay and Android Auto. Also, it comes standard with FordPass Connect and an embedded modem and Ford Co-Pilot360 technologies like Automatic Emergency Braking and Automatic High Beam Headlamps. Other safety features included standard Pre-Collision Assist.
Optional systems will include Adaptive Cruise Control with Stop & Go, Blind Spot Information System with Cross-Traffic Alert, Lane Centring and Evasive Steering Assist.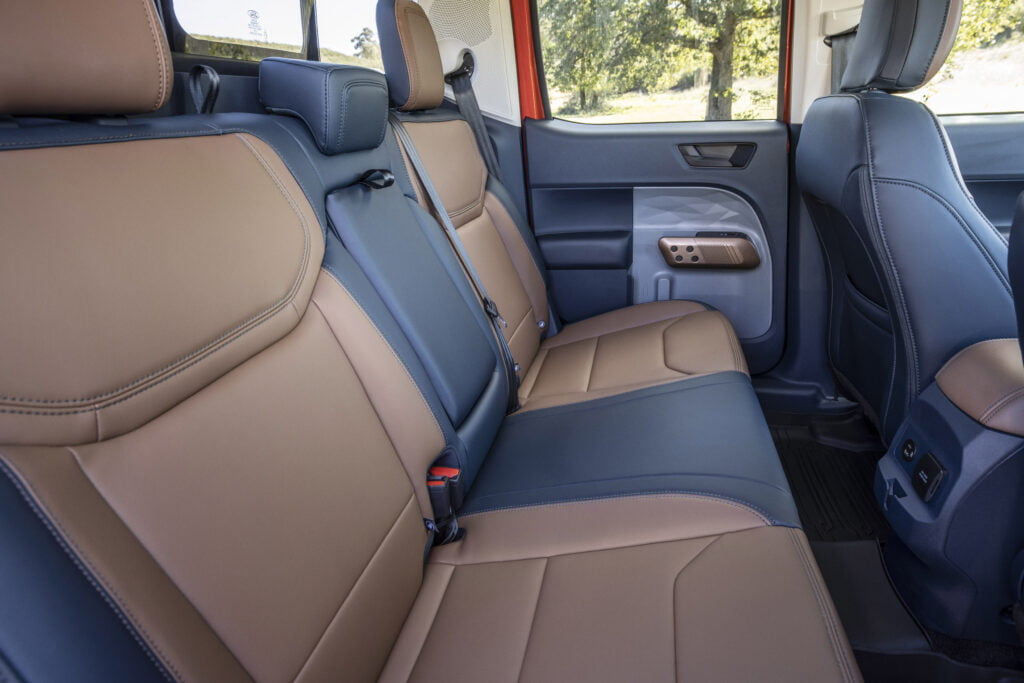 The interior design appears to have thoughtful storage features along with reasonable passenger space from what I can see from the photos thus far. Past that observation I'll have to wait to get into a test unit and see how I fit. That should hopefully be by the end of this summer.
The 2022 Ford Maverick goes on sale this fall. The build and price website is live and orders can be placed today.