The vehicle ferry to Newfoundland is an adventure in itself for mainlanders on their first trip to the Rock. We boarded with our motorhome at North Sydney, Nova Scotia for the seven hour voyage to Channel- Port Aux Basques, NL. The cost for two passengers and our 30 foot motor home was $278, one way. At that price, we determined to stay several weeks to make it worth the passage. By the end of our stay we had no regrets about that cost.
With a motorhome, in the summer, it's best to book your crossing with Maritime Atlantic several days ahead. It's easily done by phone or internet. You will be required to check in and get in line two hours before your boarding time.
Our dog, Sadie was allowed to remain in the motorhome for the sailing, but all human passengers are required to go up to the passenger decks. This was no hardship with abundant padded recliner seating, well stocked cafeterias and stunning views of the Gulf of St Lawrence. Or you can rent a private berth. The day of our crossing was warm and sunny so we enjoyed the outdoor top deck as well.
Gateway to Newfoundland
Port aux Basques, pronounced "port ah bask" by the locals, is the gateway to western NL for around 300,000 visitors a year. It is named after the Basque whalers from the Pyrenees region of Spain and France who sheltered here throughout the whaling season when they whaled along the coast of Labrador in the 1500's.  Prior to these Europeans, the area was inhabited by The Dorset Paleo Eskimo people as a sealing ground.
The scenic village of Port aux Basques and its nearby attractions easily merit a day or two of poking around. The activities range from mild to wild. You can hike beachfront boardwalks, or hike the Harvey Trail to the site of two daring rescues made by the Harvey family. They saved the lives of all on board two separate, storm-battered ship wrecks in the age of sail. You can take in the Hook and Line Museum, amble along wetland nature trails in the Codroy Valley or take a scenic drive to Cape Ray lighthouse.
On the wild side, you can take a marine excursion to a lighthouse for a picnic, have a guided, cultural boat tour or go deep sea fishing. On any of these excursions there is a chance of seeing whales. There is also an adventure tour company that will take you on a guided and informative, side by side ATV tour from the sea to the top of Table Mountain for spectacular views of the seascape.
The closest RV campgrounds to Port aux Basque are about a half hour away on the Trans-Canada Highway East. (TCH)  in the Codroy Valley near the village of Doyle.
Near Port aux Basque we camped in a clearing near a pond on a side road to an abandoned gravel pit off the TCH. We found NL boondocker friendly, and dry camped about half of our time there. But if you are not into boondocking, the RV parks, national parks and provincial parks are reasonably priced and adequate for most RVs.
Corner Brook
A relaxing day's drive north from Port aux Basques is Corner Brook. This must be the hilliest town in NL. But at no time did we feel unsafe navigating the roads of this scenic town in our motorhome. The look out from Captain James Cook National Historic Site is worth taking in. Hikers and walkers dare not miss out on the Steady Brook Falls Trail. The viewing platform at the end of the trail gave us a spectacular view of the falls with zip liners crossing over it.  If you are up to it, you can take the zip line yourself from the base of Marble Mountain, or take the Spider Challenge – a high ropes course in which you can climb to a height of fifty feet for an awesome view.
Shoppers and browsers should reserve a few hours for the unique items packed into the Newfoundland Emporium, then hit the Bootleg Brew Co. for it's charming, spirited atmosphere, live music and great selection of craft beer and food.
There are several RV campsites just north of Corner Brook on route to Gross Morne Provincial Park. I favour Elephants Head RV Park near the village of Trout River, for its scenic mountain views, full, clean services and proximity to all that Gros Morne National Park has to offer.
Gros Morne National Park
The park is named for Gros Morne, the second tallest mountain in NL, which translated from French means, "large mountain standing alone." This park is a national treasure. It would take more than a week to explore it all in depth. Though the mountains of the Long Range are not high compared to the Rockies, they possess a unique and brooding grandeur.
Our first stop was the Visitor's Centre at Rocky Harbour. This is the place to buy a day pass or back country permits and get information on the activities you may want to take in. The park is a hiker's paradise with treks to suit all levels of ability.  There is a 16 km. return trek to the top of Gros Morne (806 m. elevation) which takes you from a lowland ecosystem up to arctic tundra at the top for spectacular views of the glacier carved fjords, Western Brook Pond and Bonne Bay.
That was more than we could handle but the Tablelands Trail captivated our interest. This easy trail goes part way to the flat top of a geologic rarity. It's the only place where the mantle of the earth, normally miles deep below the earth's crust, has been pushed up above the crust by tectonic forces. The high iron content of the mantle rock causes it to become rust red when exposed and gives the Table lands the look of a rock strewn Martian desert. No tree can survive here and only a few highly specialized plants can live in the sparse soil of the tablelands. Even in July we were able to hike up to the remains of winter snow drifts preserved in the shade.
The park developed around the existing coastal fishing towns of Rocky Harbour, Norris point, Woody Point and Cow's Head. Each of these scenic villages is worth a visit. There is a Discovery Centre near Woody Point where you can get the full scoop on the unique geology of the area. Boat tours on the fjords -Bonne Bay and Western Brook Pond will take you on an unforgettable guided tour under soaring cliffs and cascading waterfalls. There is something for everyone in the park.
Of the 5 campgrounds maintained by Parks Canada in Gros Morne, only Berry Hill Campground has water and electrical hook ups and there are only 25 of them so it's best to book ahead if you want a serviced site. There is also a KOA campground at Norris Point, a privately owned Gros Morne RV campground near Rocky Harbour and a waterfront RV park called Waters Edge at Birchy Point. They all have water and electric hook ups, clean services and good recommendations, though the sites seem quite exposed to us mainlanders. We are used to treed campsites but the trees are just not there on rocky seascapes and glacier scoured mountains.
The Cross Roads of the World
From Gros Morne our road trek took us east to Gander to reconnect with a work friend who had moved back here after years in Ontario. Gander has been a significant centre for aviation since trans-Atlantic flights began in the 1930's. Its unique location on a flat landscape just far enough inland from the Atlantic to be free from frequent coastal fog, made it the largest airport in the world during WWII and is nicknamed the Crossroads of the World.
The small North Atlantic Aviation Museum on the TCH in Gander is packed with the rich history of Ganders significance to aviation, from testing the Concorde to its surprising role as host to the world after the 911 attack. Historically significant aircraft are on display outside and indoors. The ten dollar admission is easily worth it.
Beginner's luck for a Mainlander
The highlight and fondest memory of any NL trip will be the people if you take a little time to connect with them. Make connections with locals and you will benefit from insider knowledge on all the best the province has to offer.
Our friend's brother offered to take me cod jigging out on the Atlantic. No license is required to fish in salt water and during the open season a person is allowed five cod per day. It was a thrill for me to ride the swells of the Atlantic on a sunny day to a cod fishing ground then drop a cod jigger on a hand line into the depths and jig up our limit of fresh cod. By beginners luck, the mainlander, (me) jigged up the biggest cod of the day, or so I was told by my guide.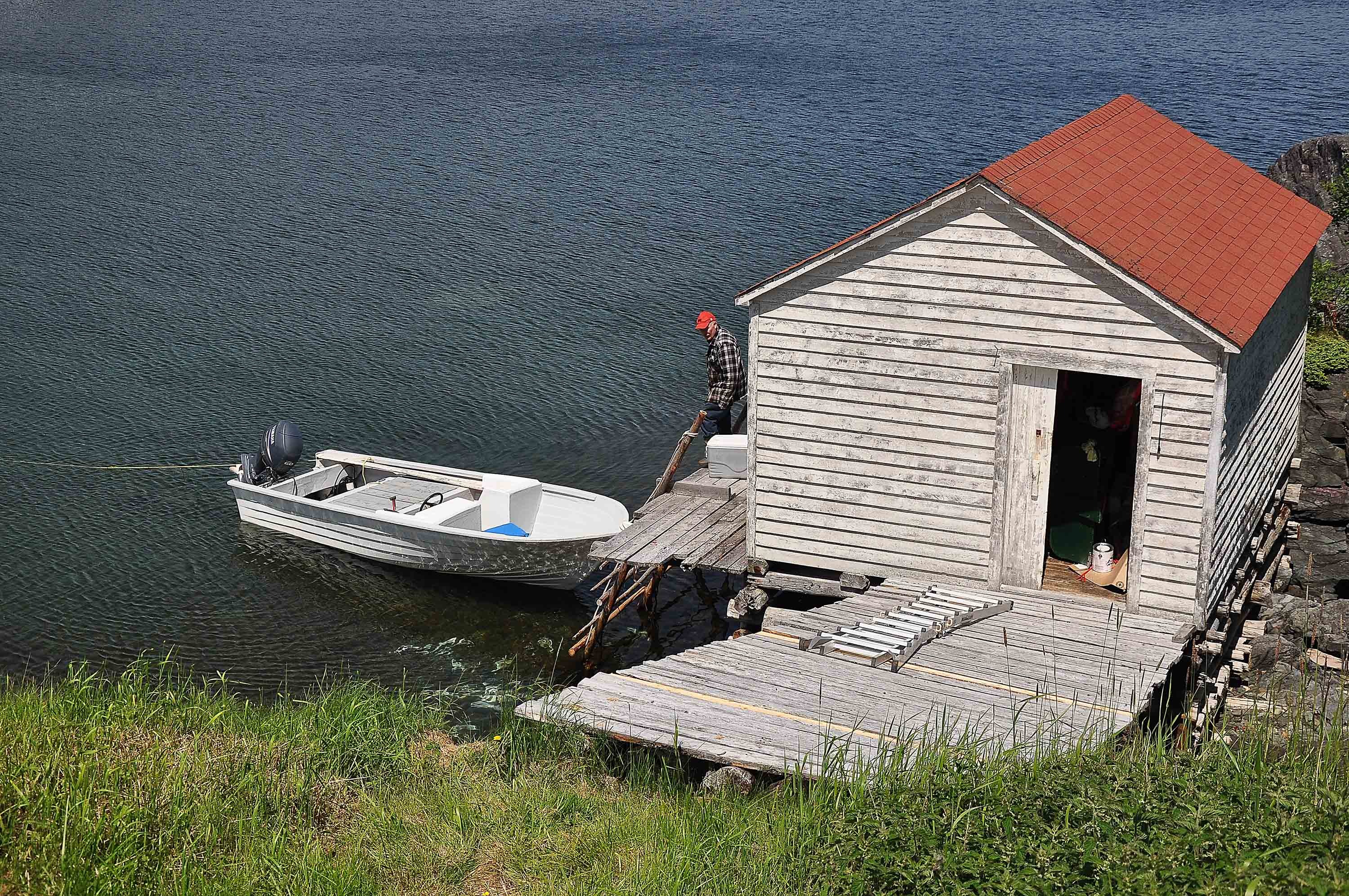 Back on shore at the "stage" or fishing cleaning shack on stilts over the water, we filleted our catch. My five cod went into the freezer of the motor home and fed us all the way back to Ontario. Our friends put on a meal of fresh cod followed by a bon fire outside where we were "screeched in" as honorary Newfoundlanders.
If you want to try cod jigging, ask a local in any coastal fishing village if there is someone who takes tourists out. Some cod fishers are happy to do this and can make several trips a day with different people. The season is specified days in July. The locals will know the schedule when they can take you out or you can look it up on the Official Angling Website for Newfoundland and Labrador.
Fogo Island – The Island off an Island
We made a day ferry trip to Fogo Island with our friend in her car. It's a one hour voyage at a cost of 34.50 return for a car and three people. The whole island has a rugged and unique beauty that looked like something from Tolkien's Middle Earth. With the time restriction of the ferry schedule we were only able to do a driving tour of the island with a stop at the fantastic Fogo Inn and a waterfront picnic at  Joe Batt's arm.
I regretted not bringing our motor home and spending a few days at the Brimstone Head RV Park. This waterfront park can accommodate RVs up to 45 feet with water and electric hook up and a central dump station on site. The park has a stunning view of Brimstone Head, a 300 foot high rock looming up on the seascape and a pristine waterfront. The Flat Earth Society claims that Brimstone Head is one of the four corners of the earth. Tongue in cheek signs on the Brimstone Head Trail warn you not to fall off the earth here.
There are seven different hiking trails on the island, each of them worth the effort to experience an otherworldly intersection of landscape, sea and sky. The ten scenic villages on the island where generations fishermen have lived for a hundred years are all worth seeing.
The sprawling Bleak House Museum was formerly the home of rich fish merchants who processed and sold the fishermen's catch abroad. It's a stark contrast to the tiny, but tidy and brightly painted homes of the fishermen clinging to the rocks on Fogo Island and every other harbour on Newfoundland's rugged, isolated coastline. History and culture lovers will love the museum's display of local artifacts and depiction of life on the island.
The Fogo Island Inn is a high end resort commonly used by the rich and famous trying to escape from their notoriety into a remote, wild and lovely setting. It is the result of the initiative of a local gal Zita Cobb who grew up on Fogo.  She left Fogo and worked for decades in the fast lane of the high tech industry then returned as a millionaire to give back to the place she loved. The 29 suites rent for 1900.00 a night – definitely out of our range, but we were able to take a shuttle from the lower parking lot to the inn to look around the lobby. I don't think that would have happened if former clients, the Trudeaus, the Obamas or a variety of movie stars had been in residence.
Newfoundland is known for unusual place names and Fogo Island has them in spades. Fogo itself could be a miss-pronunciation of the Portuguese word fuego, meaning fire. Portuguese fishermen were among the first to fish NL waters and the northern part of the island has suffered forest fires. Other curious and quaint place names on Fogo are Seldom Come By, Little Seldom, Tilting and Joe Batt's Arm.
We were in Newfoundland over two weeks but didn't get to see half of the island or Labrador. We don't travel far in a day and make frequent side trips to anything that piques our interest. The TCH from Port aux Basques to Gander is a good, smooth highway. Secondary roads run the gamut from good to patchy but we go slowly anyway.
Moose Encounters
Moose on the roadway are a real threat which we tried to avoid by not driving at dusk , dawn or at night.  Even so, we saw five moose on our trip. Three were feeding along the edge of the highway. One was in a town park in Gander. That one charged at our dog which was on a leash. I, foolishly perhaps, ran at the moose yelling and waving my arms. It backed off several steps but eyed Sadie like she owed it money. I let her off the leash to run away but instead she ran toward the moose barking and chased it into the woods. We then left the park so the territorial moose could have it to itself if it returned. The fifth moose we saw while biking along a wilderness forest access road. That one showed no threatening behaviour and after a few seconds disappeared into the thick bush.
'ows She Getting on B'y?
The Newfoundland tongue is as colourful as the scenery. I am told there are 360 dialects of English there. They stem from West County English, Irish, Scottish, Welsh and French accents. Because NL has been so isolated for hundreds of years, their tongue took different turns than the rest of the English speaking world plus they held onto centuries old speech patterns. As well, each fishing port was isolated unto itself for hundreds of years. Without roads, people could travel no farther than they could row a dory in a day, so each village developed its own dialect. A Newfoundlander can tell what harbour a person is from after hearing him speak a few words.
I found the older people more difficult to understand but there was often a young person nearby to interpret. As soon as we spoke, they knew we "come from away" and the legendary down home hospitality became evident. So don't let a colourful turn of phrase or two discourage you from visiting NL.
I allow you'll be 'appy as clam at 'igh tide if you don't shack up in your RV, cause these folks'll put their 'ands down for you to walk on. (They'll go out of their way for you.)