The RV's been winterized and stored, and we've bid "au revoir" to our snowbird full-timer friends as they headed to the border. We're now back to our sticks and bricks life for the next few months and it's a perfect time to think about holiday entertaining!
Subject of course to local public health protocols, our holiday entertaining will be on a much smaller scale than pre-COVID times. But that doesn't mean things have to be any less elegant or fun.
A Sweet History
Sweet potatoes are members of the morning glory family and not related to either potatoes or yams. They are believed to have originated 5,000 years ago in Central or South America and introduced to other parts of the world by Spanish and Portuguese explorers. The first recorded reference to sweet potatoes in England has been found in a cookbook from the year 1604.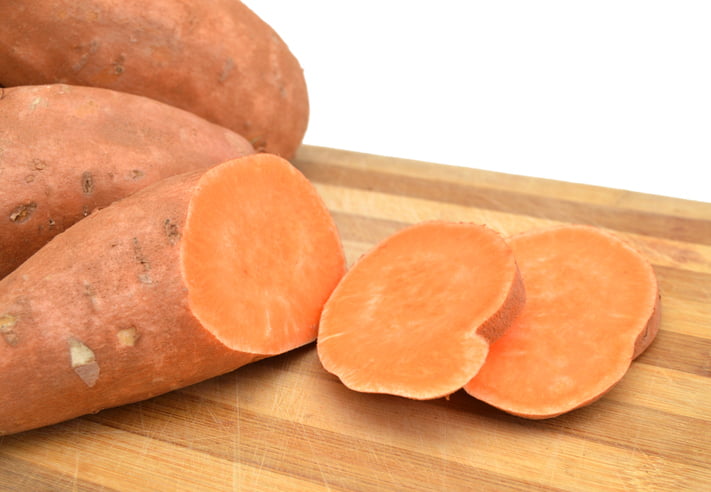 Although many of us refer to yams and sweet potatoes as the same vegetable, they really are two separate entities. Yams are related to lilies and grasses and native to Africa and Asia. Compared to sweet potatoes, they are pale-fleshed, rough-skinned, starchier, and drier. Most species of yams are poisonous when eaten raw and must be cooked before being consumed. Although sweet potatoes are not toxic when consumed raw, they can cause digestive upsets if eaten raw in large quantities.
Canadians Love Sweet Potatoes
In the past 10 years, Canadians have doubled their sweet potato consumption. A little-known fact is that Canada imports 80% of its sweet potatoes (a whopping 66,000 tonnes) annually from the USA. There are two reasons why Canada doesn't have its own robust sweet potato agriculture: Our short growing season and how sweet potatoes are propagated. Unlike white potatoes (which can be grown from seed), sweet potatoes in Canada are grown by planting 'slips' which are vegetative cuttings of other sweet potatoes. Canada imports approximately 24 million sweet potato slips from North Carolina in late May and early June, once soil temperatures there are high enough to promote growth from slips. Until recently, most of Canada's sweet potato crop has been in Ontario, relying on these imported slips. Growing them in other parts of Canada has been challenging due to significant transportation expenses and potential importation complications at the border.
Happily, Canada is on the cusp of being able to grow more sweet potatoes north of the border. Two years ago, plant breeders at the Vineland Research and Innovation Centre developed the Radiance sweet potato, designed to be propagated and grown in Canada and to mature 11 to 20 days earlier than its American counterparts. Now growers in Nova Scotia, Manitoba, Saskatchewan, and Alberta are showing interest in the Radiance sweet potato and we may very well see more "Grown in Canada" sweet potatoes at our local grocery stores soon!
Not only do sweet potatoes taste good, they are also good for you. Sweet potatoes a great source of Vitamin A (from beta-carotene), Vitamins B6 and C, potassium, and fibre.
There are so many ways to enjoy sweet potatoes. How about addictive sweet potato burritos for a weeknight last-minute meal or loaded twice-baked sweet potatoes that you can prepare ahead of time and then finish on your BBQ when RVing? For elegant holiday entertaining, we suggest considering lemony sweet potato pie, sweet potato and chorizo croquettes, or sweet potato fudge (perfect for hostess gifts or cookie exchanges.)
Sweet Potato Galette
One of our favourite recipes for an elegant sweet potato dish for entertaining is a sweet potato galette by Dorie Greenspan from the New York Times. The top of the galette is made up of slightly overlapping rounds of unpeeled sweet potato and apple. It takes about 1 hour to make, in addition to time for chilling and cooking. Here's our slight adaptation: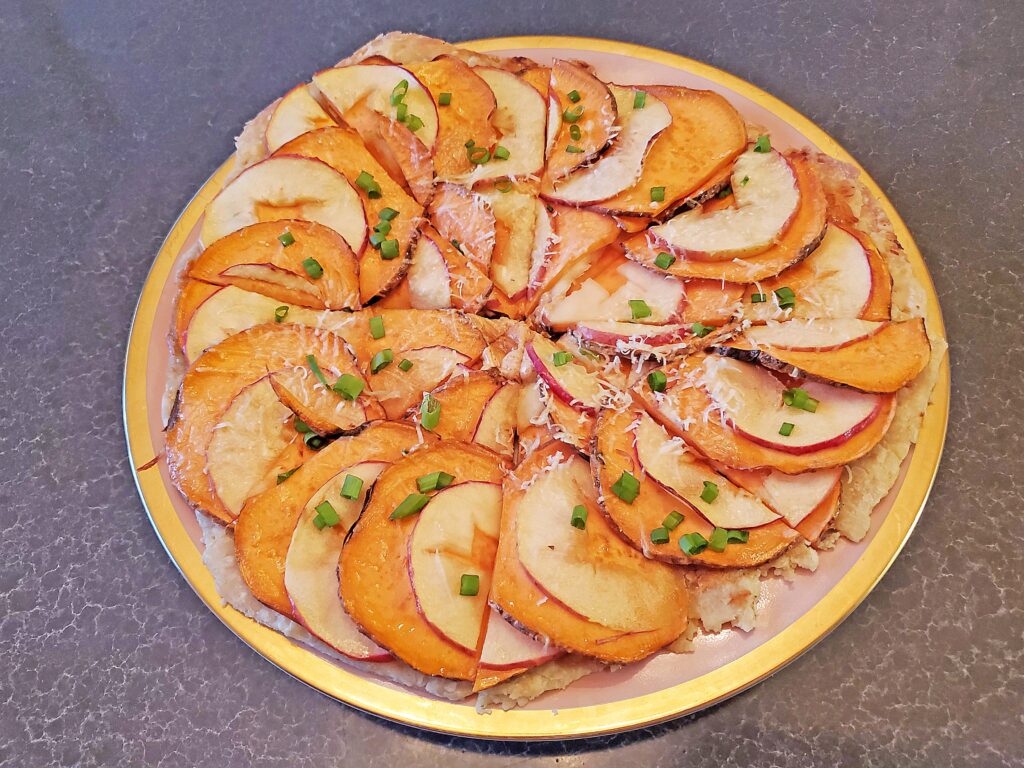 This sweet potato galette serves 6-8 and is delicious warm or at room temperature.
What You'll Need to Make a Sweet Potato Galette
Food processor
Small mixing bowl
Kitchen fork
Rolling pin
Flexible rubber spatula
Parchment paper
Pastry brush
2 baking trays
Medium sized mixing bowl (pre-chilled for 20 minutes in refrigerator
Ingredients for our Sweet Potato Galette
All purpose flour – 220 gm (divided into 2 segments, 200 gm for the pastry and 20 gm for the rolling pin)
Chili powder – 8 ml
Fine salt – 4 gm
Sweet potato – 1 medium
Cold unsalted butter – 115 gm
Apple (green or red) – l large
Very cold water – 90 ml +/-
Chives or scallion tops – 2 or 3 strands (optional)
Regular cream cheese (room temperature) – 85 gm
Extra virgin olive oil – 15 ml
Grated parmesan cheese – 60 ml (divided into 2 segments, 40 ml and 20 ml each)
Maple syrup – 35 ml (divided into 2 segments of 20 ml and 15 ml each)
The Pastry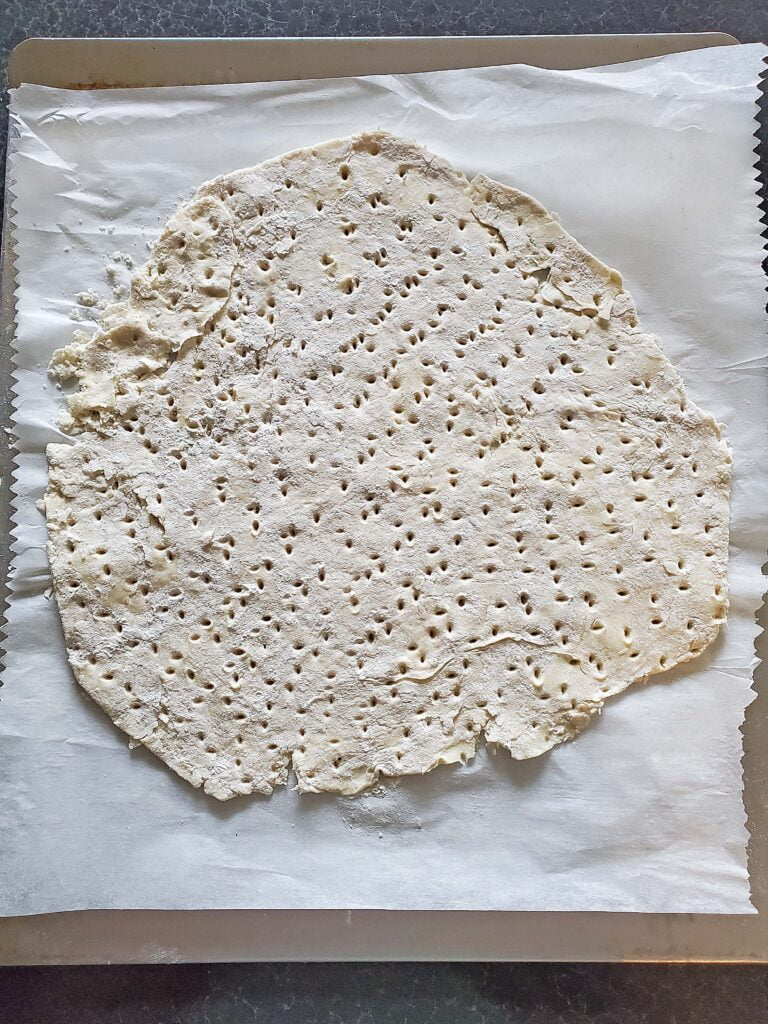 Cut butter into small cubes and reserve in refrigerator.
Add the salt and 200 gm of flour to the bowl of the food processor and pulse briefly to mix.
Add the cubes of butter to the food processor and process in pulses until the mixture feels mealy.
Transfer the mixture into the chilled mixing bowl and add the very cold water.
Stir quickly with a fork to mix into a dough.
Pour the dough mixture onto parchment paper. If any crumbs have escaped, add them back into the dough.
Roll the dough mixture into a disc 30 cm in diameter, evenly thick. Discard any raggedy edge trims.
Using the tines of the kitchen fork, poke holes across the entire surface of the dough mixture.
Transfer the dough mixture and the parchment onto a baking tray. Cover with another layer of parchment paper and weigh it down with a second baking tray. Chill in the refrigerator for 1 hour.
Pre-heat oven to 400F.
Remove the mixture from the refrigerator (keeping it between the two pieces of parchment paper and the two baking trays) and bake for 15 minutes.
Remove the top baking tray and parchment and bake uncovered for a further 9 minutes.
Remove the pastry disc from the oven and allow to cool.
The Topping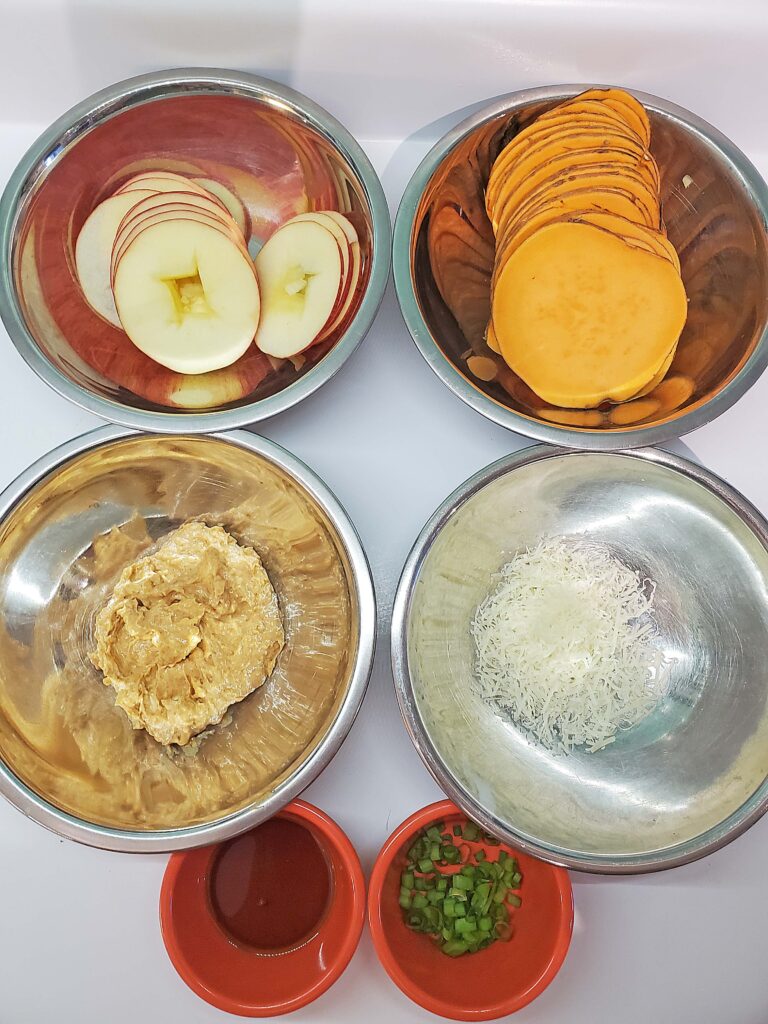 In a medium bowl, mix the cream cheese, 40 ml parmesan cheese, 20 ml maple syrup, and chili powder. Use flexible rubber spatula to make a smooth paste.
In a small mixing bowl, combine the remaining 15 ml of the maple syrup with olive oil and stir together with pastry brush.
Clean and "trim up" the sweet potato (chop and discard each end). Do not peel. Thinly slice the sweet potato into discs 2mm thick.
Wash and core the apple (keeping the apple fully round). Do not peel.
Slice the apple into discs 2mm thick.
Spread the cream cheese mixture evenly onto the pastry disc, keeping a 1 cm border around edge.
Lay the potato and apple discs onto the cream cheese, placing them out to the edge of the pastry disc, in overlapping concentric circles.
Using the pastry brush, brush the maple syrup and olive oil mixture evenly over the galette to cover thoroughly.
Sprinkle the remaining 20 ml parmesan cheese on top.
Bake the galette for 20 – 24 minutes, until the sweet potato discs are softened.
While the galette is baking, chop the chives or scallions into medium-sized pieces and set aside.
Once baked, remove the galette from the oven and top with the scattered chopped chives or scallions.
Cool for 10 minutes before cutting and serving.
Galley Kitchen Hack
The leaves and shoots of sweet potato plants are edible and can be used in place of spinach, kale, chard, and other greens. They can be wilted in a skillet or stir fried with other vegetables.
Boiling sweet potatoes retains more beta-carotene and makes the nutrient more absorbable than baking or frying. Up to 92% of the nutrient can be retained by limiting the cook time, such as boiling in a pot with a tightly covered lid for 20 minutes. Cooking with the skin on further helps to minimize leaching of nutrients including beta-carotene and vitamin C.
Enjoy a safe and healthy holiday season and bee kind!