Its such good news that campgrounds and museums are carefully reopening after the COVID-19 lock down. Although some inter-provincial travel restrictions still exist at the time of this writing, we certainly have plenty of choices as we venture out in our RVs.
Are there local museums and farmers' markets that you've always meant to visit? This summer is an ideal time to add them to your RV travel itinerary!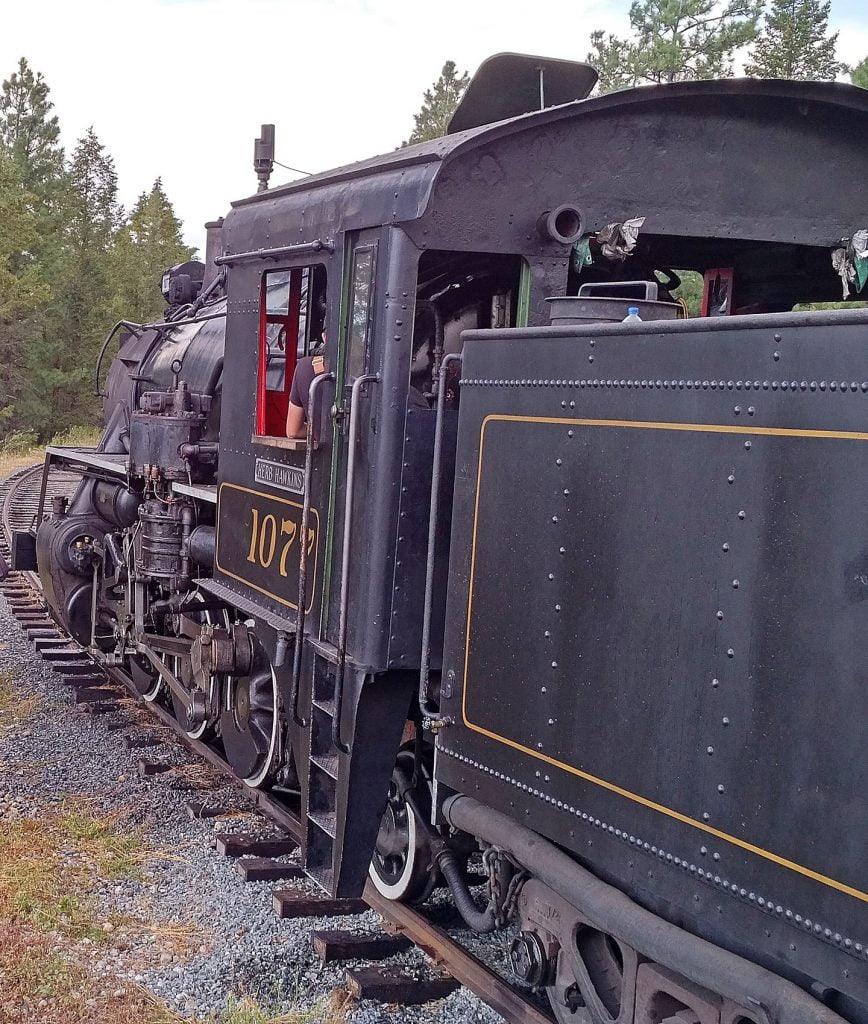 Railroads and RVs
Have you noticed that some of the features of today's RVs harken back to the design of the original railway passenger and dining cars in the mid-1800's? Just as the width of the railway car was limited by the railbed gauge, RVs today are governed by the width of a highway lane (8 feet). Just like today's RVs, railway cars were self-sufficient with EWS and a central aisle. Sleeping cars had their own beds, bathrooms, and built-in cabinetry to store luggage and hang clothes. The father of modern passenger railway design was George Pullman. His brother Albert was known for the fine millwork that made the Pullman cars famous and may even have influenced RV cabinetry design 170 years later[i]. For those who could afford it, travelling by train was the height of luxury with full-service meals served on white linens, fine china, and silver flatware. Up until the First World War, Canadian elites travelled by train to spend their summers at luxury hotels such as Banff Springs and Lake Louise where they experienced their own versions of "glamping".
All this changed with the introduction of the automobile and paid vacations for workers. For the first time, people could choose when and how they travelled and were no longer restricted to railway schedules and destinations. By the mid-1920's early motorhomes were built including REO's "Speedwagon Camper" and Hudson-Essex's "Pullman Coach". As the design of trailers became more refined, there were a reported 100,000 trailers on American roads in 1937. Popular Mechanics at the time predicted that "tin-can tourism" would result in America becoming a nation of nomads with half the population living in rolling homes.[ii] Forty years later, the same magazine reported that Winnebago and Orlando Helicopter teamed up to retrofit surplus Sikorsky helicopters to make the Heli-Home "the most dramatic, comfortable, convenient, and unique RV in the world", sleeping six and with optional floats if you wanted to land on water.
Museums and Farmers' Markets
Your Galley Chef spent his student summers as a dining car steward on CN's Vancouver-Winnipeg transcontinental route. It's perhaps not too surprising therefore that he has a soft spot for railway-related museums. If you're travelling in BC and Saskatchewan this summer, here are three railway museums to consider. We recommend checking for the latest updates on COVID-19 impacts before visiting: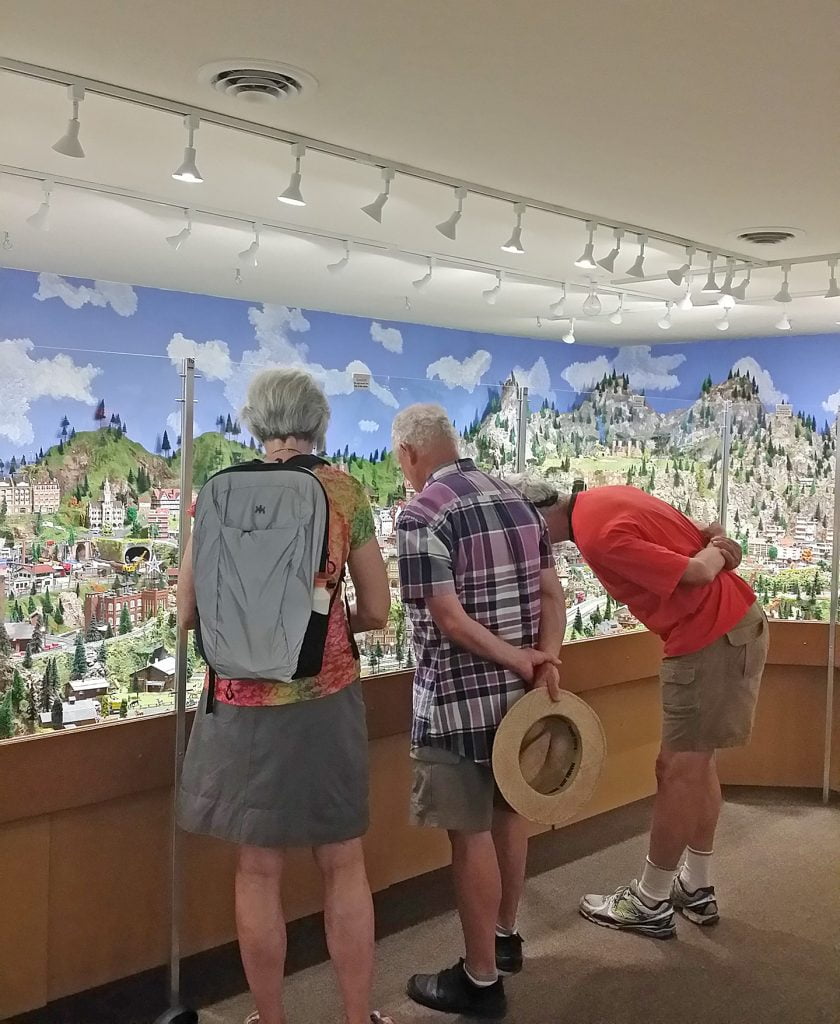 The Osoyoos Desert Model Railway, featuring 4000 square feet of 45 electronically controlled miniature trains travelling on 2 km of indoor tracks. The NK'MIP RV Campground and Park is an excellent place to stay while visiting the museum.
Fort Steele Heritage Town, featuring a 20-minute train ride pulled by steam engine Locomotive 1077 and a platform to view the townsite of Fort Steele and the Kootenay and St. Mary Rivers. Fort Steele Resort and RV Park is a short walk away and where emus and horses camp next door. Although we haven't had the chance to visit it ourselves, the Cranbrook History Centre is a only 15 minute drive away. Its collection includes a 1920's luxury train with inlaid mahogany, plush velvet seats, and polished silver dinner settings, as well as a model railway.
Herbert CPR Train Station Museum, occupying a restored 1908 train station with local Canadian Pacific railway artifacts and a model railway system. As with so many small towns across Canada, the railroad was the link to the outside world. Everything from hardware supplies, food and drinks, cloth, soap, and livestock arrived by train. Starting in 1916, disassembled Model T Fords were shipped to Herbert in CPR boxcars, re-assembled there, and sold locally. The Herbert Ford dealership operated until the 1940's. Herbert is 200 km west of Regina.
Another way to enjoy this summer safely is to visit a local farmers' market. Supporting our farmers' markets helps the local economy, preserves rural livelihoods, increases access to fresh and nutritious food, and supports healthy communities. Not to mention, it's a fun outing!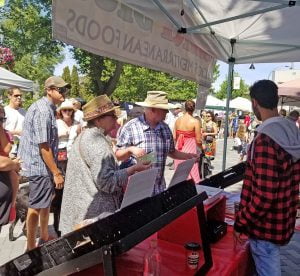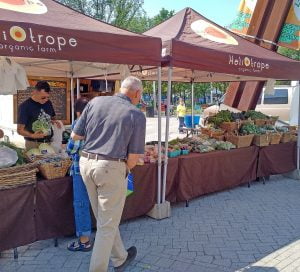 Outdoor Picnics
How about making a picnic lunch to enjoy after you've visited a museum? Even better, how about making the picnic with items that you've purchased from a farmers' market? Visiting an outdoor farmers' market and enjoying a picnic outdoors provides us with the opportunity to practice "People Outside Safely Together" including maintaining physical distancing by staying at least 2 metres away from others.
A picnic can be made extra-special using cloth napkins and tablecloth and packing attractive plates, glasses, and utensils. Remember to also include a cutting board and knife, ice packs and/or thermos, a picnic blanket, hand sanitizer, paper towels, a bottle opener, and a bag to package things up afterwards. A roomy and attractive backpack, cooler, or hamper is important too.
Here's something to consider for your picnic: How about roasted "steaks" made from celeriac or cauliflower? Celeriac is the root of the celery plant. Although available year-round, celeriac is sometimes easier to find in the autumn. If you can't find celeriac at your farmers' market right now, substitute cauliflower. If you're going to use cauliflower, look for fresh and firm cauliflower heads that feel heavy for their size and are free of blemishes and soft spots. Avoid mature heads of cauliflower for this recipe as there'll be a greater chance that the florets will separate during cooking.  You can serve these steaks formally on a plate with other roasted vegetables, or informally as burgers served in a bun with lettuce and other toppings in addition to the onion and chermoula.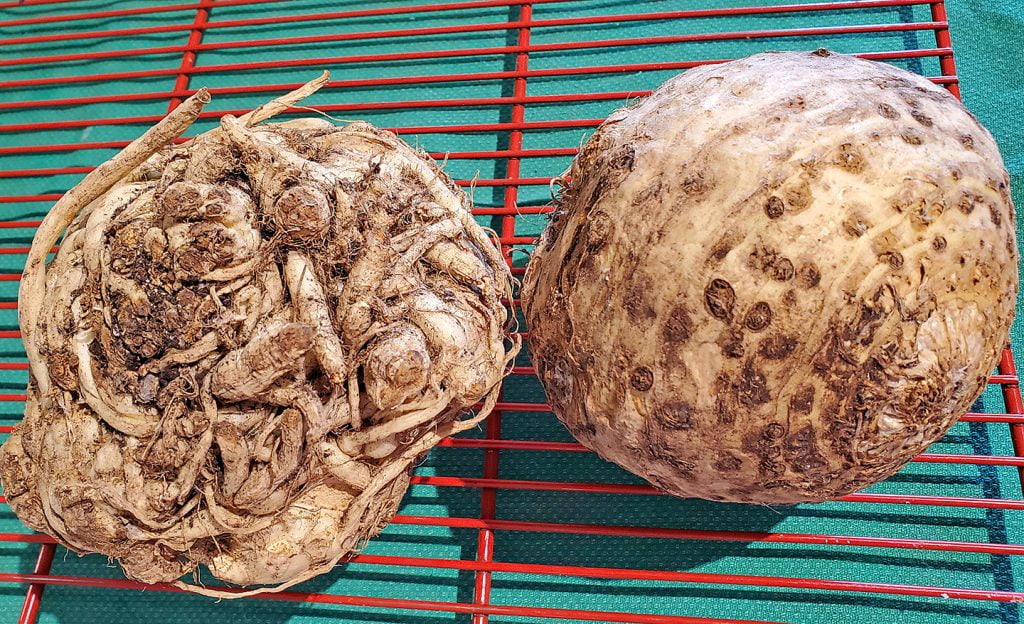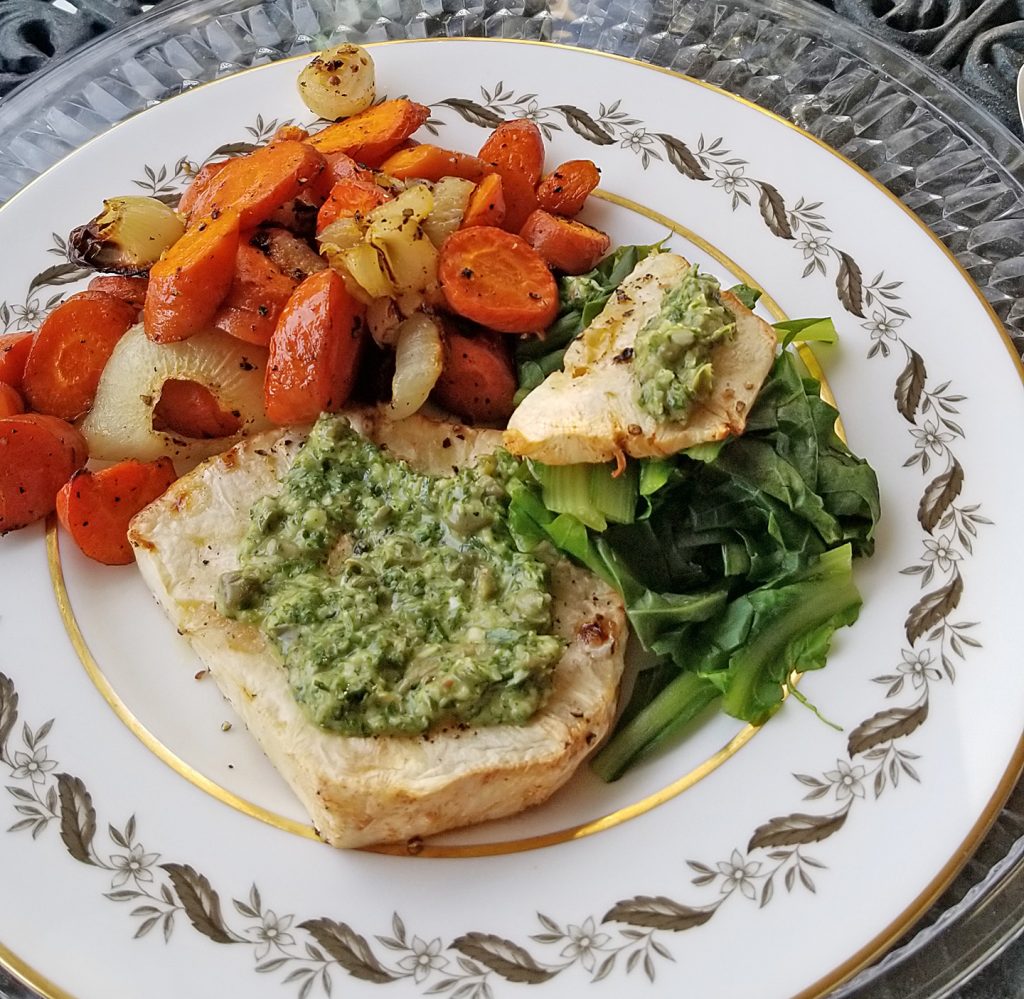 Roasted Celeriac Steaks with Chermoula
Ingredients (Makes 4)
For Steaks
Celeriac (or cauliflower) – 1 large
Sweet Onion – 1 large
Extra virgin olive oil – 100 ml
Salt and pepper, coarsely ground
For Chermoula (Moroccan Sauce)
Fresh cilantro, large stems removed – 200 ml
Lemon juice – 30 ml
Garlic – 4 cloves
Ground cumin – 3 ml
Paprika – 3 ml
Cayenne – 2 ml
Salt and pepper to taste
Instructions
Pre-heat oven to 450 F and settle, with oven rack in middle.
Clean and trim up celeriac. Rinse and dry.
Cut celeriac vertically into 4 even slices, about 1 cm thick (or to taste), each side being mostly flat. Some outside bits may need to be removed.
Arrange slices evenly on a roasting pan or rimmed baking sheet.
Gently drizzle the slices with oil and then smear the drizzled oil to cover the tops and sides of the celeriac.
Grate coarse pepper and salt over each celeriac slice.
Turn slices over, re-oil and grate coarse salt and pepper again.
Cover the baking sheet entirely with aluminum foil (shiny side towards the food). Tuck in the edges of the aluminum foil tightly around the rim of the baking sheet (not around the food).
Roast in oven for 12 minutes.
While the celeriac is roasting, peel and trim up the sweet onion.
Cut onion vertically through root end.
Cut onion again, root end to top, making long slim slices that are half-moons.
Separate all the slices in a bowl, add some oil and more salt and pepper, then toss to completely coat onions – reserve.
When the 12 minutes are up, remove the tray from the oven (keeping oven door closed and oven turned on).
Remove the aluminum foil from the baking sheet.
Add onions in between celeriac slices.
Return the baking sheet to the oven and cook for another 8 minutes.
Open garlic buds and remove the anima from each.
Make the chermoula by adding all ingredients to a food processor and blitzing into a rough mixture. Reserve.
After 8 minutes, remove the baking sheet from the oven (keeping oven hot as above), and turn the celeriac slices over.
Roast again for another 8 minutes or until the celeriac browns at the edges and the onions are well roasted.
Remove from oven, plate, and serve with chermoula on top, smeared to cover.
Here's to a safe and healthy summer, open air picnics, and exploring closer to home. Be kind!
[i] Behrend, George, Luxury Trains: From the Orient Express to the TGV, The Vendome Press, 1982, p 12
[ii] Lofgren, Orvar, On Holiday: A History of Vacationing, University of California Press, 1999, p 61