One of the delights of having a seasonal RV site is the opportunity to learn from our fellow RVers. This year we've been learning how to grow vegetables from our home on wheels. Some of our fellow RVers have planted extensive vegetable gardens, including green and yellow beans, corn, tomatoes, zucchini, snow peas, cucumber, collard greens, and kale. They also grow jalapeno peppers, chives, rosemary, cilantro, basil, parsley, mint, and chicory. Some even pickle their cucumbers and garlic from their trailer!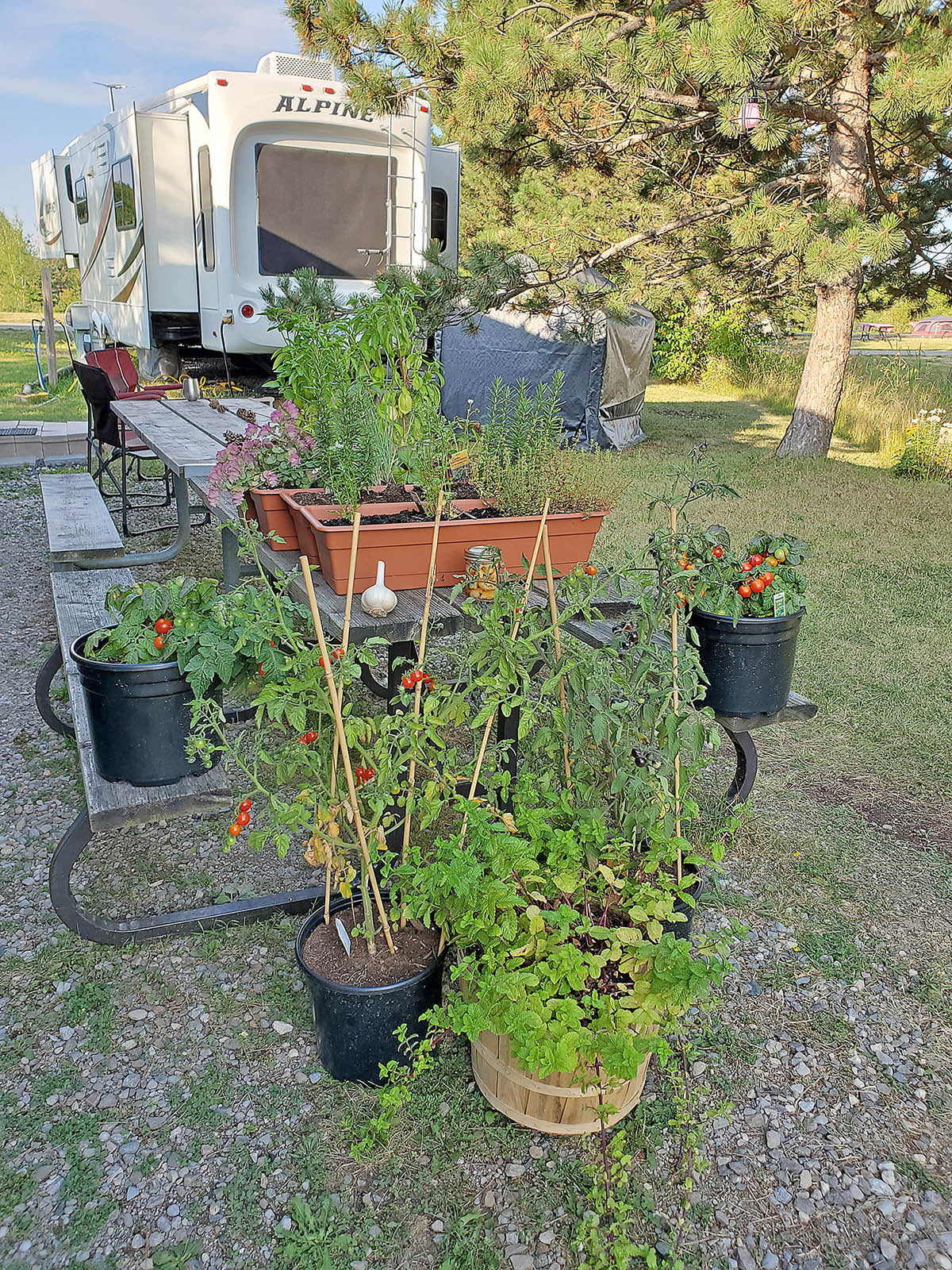 Are you thinking of planting a vegetable garden while living in your RV? Your first step is to check any restrictions from the site owners. If you cannot establish your garden beds directly in the ground, you can still grow a bountiful harvest in containers. Most RV parks are built on marginal quality land, so containers or raised beds are the easiest route to starting your garden
Here are a few things to keep in mind if you go the container route. Ensure that your containers allow for adequate drainage and that you use high-quality potting soil for edibles. Regular watering is also critical. This may mean that in the height of summer, you'll water your garden at least once and maybe twice a day (especially for tomatoes). Always keep the soil evenly moist – but not soaking wet. Apply the appropriate fertilizer regularly.
Fertilizer comes packaged with three numbers that can mystify many of us. Each number refers to the NPK ratio: Nitrogen, Phosphorous, and Potassium. If the fertilizer is 20-12-20, the ratio is 20 nitrogen to 12 phosphorus to 20 potassium. Leafy vegetables, such as lettuce, spinach, kale, and chard, grow best with a higher nitrogen ratio. In contrast, root vegetables such as carrots, beets, and parsnips benefit most from a higher phosphorous number. Tomatoes prefer a higher potassium number.
Another benefit from hanging out with our green thumb neighbours? They donated some of their bounty for our RV community "Dinner on the Road" potluck celebration at the end of August. Now that's an example of growing and eating locally!
Zucchini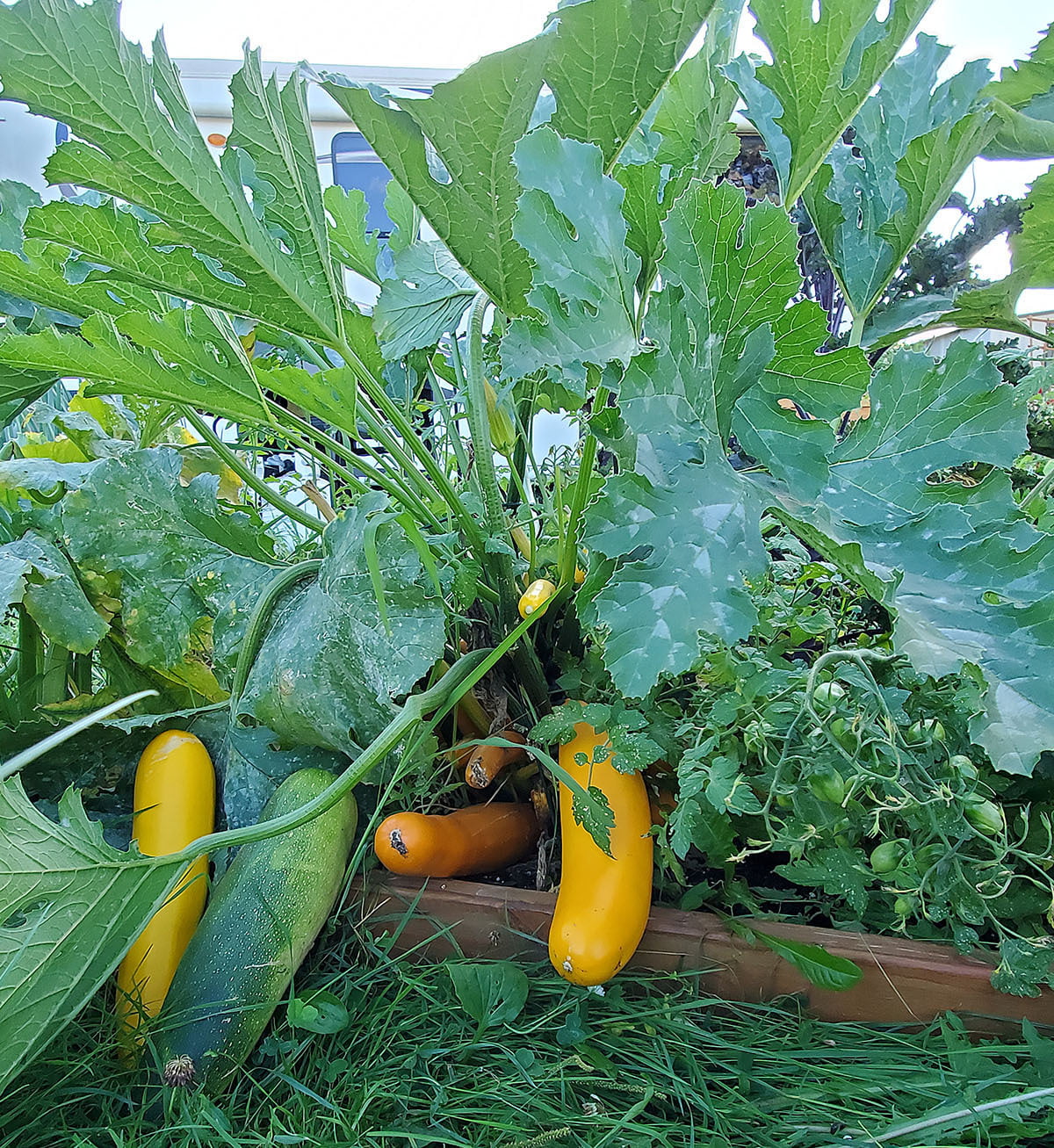 One of the easiest vegetables to grow is zucchini. Low in calories and carbs, zucchini is high in fibre; a single plant provides almost all of one's daily Vitamin C needs.
There are so many ways to prepare zucchini. You can eat it straight from the vine, including the skin. You can also eat the stems and the flowers.
Zucchini Boats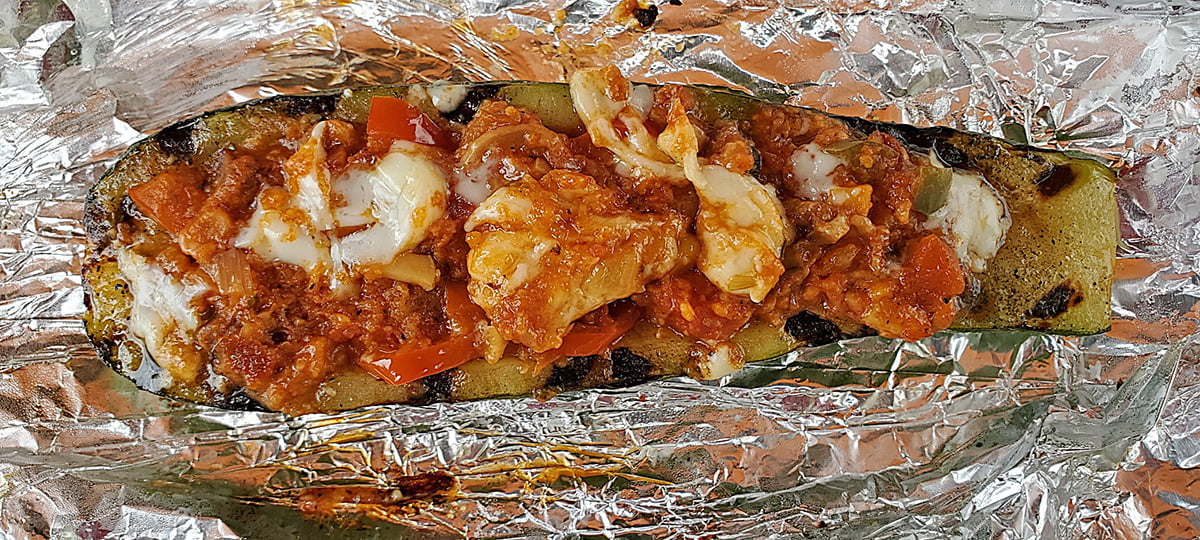 Plan on one zucchini per person for a main and half a zucchini for an appetizer
We used some smaller green zucchini, jalapenos, basil, rosemary, and tomatoes for our zucchini boats. Delicious and easy to make – on the BBQ or finished in the campfire
Ingredients
3 fresh firm zucchinis, cleaned and cut lengthwise
4 medium cremini mushroom tops, roughly chopped
25 ml of unsalted butter
125 ml of roughly grated old Cheddar cheese
125 ml of roughly grated Mozzarella cheese
1-2 garlic cloves, crushed
½ yellow onion, finely chopped
350 ml tomato sauce
1 jalapeno pepper, seeded, finely diced
20 ml extra virgin olive oil
60 ml water or stock, as needed
1 medium fresh tomato, cut into cubes
10 ml smoked paprika
20 ml basil leaves (chiffonade)
1 generous sprig of rosemary
Camelina or flaxseed oil – for BBQ prep and smearing on veg – 100 ml
200 ml breadcrumbs
A dash of fresh ground pepper

Method

To make the zucchini boat filling

1. Heat butter in small pan and sauté mushrooms, hit with fresh-ground pepper just before removing from heat – reserve.
2. Sauté garlic in extra virgin olive oil medium heat only (to create infusion).
3. Add onion to extra virgin olive oil, sauté for about four minutes. If onion starts to caramelize, reduce heat.
4. Add jalapeño and stir to coat.
5. Add a little water, and cover for about three minutes to soften the pepper
6. Add tomato sauce, stir thoroughly.
7. Add basil chiffonade, diced tomato, and paprika and stir in.
8. Add whole sprig of rosemary and push down into sauce.
9. Simmer for about 30 minutes, adding a little water (or stock) if too thick.
10. After 30 minutes, remove rosemary sprig from sauce.
11. Add mushrooms to sauce and stir in.
12. Add cheddar to sauce and stir in.
13. Stir in breadcrumbs.

To make the zucchini boats

1. Remove centre seed pulp from each zucchini, keeping an intact thick 'boat'.
2. Brush or smear camelina or flaxseed oil on the zucchini, inside and out.
3. Heat BBQ to 400 and brush a little camelina or flaxseed oil on the BBQ grates to prevent sticking.
4. Grill the zucchini "insides-down" for six minutes, then turn 90 degrees (to put on nice char marks) for another six minutes.

5. Remove from BBQ. Place each zucchini half on a 35 cm square of tinfoil, shiny side up, open boat up (as if you are looking at a canoe).
6. Fill the boats generously with the prepared filling and top with shredded mozzarella cheese.
7. Fold up tinfoil loosely around each boat and seal by crimping edges together tightly with fingers.

8. Place foil pouches on BBQ, or onto campfire coals, crimped edges up for 12 minutes.
9. Remove pouches from BBQ, and either remove boat and serve, or put pouches directly onto service plates or sharing platter.