over three million people attend the Texas State Fair in Dallas each September. That's enough to show off new trucks in a unique and special area featuring all the brands. This is something they have been doing since 1913, and just one reason why I think it's worth the time to attend.
F-Series is celebrating its 75th anniversary!
While there this year, I looked at the just-released next-generation 2023 Ford F-Series Super Duty, a favourite among RVers. It was interesting to note that a sticker on the upper windshield of the truck is celebrating the 75th anniversary of the F-Series this year – yes, it all started in 1948.
Much of what's new in this Super Duty is unseen as it's buried in the electronics, which offer more technology and driver assistance features than ever before.
For instance, embedded 5G capability, enabling faster mapping, Wi-Fi and Ford Power-Up software updates while driving, plus all-new Trailer Navigation identifies the best real-time drive route to take based on your trailer size.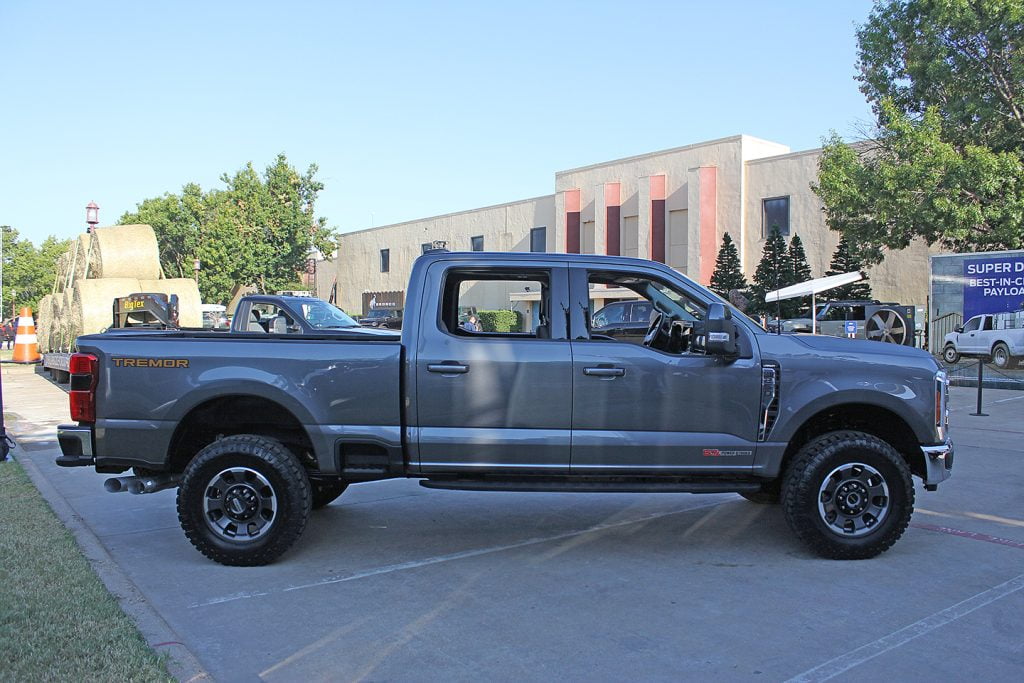 Safety and Security
Some safety and security technology includes:
Intelligent Adaptive Cruise Control with Stop-and-Go and Lane Centering – it automatically brakes and accelerates to a preset speed and helps keep the truck in its lane.
Trailer Theft Alert will send an alert via the FordPass app should anyone attempt disconnecting the trailer when the truck is locked.
Forward/Reverse Sensing System helps drivers by showing objects immediately in front of the vehicle and warns when objects are near the front or rear of the vehicle. This feature can also include Front and Rear Brake Assist, which automatically helps prevent low-speed collisions by automatically detecting objects that may otherwise be hard to see.
Full-colour Head-up Display helps keep eyes on the road by showing information in the driver's line of sight that changes with driving mode.
Ford's Pro Power Onboard provides power at a job site or a campground.
At the moment, no new power numbers or weight limits have been announced.
We expect those in the new year. Based on past performance, Ford will aim at its competition and outdo them. When numbers are announced, expect them to be best-in-class. Ford has said, "New Super Duty targets the most towing, payload, torque and horsepower of any heavy-duty full-size truck. Thanks to four engine choices, including an all-new standard 6.8-litre V8 gas engine and new high-output 6.7-litre Power Stroke diesel V8".
In addition to these two powertrains, you can opt for the regular output 6.7L diesel or the 7.3L gas engine. Both are also being returned and offer no power numbers right now. All four of these engines are mated to a 10-speed automatic transmission.
Look inside the new Super Duty cabin and new electronic and comfort features.
An 8-inch centre display comes standard on the XL model; a 12-inch display is standard with all higher trim levels.
Available customizable 12-inch digital instrument cluster.
Four USB power ports and an available wireless charging pad.
Centre console slot that holds a tablet upright makes using it easier when parked.
Available Max Recline Seats that fold almost horizontally and lift the seat bottom for a nearly flat surface to maximize comfort during downtime.
Available 640-watt, eight-speaker B&O Sound System or 1,080-watt, 18-speaker B&O Unleashed Sound System by Bang & Olufsen for a fully immersive audio experience.
Alexa Built-in hands-free experience with complimentary connectivity to Alexa for up to three years.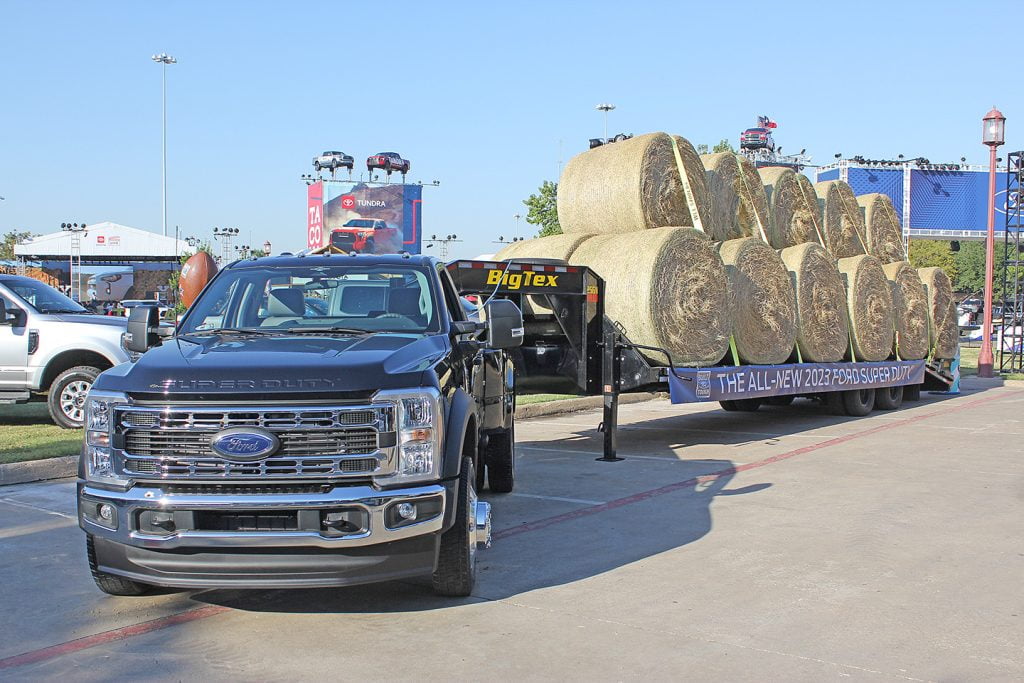 Also displayed at the Texas State Fair was a Super Duty outfitted with the off-road Tremor package. This adds more off-road 4WD capability (with locking axles). This trend can be seen in all the brands as I saw Ram and GM also offer a Rebel, ZR2 and AT4-X version of their HD trucks at the Fair.
Shortly, I'll have more news on the other brands, as they are all updating their Heavy-Duty offerings in the next few months.