This is an update adapted from an article written by Barb Shaw for kawarthaNow in 2018 that was also picked up by Global News.
Bancroft, Ontario is a small 'close-knit' town and community, but quite a well-known one for a variety of reasons, like its proximity to cottage country and a hub for local activity, talent and theatre. Not least is its reputation as the Mineral Capital of Canada, with 90% of minerals in the world found within the geographic limits of North Hastings. Yes, Bancroft definitely 'rocks' for many reasons, and we're about to give you one more that caused its popularity to 'blow up' in 2018 with a suspicious bombing 'attack'.
We set the scene…On a balmy (bomb-y?) May evening, the rocks and minerals the town was most famed for were quietly at rest like the citizens themselves. But something else was taking shape, first in the minds and then in the hands of a small group of dedicated volunteers about to drop a bomb on the town of Bancroft and create a 'yarn' that would be repeated and passed on for generations.
These volunteers were part of 'Knittervention' – an elite politico crafting group headquartered in the central-Bancroft location of Vintage on Hastings, a thrift and antique store operated by the North Hastings Hospice as a popular non-profit that on entrance, resembles a boutique more than a bargain basement as the prices would suggest.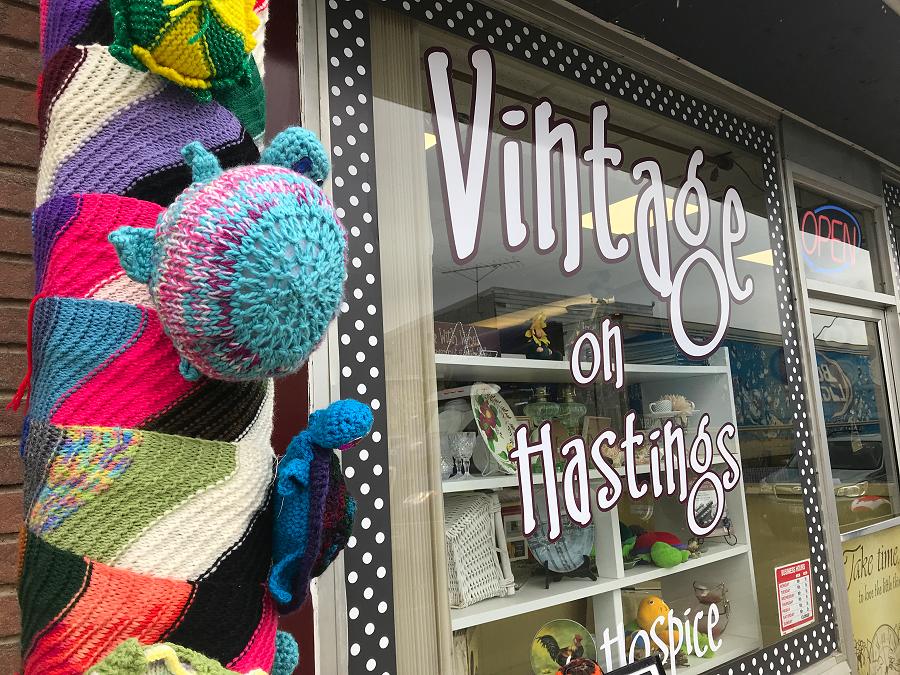 As World Turtle Day approached, they armed themselves with amphibious ammunition and took to the streets, 'bombing' every available surface with a turtle totem of some sort. Their aim was to draw attention to the plight of these small wetland-dwelling denizens that are too often overlooked by drivers and consequently 'over-run' at a rate so high we can see the devastating ecological effects on the environment from their absence, hence this midnight mission of mercy.
Evening fell, and in doing so gave rise to the Night of the Knitted Turtle. You've heard of Ninja Turtles? Well, these fine folks became Turtle Ninjas, just not the teenage or mutant kind.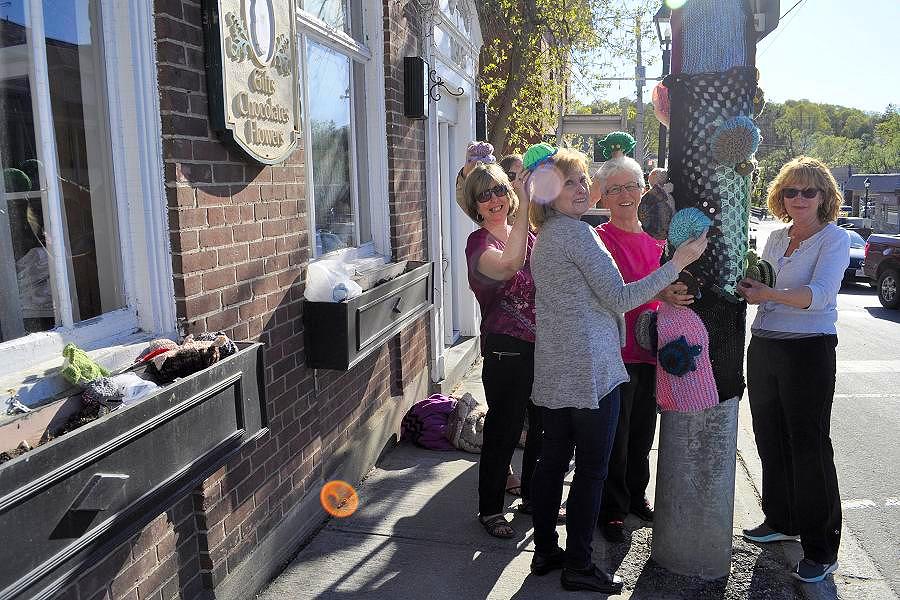 Waking up that morning must have seemed as though they were still dreaming, as the residents of Bancroft, Ontario woke to the colourful carnage left in the wake of the yarn-bombing that had taken place the previous evening. Mind you, a bombing of adorable stuffed animals isn't a strictly traditional military tactic, but it got folks' attention and it got them and the community at large 'talking turtle'.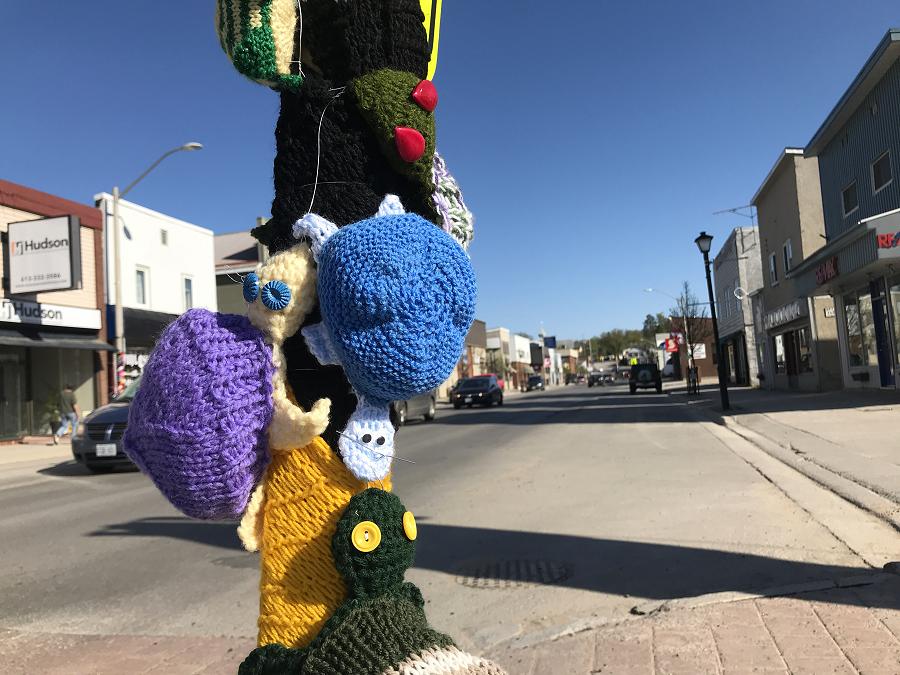 Traditional and social media took up the story and word about the wetland's worrying situation spread like wildfire, which was exactly what this project, created in partnership with Kelly Wallace and the Think Turtle Conservation Initiative, was aiming for heading towards their goal date of May 23 (World Turtle Day). You can track all the buzz about the Bancroft bombing by following the tags #turtlebomb, #bancroftyarnbomb, and #worldturtleday.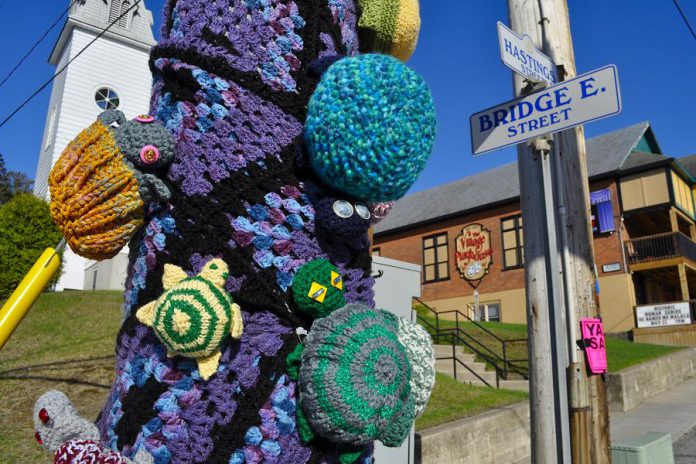 Hospice coordinator and all around 'bomb'shell Heather Brough has worked tirelessly over the years to bring attention to causes like this, and combines her business acumen and heart for service by constantly brainstorming new ways to make a 'close-knit' community even closer and raise funds for North Hastings Hospice through Vintage on Hastings. This year, as the pandemic prevented public events and outings, Brough took some of the turtle treasure she was sitting on and got North Hastings hyped as several of these cherished pieces of local history were put up for sale at Vintage on Hastings where, with everything in the store, 100% of the profits go back to the Hospice. Turtles really ARE a vital part of the life cycle!
Keeping these turtles in sight and top-of-mind will hopefully remind locals and out-of-towners alike to 'Watch for Turtles', and if you are ever driving through North Hastings you'll see many houses with hand-painted signs saying just that which were also a brainchild – or brain animal perhaps? of Heather Brough that were taken up with good-hearted gusto by the Bancroft community
So watch out for turtles, watch out for each other, and watch out for Bancroft, Ontario because you never know what new yarns will come out of this close-knit community and its residents, who, like their town, totally ROCK.