It had been a summer of crowded campsites and restricted transient RV movement. RVers just stayed put, maintaining social distancing at campfires, and breathing through masks while shopping. Summer carnivals were closed to prevent the spread of COVID-19. By September, we wanted a change in scenery and the opportunity arose to see our daughter's new home in Verona, Ontario.
The town of Verona is on the southern edge of the Canadian Shield. Verona, an original sawmill town, was once known as Buzztown. Our daughter suggested Desert Lake Family Resort to us for our three-week RV stay in the area because as it was only 10 minutes from her new home.
Our stay at Desert Lake Family Resort introduced us to the Canadian Shield as a destination and RVers playground.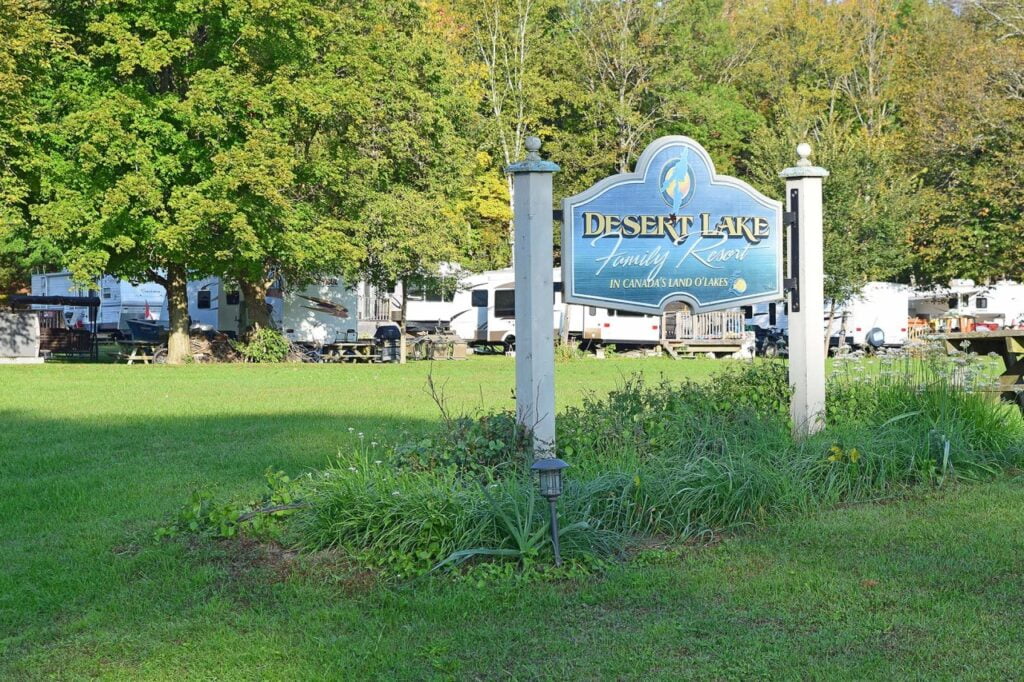 Nestled in The Ancient Hills
2.5 billion years ago, the rock from the earth's crust pushed its way above ground. This geological phenomenon of rugged hills and valleys that stretches from Quebec to the Northwest Territories is known as the Canadian Shield. The Desert Lake Family Resort is nestled on the southern edge of these ancient hills — hills of exposed granite, and marble outcrops, decorated with Canada's forests and lakes.
This uniquely Canadian landscape of rocky hills and forest with its undergrowth provides wild animal habitats and cleanses the water runoff. It is this pristine water runoff that formed Canada's lakes. Desert Lake is one of these.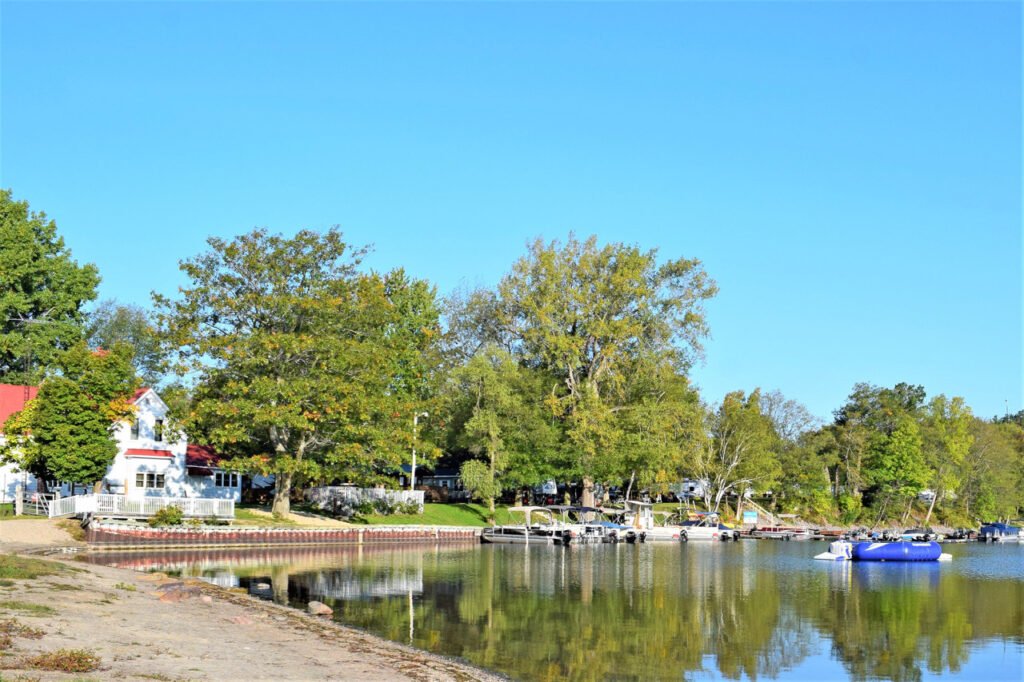 The Privately Owned Camping Resort
Desert Lake Family Resort is a privately owned camping resort with seasonal and transient RV sites, each with picnic tables and fire pits; this is camping. If camping is not for you or your friends, this steppingstone to the Canadian Shield can also be enjoyed by staying at one of the two Inns owned by the same management team.
The playing field is the host for activities and sports during the summer months; the beach has a safe swimming area in clean water, a boat dock, and a marina. RVers, recreational boaters, Inn guests, and their families all use the same facilities. Pontoon boats, fishing boats, and canoes are available for rent from the office/store. Lake fishing here, they tell me, is good.
For people who camp and have dogs, the half-acre, off-leash, fenced dog run with its double-gated entrance was a pleasure to see. Many campgrounds have a fenced dog run, and most dogs enjoy them. Our two dogs have become used to the freedom and doggy socializing in the off-leash dog runs. At Desert Lake, our dogs pulled on their leash towards the dog run. A fenced dog run is an equivalent for dogs to the office water fountain. Dogs use their sense of smell inside the dog run to get up to speed on what other dogs' lives are. It is where the rumours of the day start.
How to Get There
There are two faded signposts on Highway 38 when driving north from Highway 401. Both signposts point the unsuspecting RVer to the Desert Lake Family Resort.
Beware, when taking any Canadian sideroad with an RV, you need to know that your RV can negotiate the winding roads and the overhanging trees that you will encounter.
Take advice from somebody who has been there.
The first signpost is as you leave Hartington and points you through the winding, hilly roads that cut through the Canadian Shield, under the forest canopy, and across lakeside causeways. The road has spectacular views of once-cultivated meadows, wetland, and the rocky outcrops formed out of granite and pink marble. As you meander along a forest road, you will likely see deer, but moose, gray wolf, fox, raccoon, and porcupine waiting for you to pass — or not. However, the drive is not as much fun in a tall and long RV. Don't take this route unless you have a low-profile vehicle and then only drive in the daylight. The depth of that wetland at the very edge of some causeways is uncertain.
The second sign for Desert Lake Family Resort is north of Verona, along Sideroad 19. You can drive Sideroad 19 in a high-profile fifth wheel without trees hitting the A/C unit or rubber roof. This is my recommended route to Desert Lake Family Resort.
Scenic Beauty and Recreational Activity
The faded signposts or the Desert Lake Family Resort website do not describe the full scenic beauty and recreational activity that the resort and its location offer. Trails for hiking and 4X4 off-road are shown on area maps with canoe routes and wilderness campgrounds. Scenic beauty is waiting to be discovered by you, the enthusiastic campsite deckchair observer, fisherman, canoeist, hiker, historian, writer, photographer, or painter. Children love the trails by bike or on foot. Remember the bear bells, ding-a-ling, ding-a-ling, fresh-and-tasty, fresh-and-tasty. Keep small children in sight.
Desert Lake Family Campground is a center for your outdoor activity located on the Canadian Shield's southern edge.
The Canadian Shield is a mixture of farmland, forest, lakes, wetlands, granite outcrops, and wildlife. It is this natural and historical background that helped established Frontenac Provincial Park.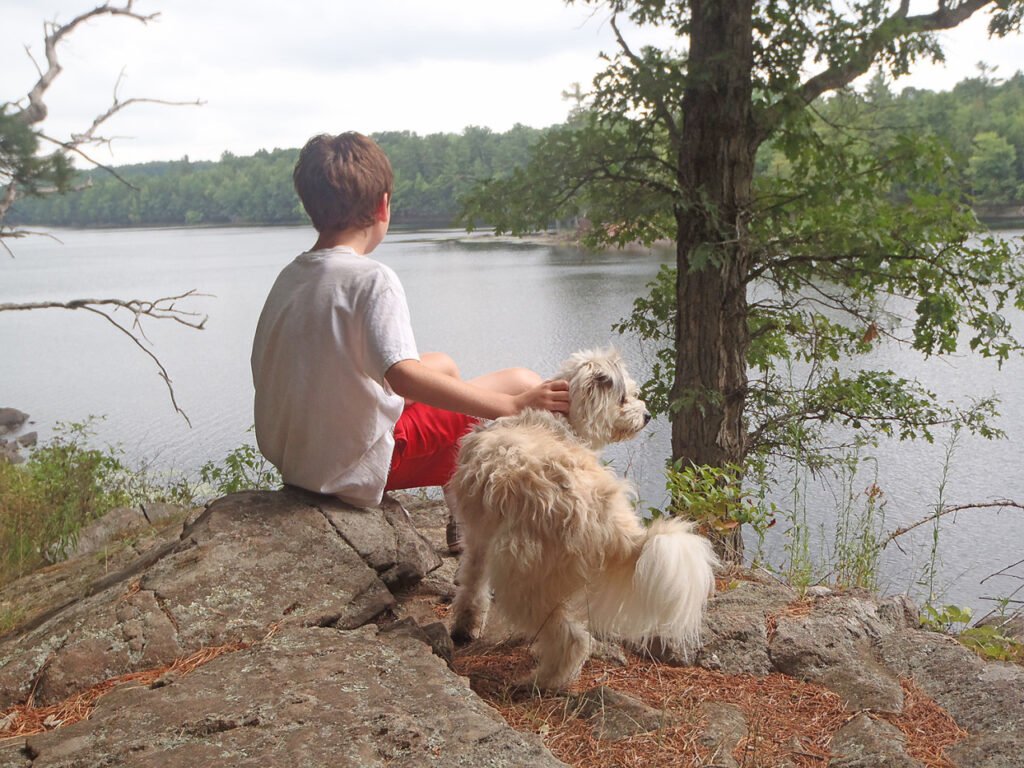 Frontenac Provincial Park
Frontenac Provincial Park is a unique provincial park filled with natural beauty, crisscrossed with hiking and backpacking trails, and campsites.
You expect a provincial park to have wildlife, scenic lookouts, and tent campsites, but Frontenac Provincial Park also has two-hundred-fifty years of human history.
During our stay at Desert Lake Family Resort, I spent a day hiking with my grandson and his dog around what is known as the Testsmine Loop in Frontenac Provincial Park. We passed the remains of homesteads dating back to 1783, abandoned logging camps from the 19th and early 20th centuries. Signposts and a little history marked derelict open-pit Mica mines from the 19th century. On the walk back, a wild turkey flew at us out of the bush.
Back at the Park office, a small museum displayed artifacts of the parks' human residents dating back almost two-hundred-fifty years. But what attracted my grandson was the centrepiece in the display of stuffed animals, birds, and fish; it was a Fisher. A Fisher is a nasty, weasel-like animal, with the males growing to about 130 cm or 47 inches. A close encounter with this guy could spoil a weekend's camping.
The Towns of Verona and Sydenham
Verona to the west and Sydenham to the south serve the surrounding rural community for vehicle maintenance, banking, churches, and grocery shopping.
At M.O.M. Restaurant, four-hundred metres north of the Revell Ford dealership in the center of town, you can take in the atmosphere of a country kitchen with home-cooked breakfast, lunch, and evening meals. For your kids, discover Verona's McMullen Park & Beach or the Lions Club play structure; you may have to ask for directions.
Swimming in Sydenham just 15 minutes south is a good summer afternoon out with the kids. Known as "The Point," the swimming beach in Sydenham is located past the athletic field to the library's right; it is a local secret with washrooms and change rooms, but no lifeguard. Two separate beaches are here: a shallow beach on the left, with deep water and a raft to the right. Grandads get to play on the left if they bring along a small grandchild.
After swimming, The Point Restaurant is the perfect stop with hungry kids.
Skip dessert at the restaurant, tempt the kids with the promise of ice cream, and walk up the street to Trousdale's General Store for ice cream and a history lesson. Today, Trousdale's is a modern, updated business selling unique clothing and decorative items. Trousdale's first opened on the same corner in Sydenham in 1836. It has a play area for little kids, ice cream for all, and an attractive display of quality clothing and accessories, mixing with old-world charm. This warm and cozy store is worth the visit if only for the ice cream.
A Weekend or a Couple of Weeks
Spend a weekend or a couple of weeks at Desert Lake Family Resort to enjoy the harmony of nature and the distinctive landscapes of the Canadian Shield. Roam Frontenac Provincial Park and swim in the lakes. The whole area is a playground for the RVer and outdoor enthusiast. Casual shopping or a meal out is only minutes away in Verona or downtown Sydenham. Your kids will enjoy the ice cream and souvenirs found in both towns.