Among the many wonderful aspects of RVing are our choices regarding where we park our units. Whether we define ourselves as fulltimers, weekenders or somewhere in-between, staying at a seasonal site provides us with a base camp and a launching-off point. Some RVers use a seasonal site like they would a cottage – a destination to get away from it all. Other RVers use seasonal sites as a spot to stay between road trips. Mobile workers use seasonal sites as their temporary homes until they move to the next work assignment, while some RVers live in seasonal sites year-round. (Even in Ontario's winter? Yes, Milton Heights RV Park offers year-round camping.) Others stay at seasonal sites only on weekends or during their summer holidays. Seasonal sites also offer "newbies" the opportunity to familiarize themselves with RVing and gain the confidence to head out on the road, should they wish.
We've had the pleasure of staying for extended periods in two seasonal sites: Indian Line Campground in Brampton, Ontario, and Kings Acres in Regina, Saskatchewan. We fit into the category of "mobile worker" when we stayed at Kings Acres, as Gail had a consulting assignment in Regina. Located at the east end of the city, Kings Acres is next to the TransCanada Highway (and the exit to the new Regina Bypass) and a short drive to downtown.
Indian Line is one of three campgrounds operated by the Toronto Regional Conservation Authority (TRCA). According to its website, Indian Line and Glen Rouge are the closest campgrounds to downtown Toronto and offer easy access to local amenities and attractions. The Albion Hills location is also a short drive from Toronto suburbs, and offers the perfect escape from the city, with scenic trails perfect for mountain biking, hiking and nature watching, as well as family-friendly facilities that include a new pool and splash area. All TRCA campgrounds offer both serviced and unserviced sites and have pull-through capabilities for trailers and motorhomes. All three locations offer daily, weekly and monthly camping.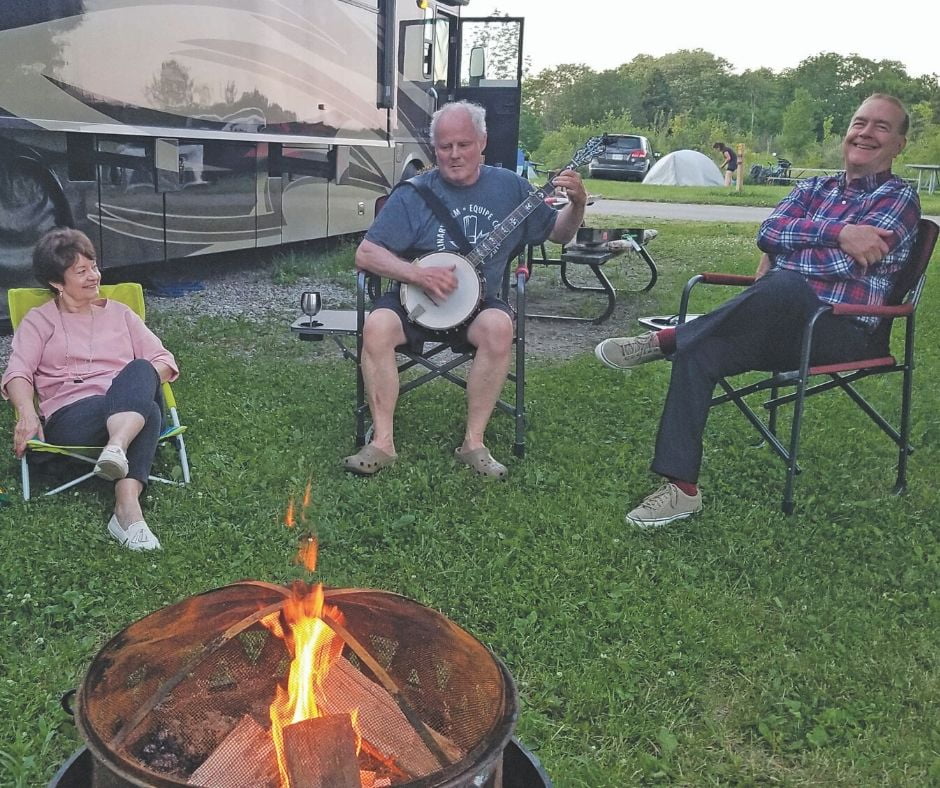 Because our sticks-and-bricks home is in downtown Toronto, Indian Line offers us a little slice of heaven close to home. After work we can head out there for the evening or stay on the weekends; it's only 10 minutes from Pearson Airport, five minutes to Highway 407, and about 15 minutes to the 401. We can even park our vehicle at the 407 TTC subway station and take the subway to the city.
During the four years we've been seasonal site campers at Indian Line, our lives have been enriched by the people with whom we'd never otherwise have crossed paths. We've met full-timers who live there in the summer and migrate to the southern U.S. in the winter; highly skilled pipeline installers; and racetrack/ horse trainer professionals who work at the Woodbine Racetrack in the summer and at southern racetracks in the winter. We've met people who just bought their first RV and needed time to figure out the features of their new rig, and we've met countless European tourists who fly into Pearson, pick up a prearranged rental RV and spend their first few days at Indian Line getting over their jet lag before heading out on the road. We've also met families who choose to live at Indian Line for the summer months instead of renting a cottage; and, we met a very special film producer couple, Lisa and Anthony Nalli, who stay full time at Indian Line during the summer. You may be familiar with their six-season show "The Aviators," as well as "The RVers" (now into its second season), which you can catch on Discovery Channel. (If you look closely, you may even see a brief glimpse of your galley chefs enjoying life at Indian Line.)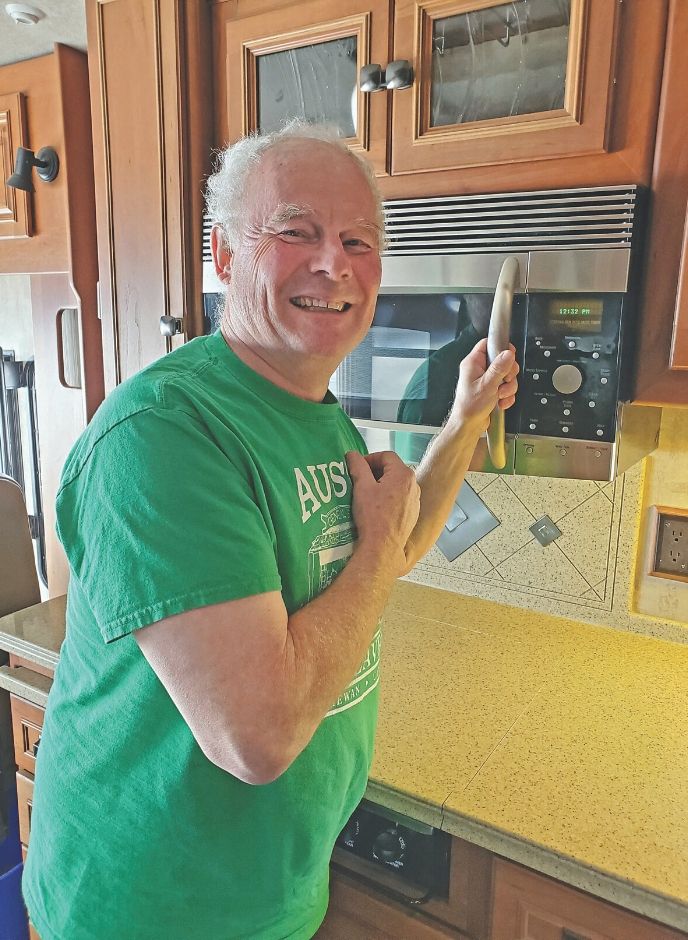 A recent question from a weekender: "I'm tired at the end of the work week and want to enjoy my Fridays not worrying about cooking something from scratch. What are some good suggestions?" which led us to suggest, "Think microwave." We're pretty sure that all RVs today come equipped with a microwave oven. You may want to double your quantity of dinner during the week and freeze the second batch to take with you for the weekend. In addition to frozen pizzas, there are many interesting microwaveable options available in the freezer section of grocery stores, including samosas, cabbage rolls and "pot stickers."
Microwaves have come a long way since they were first introduced several decades ago. The first microwave oven was known as the Radarange and sold for commercial use in 1946. Its invention has been attributed to Percy Spencer, an engineer who noticed that the chocolate bar in his pocket melted as he worked with the newfangled microwave technology. Lower-cost microwave ovens with turntables for home use were introduced in the late 1970s.
In addition to ensuring that we don't use metal or aluminum in our microwave ovens, it's important that we use containers and wrap labelled as microwave safe. The Canadian Cancer Society recommends that we not heat or store food in plastic containers not intended for food. Single-use containers such as margarine tubs tend to warp or melt in the microwave and may result in substances from the plastic leaching into food. Most silicone bakeware is safe for microwaving (again, check the labels), and for RVers it's an excellent choice for being lightweight and easy to store.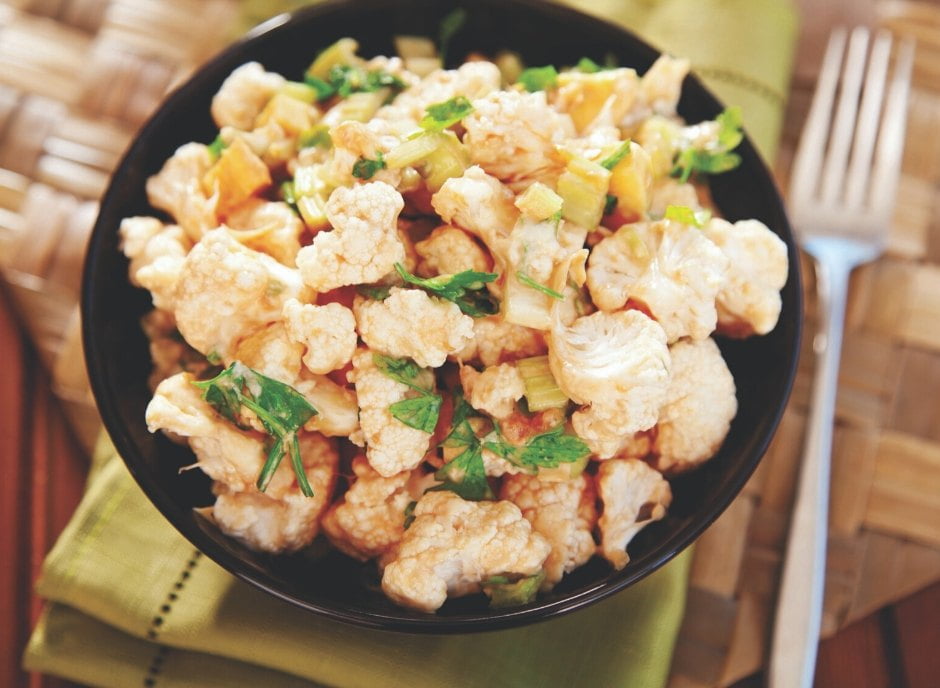 Microwave Cauliflower Salad
Source: Lidia's Kitchen
This simple salad can be ready to eat in 15 minutes. The only tools you'll need are a small blender/food processor and a microwave oven. You may want to add a topping of grated parmesan cheese or a mix of parmesan and breadcrumbs.
Cauliflower 1 large (800 g or more)
Basil leaves (fresh)10-12 large
Anchovies 8 (from a jar)
Gherkins 8
Capers, drained 30 ml
Parsley (fresh) 30 ml
Red wine vinegar 30 ml
Dijon mustard (or any good-quality mustard) 15 ml (or to taste)
Olive oil 60 ml (or to desired consistency)
Water 60 ml
Roughly chop the gherkins and put into a food processor or blender.
Add the basil leaves, parsley leaves, capers and anchovies.
Add the red wine vinegar, Dijon mustard and half of the olive oil.
Blitz to a very thick, chunky consistency.
Add the balance of the olive oil and blitz again. The dressing will be slightly chunky and thick. If you wish a thinner dressing, add a bit more olive and blitz again to your desired consistency.
Reserve dressing.
Remove all leaves from the base of the cauliflower and cut florets off the main stem.
Put florets into a microwave-safe container and add water. Cover the container loosely.
Microwave until tender (but not mushy).
Remove cover and allow to cool for 4 minutes.
Drain the water from the container. Pour the dressing onto the cauliflower and toss.
Serve.