Maple syrup season typically runs from early March until late April each year. As maple trees grow, the accumulated starch is converted into sugar during the spring thaw and mixes with the water absorbed through tree roots to create maple sap. Since much of that sap is water with a sugar content of only about two percent, it takes approximately 40 litres of juice to make one litre of maple syrup. You can make many maple syrup recipes in your RV or home, including one of our favourites, sweet cabbage apple salad.
Maple Syrup in Canada
Today, the Canadian maple syrup industry accounts for three-quarters of the world's maple syrup production. Most of the syrup comes from Quebec, home of the Global Strategic Maple Syrup Reserve, a collection of warehouses which have stockpiled over 100 million pounds of maple syrup. Known as the Great Canadian Maple Syrup Heist, the reserve gained some notoriety in 2012 when six million pounds of syrup were found to have been syphoned off and smuggled away.
Be Aware of Maple Syrup Imitations!
Table syrup is not maple syrup (also known as pancake syrup or breakfast syrup) made from flavoured high-fructose corn syrup). Look for the four classifications of Canadian Grade A maple syrup, ranging from "golden and delicate" through to "amber and rich," "dark and robust," and "very dark and strong."
Making Sweet Cabbage Apple Salad
One of our favourite RV-friendly maple syrup recipes is a sweet cabbage and apple salad, which we've adapted from the late Habeeb Salloum. A poet, world traveller, linguist, and prolific award-winning recipe book writer, Mr. Salloum's Syrian immigrant parents introduced to Saskatchewan the harvesting of lentils, chickpeas, and bulgar during the Dust Bowl conditions of the 1930s.
This easy-to-make maple syrup recipe is delicious, served hot or well-chilled.
Ingredients (serves six)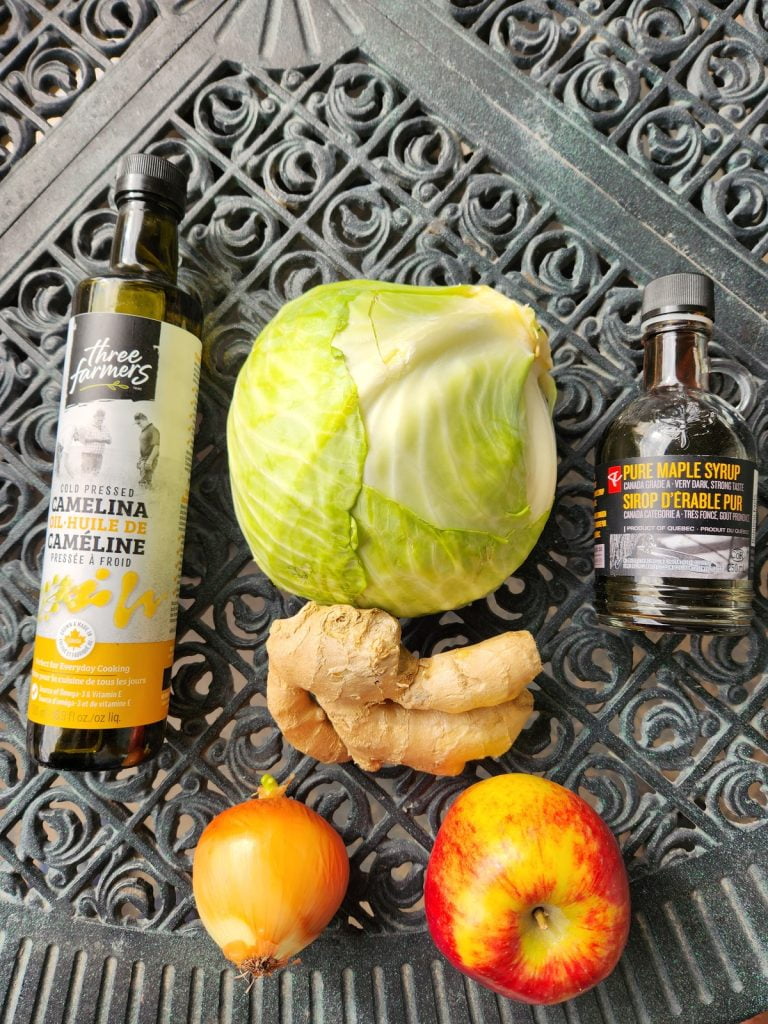 50 ml camelina or olive oil
one large yellow onion
one firm red apple
¼ of a head of fresh, firm, green cabbage (1 litre after shredding)
60 ml amber or dark maple syrup
45 ml apple cider or white vinegar
3 ml table salt
3 ml fine ground pepper
15 ml fresh ginger cut into wonderful julienned baton strips or 3 ml of ground powdered ginger
100 ml cold water
Method
Shred the cabbage into 3 ml thick (medium shred) slices and separated the pieces.
Wash, core, and finely dice the apple (3mm x 3 mm x 3mm slices).
Peel, halve, and very thinly slice the onion into demi-lunes.
Cut into very fine julienned baton strips if using fresh ginger.
Combine the salt and pepper in one bowl.
Measure out the vinegar and syrup into separate bowls.
Measure the oil into a large saucepan and sauté the onions and ginger for two minutes.
Add the apple and sauté with the onions and ginger for eight more minutes, stirring twice with a wooden spoon.
Stir in all the remaining ingredients: Salt and pepper, vinegar, maple syrup, water, and shredded cabbage.
Stir together briskly to thoroughly coat every shred of cabbage.
Cover, reduce heat to medium-low, and cook for 15 minutes, removing the saucepan lid every three minutes or so to stir.