To those new on the trailer scene, the photos in this review might provoke such reactions as 'Ooh' and 'Ahh' or you might react with a "Wow, what a cute idea for a trailer!" However, Teardrop trailers have been around since the 1930's and have always appealed to those who wanted lightweight, minimalist overnight trailering. Despite the 'cute factor' however, they have never been big sellers.
The Teardrop design lends itself nicely to production as it's easy to build given it has very few corners. Also, the shape is space efficient and frankly, it looks 'cool'. So, why is it we don't see more of them on the road?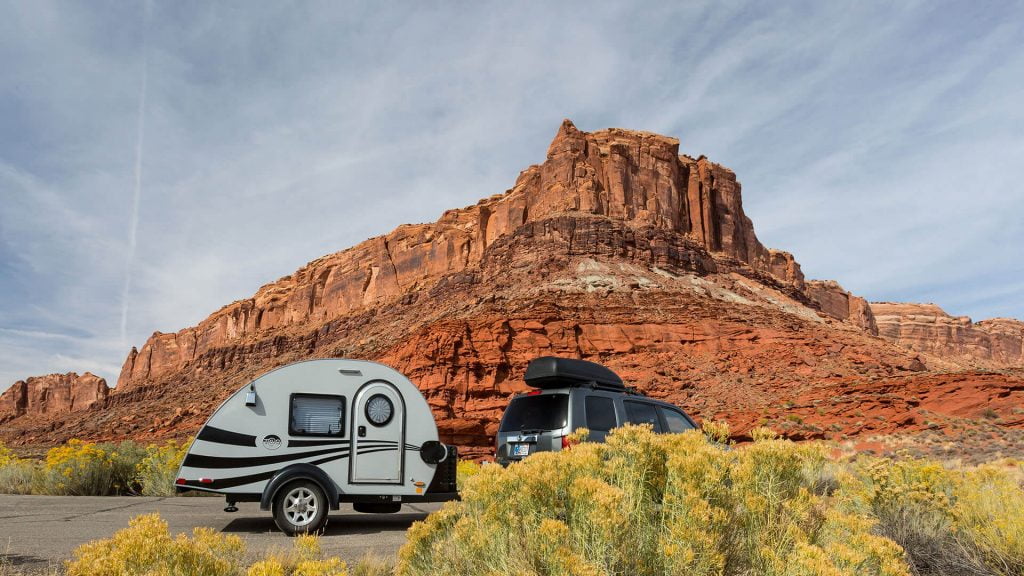 The answer to that question has to do with the size – small and cute quickly gives way to cramped and crowded for most people, especially when going away for more than a night or two. For most modern-day RVers, they are simply too small overall to rate as a first choice. However, we know that times change, don't they? Today, the market has an influx of an entirely new group of customer: Covid-weary people who want to get out of town and camp for the first time. These first-timer folks are coming to RVing without any preconceived notions and are looking at Teardrops with fresh eyes. Also, with today's economy and cost of living being what they are, are also most likely to appreciate the fact that they can tow a Teardrop with whatever vehicle they now own – no need to upgrade to a truck or large SUV.
Younger people without kids are also more outdoor active – meaning they will be spending most of their time outdoors doing things, rather than sitting in the trailer. So, the overnight-only accommodation of the Teardrop is just fine for them. As we'll continue to show, today's 'cute' Teardrop model is also prepared for rough country towing and carries the systems you'll need to dry camp in the back country. Add to all that the fact that these trailers are easy to tow, easy to park, and take up very little storage space? It's a winning combination unlikely to cause any 'teardrops' in the decision.
The models we are looking at today are the TAG and TAG XL teardrop trailers. Built by NuCamp, these two are described as 'adventure campers'. Each comes with a well-equipped rear galley, a warm and cozy interior with a Queen-sized bed.
Each has a large rooftop window they say is perfect for nighttime stargazing. This is all pretty standard, but what is different about modern Teardrop trailers is that they don't lack any of the amenities that we all expect today. This includes, heating and cooling and the needed power to remain connected. That being said, there is still no bathroom.
All Tags come with the Base Package (see below list) – and most buyers will also opt for the Convenience Package (also listed below).
NuCamp Tag/Tag XL Base Package
Air Conditioning
Custom Amish Cabinetry
Electric Brakes
Exterior LP Hook-Up
Deep Sink w/ 10″ Faucet
Under-Bed Storage
LED Lights
Exterior Shower
Spare Tire
Alloy Wheels
Optional Convenience Package
Ceramic Heater
Diamond Plate LP Tub
Acrylic Dual Pane Windows
Microwave
Screen/Shade System
YETI® Cooler
Bluetooth® Media Center
Large Front Stargazer
Window 3-Speed
'Fan-Tastic Fan'
An upgrade to the standard TAG package is a Boondocking version. This trailer will tackle rougher terrain with its adventure-themed additions of aggressive off-road tires, an aluminum utility platform, boondock entry handle & graphics, Nerf bars/running boards, heavy-duty pitched axle, made-to-order Boondock Fenders, 'Solar Package' and a Yakima roof rack.
Specifications for the NuCamp Tag and Tag XL
| | | |
| --- | --- | --- |
|   | TAG | TAG XL |
| Total Exterior Length | 13′ 7″ | 13′ 7″ |
| Exterior Width | 6' 8″ | 7' 8″ |
| Exterior Height | 6′ 3″ | 6′ 3″ |
| Sleeping Area | 58″ x 78″ | 70″ x 78″ |
| Interior Height | 43″ | 43″ |
| Fresh Water | 8 gallons | 8 gallons |
| Grey Water | NA | NA |
| Black Water | NA | NA |
| Tire Size | 175/80/13 | 175/80/13 |
| GAWR | 2,200 lbs | 2,200 lbs |
| Tongue Weight (Dry) | 130 lbs | 119 lbs |
| Total Gross Weight (Dry) | 1,284 lbs | 1,388 lbs |
NuCamp knows that personalization is important to today's buyers, and to that end, TAG comes in a variety of body colours and three different graphics packages to choose from.
You'll note that I've included the specs for both the TAG and TAG XL. The key difference between the two is width. In this case an additional foot is added to the body size. This results in a larger bed size and also adds counter space (and storage) in the rear kitchen. This expanded floorplan change adds just an extra one hundred pounds to the dry weight (Gross weight rating remains the same for both trailers).
The TAG is certainly worth having a look at, with these purpose-built trailers exactly the right RV type for that couple who can see themselves enjoying the outdoors in an intimate setting on their weekend getaways. No matter which model you choose, get out there and 'tear' it up!