A new year has begun and the start of the next RVing season is just around the corner. As we continue to face the COVID-19 pandemic, many RV shows have been cancelled, making it difficult for RVers to walk around and see what's new in the industry. To help, I have done the legwork for you and put together a list of some new RVs across each class.
As for trends – I have noticed a few. Many smaller, lighter, couples' units are being offered. These units also incorporate the demand for connectivity by a plugged-in generation. There also appears to be a heavier focus on wilderness camping. What I see are designs that lift trailers, outfit them with off-road tires and add solar panels and inverters. It seems more and more people are excited about going off-grid. This also holds true for the motorized segment (Class B) with all-wheel-drive being added to several popular chassis.
Please enjoy this overview of new RVs for 2022. This is just a sample cross-section of the market. Something to whet your appetite as we wait for winter to give way to the spring camping season.
2022 Class C
1. Winnebago – EKKO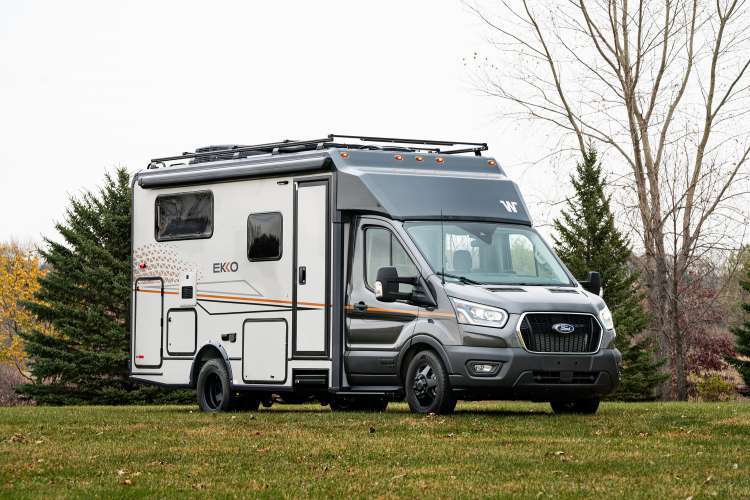 The all-new Winnebago EKKO combines the efficiency of a camper van, with the capacity of a Class C coach. Also, it now has AWD making this an entirely new type of motorized RV. The EKKO takes the phrase 'big things come in small packages' literally. It features a heated pass-through gear garage – large enough to store bicycles, inflatable kayaks and other outdoor gear.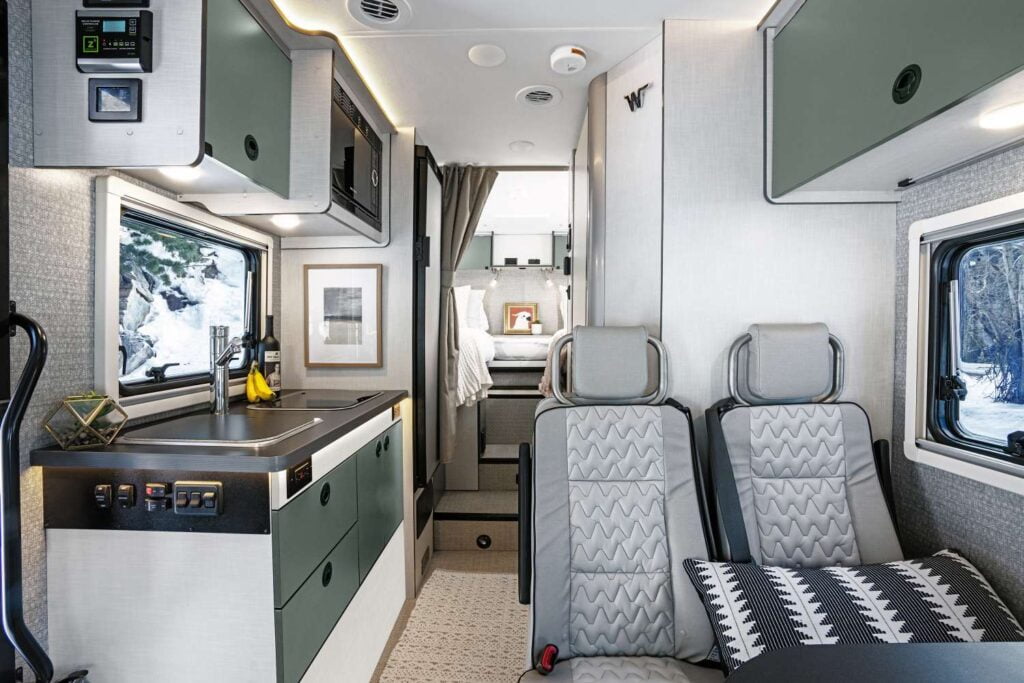 Inside, the large living, sleeping and cooking spaces make the EKKO suitable for all kinds of adventures. The AWD aspect of the EKKO's character, makes off-road trips much more likely and features three solar panels that pump out 455-watts, to the standard lithium-ion batteries. It carries 50-gallons of freshwater and the 31-gallon fuel tank greatly extends the EKKO's range.
2. Dynamax – Europa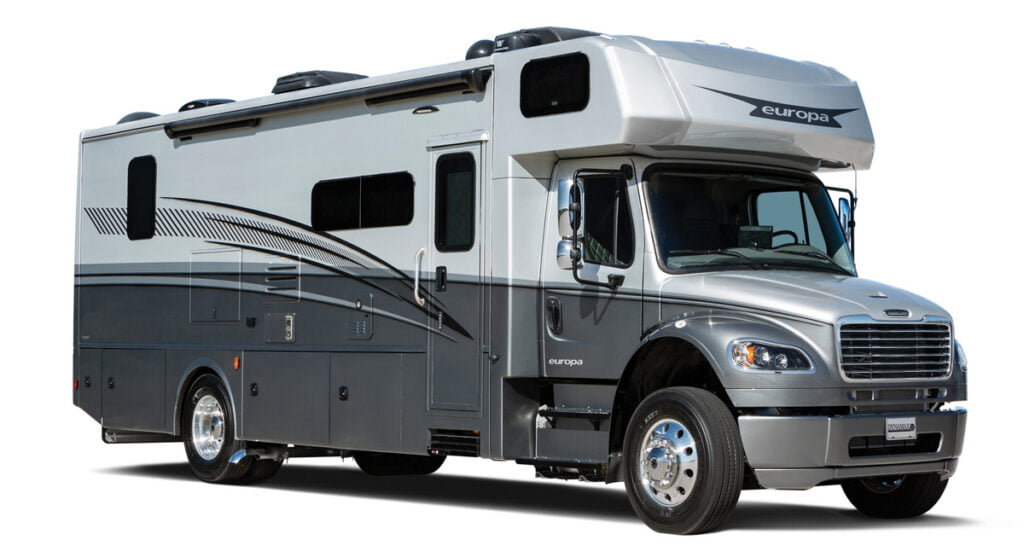 At the other end of the Class C field is the Dynamax. Its new Europa is built on a Freightliner M2 106B Chassis. Due to its size and features, we could call this a Super C motorhome.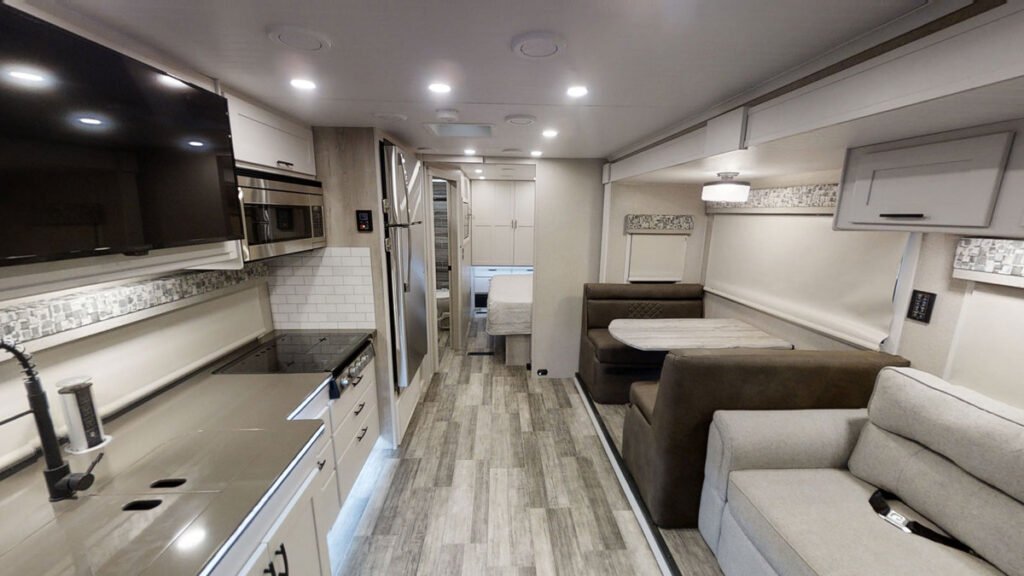 Features in the Europa include:
Freightliner chassis (33,000 lb GVWR/46,000 lb GCWR)
Cummins B 6.7L I6 turbo diesel engine (360hp/800 ft-lb of torque)
Allison 3200 TRV six-speed automatic transmission
12,000 lb trailer hitch and brake controller
Leatherette driver and passenger air ride seats with swivel bases
Short floor plans (31SS: 33'5") – for enhanced cargo carrying capacity and manoeuverability
Cab-over bed (extended front cap) standard
Firefly multiplex wiring with touch screen command centre, switch panels, and bluetooth smart phone app control
Single 12V 8D AGM deep-cycle, maintenance-free house battery and two 100W solar panels with 30-amp controller
3,000W hybrid inverter/charger (3,500 peak watts)
On-demand water heater (LP)
Class B
3. Winnebago – Solis Pocket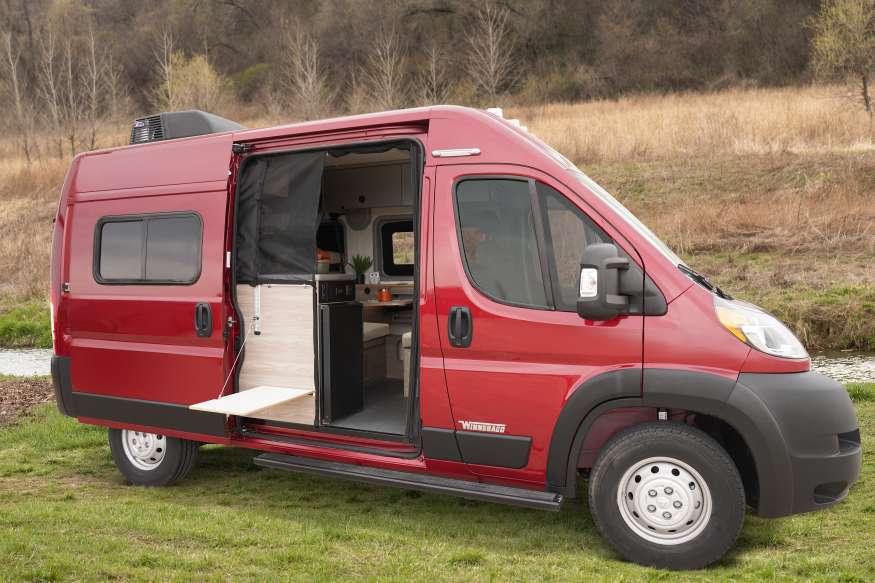 The new Solis Pocket is Winnebago's most affordable camper van. Combining a flexible interior, plenty of storage and extended-season camping capability with a compact design, the Pocket is well-equipped for backcountry excursions and easy navigation in urban areas. This is a unit you could drive daily.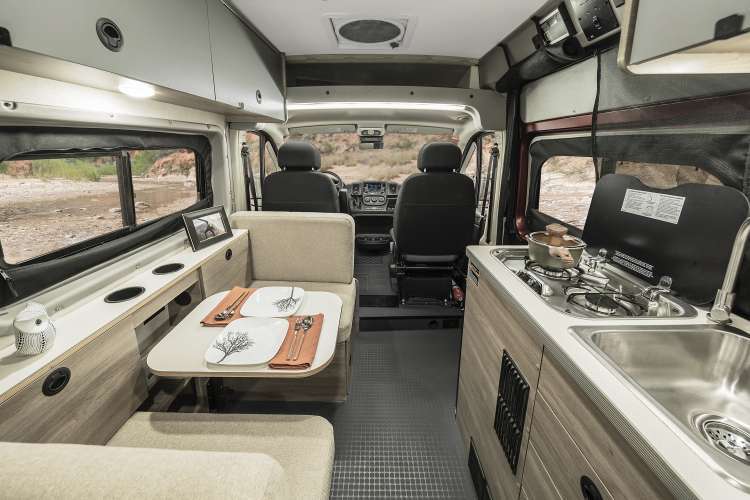 The lounge features a dinette with a 3-point seat belt that converts to a sofa, daybed or loveseat. There is also an adjustable/removable table, swivel cab seats and plenty of storage options, making it ideal for remote workers. The high platform Murphy-bed provides enough space underneath for two bikes with L-track mounted tie downs.  The galley is functionable with an exterior table, stainless steel sink, two-burner cooktop and forward-facing refrigerator. The Pocket is Gold Certified for cold weather capability.
4. Thor – Rize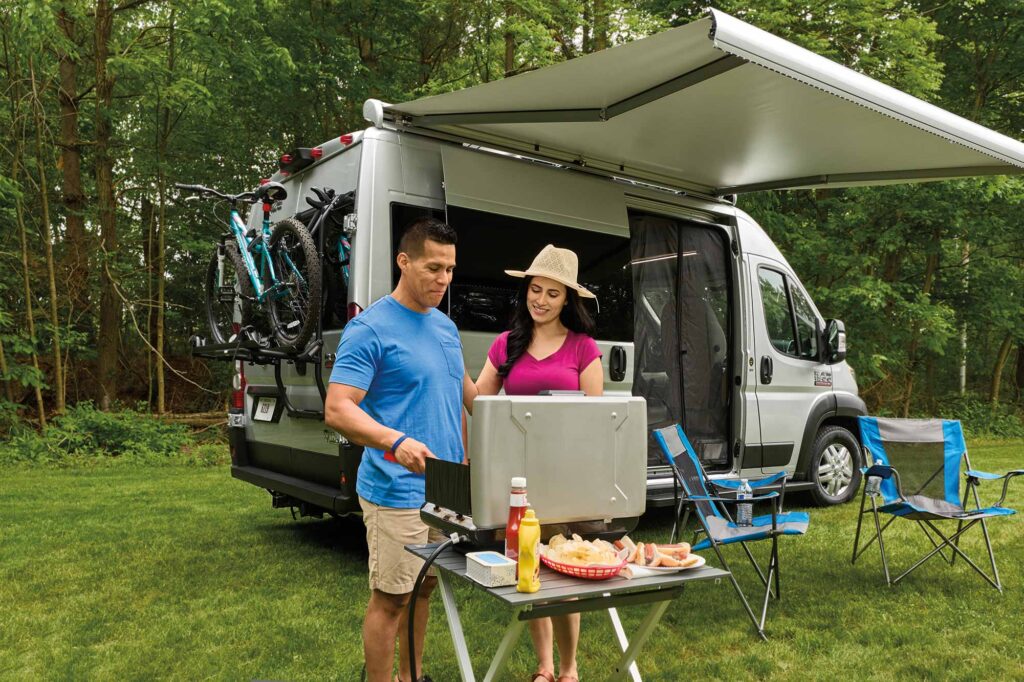 The new Thor Rize is built on the Ram ProMaster 1500XT chassis. This platform is unique in that it uses front-wheel drive and has a low step-in height. It features the 3.6L Pentastar V6 engine that makes 280hp and 260 lb-ft of torque. It has a GVWR of 8,550 lb and it will tow up to 3,500 lb. It is available as a pop-top for more space and has a Thule bike rack for the rear door. It is available with an Onan gas generator, 30-amps of shore power and a 1,000-watt inverter fed by a 190-watt solar panel.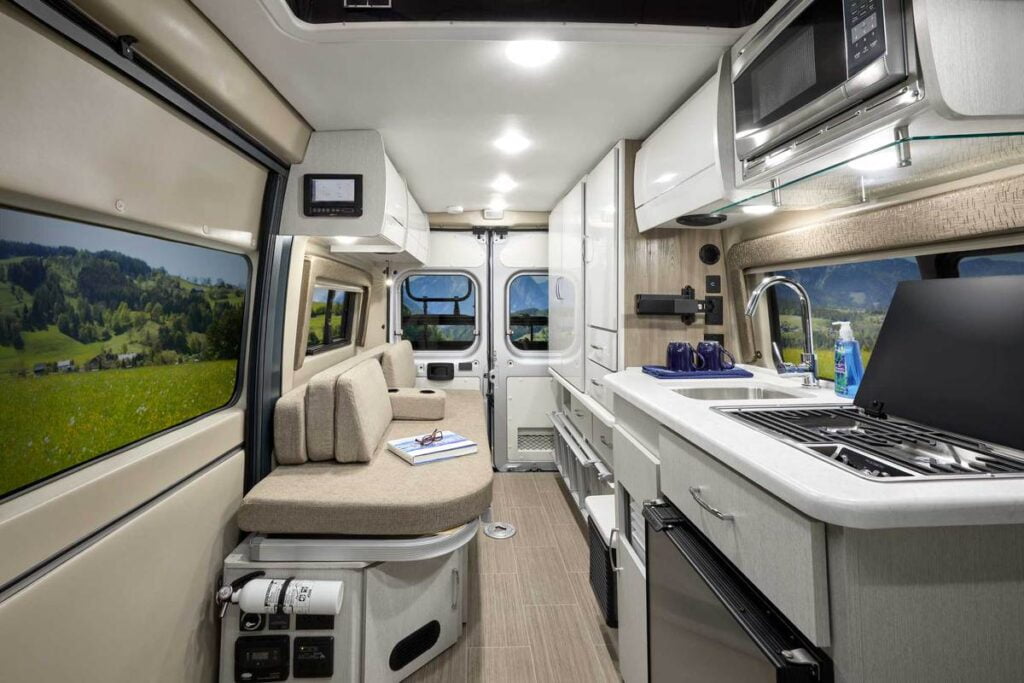 The kitchen has a stainless-steel refrigerator, two-burner gas cooktop, microwave oven and stainless-steel sink with cover.
Travel Trailers
5. Winnebago – Hike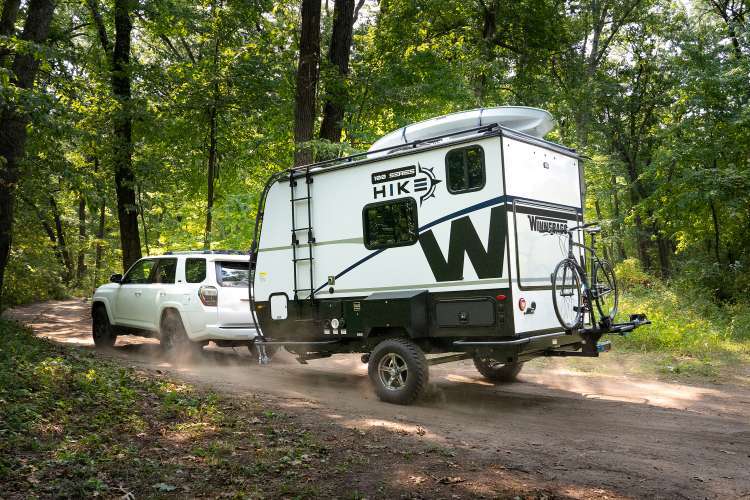 With offset wheels that pack all the stability of a larger towable into just a 6.5-ft-wide frame, this new towable will take you off the beaten path. Winnebago's Hike trailer features updated exterior styling built to accommodate active outdoor lifestyles along with a flexible storage system. Its off-road tires, offset wheels, and robust fenders make easy work of tough roads.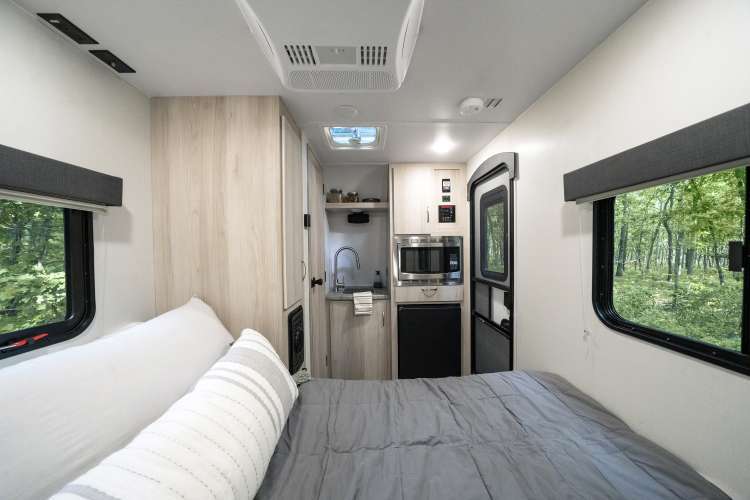 You can also pack in more adventure gear in the durable, convenient front storage. It also houses the battery and LP tanks. A key feature of the Hike trailer is what's called an exoskeleton, which is essentially a tubular frame that covers the trailer. Any bikes, kayaks or other items you may want to trek with you can be securely attached to the Hike's rugged exoskeleton.
6. Cherokee – Grey Wolf RDSE20  

Couples' trailers are very hot this season including this new one from Cherokee. The light weight Grey Wolf camper is well designed. With an open floor plan, this unit feel spacious even though it has a small footprint.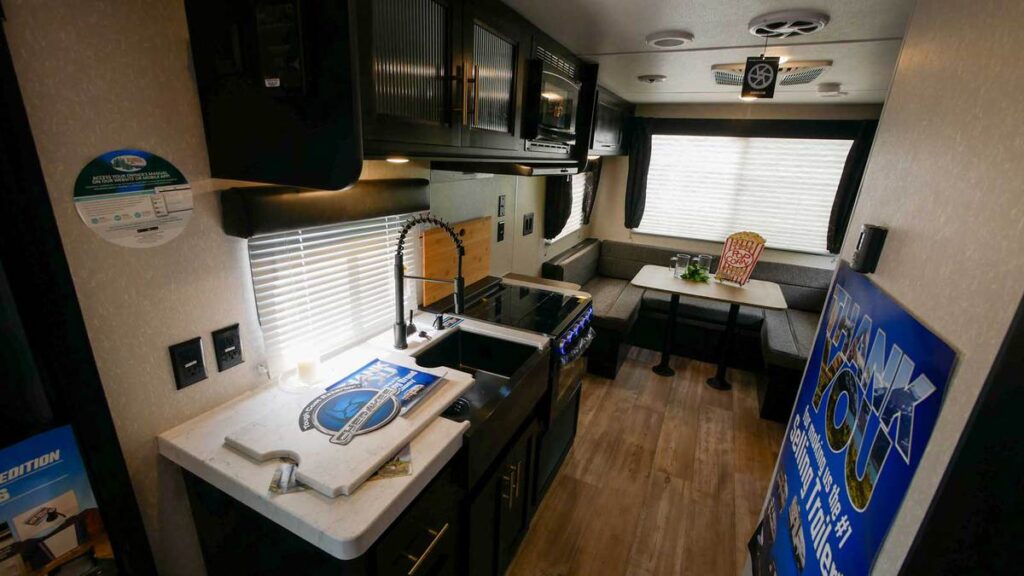 The extra-large U-shaped dinette and huge rear window makes this unit stand out. The modern kitchen appliances, full sized bathroom, walk around queen bed and ample storage space make this a dynamic, space saving RV. The Grey Wolf also features:
Armored underbelly tank enclosure
Flip down travel rack (not available on toy hauler models)
Large exterior folding assist grab handle
Outside shower with hot and cold water
Outside TV bracket and hook ups
Power awning
RV grill quick connect
7. Coachman – Freedom Express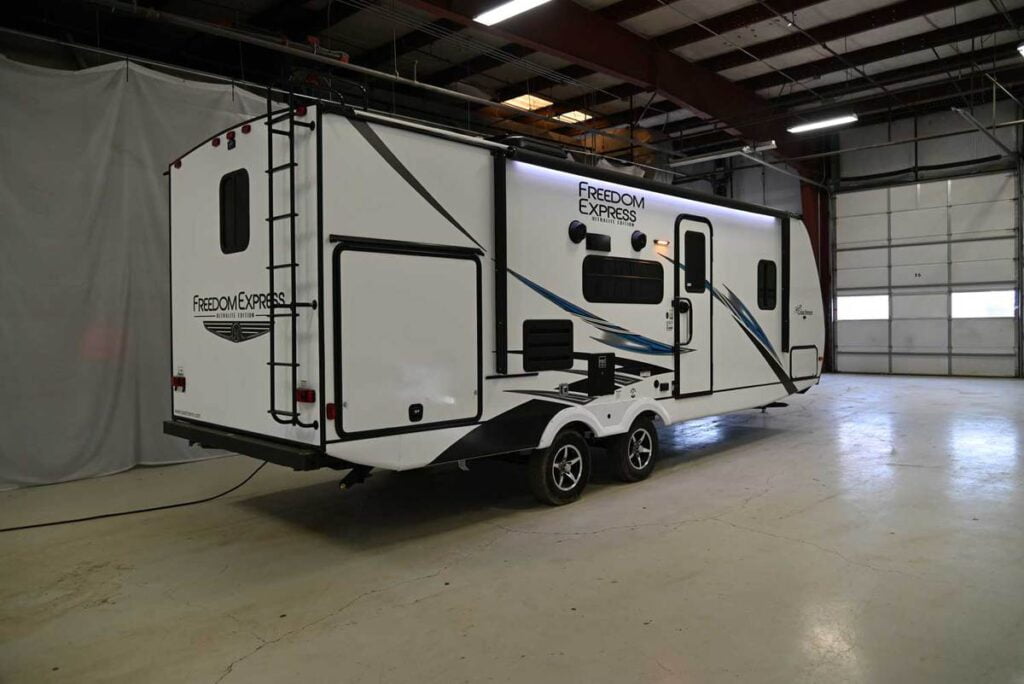 The Freedom Express is a line of Ultra-Lite trailers that combine top rated floorplans in an affordable, value packed unit. Because of their light weight, these trailers are designed to be towed by today's midsize SUVs and half-ton trucks.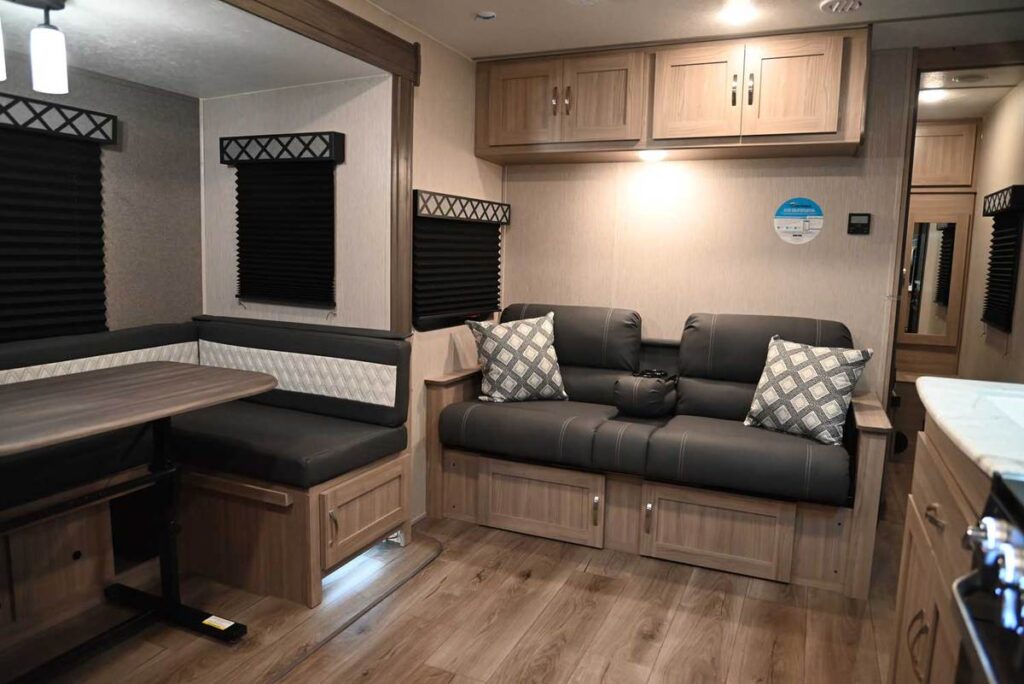 Across this lineup, the Freedom Express (conventional and hybrid travel trailers) boast vacuum-bonded laminated sidewalls with durable Lamilux 1000 fibreglass exteriors, backed with Azdel. Available in models from 18-ft to 28-ft, you have choices, and will no doubt find a model that suits your style, whether you are going it alone or taking the whole family. Some other features include:
3/4 gel coated fibreglass cap with automotive glass windshield
Alumicage construction
Vacuum bonded walls with Azdel composite (interior and exterior)
Aluminum wheels
Spare tire
They range up to 28-ft and 7,400 lb GVWR
8. Jayco – White Hawk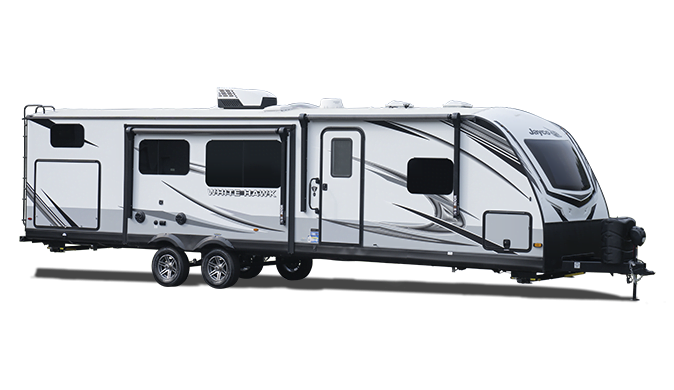 New from Jayco, the White Hawk combines all kinds of surprising amenities and designs that are rarely found on travel trailers in this weight class. The White Hawk is designed to be a luxurious, lightweight trailer; one that should appeal to families who want more convenience and comfort when away from home.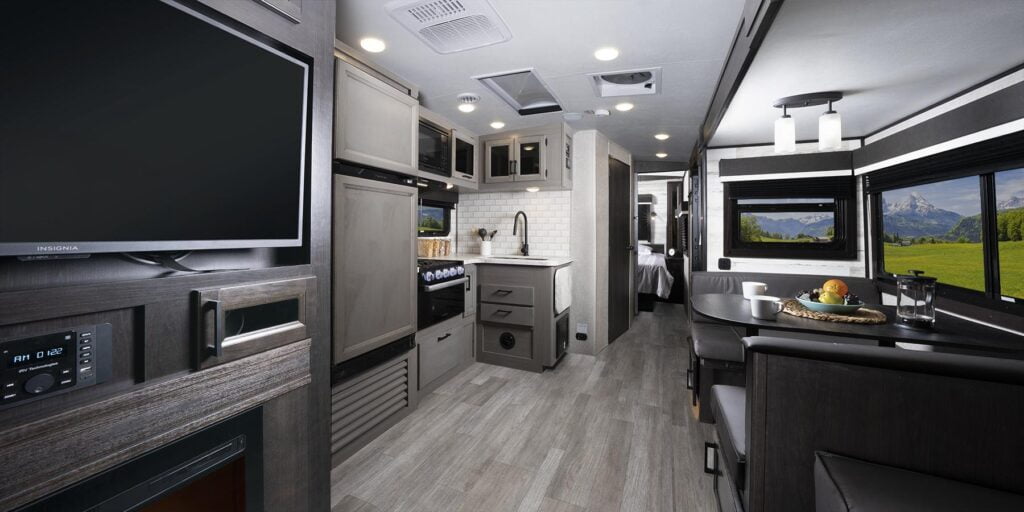 The roomy White Hawk boasts redesigned interiors and exteriors. Some other features on the White Hawk include:
Aerodynamic, rounded front profile with front diamond plate
Stronghold VBL vacuum-bonded, laminated side and rear walls with Azdel composite (including slide out room walls)
Magnum Truss Roof System with one-piece seamless roof material with 20-year warranty
5/8-in tongue-and-groove plywood decked flooring
American-made frame with integrated A-frame
G20 dark tinted safety-glass windows
30-in friction-hinged main entry doors (select models)
9. InTech – Terra Oasis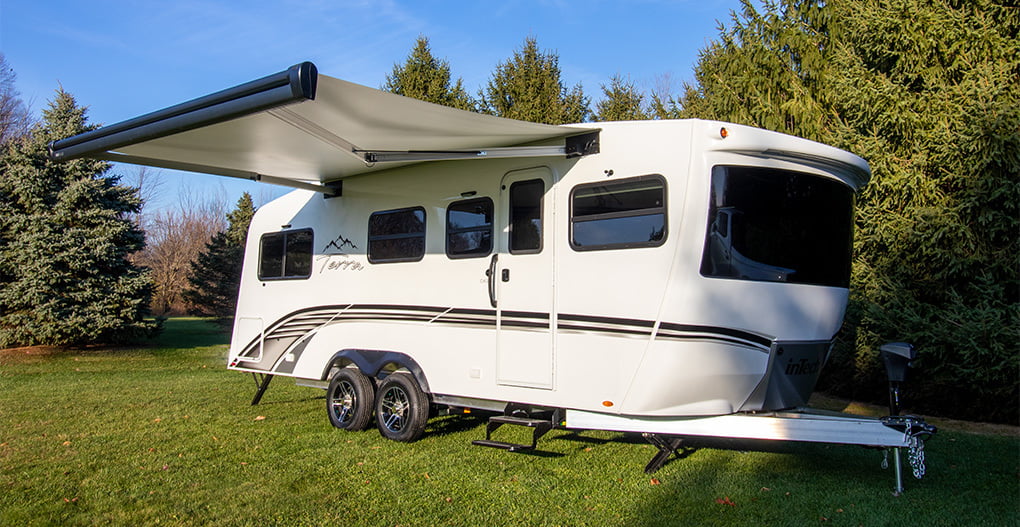 InTech is a relative newcomer to the RV world. Best known for small teardrop type trailers, they are now expanding the lineup to include larger offerings – but keeping their unique design silhouette.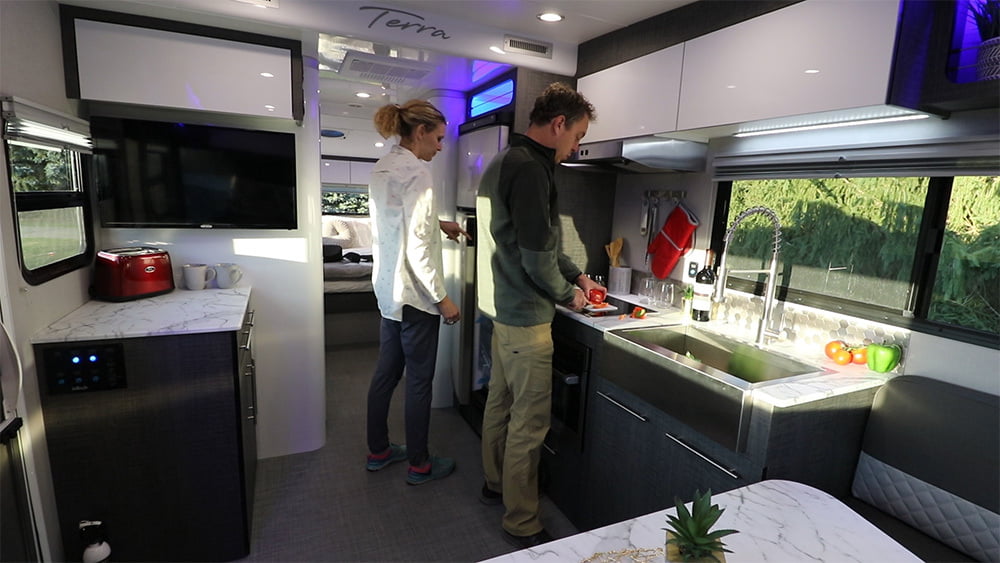 The Oasis is 26-ft long and has a GVWR of 7,500 lb. It's built utilizing an all-aluminum, all-tube, fully welded cage frame. Aluminum is not only lightweight, but it will not rust. Terra features a massive 3-ply laminated glass panoramic front windshield and you won't find a better view of the great outdoors. Utilizing what they call "Tilt–Forward Design", they have taken advantage of the unused space over the trailer's A-frame. InTech has paid special attention to the freedom RVers can experience by going off-grid through their Solar and Lithium Package. This package includes 400 watts of solar, mixed with an MPPT charger controller and 200 amp-hr lithium batteries, feeding a 2,000-watt inverter that will allow you to take a path less travelled.
Fifth Wheel Trailers
10. Grand Design – Reflection 150-series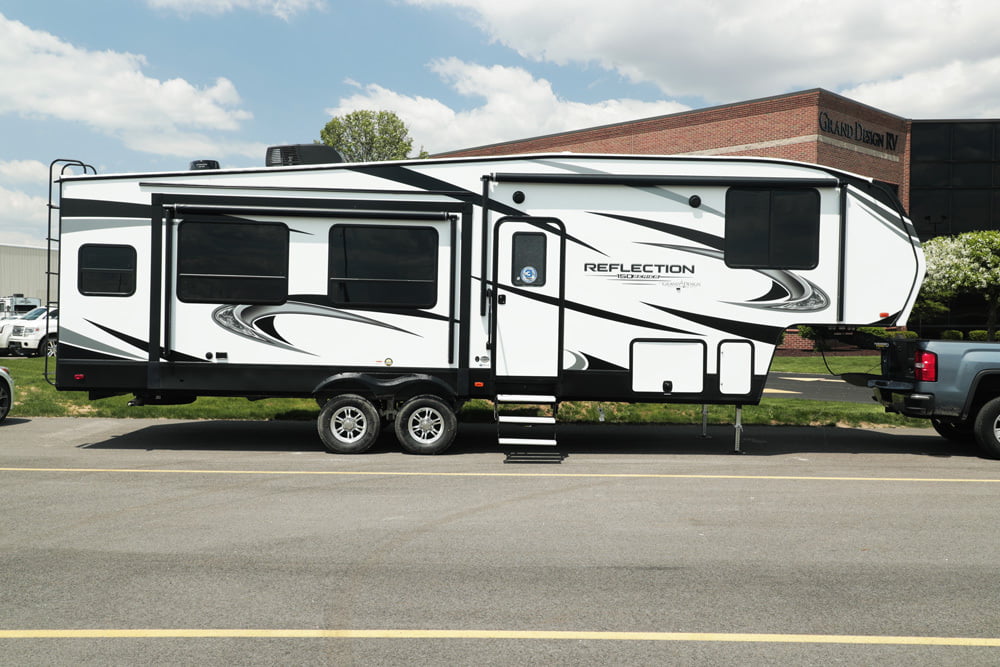 The Reflection 150-series from Grand Design is aimed at the 1500-series truck owner. These half-tons are the bulk of the trucks on the road today and it just makes sense for RV manufacturers to build fifth wheel trailers that will work with them. For instance, this new fifth wheel has an unloaded weight of 7,204 lb and a gross weight of 9,995 lb. The hitch weight is 1,190 lb and it is 27-ft long.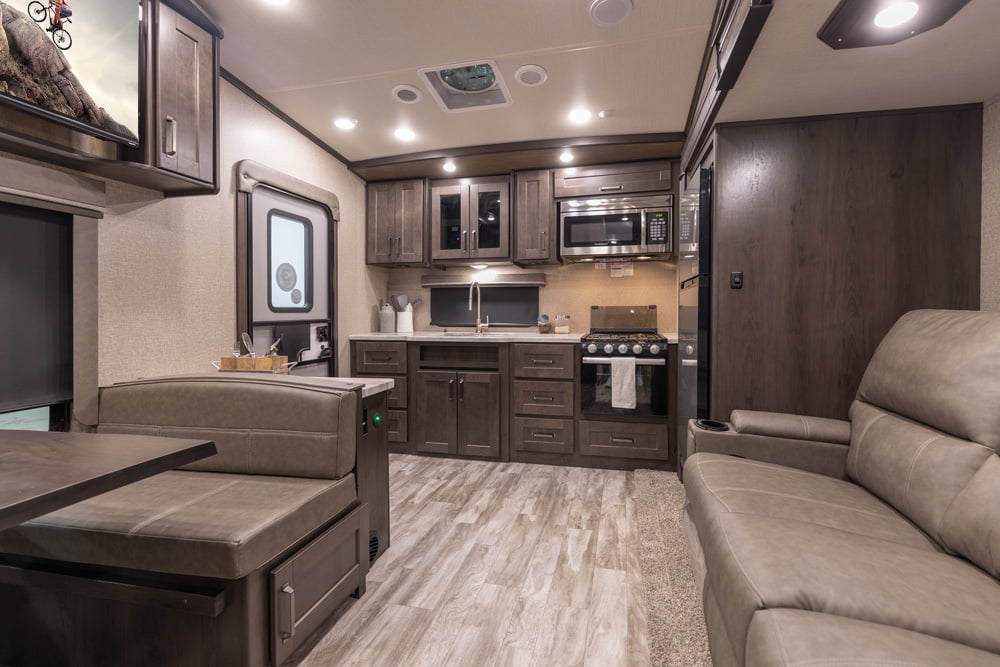 There are several other floorplans starting under 7,000 lb and each offers a 90-degree turning radius. This is key, because most of today's half-tons are crew cabs with short beds. Without this forward placed pin, many would be hard to turn. A couple of nice features on the 150-series include an all-in-one docking station and pass-thru storage. Floorplans include a rear kitchen design, with a booth dinette and 70-in theatre seats in the single slide-out. Grand Design also wants you to know that the trailers have been tested in extreme temperatures ranging from 0 to 100+ degrees (F).
11. Grand Design – Reflection 150-series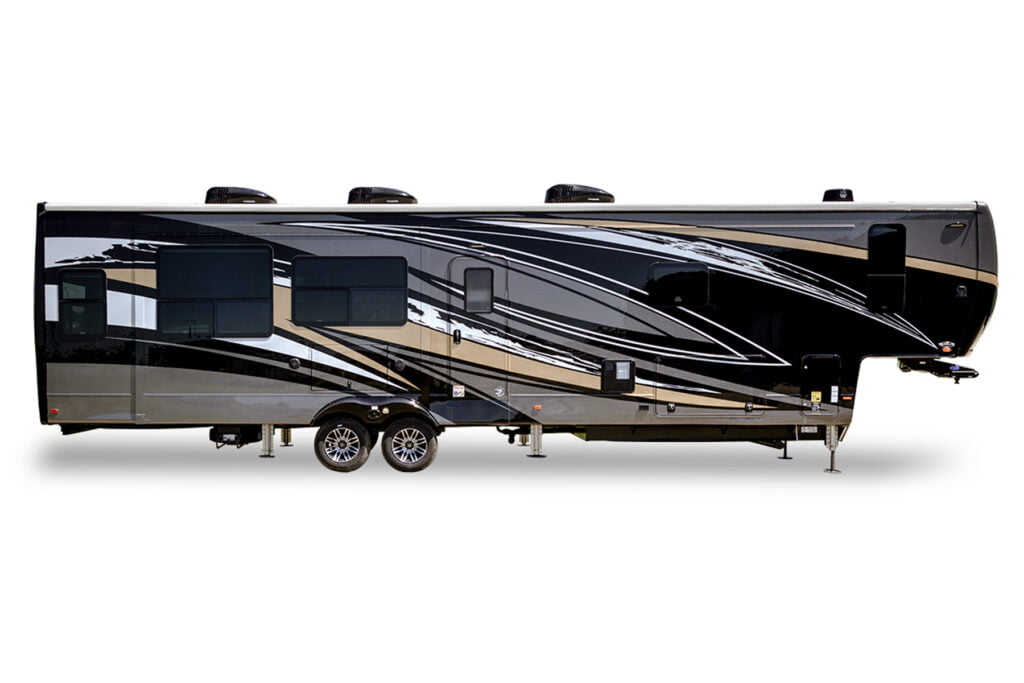 The Landmark Chesapeake will need an HD pickup to haul it, as it is 43-ft long and has a GVWR of 15,698 lb. However, with all that space, Heartland has been able to build a true condo on wheels.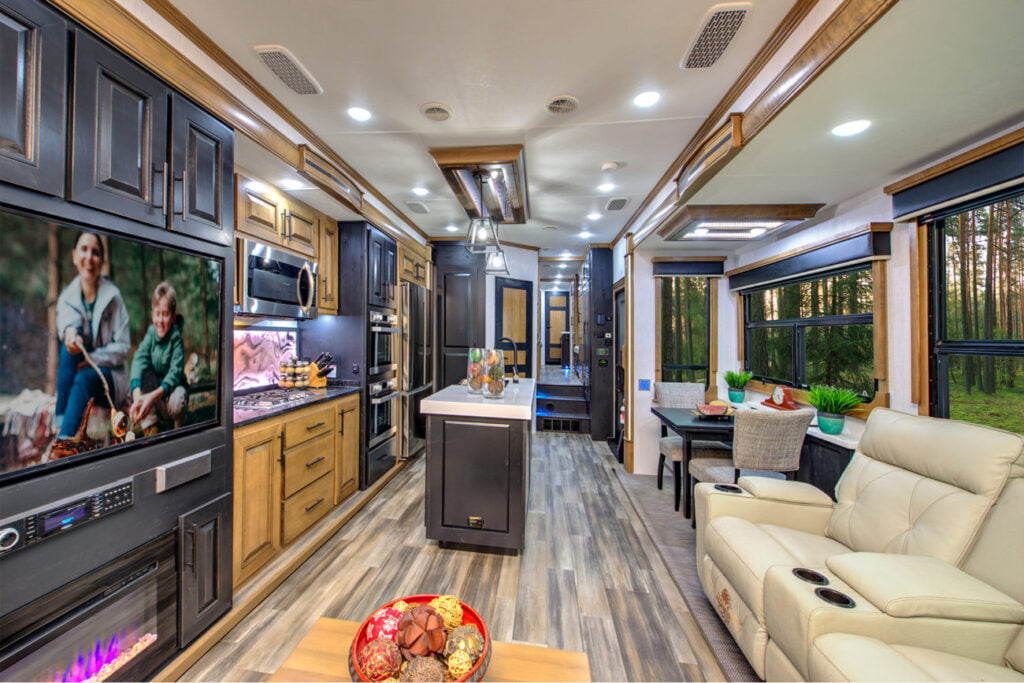 Consider these unique features:
The Beast Basement is a 3-sided accessed basement with 30% more storage, clean paneled compartments and slam latch doors
Lightweight, non-wood Azdel laminated sidewalls with laminated slide-out end walls
MORryde air compressor mounted door side with quick connect port and 2.5-gallon tank
Angled walk-in closets with deep shelves, double hanging rods, cedar lining and washer/dryer prep
"Spa Baths" with solid surface sinks, marble look shower, removable shower head and teak wood seat
"Ultra-Upper Deck" bedroom with power tilting king bed, 22-in deep residential dressers and CPAP nightstands
Truck Camper
12. Northwood Manufacturing – Arctic Fox 811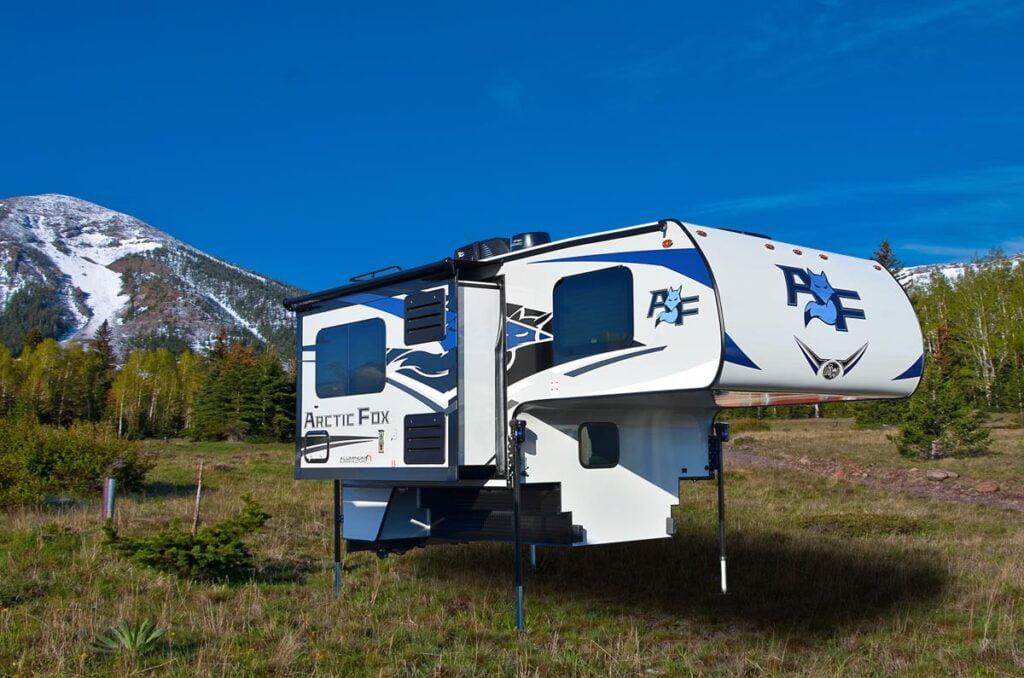 The Arctic Fox is called an "All-Conditions" camper. It features four-season block foam insulation, heated holding tanks, and one-piece, corona treated, fibreglass and polyurethane laminated, multi-layered walls. This is all built onto a fully welded, thick-wall aluminum frame. There are several sizes of Arctic Fox available – however this one is 9-feet in length.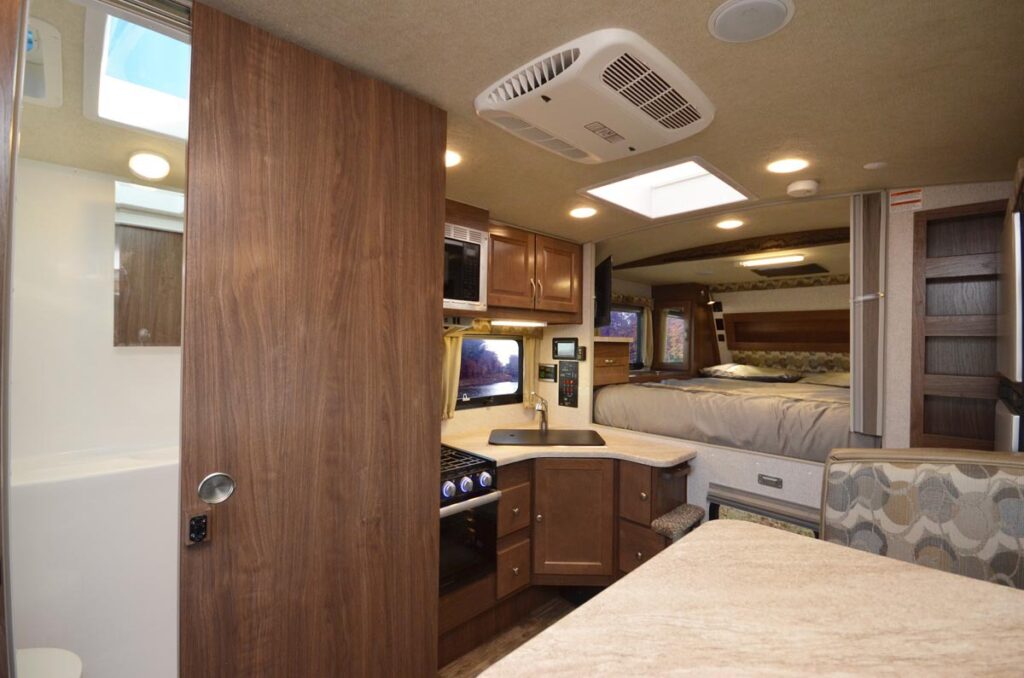 It comes with a cathedral arched ceiling and a single slide-out that houses the dinette. It features residential wear flooring throughout. This unit weighs 6,334 lb gross. The interior height is 6ft 7in while the overall length (including cabover) is 16ft 8in. The two best things about truck campers are their ability to go wherever a 4WD truck will go and that they can still tow a trailer or boat as well.
Class A
13. Northwood Manufacturing – Arctic Fox 811

Fleetwood claims their all-new Frontier combines the horsepower, smooth handling, and reliable safety features you will want. They are using the Cummins 6.7L, 340hp turbo-diesel engine. It has a 100-gallon fuel tank that lets you stop less.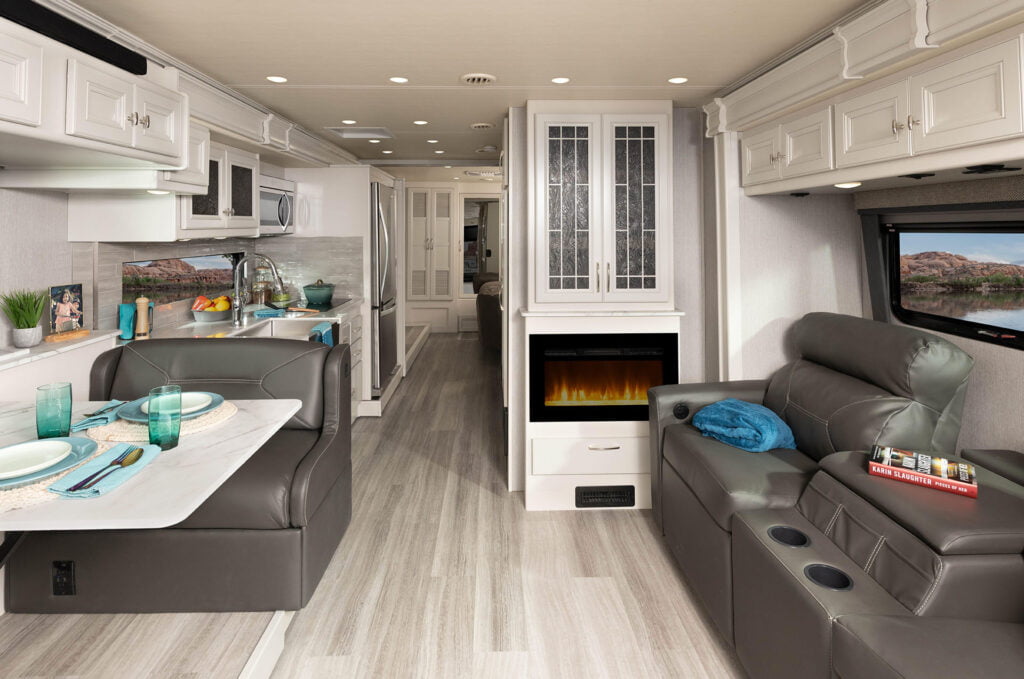 The Frontier design includes full-size appliances, cozy gathering spaces, and technology packages to keep the kids entertained. There is also a spacious king bed, fireplace and fibreglass shower. The shower is serviced by an Aqua-Hot compact heating unit. You will also find additional exterior storage, so you can bring all your toys and spread them out under the legless electric patio awning with LED lighting and motion retract sensor.   Optional add-ons including a KING universal satellite system, Hide-A-Loft electric drop-down bed with TV, full bay 90" slide-out tray, and connectivity packages are available.
14. Northwood Manufacturing – Arctic Fox 811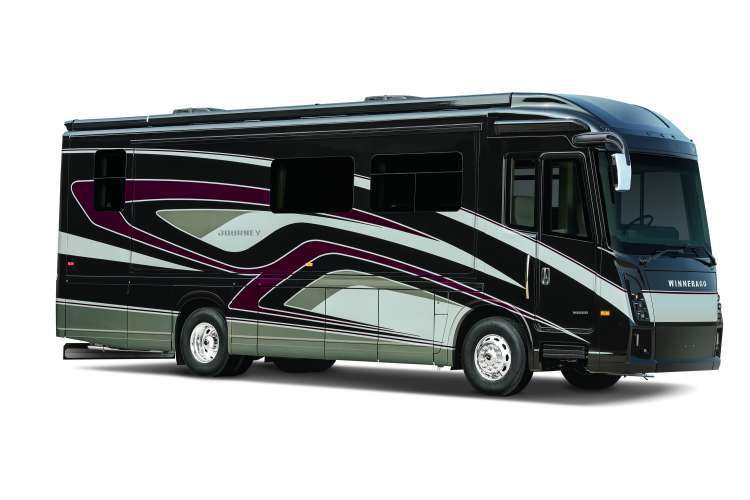 Introducing the 2022 Journey, an old Winnebago name with a whole new design. Fully loaded with stylish, modern refinements from front to back, this new diesel pusher is designed for luxury travel and entertaining. It's built on the Freightliner XCM Chassis, which has an integrated Maxum II foundation for support and huge basement storage. Complete with SureStore, the industries largest exterior compartments, there is no need to leave anything at home. The easy push button, soft open and close doors provide secure closure.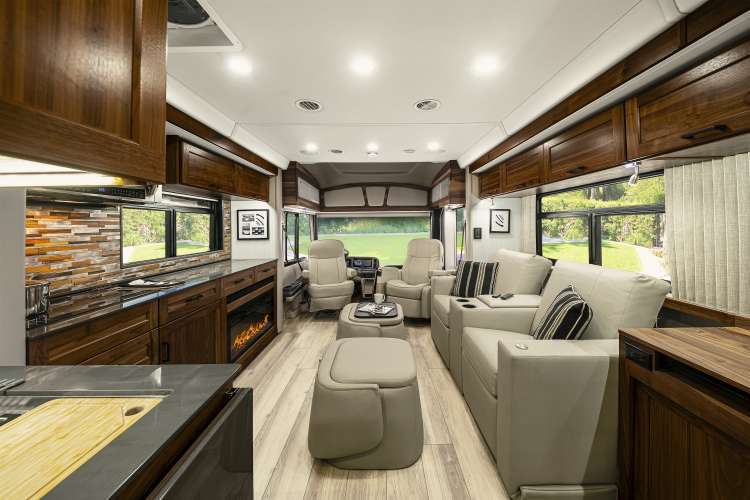 The floorplan shows off an abundance of counter space, with lots of room to entertain and a large bathroom located mid-coach for you and your guests. This is, simply put, an opulent coach.