It's often called the Texas minivan, as a tongue-in-cheek wink at its size. It's also the darling of US government agencies and has been a supporting actor in hundreds of movies. It's none other than the Chevrolet Suburban – a truck that has been built continuously since its introduction in 1935.
In fact, it's done so many movies that the Suburban just recently received its own "star" on the sidewalk of Hollywood Boulevard – the only automobile to ever be honoured in that way. Unveiled recently with the usual fanfare this was not a simple publicity stunt – this star was earned. Suburban's have appeared in hundreds of movies starting in the early 50's. These include classics like Peter Fonda's "Easy Rider", Clint Eastwood's "Play Misty for me", Harrison Ford's "Clear and Present Danger" and comedies like "Honey I shrunk the kids".    Suburban's have also burrowed deep into our Pop-culture, often helped by television. TV shows such as Starsky and Hutch, CHiPs and more recently Rescue Me have featured Suburban's in key roles. But one of the more famous trucks was James Gandolfini's Suburban used on the HBO crime show, The Sopranos.  This TV prop was sold in 2014 at the Barrett-Jackson collector's auction for $110,000.US.  That price included a signed message on the sun-visor – "Take good care of my car. Tony."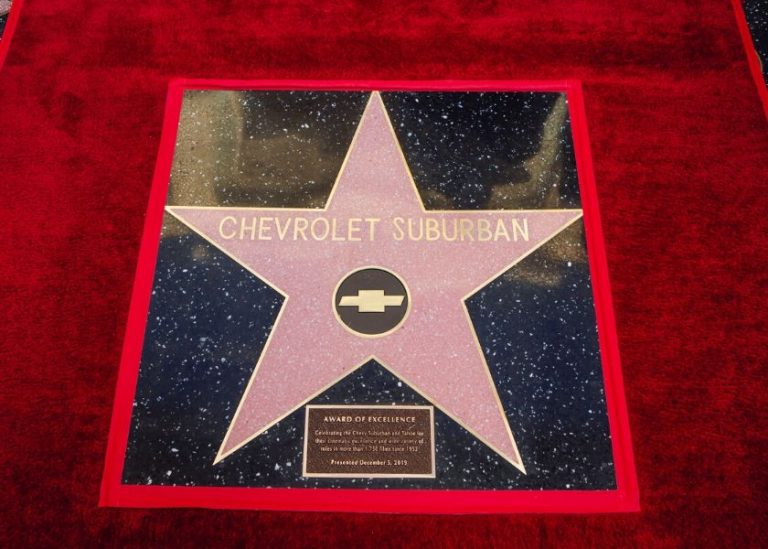 But, the Chevrolet Suburban's true claim to fame is that it's the single longest running uninterrupted production vehicle ever built.  Fast forward to Dec, 2019 and you'll see that the 2021 model we saw unveiled recently in Detroit now extends the Suburban's longest running nameplate record to 85 years and 12 generations – and it's still going strong – owning the lion's share of the full-size SUV market.
In 1935 though the original Suburban was built to simply move railway passengers and their trunks from the stations to hotels. Back then this purpose-built cargo and people mover was sold strictly as a commercial vehicle – it's also doubtful that Chevy executives ever saw any other future for the Suburban at that time. In fact, that is so long ago that race-car driver and founder of the brand, Louis Chevrolet, was still around to test the first one.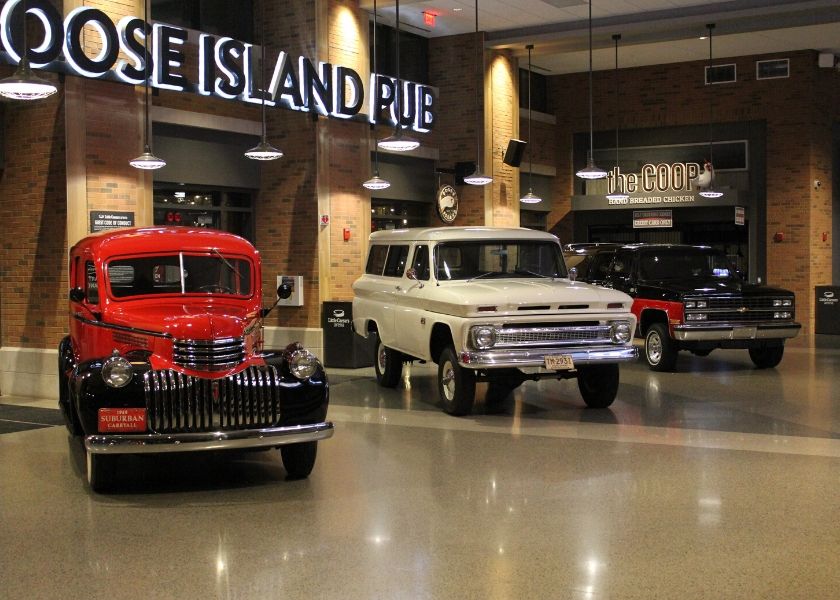 Later, the word "Carryall" was added to the name to highlight its purpose; mainly because the name Suburban was more of a general designation in those early days – attached to any station wagon type body with windows. For decades Dodge, Plymouth, Studebaker and Nash all built Suburban wagons. It wasn't till the 80's that Chevrolet finally trademarked the name and dropped the Carryall tag.
So, what about the popular term SUV? Well that wouldn't even emerge in vehicle vernacular till the mid-60's when the Suburban was already over 30 years old. That's when the first marketing campaigns emerged offering the Suburban as a personal-use vehicle.
Today its firmly entrenched in the personal-use full-size market and in its newest form Chevrolet is making sure customers are getting what they want.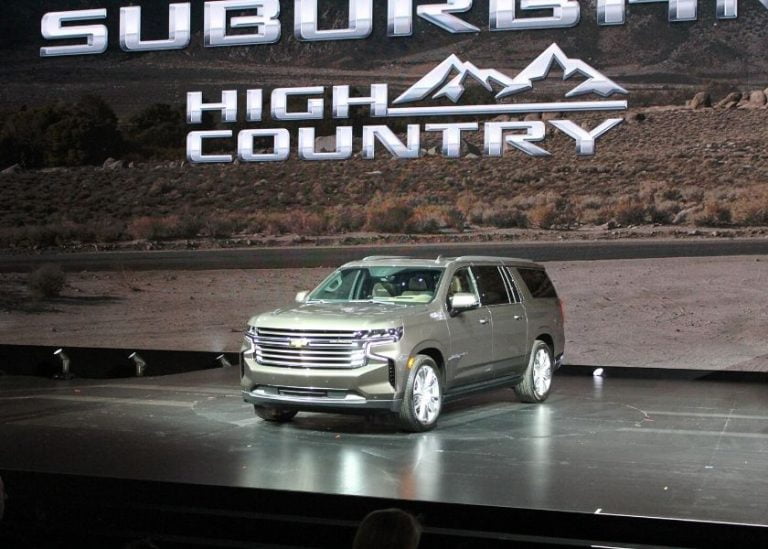 This 2021 Suburban is larger, more comfortable and offers even more cargo room than its predecessor. The wheelbase has grown by four inches (134.1") adding legroom in the second and third row. For the first time the second-row seat can slide, adjusting as much as 10-inches forward or back.   That third-row seat also sits lower thanks to a new chassis that doesn't rise at the rear as in previous generations. It will be significantly more comfortable.  In total cargo room has also increased by 23 cu.ft.   This new frame is also supported by new suspension – an Air Ride system that offers load levelling at all four corners of the vehicle and up to four-inches of ride-height adjustment.  This is in addition to the standard independent rear suspension paired with Magnetic Ride Control which is one of the fastest-reacting damping systems in the industry, using sensors to continually "read" the road and alter the damping rate of the shocks almost instantly.  Air Ride, of course, works automatically, however there is also a driver-selectable control that lowers the suspension two inches (when stopped) to aid passenger entry and exit. This control will also raise the body for additional off-road ground clearance of one inch at low speeds in 4WD HI, and another one inch in 4WD LO.
Suburban's standard engine is the long serving 5.3L V8 (355hp) paired with a new 10-speed automatic transmission.  A 6.2L V8 (420hp) is standard on the High Country model.  Both engines though now use Chevy's new Dynamic Fuel Management technology – a fuel saving system that through cylinder deactivation maximizes power (when needed) and fuel economy.  Both engines also feature stop/start tech, direct injection and variable valve timing.
Also new to Suburban for 2021 is a diesel engine option. The Duramax 3L inline-six turbo-diesel engine will be available on all models except Z71.  Currently available in the Silverado pickup, this small diesel is rated at 277hp and 460 lb-ft of torque. This is an industry first for full-size SUV's (for now anyway).  A key benefit of the diesel will certainly be the best fuel economy in the full-size segment. The roll out of the new Suburban is planned for spring 2020, however the diesel engine option may not be available till the fall of the year.
Another important function of Suburban's full ladder frame design has always been towing. I noted that Chevy has paid special attention to this trait this time around by adding new trailering technologies pioneered by the Silverado pickups. A Max trailering package is available and includes a high-capacity radiator and cooling fan, an integrated trailer brake controller, a Hitch Guidance with Hitch View feature and the Chevrolet trailering app. Drivers will now have up to nine camera views – more than any competitive full-size SUV.
The camera views alone will improve the trailering experience with easier hitching using rear camera guidelines, and help with low-speed manoeuvres. Other new features include a trailering app with trailer profiles, trailer tire pressure and temperature monitoring and Side Blind Zone Alert for trailering. Suburban will now also carry Chevy's industry-first trailering label located on the driver's side door jamb. This label provides customers with the exact weight capacities of their specific vehicle.
Chevrolet has also increased the electronically-based safety and connectivity features in Suburban ten-fold.  There are now as many as 30 safety and driver convenience technologies. Some of which are Restraint system with driver inboard seat-mounted side-impact airbag; Passenger Sensing System; HD Rear Vision Camera; Automatic Emergency Braking; Forward Collision Alert; Following Distance Indicator; Front Pedestrian Braking; Rear Park Assist; and IntelliBeam automatic headlamp control.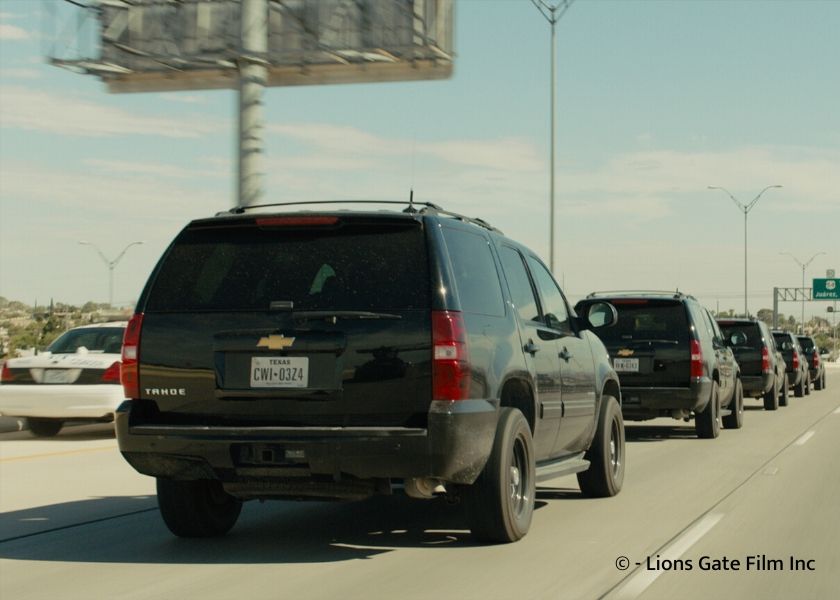 The new interior and dash feature Chevrolet's infotainment system.  It offers, up to, a 10-inch-diagonal colour touchscreen. It's one of five connected and configurable screens offered. On the windshield you will find an exclusive 15-inch diagonal Head-Up Display, while in the back an available rear-seat media package includes dual 12.6-inch-diagonal LCD touchscreens. These screens can be seen from the second and third rows and with independent connections passengers can watch different content on each side.  For the first time, rear seat passengers can also view content from an Android phone and access the Nav system to find points of interest – they can then transfer the data to the info screen up front for the driver to view. This is in addition to Chevy's built-in Wi-Fi (4G LTE) that can support multiple devices.
Pricing on the new Suburban is not yet available.