This quote was from my second year of culinary school, nearly 40 years ago, when I was a young and impressionable wide-eyed apprentice: "Listen up! Today is the start of your culinary training proper. You will learn the correct way to make each of these master sauces and their derivatives. You are expected to master each of the preparation methods required for you to function in a commercial kitchen; you must know how each item is prepared so that you can fake it."
I worked very hard to learn and master the traditional methods and premium ingredients to deliver a superior dining experience for guests. The chef-instructor's point was that in the real world, there might not be time, money or ingredients to do things perfectly as intended by the French master chefs whose techniques we were learning in school.
This brings us to today. And Christmas and other holiday celebrations. On the road. It is a major challenge to construct a proper Christmas dinner from your RV kitchen. Still, with a bit of ingenuity and a selection of ready-to-prepare ingredients from your supermarket, you will put together an impressive dinner pretty much out of the box(es). Apply some tricks I learned at culinary school, and your RV dinner will be a celebration.
Turkey is the centre of the Christmas plate and star of the show, so let's start with that. I used a single turkey thigh, roasting it in our RV Oven. You could easily choose a turkey breast if that is your preference. (It is worth noting that 9 out of 10 RV owners I surveyed recently confirmed that they had never turned the oven on in the RV. This is the time to reverse that trend and use your RV Oven. It is also worth noting that my oven is out 150 F, as proven with a Dollar Store thermometer. Check your oven before committing to turkey dinner on the road. My oven set at 500F gives a perfect turkey roasting temp of 350F.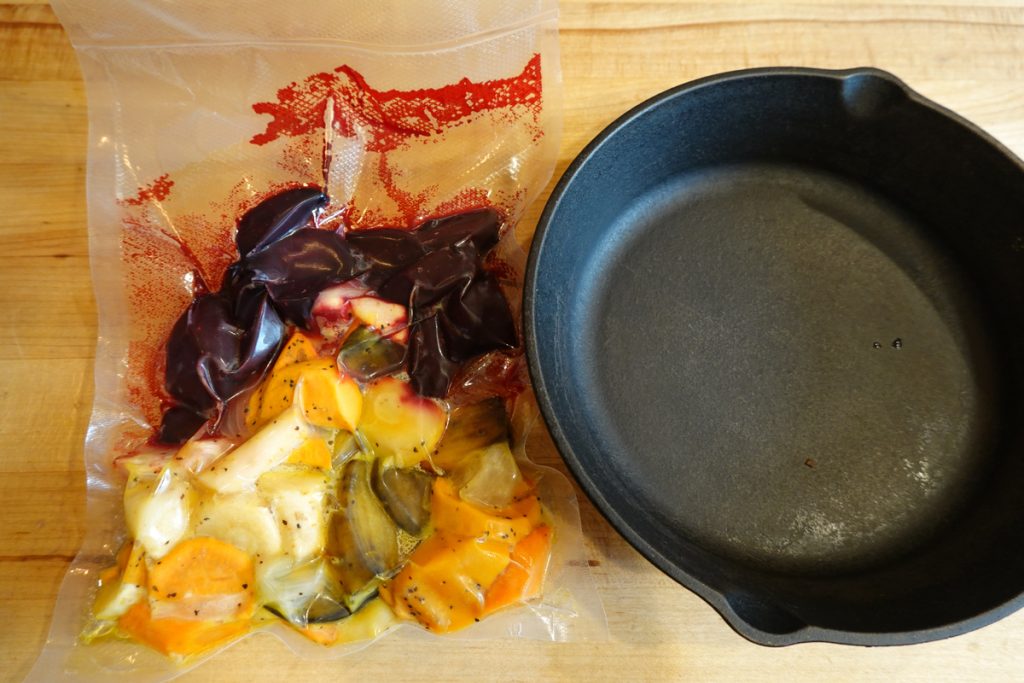 After I selected a good-sized turkey thigh, I perused the 'side dishes' grocery aisle and picked a packet of instant turkey gravy, Stove Stop stuffing mix, and a packet of instant Homestyle Mashed Potatoes. I had a package of pre-roasted autumn vegetables in my freezer: beets, squash, parsnip, sweet potatoes and shallots. You could do the same or purchase ready-to-steam frozen vegetables like Brussels sprouts.
I worked hard at culinary school to learn the correct way to make classic recipes. The outcome, as the chef pointed out, is that, too, I learned to "fake it." The additions my chef would expect me to make here with these instant mixes include substituting butter in the stuffing and potatoes instead of margarine, adding a splash of white wine (say 30 ml) and the drippings from the roast turkey to the gravy and finishing it with a glop of whipping cream (again 30 ml.) Of course, you can follow the directions to the letter if you wish, but if you want to make this as close to a premium dinner as possible, these small additions shift the flavour up an entire level.
A dinner of this calibre needs a good dessert, so my wife, Kathy, made us a couple of baked apples.
We had a wonderful Christmas dinner from the RV kitchen, and we might try some of these tricks at home to simplify our holiday entertaining.
Tools and Equipment
Mixing bowl
Dinner fork
gram scale or cup and teaspoon measures
suitable sized saucepans
Wooden spoon
20-cm (8-inch) Lodge cast iron skillet (well-seasoned)
Oven
Stove
Oven thermometer
Instant thermometer (to check the internal temperature of cooked turkey)
Ingredients for Christmas dinner for 2
One turkey thigh or breast, enough to serve two
Coarse salt and pepper
A package of Kraft Stove Top Stuffing
A package of Betty Crocker Homestyle Mashed Potatoes
A Packet of Club House Turkey Gravy Mix
Butter or margarine (Use butter, please.)
White wine
Heavy cream (as a substitute for the milk that the instant potatoes call for, and to add to finish the gravy)
Roasted vegetables from fresh or frozen (I did my own in advance of the dinner to be thawed and reheated in a frying pan.)
Cranberry Sauce (When it comes to cranberry sauce, Kathy, my wife, refuses to eat anything but fresh cranberries. She whipped up a batch on the stove from fresh cranberries following the directions on the package. Feel free to do this in advance or buy a can of your favourite cranberries.)
Method
1. The day before dinner, season the turkey with coarse salt and pepper, cover with plastic wrap and let sit overnight in the fridge.
2. The day of the dinner, preheat the oven to 350F, place the turkey in a small skillet and roast for about an hour until the internal temperature is 165F.
3. About 20 minutes before the turkey is done, mix up the gravy, stuffing and mashed potatoes per the directions on the packets.
⁃ In the case of gravy, substitute up to 1/4 cup of water with white wine.
⁃ Drain the juice from the roast turkey and whisk into the gravy.
⁃ Add a splash of whipping cream once the gravy has come to a boil, stir in well and continue to simmer until the gravy is the thickness desired.
⁃ Use butter instead of margarine for the stuffing and the mashed potatoes and substitute half of the milk for the potatoes with whipped cream. (The difference will be astounding.)
4. Remove the turkey from the oven and let it rest while you prepare vegetables.
5. Heat the vegetables in a suitable container. (I heated mine in a cast iron fry pan.)
6. Set out the cranberries and the prepared sides.
7. Slice the turkey and dish up dinner.
For baked apples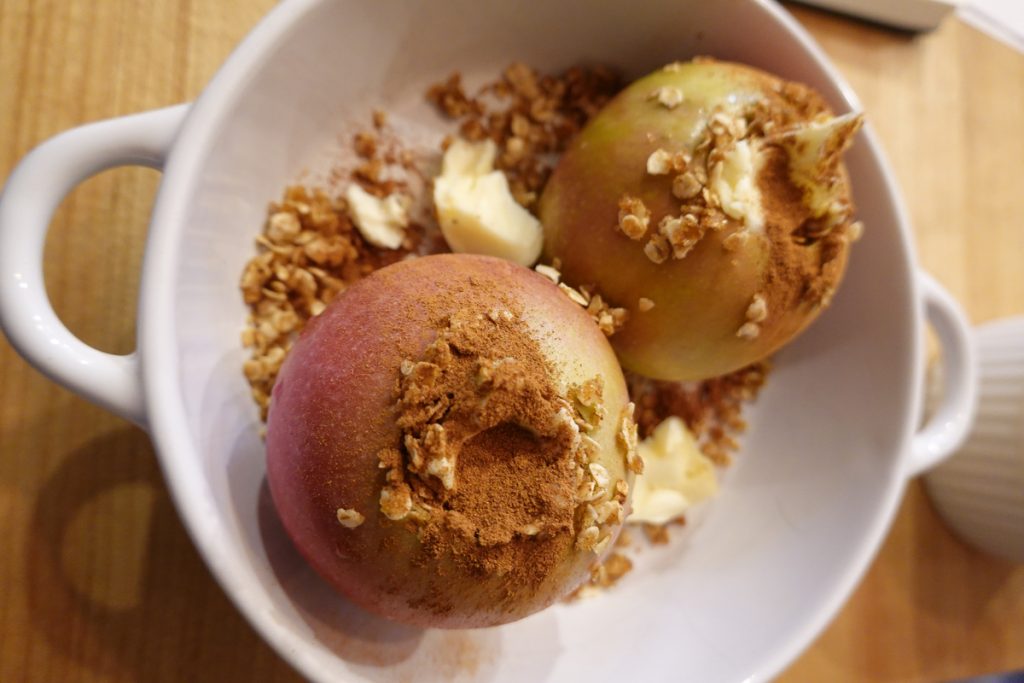 Ingredients
2 apples, cored
1/2 cup of instant rolled oats
1/4 cup brown sugar
3 tablespoons of melted butter
1 tablespoon all-purpose flour
1 teaspoon cinnamon
1/4 teaspoon nutmeg
Method
1. Core apples
2. Melt butter and mix with brown sugar.
3. Add dry ingredients including spices to the butter and sugar mix.
4. Stuff mix into the core of the apples and sprinkle the excess over the apples.
5. Bake at 350F for about 40 minutes, or until the skins just split.
6. My preference is to serve with ice cream. (DQ Softserve would be at the top of the list, if you can find some.)