Ah September! The real beginning of the new year for your two teaching Galley Chefs. Things sure look and feel different from this time last year as teachers and students gear up for different ways of learning. What hasn't changed, though, is the arrival of that familiar back-to-school symbol, the apple.
Apples, like honeybees, were introduced to North America by colonizers in the 16th century. Although there were once up to 17,000 varieties of apples available in North America, a much more limited selection is typically offered today by grocery chains. Apples are prized for both their nutritional benefits and their taste. They're high in fibre, vitamin C, and various antioxidants. The texture of an apple can be described as hard, dense, and crisp or soft and mealy. We're choosing crisper, sweeter-tasting, and juicier apples these days. Honeycrisp, Ambrosia, and Gala are now the top selling apples in Canada, knocking out the Red Delicious  which had been in first place for the past 50 years.
Apples are commercially grown in British Columbia, Ontario, Quebec, New Brunswick, Nova Scotia, and Prince Edward Island. The Canadian national apple is the McIntosh, cultivated by the McIntosh family in Upper Canada in the early 1800's. Although no longer a top seller, McIntosh apple genes show up in the Jersey Black Macoun, Newtown Pippin Spartan, Cortland, Empire, Jonamac, Jersey Mac, Lobo, Melba, Summered, Tydeman's Red, and possibly the Paula Red. And yes, when Apple Inc.'s Macintosh line of personal computers was introduced in 1984, it was named after the apple. The computer of course is now known as the "Mac".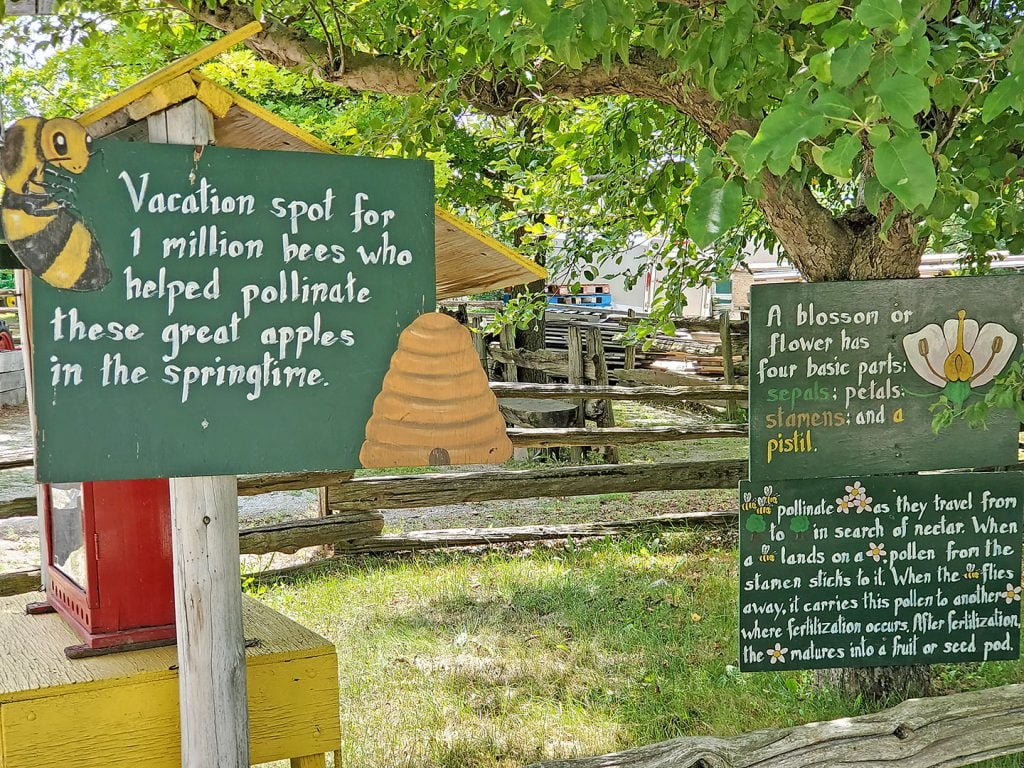 Apple trees can live for over 100 years. Apples start their lives as flowers on the apple tree and take 100 to 200 days to grow depending on the type of apple and the local conditions. Bees play a critical role in apple production by transferring the pollen produced by the flowers on one apple tree to the flowers on another tree. Without the help of bees, the apple flowers would bloom and then wither and drop off. Simply put, no bees = no apples. That's why it's so important as we're closing down our RV sites or getting our gardens ready for winter, to consider providing our native bees with artificial nesting sites such as plant stem tunnels or bare ground, to help increase the local bee population.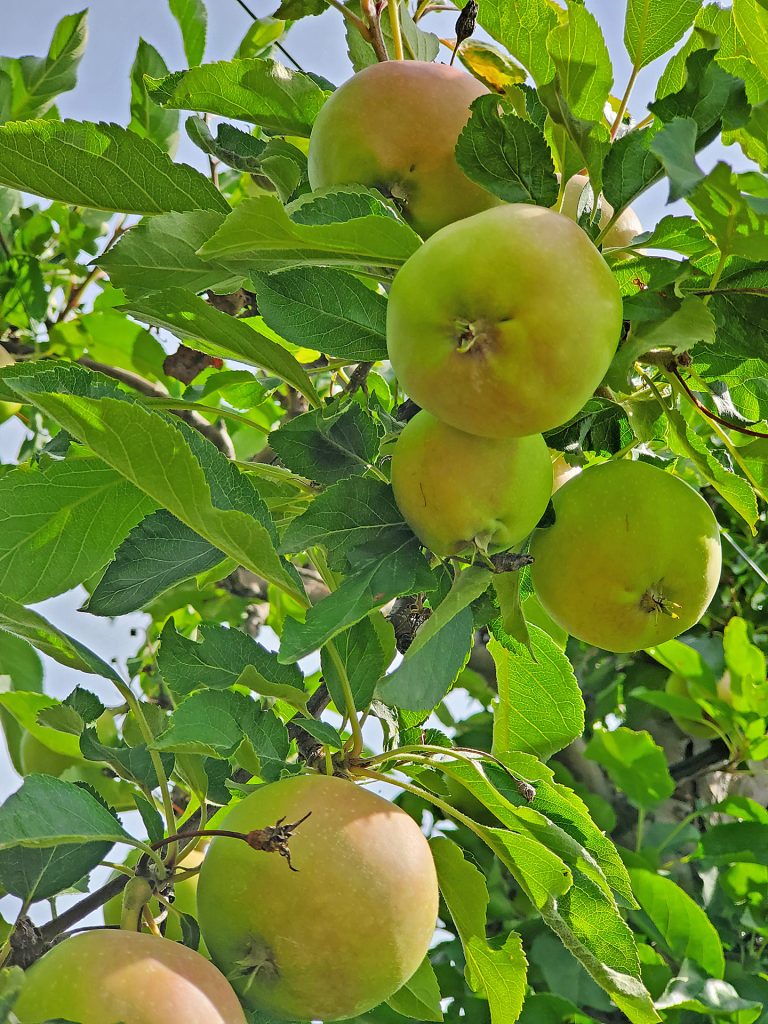 Our lovely autumn season is the perfect time to visit Farmers Markets and apple orchards. St. Jacob's Market is brimming with apple offerings including Paula Red and Ginger Gold. Chudleigh's  and Andrews Farm Market & Winery are perennial family favourites for picking your own apples. Tydeman, Sunrise, Wealthy, Ginger Gold, and McIntosh have already been picked – Silken, Kerr Mini, Gala, Cortland, Empire, and Honeycrisp will be ready soon. Timed ticketing and mandatory mask-wearing requirements are in place. Both farms are less than 10 minutes away from Milton Heights Campground. Next on our list is to explore the Apple Pie Trail which links dozens of culinary destinations throughout South Georgian Bay.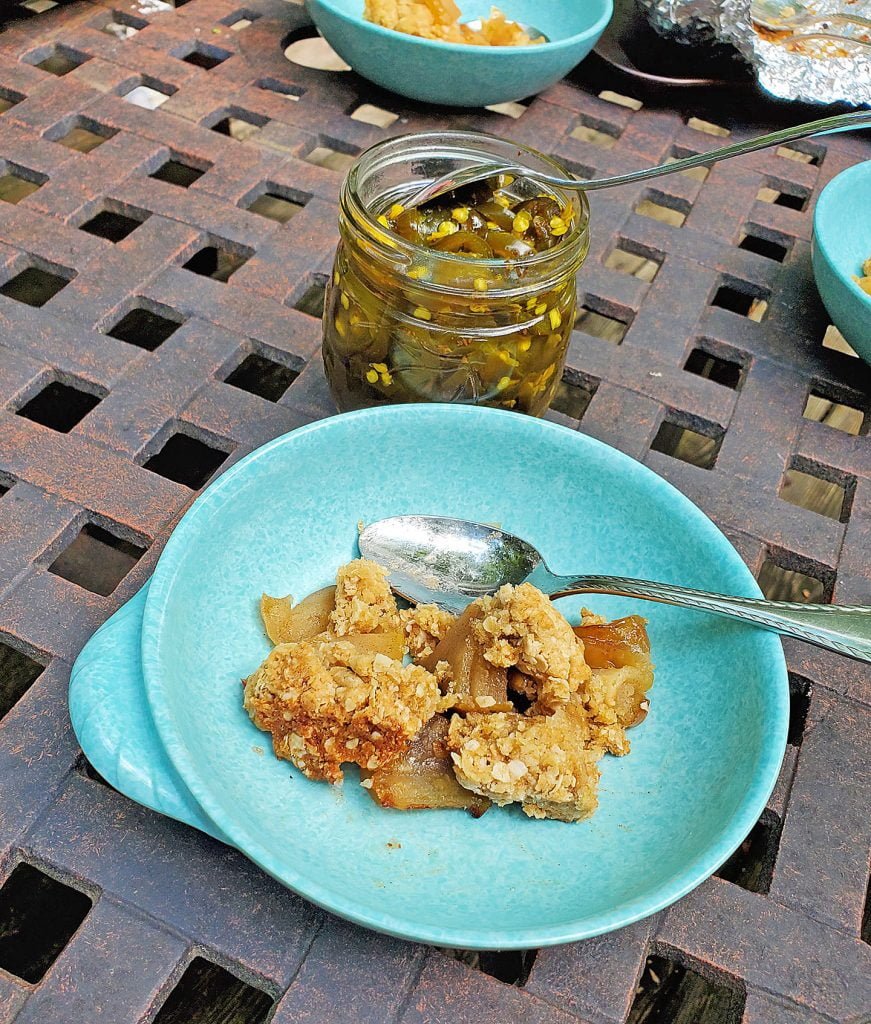 Apple Crisp
Our apple adventures this summer led us to an apple bake-off in search of the very best flavour and mouth-feel.   We asked Danielle and Karen Thompson, excellent cooks themselves, to judge which apple worked best for our apple crisp recipe: Pink Lady and Honey Crisp tied for first place, followed by Gala and in last place, Mutsu (also known as Crispin).
You can make this recipe on the BBQ or in the coals of a campfire. Place the packets at the edges of the campfire, as far away as possible from the direct flames. Rotate the packets half way through to ensure even cooking.
After thoroughly washing the apples, you can also choose to either peel the apples or keep the skins on.
Here's the recipe, adapted from Julie Evink, Gimme some Grilling and serves 4.
Equipment
 4 sheets of aluminum foil 30 cm long (1 sheet per crisp)
Ingredients
Apples – 6 medium-sized
Granulated sugar – 60 ml
Cinnamon, ground – 20 ml
Lemon juice – 60 ml
Brown sugar, gently packed – 120 ml
All purpose flour – 240 ml
Quick oats – 240 ml
Baking powder – 6 ml
Vegetable oil – 200 ml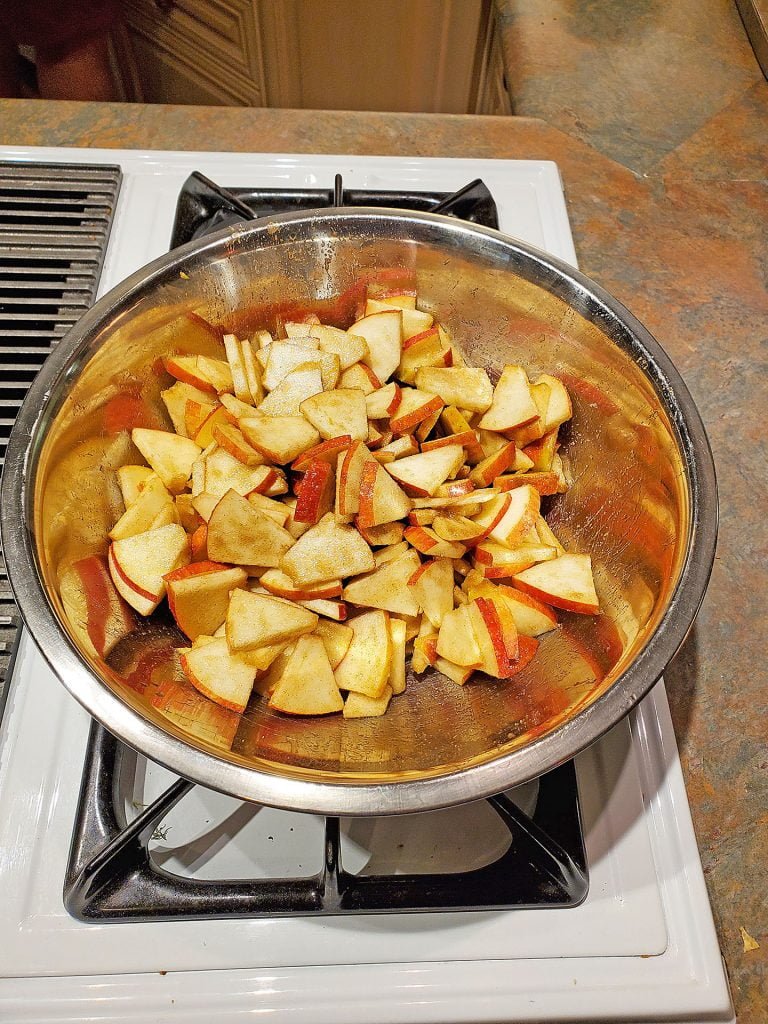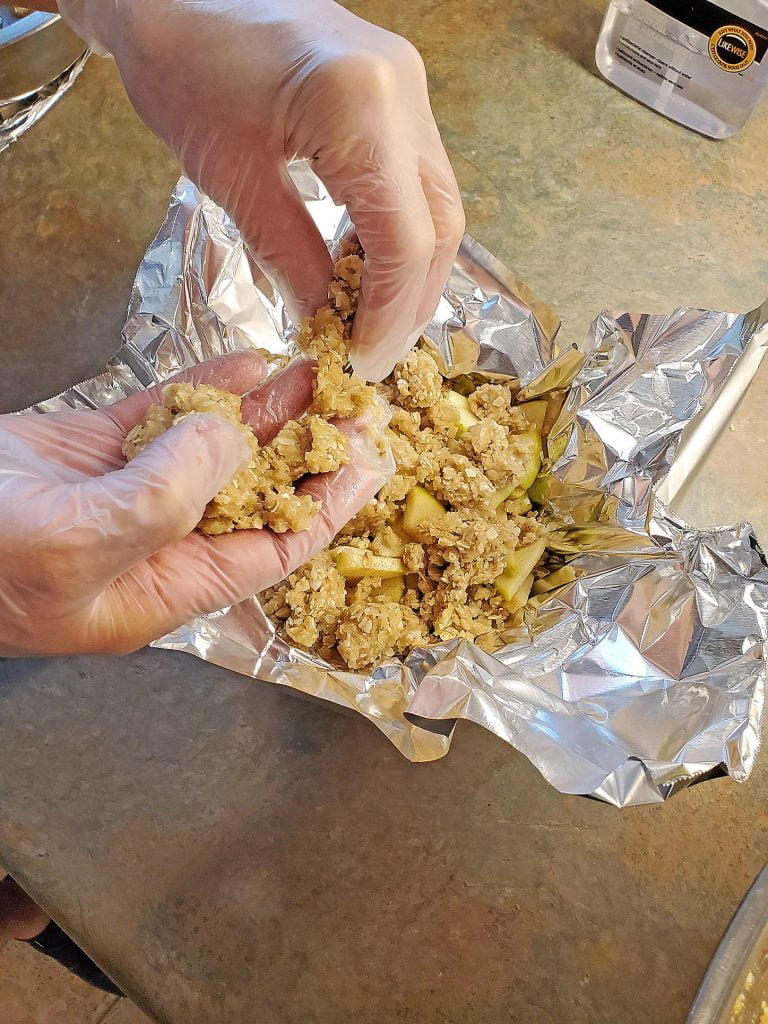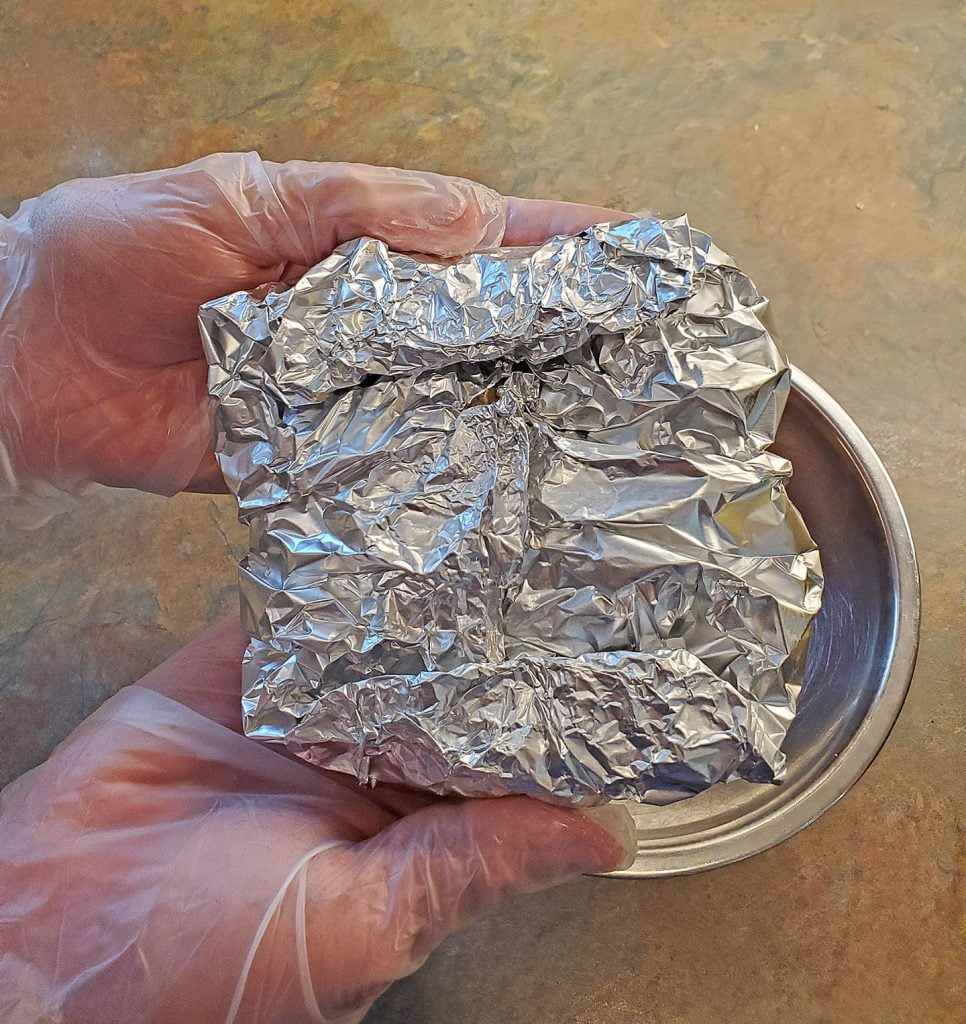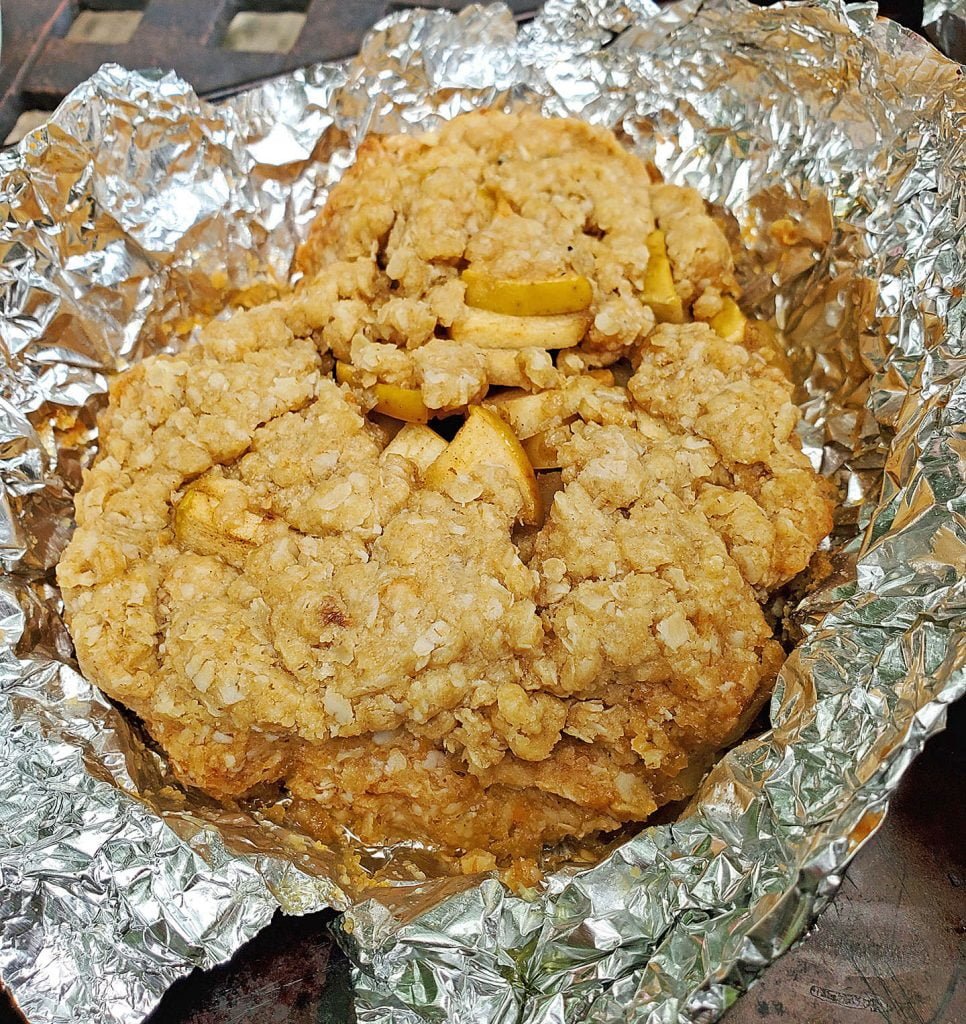 Method
Pre-heat to medium-high (400 F).
Mix granulated sugar and cinnamon in a small bowl. Reserve.
Clean the apples, remove the tops and bottoms with knife, and if desired, peel the apples.
Cut the apples into 4 sections (cutting vertically through the core), and remove the core bits.
Turn each cleaned quarter apple on its side, cut in half lengthwise, and slice thinly. (Each slice should be about 3 mm thick.)
Put the thin slices into a bowl, pour the granulated sugar and cinnamon mix on top, and then toss thoroughly by hand or spatula to thoroughly coat each slice.
Pour the lemon juice onto the apple slices. Re-mix and reserve for at least 40 minutes, to allow time for the apples to macerate.
In a separate bowl, mix together the brown sugar, flour, baking powder, and oats.   Add the oil and combine thoroughly. Reserve.
Place the 4 squares of aluminum foil shiny sides up and divide the prepared apples evenly between them. Place the mixture towards the middle of aluminum foil to allow room for the oat topping to follow.
Take ¼ of the oat topping mixture and pat into a round disk by hand. Place one disk on top of each of the 4 sets of apple mixture, leaving a little room around the edges of the aluminum foil.
If cooking on the BBQ, pinch the edges together tightly to make a foil packet. If you are cooking on a campfire, close the foil packet loosely, to let steam escape.
Place the packets on the grill and shut the lid. Lower the BBQ temperature to 350 F. Open the lid of the grill after 20 minutes. Loosen the tops of each packet and continue cooking for another 20 minutes.
Allow to cool for at least 20 minutes before enjoying.
We taste-tested with different types of chutney, and mustard toppings. Danielle's home-made "Cowboy Candy" was a real hit as were Chudleigh's Apple Pear Chutney and Sweet Hot Apple Mustard.  We've found this to be an easy prepare and take dessert. You can cook it a day or two ahead of time at home in a conventional oven, chill or freeze it, thaw on the day of use – and then "finish" at the campfire or on the still-hot BBQ.
Savour these last few weeks of the RV season, try out some different apples, stay safe, and above all, Bee Kind.