Like many Canadians, we're viewing the July 1 holiday differently. While we continue to learn, and reflect on Canada's history, we're looking for ways we can respectfully recognize Canada Day. One way we can do this is through food.
With the Canada Day menu we have prepared, we're honouring Indigenous history by using ingredients like wild rice, traditionally harvested by Indigenous peoples. We'll also include a green salad made with locally sourced dandelions and, camelina oil from western Canadian farmlands.
Wild Rice
Wild rice is a grass growing in marshlands and along waterways from Manitoba to the Atlantic Ocean and Saskatchewan. An annual with stalks up to three metres in height, wild rice is Canada's only native cereal crop. When ripe, the grains drop readily and are harvested using a wild rice harvester, a windjammer airboat customized with a thresher and rice tray mounted at the front.
Dandelions
Dandelions are nutritious and contain vitamins A and K as well as calcium and iron.
Fun Fact: the design of today's lightweight passive drones was inspired by the ability of dandelion seeds to travel as far as a kilometre in dry, windy, and warm conditions!
Camelina Oil
Camelina oil is one of our favourite choices for making salad dressings, sauces, and dips. High in omega-3 and omega-6 fats, as well as vitamin E, camelina oil is made from the Camelina sativa oilseed, an ancient oilseed crop that is a member of the Brassicaceae family.
Here's the recipe for wild rice burgers, adapted from Against the Grain, a family run business, providing certified organic wild rice, from northern Saskatchewan. For a bit more of a "pop", we mixed some chipotle mayonnaise from Baps Shayona into the regular mayonnaise.
Ingredients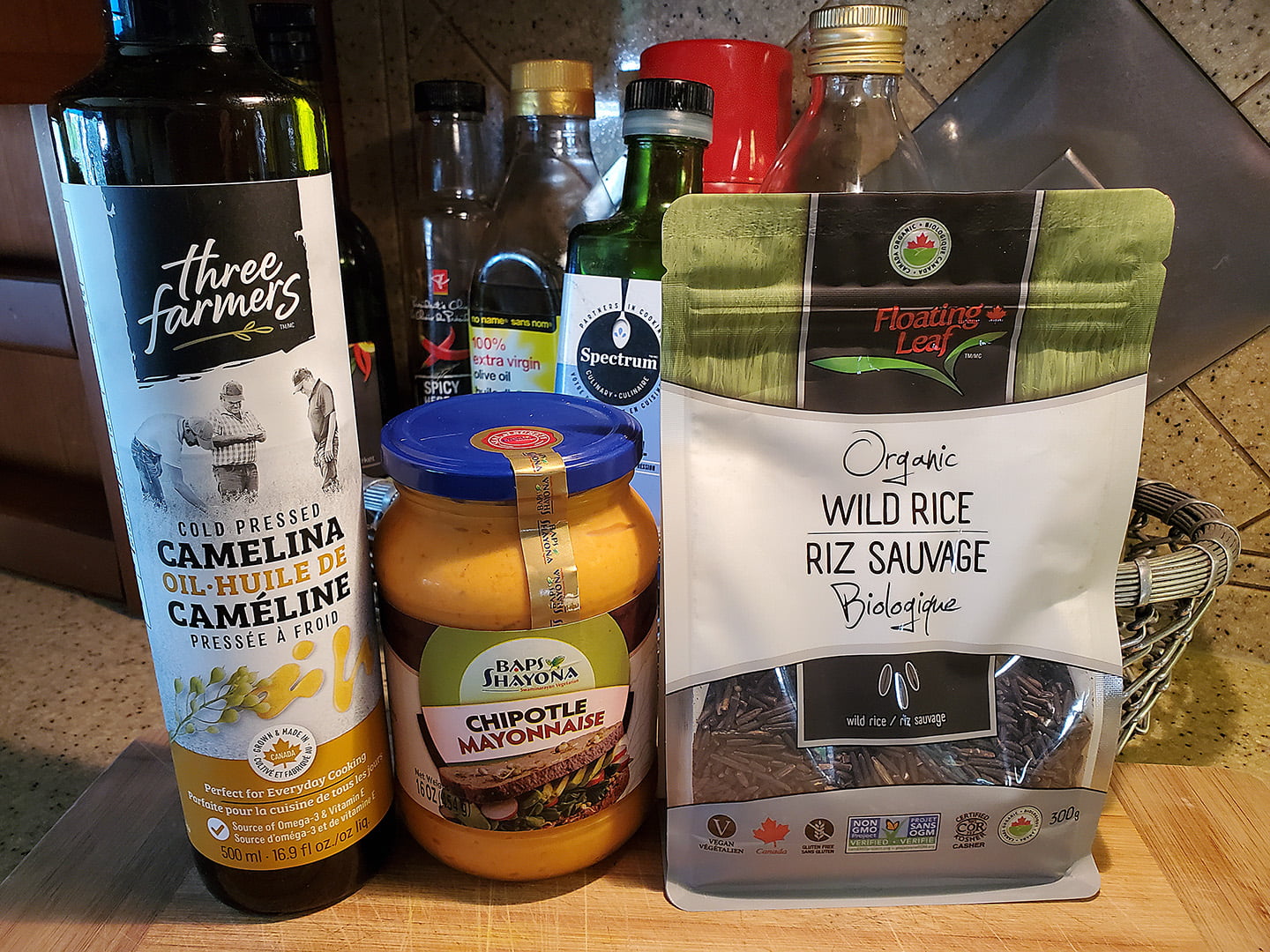 Rice, wild – 250 ml
Water, cold – 1 litre
Mushrooms, button or Cremini – 250 ml after chopping
Breadcrumbs – 250 ml
Mayonnaise – 375 ml
Eggs – 4 each
Salt – 5 ml
Pepper, black – 5 ml
Pepper, cayenne – 5 ml
Garlic powder – 5 ml
Cumin, ground – 50 ml
Cooking oil (grapeseed oil works well)
Equipment
Pot for cooking the wild rice
Large mixing bowl
BBQ
Ice cream scoop (optional)
Cookie sheet with parchment paper
Method
1. Rinse the wild rice under warm water
2. Put rinsed rice into cooking pot, add water and bring to boil, uncovered
3. Stir rice with wooden spoon to ensure nothing is sticking to bottom of pot
4. Cover and then slow-simmer for 30 minutes
5. Mix all herbs in small bowl – reserve
6. Measure out breadcrumbs – reserve
7. Prepare mushrooms by dry-wiping and removing bottoms of stems
8. Chop mushrooms into small chunks – reserve
9. Check rice for doneness and cook for 5 minutes longer if needed
10. Remove rice from heat, uncover, and allow to rest for 15 minutes
11. Drain rice (save the stock to make soup later if you wish) and transfer rice into a large mixing bowl
12. Use fork to fluff and spread around to allow rice to cool
13. Open eggs and gently muddle to make even mixture
14. Add spice mix to breadcrumbs and stir together for even mixing
15. When rice has cooled enough to be touched by hand, add the breadcrumbs and evenly combine the mixture
16. Add mushrooms and evenly combine (do not do these two actions together … they need to be in sequence)
17. Add eggs and stir in for even coverage
18. Add mayonnaise and stir for even mixing. (This can also be done by hand. Messy, but fun!)
19. Heat up the BBQ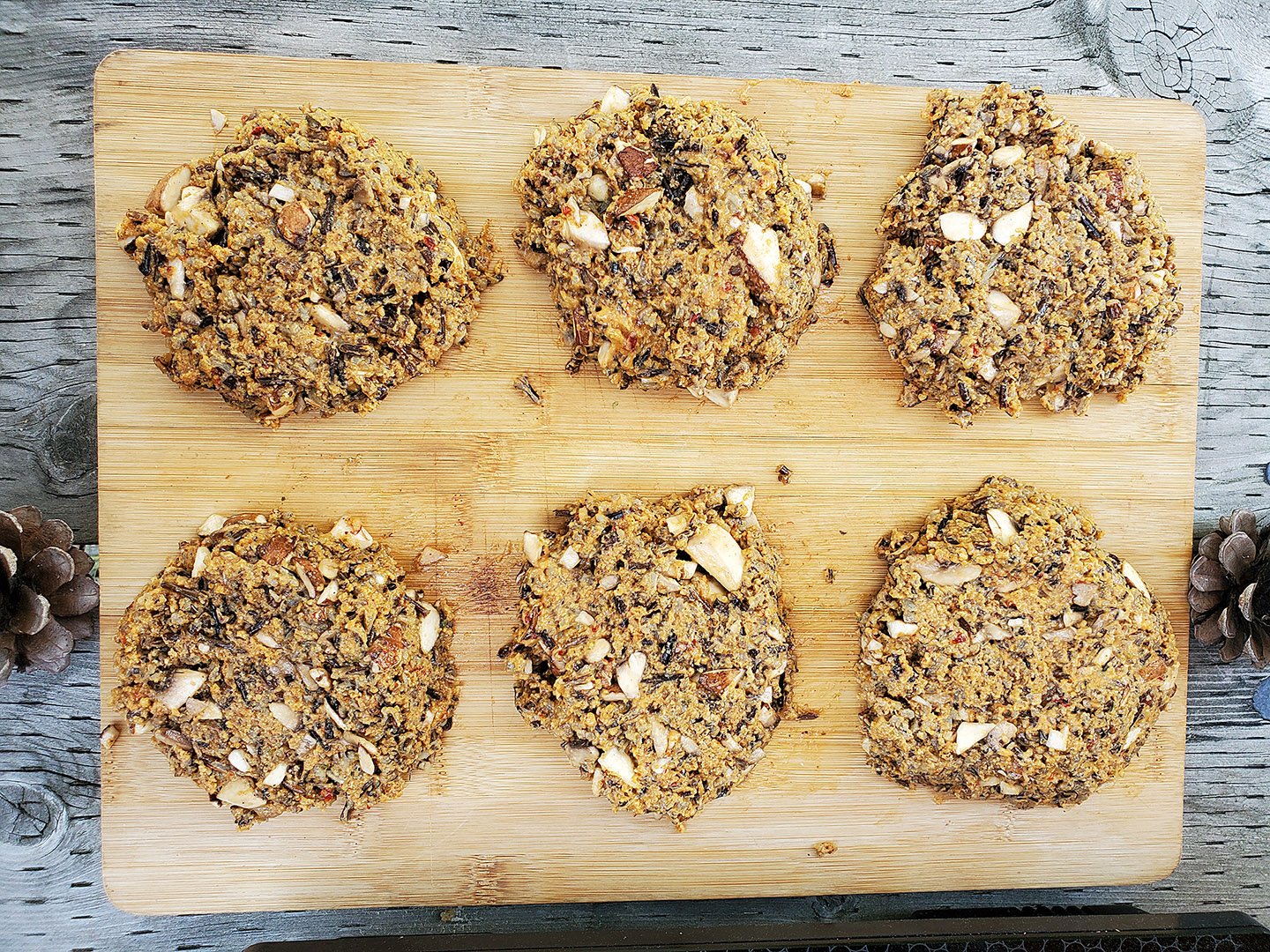 20. Form the mixture into patties by hand or with an ice-cream scoop, ensuring each patty is flattened to no more than 2 cm thick
21. Reserve uncooked patties on parchment paper on a cookie tray
22. When BBQ is hot, brush grill with oil to create a non-stick surface
23. Use a spatula to pick up prepared patties from parchment and slide gently onto cooking grill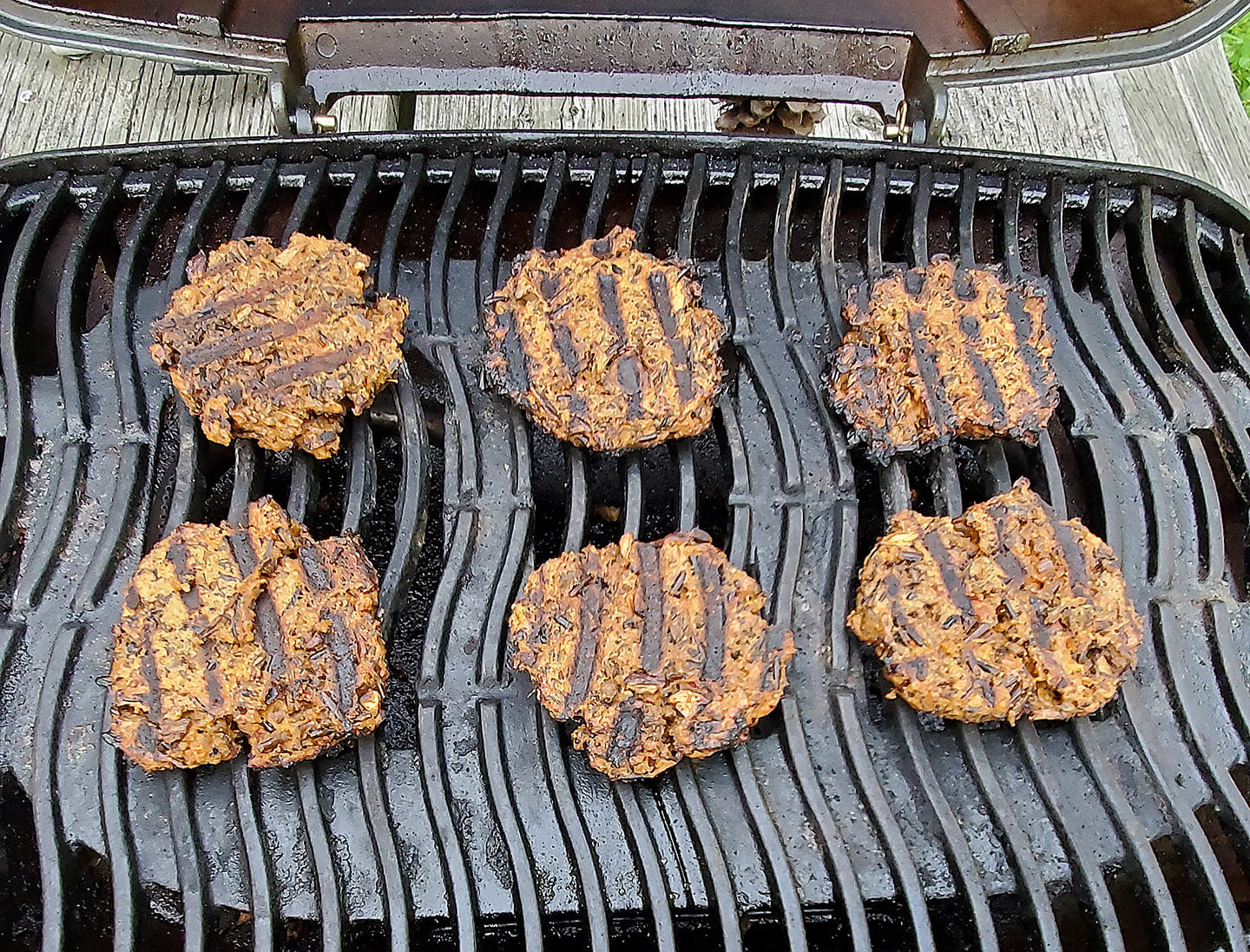 24. Cook for about 4-5 minutes on first side
25. Gently turn each patty over and cook for a further 3-4 minutes
Enjoy your wild rice patties on their own, accompanied with a salad. Or enjoy them in a bun with whatever you fancy!