Tying a cruise into an RV trip had always sounded like a good idea. We could take advantage of a last-minute deal and save hundreds of dollars by eliminating the airfare from Toronto. It still seemed to make sense in mid-February when we booked a seven-day Western Caribbean cruise departing from Miami.  
We had heard about the novel coronavirus on the news, but it was concentrated in Asia with no reported cases in North America. Ten days later, as we were boarding the Norwegian Escape in Miami, a few alarm bells had started ringing. The first death on American soil was reported on February 29th — the day our cruise began. Luckily our ship did not have an outbreak. We enjoyed every minute of the cruise, but a lot changed over those seven days we were at sea.
Like many Canadian RVers, we drove home more quickly and earlier than planned, but in our case, not just due to the virus. My mom died the day after we disembarked the ship.  In normal times we might have flown home and returned a few weeks later to resume our trip. But, of course, these weren't normal times.
If, like us, you were one of the many Canadian snowbirds RVing in the southern states those first few weeks in March, you had a difficult decision to make. After all, who wants to head home early? Especially when there's still snow at home? Like us, you probably had a more leisurely return trip planned. Maybe you had booked campground reservations along the route months in advance. Some of you may have intended to spend the summer in a seasonal park in Canada with no interim place to land if you returned early.
If not for my mom's passing, I'm sure we would have had a hard time making this decision, too. At least until two weeks later when the Prime Minister announced in no uncertain terms, "Now is the time for all Canadians to return home."
Two Jam-Packed Months in Florida
Although our Florida trip was cut short, we managed to jam pack a variety of adventures into the two months we had. Although it was mainly an RV trip, the cruise wasn't the only time we moved out of our RV for a week.
A Week Near Disney
One of our predetermined destinations was Kissimmee, where we connected with our kids and grandkids for a week. We shared a six-bedroom house in a gated resort community. There are hundreds of similar homes on offer within a 15-minute drive of Disneyworld and this was our fourth year of renting one with the kids. It has become one of our favourite family vacations, especially while our grandkids are young.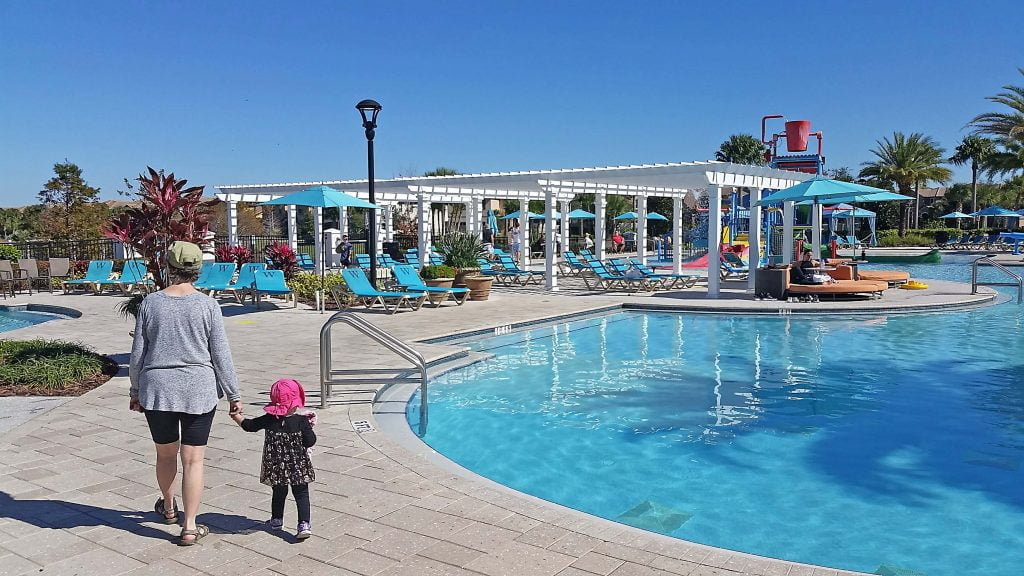 Randy and I are always on board for the pool, hot tub, game nights, and restaurant dinners, but we generally only join the kids for one or two theme park excursions. Divided between four families, the Airbnb cost is very reasonable, and when we can tie it into an RV trip, we have no airfare or car-rental expense.
Four Days on the Pinellas Bike Trail
Florida being so flat, it shouldn't surprise anyone that the state has a lot of great bicycle trails. We spent four days camping and cycling with friends from Ontario who are regular winter visitors in a campground adjacent to the Pinellas Bicycle Trail in Palm Harbour. We couldn't get a reservation in their campground even though we tried months in advance, but we were lucky to be accepted by a Boondockers Welcome host nearby.
We had booked rental bikes, but our host suggested we cancel that arrangement; she had two she could lend us — a gesture we really appreciated and saved us $100.00. We made good use of them, riding the trail between Dunedin and Tarpon Springs daily with our friends.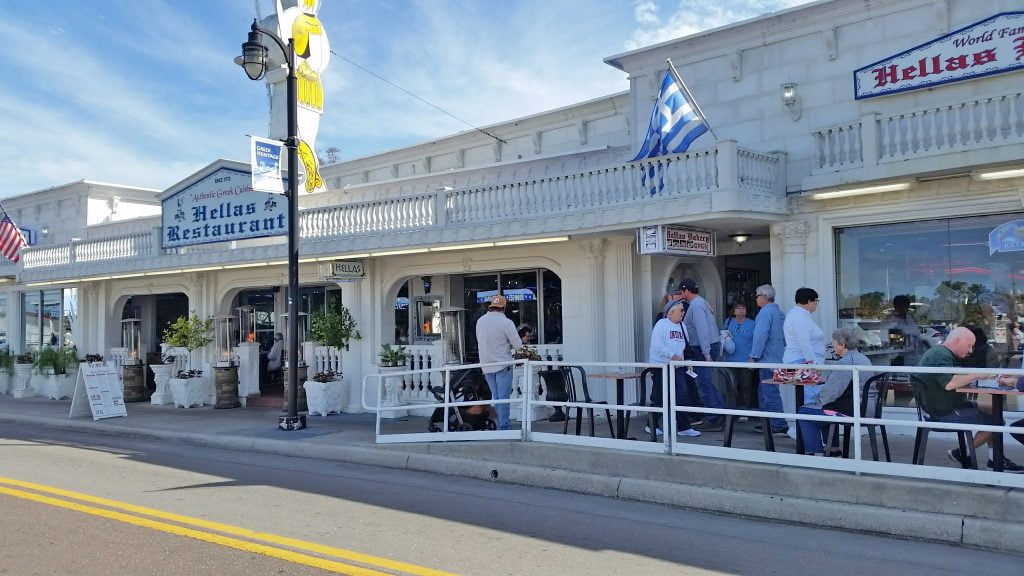 Full disclosure — I'm a co-founding owner of the Boondockers Welcome platform where we facilitate free short-term camping on private property offered by fellow RVers. We stopped at host locations en route to and from Florida and incorporated as many as we could while crisscrossing the state.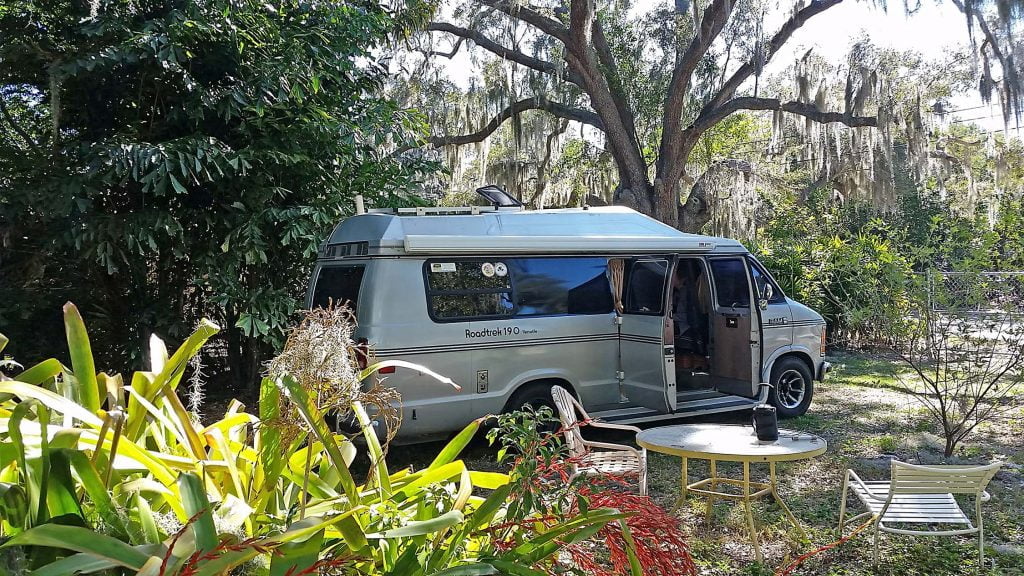 In fact, would you believe that we went to Florida without any advance campground reservations at all? Our entire camping expense for the two months came to US$60.00! That was the cost for three nights at Ocean Pond Campground in Oceola National Forest west of Jacksonville. It's a rare find: a first-come, first-served campground, so you need to arrive early and avoid weekends to get a site.
The RVillage Spirit of the Road Rally
We don't go to many RV shows or rallies to promote Boondockers Welcome, but when RVillage.com founder, Curtis Coleman, asked me to be one of three Masterclass Speakers at his third annual RVillage rally, I knew we had to attend. It was the main reason Florida became our winter destination this year. Once that decision was made, we planned the rest of our trip around it.
If you've never been to an RV rally, this is a good one to attend. The emphasis is on fun! Aside from our official duties, we had time to attend karaoke, enjoy the live music, and spent hours mingling with 2,000 other RVers around the "Firebirds". Since the evenings were cool, the entire crowd gathered around these six giant metal art structures to dance and keep warm.
There were multiple happy hour events to attend, and we hosted our own on Valentine's Day, a beautiful sunny afternoon. We were extremely pleased with the turnout (approximately 70 people) and grateful for the many who agreed to wear an "Ask me why I love being a Boondockers Welcome member" sticker. We signed up many previously-undecided new members the next day.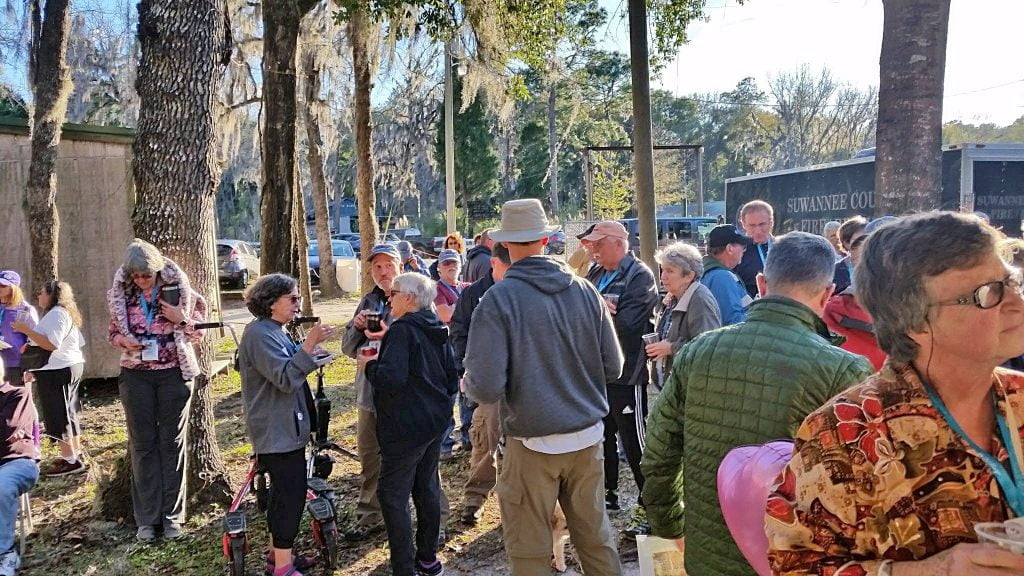 The rally was in Live Oak and the last pre-planned event on our trip agenda. Before and after the rally, we crisscrossed the state from one coast to the other, staying with various Boondockers Welcome hosts — all of them now friends who we hope will let us return the favour one day and visit us (in Elora, Ontario), once that border reopens.
The Villages
We had heard of The Villages — a 55+ retirement community in central Florida. But doesn't that describe half of Florida? From that description, we would never have gone out of our way to check it out. However, a BW host who lives nearby insisted we had to see this place so she took us on a tour. Twice, in fact — in daylight and again in the evening.
Wow! What a happening place! It's easy to see how these connected planned communities south of Ocala got the name "Disney for Adults". Every detail of the landscape, buildings, and streets is carefully planned and manicured. There's vibrant nightlife, great restaurants, lively bars, and much more. Each of the three village squares has a live band on an outdoor stage playing classic rock (or other music appealing to a 55+ crowd) every night of the week. We were amazed to see so many people here, partying and dancing on a Monday night! The Villages are open to the public and definitely worth a detour if you're anywhere in the area.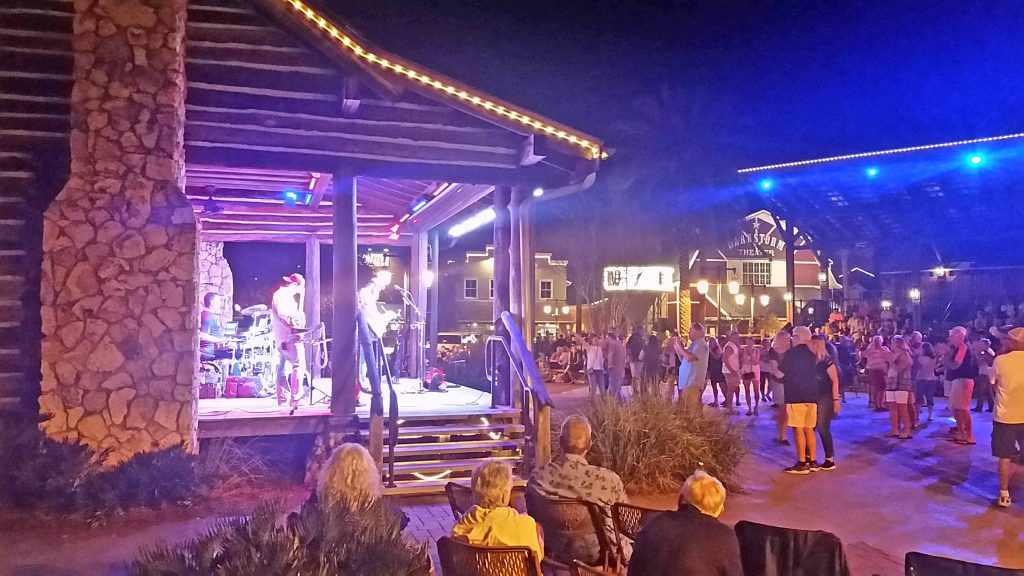 Babcock Ranch
At the suggestion of another host, we visited Babcock Ranch, a unique "sustainable" community on a small lake northeast of Fort Myers. It claims to be the only community of its kind, powered by a photovoltaic solar energy field with 343,000 panels spread over 400 acres.
Their free guided tour includes a 1/2 hour ride in a very quiet boat with an electric motor. We also toured some of the model homes; they're quite lovely and, compared to Ontario, the prices seem reasonable (but we're not ready to buy in just yet). There was no pressure or sales pitch, which was nice. At least not until after we left and received a series of emails, (from which one can unsubscribe).
Other Fun Finds
Every one of our Boondockers Welcome hosts (now considered friends) were eager to share ideas of things we should see and do locally — sometimes with them; other times on our own. It was strawberry season, so we had to stop for strawberry shortcake at the famed Parksdale Market in Plant City.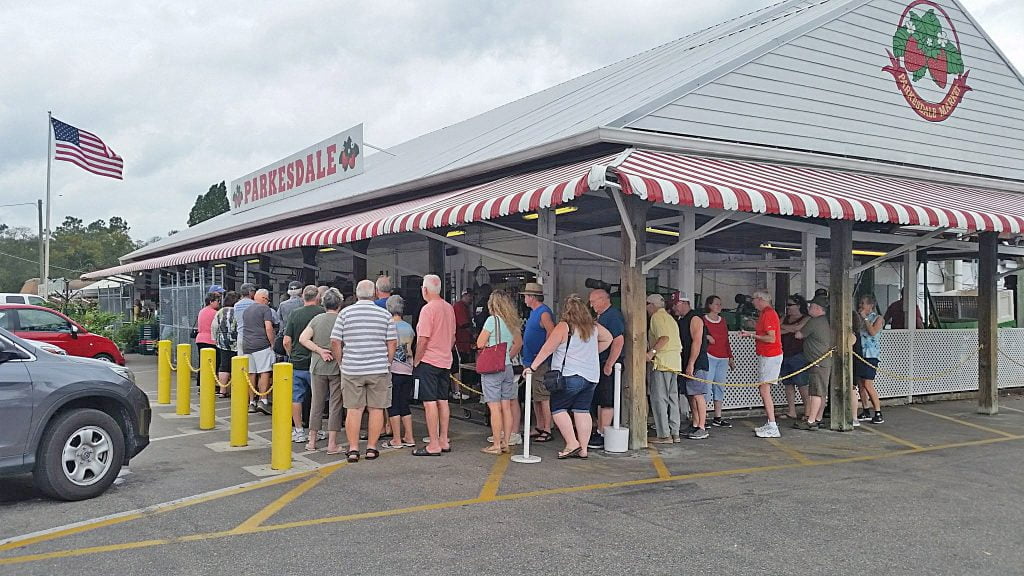 We enjoyed a private tour of a citrus grove and a taxidermy specializing in alligators, attended a beginners' square-dance lesson, and played pickleball. On more than one occasion, we were taken to favourite local restaurants and even guided on the best dishes to order.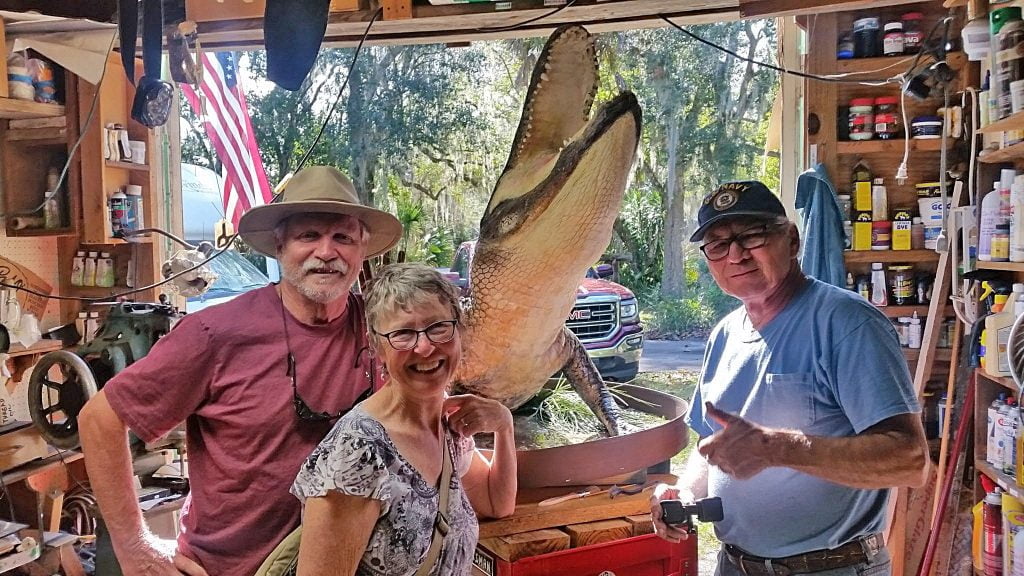 Between all that, we had quite a bit of beach time. We made our own decision to visit Sanibel Island since we'd heard it has one of the nicest beaches on the gulf coast and we'd never been there. If we had asked our local hosts first, we might have been better prepared for the cost — $6.00 for the toll bridge and then $5.00 per hour for beach parking. (We didn't stay as long as we had hoped.)
We had never driven Florida's east coast before this trip either. We made our way south from St. Augustine to Miami to catch our cruise, driving the 320 miles slowly over three days. Each afternoon we walked about five miles in the surf and sand at various beaches.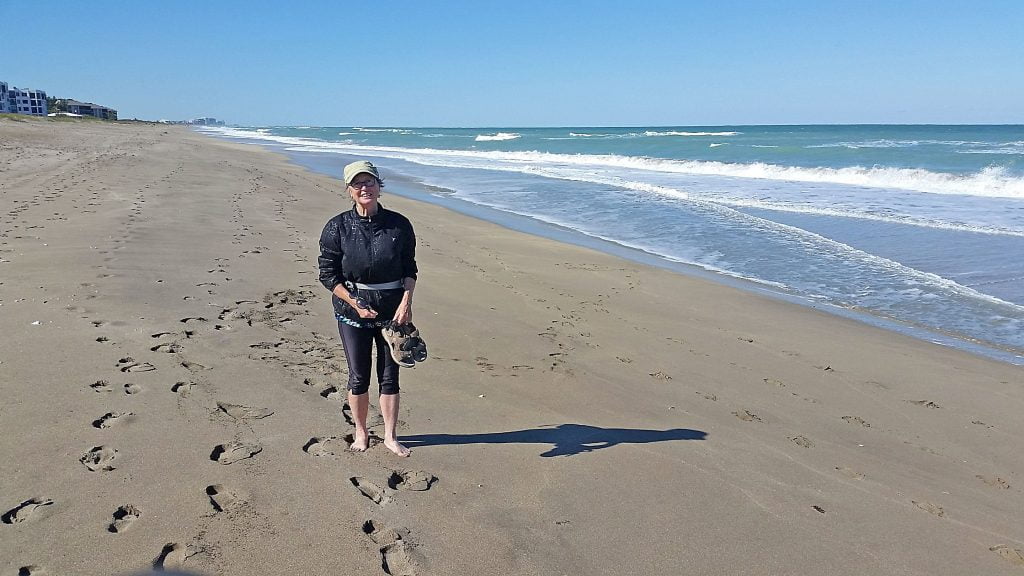 There are many beach access points — each one without a parking fee. On such a heavily developed coastline, that was an unexpected treat! On several stretches, there's even an option to drive on the beach itself (although that requires a $20 per day permit).
After the cruise, we had planned to spend another month gradually following the east coast north toward home. That part of the trip was abruptly cancelled by the phone call from my sister. We drove I-75 home instead. Mom died rather suddenly, but in many ways, we were lucky.
Two weeks later, the pandemic would have prevented my siblings from visiting her in the nursing home or being by her side when she died. We could not have had the funeral she wanted either. As it was, the day of the visitation (March 12) we woke up to the announcement that anyone who'd been out of the country needed to self-quarantine for two weeks. We had rushed home for a funeral we couldn't attend! We skipped the visitations and sat in the choir loft of the church during the service, masked and away from all family and friends.
It was definitely a crazy time and, months later, it still doesn't seem real. Of course, this was only a prelude to what has become a very strange time for everyone on the planet. The year of the pandemic!
Mom would have turned 99 this month. Her life was not always easy, often far from it, but she always maintained a cheerful, optimistic view and was grateful for everything and everyone who touched her world. By her example, we will do the same to get us through 2020 (and 2021 if necessary), even without a winter RV trip to look forward to.