We received wonderful news this week that our seasonal site will open on May 1! Although this timing is subject to local COVID19 regulations, we're thinking about the kind of RV season we want this year. Knowing that cross-country travel in 2021 is on hold, we're grateful for the opportunity to enjoy our RV locally and the possibility of safely entertaining from our RV.
Again, subject to local regulations, the guidelines we're using for RV entertaining during the pandemic are the same as those elsewhere: Only with the people in our bubble and/or in a small group, the size of which is determined by local regulations. Entertain outdoors only, keep a minimum distance of 2 metres, and wear a mask except when eating. Clean our hands before eating and again before putting our masks back on. Self-service buffets are a thing of the past. No sharing of "high touch" items such as serving utensils and condiment dishes.
In light of this new normal, we believe that one of the best ways to entertain safely from our RVs is to serve pre-prepared individual portions. In honour of National Something on a Stick Day (which falls on March 28 this year), how about planning our menus where everything is served on skewers? We could have a salad on a stick, a shish kebab for the main dish, and fruit kebabs or  s'mores on a stick for a delicious dessert. We could even ask our guests to bring their contributions on skewers, for a no-contact potluck.
To keep everyone safe and happy, how about preparing individual serving trays in advance? In addition to the featured skewer dish, we could place prepackaged cleansing wipes or a small container of alcohol-based hand sanitizer (minimum 60% alcohol), paper serviettes, and a fresh paper mask (to don after eating) on each tray. Individual portions of the condiments, dips, or sauces (served in stainless steel or eco-friendly condiment cups) could be added as well.
Outdoor seating arrangements could look like how we've entertained in the past. RVers are comfortable bringing their own lawn chairs and balancing trays on their laps. We could arrange the seating in a circle to keep a bubbled group together and 2 metres away from the other bubbled group. Having a waste basket nearby to safely dispose of paper masks and serviettes would also be a nice touch.
There's evidence that cooking with skewers goes as far back as 300,000 years ago. The English language has borrowed "en brochette" from the French and the Turkish word "shish" to refer to cooking on skewers.
Here's one of our favourite recipes, salade en brochette (salad on a stick). Use any of your favourite salad ingredients including anchovies if you want a Caesar salad on a stick! If you wish to include cheese, we suggest choosing a firmer variety. And if cucumbers are on the menu, stick with (pun intended) the firmer mini (dill pickle) cucumbers.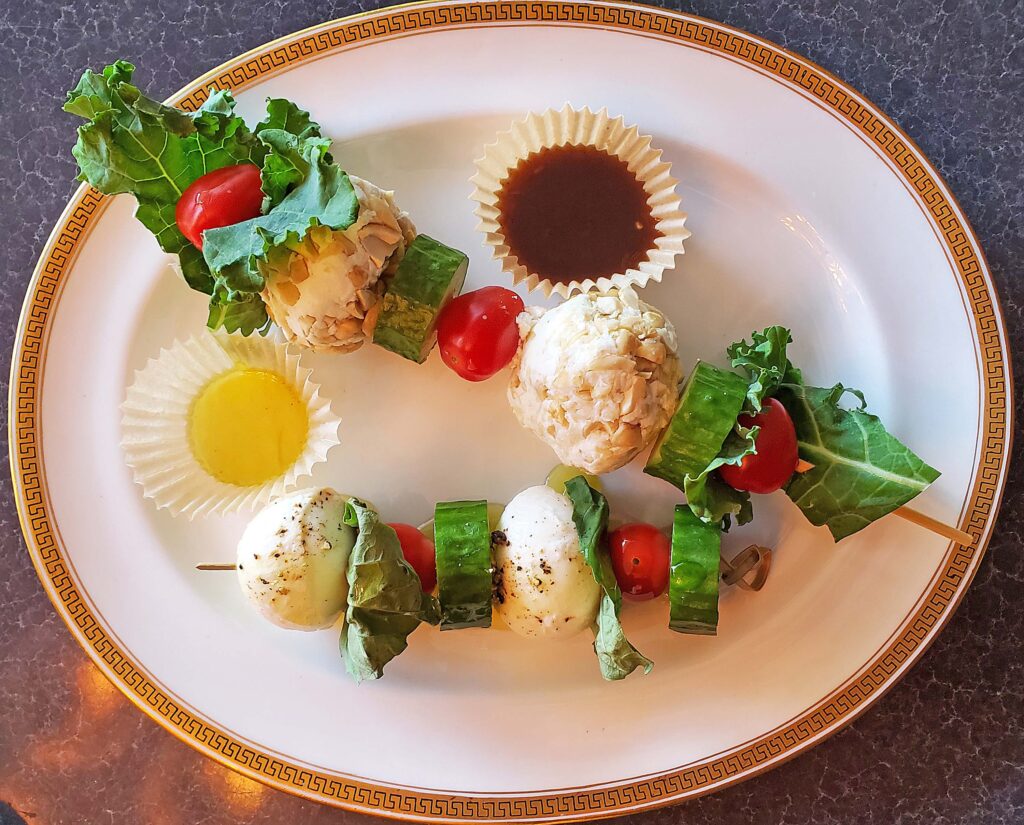 Suggested ingredients:
Cheeses (firm, not creamy) of choice
Tomatoes (cherry or Roma)
Cucumber (mini, not field)
Fresh leaves (lettuce, basil, kale, etc.)
Sweet onion
Bell peppers
Carrots
Olives (pitted Kalamata are best)
Apple (choose Gala, Honeycrisp, Paula or Pazazz – not Mac, Spy, Granny Smith or Delicious)
Method:
Wash all produce and lightly pat dry
Prepare the ingredients as follows:

Cheese: Cut into bite-sized cubes
Roma tomatoes: Slice into 8 mm slices
Cucumber: Slice into bite-sized lengths
Fresh leaves: Cut the leaves into bite-sized chunks
Onion: Cut into thin shavings
Peppers: Slice into 2 cm squares
Carrots: Cut into thin coins
Olives: Drain and set aside on a plate
Apples: Slice, sprinkle with lemon juice, and toss lightly (to retard oxidation)

Line up the ingredients side by side for easier and safe assembly
Assemble skewers in the desired order, making sure that the last piece on the skewer fits snugly
Reserve assembled skewers in cooler or refrigerator, covered, until ready to serve
Offer for individual selection choices of drizzles or dressings. If you're making Greek salad skewers (with feta, tomato, cucumber, olive, onion), tzatziki would be delicious!
RV Galley Kitchen Hack: In addition to entertaining safely from our RV, we're thinking about how to minimize our footprint while staying in our seasonal site. Buying local from farmers markets and using in-season items for our salads on a stick is one option. Resisting the temptation to mow our site is another (dandelions are an early-season food for bees). Placing some small rocks or wine corks in a shallow bowl of water will allow native bees to land and drink safely. We've also recently come across a food carbon footprint calculator with interesting insights and suggestions about reducing the impact of our cooking and eating habits.
Here's to a safe and enjoyable RV season. Stay positive, test negative, and bee kind!