Migration season has arrived at our seasonal site just outside of Toronto. The days are shorter, the nights cooler, and the leaves are changing colours. Right now, right above us, 270 bird species are travelling through Toronto's airspace, heading south to the Gulf of Mexico, the Atlantic coast, and South America. Because of its unique location at the confluence of two of four migratory flyways (the Atlantic and the Mississippi), Toronto has been described as a bird superhighway. Birds from across Ontario tend to funnel along the shores of Lake Erie and Lake Ontario as they travel south into the USA, taking advantage of the strong winds over these two Great Lakes to assist in their long flight.
RVers are also taking flight. In our section of the RV Park, two big rigs have just departed for Kelowna and one is heading to Florida next week. By the end of October, we'll have said "au revoir" to a neighbour moving to a winterized cottage on the Bruce Peninsula and another heading to Brazil for the winter months. We too will be closing down our own rig and taking it to winter storage north of the city at the end of October.
This past weekend, we took advantage of the beautiful weather to host a potluck brunch outdoors to celebrate the friendships we've made this season. With a nod to World Egg Day which is celebrated the second Friday of October each year, our contribution to this wonderful event was a frittata we made on the barbeque.
While making the frittata, we were reminded of a trip we made a few years ago to the Northwest Territories. During our stay at Hay River Territorial Park, we met a couple with Ontario plates. They were visiting their son who had just started a new job at Polar Egg, the company dedicated to ensuring that eggs are locally produced, graded, and sold in the Northwest Territories and the Yukon. This means that northern residents can now purchase eggs locally instead of importing them.
Canadians living south of the 60th parallel have many choices of eggs, ranging from classic white and brown eggs to free range and free run, to organic, Omega-3 or Vitamin-D enhanced. Eggs are one of the most nutrient-dense natural food sources available. Each egg contains naturally occurring Vitamin D, 14 essential vitamins and minerals, 6.5 grams of high-quality protein, and 70 calories.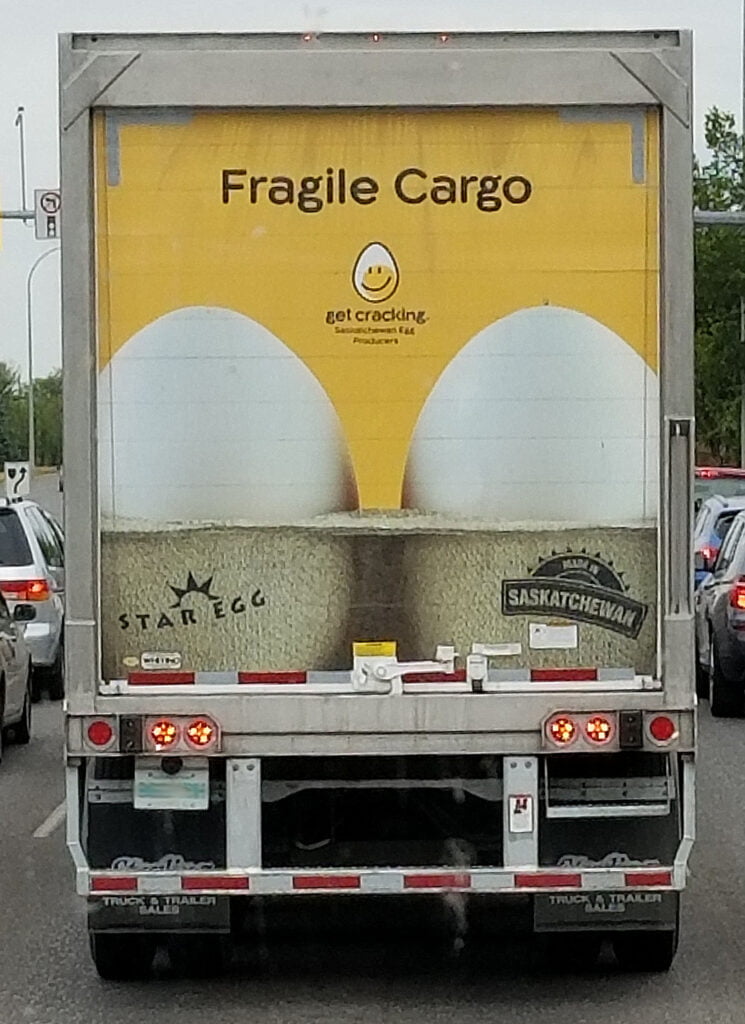 Although we don't have photos of the Polar Eggs we saw for sale at NorthMart Foods in Hay River, NWT, we do have a photo of the view of driving our rig out of Regina, SK behind a Star Egg truck.
What's a Frittata?
You can think of a frittata as a custard filled with vegetables, herbs, cheese, meat, and even pasta cooked in a frying pan. Although both omelettes and quiches are made from the same ingredients as frittatas, there are differences. For example, when making an omelette or a quiche, the eggs are whisked until blended before cooking. In contrast, when making a frittata, the egg mixture is whisked vigorously to help create that custard-like consistency. A quiche is oven-baked slowly in a savoury pie crust and with a higher dairy (milk/cream) content than frittatas. Another key difference between making an omelette and a frittata is that the ingredients (such as the vegetables, meat, fish, or pasta) used in the frittata must be cooked before being mixed with the eggs and dairy. Omelettes are served hot straight from the stove whereas frittatas (and quiches) are often served at room temperature, making them the perfect choice to make in advance for our brunch.
Quiches and omelettes are French in origin. Although a frittata is sometimes called an "Italian omelette", its origins are less clear. Some say it was influenced by the Spanish tortilla and others say it may have come to Italy from Mesopotamia via Persia, Spain, and Northern Africa.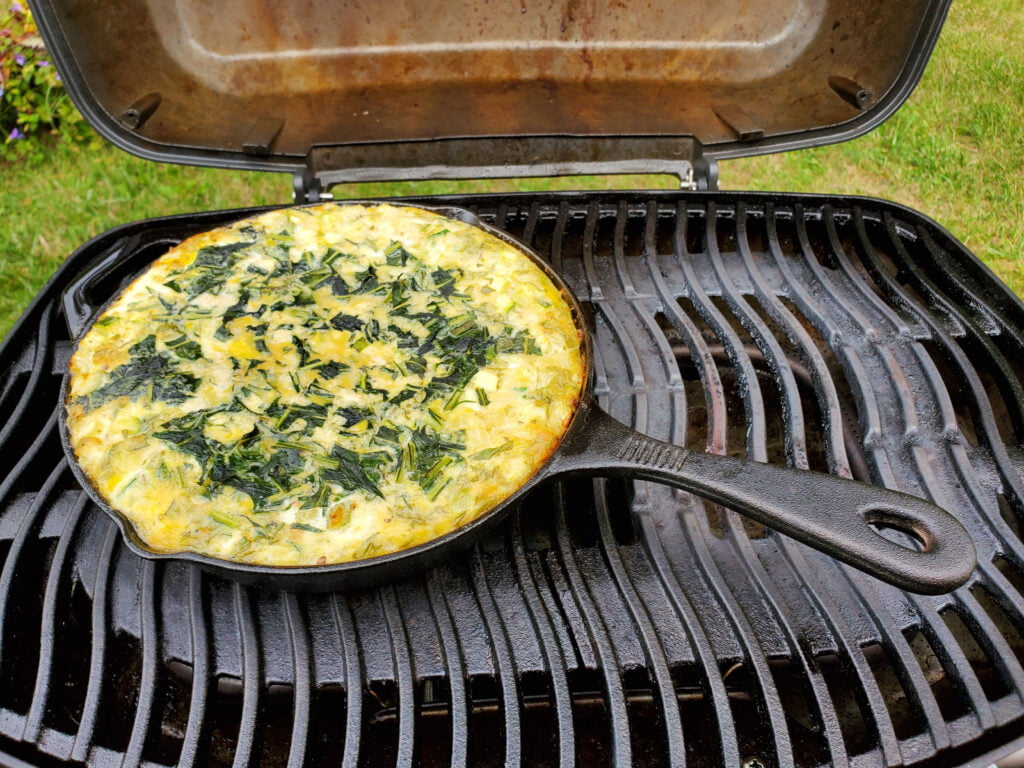 Frittatas are adaptable and can include a wide range of ingredients such as asparagus, cauliflower, thawed frozen peas, or sautéed mushrooms. This version was made with the ingredients we had on hand the morning of the brunch! This BBQ Frittata serves 6.
Ingredients
Eggs, large – 8 each
Milk, 3.25% OR Cream, 10% – 250 ml
Cheese, parmesan – 200 ml after shredding
Cheese, cheddar, old – 200 ml after shredding
Bell pepper, red – 1 each (optional)
Pepper, jalapeño – 1 large
Butter – 1 large knob (about 50 ml) or equivalent vegetable oil
Onion, large – 1 each
Your choice of fresh greens (such as cilantro, basil, spinach, dandelion, kale, chard, finely-chopped broccoli, etc.) – 500 ml
Salt and pepper – to taste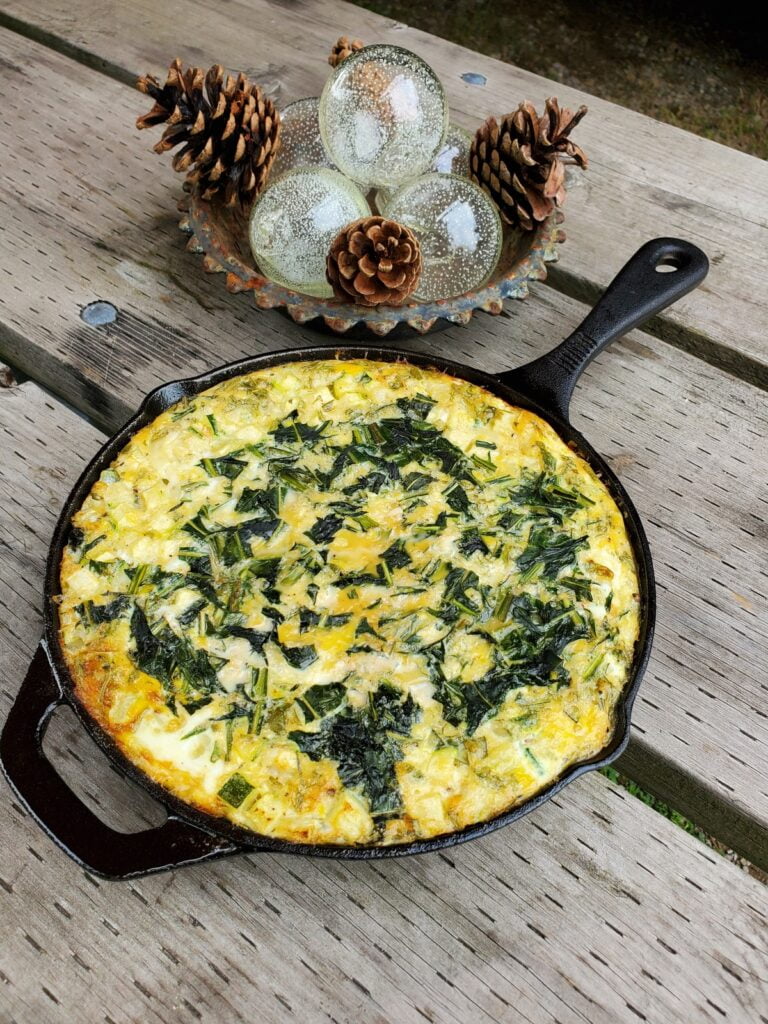 How to make a Frittata:
Pre-heat the BBQ to 400 F. Place a 21 cm (9 inch) cast iron pan on the BBQ rack and close the lid of the BBQ.
Peel and finely chop onion – reserve.
Clean, dry, and roughly chop all chosen fresh greens (cilantro, spinach, dandelion, kale, chard, finely-chopped broccoli, etc.) – mix together and reserve after drying.
Clean and finely dice the red bell pepper and set aside.
Shred the two cheeses and set aside in separate bowls.
Crack and open all the eggs into a large bowl.
Add the milk or cream to eggs and set aside.
After BBQ has reached 400 F, open the lid and put butter or oil into the pan to heat. Do not allow butter to smoke.
When butter is well melted, or oil is hot, sauté the onion for about 2 minutes, turning gently but frequently with a wooden spoon.
Add the greens and pepper and turn over to coat with infused oil/butter.
Use wooden spoon to evenly spread the sautéed onions, greens, and pepper evenly over bottom of the pan.
Reduce temperature on the pan side of the BBQ to 'low', and close the lid of the BBQ
Whisk eggs and milk/cream briskly together. Add the shredded cheddar. Continue whisking to combine and break up any clumps.
Add salt and pepper to egg mixture and whisk in.
Open the BBQ lid and pour the egg/milk/cheese mixture into pan.
Top the egg/milk/cheese mixture evenly with parmesan shreds, taking care not to allow cheese to touch sides of pan.
Top with fresh-torn basil leaves (optional).
Close lid and check in 3 minutes.
Open lid and check that egg mixture on sides of pan has begun to set.
After eggs have set all around the pan to a thickness of 1 cm, close lid and reduce heat under the pan and maintain heat on other side of BBQ so thermometer reads between 375 and 400 F.
Let frittata cook for about 16 minutes … you may check once, but keep lid closed. Watch heat carefully.
Have a cooling rack to hand, and a silicone potholder.
When top centre of the frittata has set up gently solid to a light touch, remove pan from the BBQ and rest for 5-7 minutes on a rack. Frittata sides will release from pan edges.
Cut with silicone or wooden utensils.
Serve and enjoy!
Galley Kitchen Hacks
Our RV kitchen is built around tools that will not damage cooking surfaces or our health. To the extent possible, we avoid plastic and metal kitchen tools (knives excepted of course!) Although wooden tools can be bought at upscale shops, good quality selections can be found in hardware or grocery stores. Pre-COVID, we bought most of ours at annual springtime church rummage sales. We're great fans of thrift shops such as the Salvation Army. A few minutes of cleaning wooden tools makes them like new again!
Most cast iron comes with cast-in handles which look lovely and are sometimes slightly ergonomic. Because they are cast as part of the pot, the handle gets hot too! We always have a dry towel nearby which can be swiftly folded into a hot pad to pick up the hot pan — and can also be used as a trivet to protect the countertop or table surface. Many experienced cooks keep two towels attached to their belt or apron. The towel on the left is for 'wet use' (drying hands or wiping off a knife blade) and the one on the right-hand side is used as a dry towel for lifting hot things or as a countertop-protecting trivet.
Cast iron needs to be cleaned right after use. Wipe out the cast iron as minimally as necessary to remove food residue. We usually use a combination of a wet cloth followed by some salt. We almost never use soap, but if needed, rinse and dry thoroughly afterwards. The final step of cleaning is to apply a thin layer of cooking oil to all the inside surfaces that food touches (the inside bottom, sides, and rim). This will reduce the risk of any rusting and ensure that your cast iron is in tip-top shape and ready for its next use. Store open to the air. If you are nesting your cast iron pots, separate the pots with a strip of parchment paper (not paper towelling or a tea towel).
Here's to enjoying every minute of the end of the RV season. Stay positive and bee kind!